Great Entertainment at Dinosaur Planet in Bangkok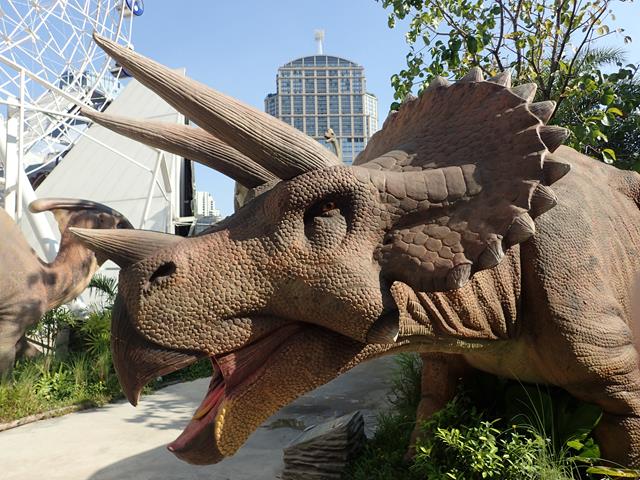 DINOSAUR PLANET HAS NOW CLOSED FOR BUSINESS
Unfortunately Dinosaur Planet closed down.
Who doesn't love dinosaurs? Well if you do and you are visiting Bangkok then make you sure add a visit to Dinosaur Planet onto your agenda.
Dinosaur Planet is a small amusement park located close to Phrom Phong BTS Skytrain Station, just a short walk from Sukhumvit Road 22. Inside the amusement park are a few rides like a large ferris wheel but the main attraction at Dinosaur Planet are the life size Dinosaurs. These dinosaurs don't walk around but do have some animatronics to make them move and make noises.
They have over 20 dinosaur types and at each one has a small plaque with a description of the dinosaur, when it was alive and a bit of information about that dinosaur. So as well as being fun, Dinosaur Planet is educational.
Entrance fee to Dinosaur Planet costs 600 Baht for Adults and Children (90cm – 140cm tall) 400 Baht. Children under 90cm get in for free.
Dinosaur Planet is open 7 days a week from 10am – 10pm. At night time at 6pm, 7pm, 8pm they have a show on to learn more about dinosaurs. There is also a volcano in the middle of the park which erupts during these shows.
If you are with your family then you can see everything at Dinosaur Planet within a few hours. Just next to Phrom Phong BTS Skytrain Station is the EmQuarter Shopping Mall which has loads of restaurants upstairs.
Check out the official Dinosaur Planet website.
See the location of Dinosaur Planet in Bangkok