Day Trip to Anak Krakatau Volcano from Jakarta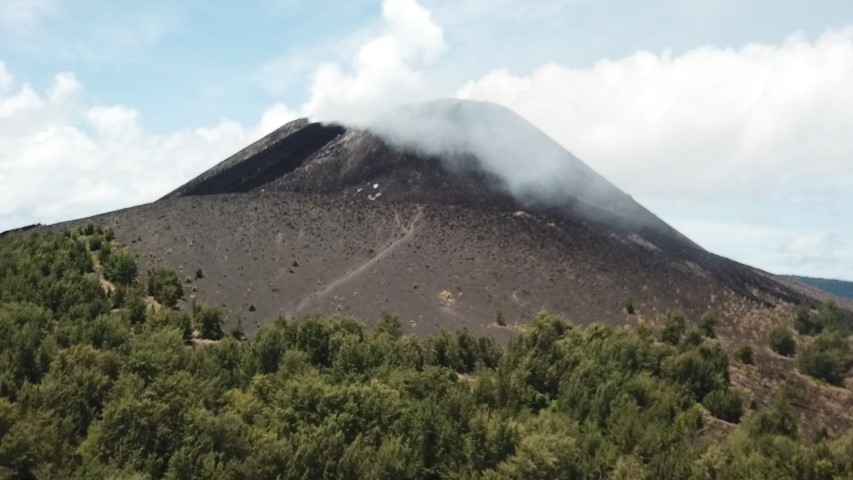 Anak Krakatau is an active volcano in the Sunda Strait, located between the Indonesian islands of Java and Sumatra. Anak Krakatau means 'child of Krakatau'. The volcano Anak Krakatau started growing and pushed above sea level in 1930. It developed from a caldera remaining from the famous Krakatau (Krakatoa) volcano which exploded in 1883. Anak Krakatau is growing at a rate of around 5 meters per year and currently is over 400 meters above sea level. The most recent eruption of Anak Krakatau was in March and April 2017. Even now, the volcano often has smoke and steam constantly coming out the top of the volcano.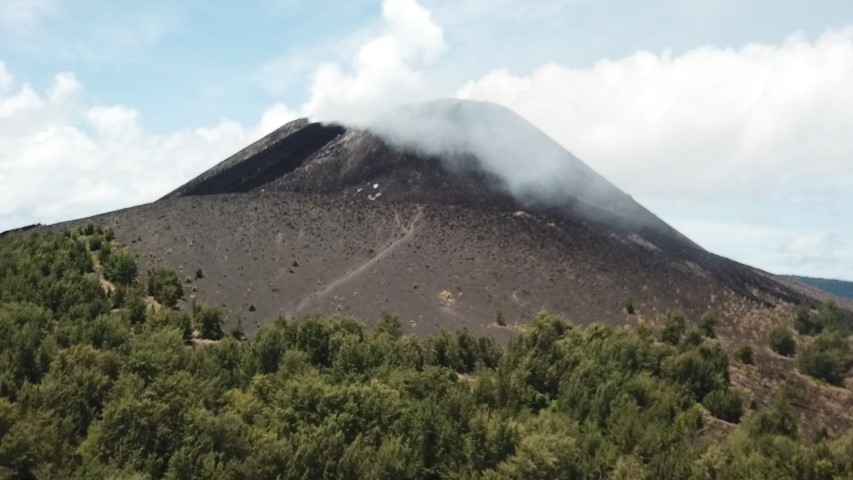 You can do an easy day trip from Jakarta to visit the island of Anak Krakatau and climb up to the base of the volcano. Anak Krakatau is one of the most active volcanoes in Indonesia so often an exclusion zone is in force around the island, when the volcanic activity makes it dangerous to visit.
There are a number of companies that do day trips from Jakarta to Anak Krakatau. It costs around 5,000,000Rp for the car and boat transportation. They charge a small extra fee per person for your breakfast, lunch and rental of snorkeling equipment. See the bottom of this page for a list of companies that organise day trips from Jakarta to Anak Krakatau.
The days trips from Jakarta start with being picked up from your Jakarta hotel at around 5am. The tour starts early to get out of Jakarta before the traffic gets too busy. From Jakarta it will take around 2 hours to drive to the small town of Carita Beach (pronounced Charita).
When you arrive in Carita Beach you sit down for a quick breakfast of either some omlette or pancake with tea or coffee. You then are taken to the marina where you get onto the speed boat which takes you out to Anak Krakatau island. The boat ride out to the island takes just over 1 hour. This ride can be quite bumpy if the winds are blowing.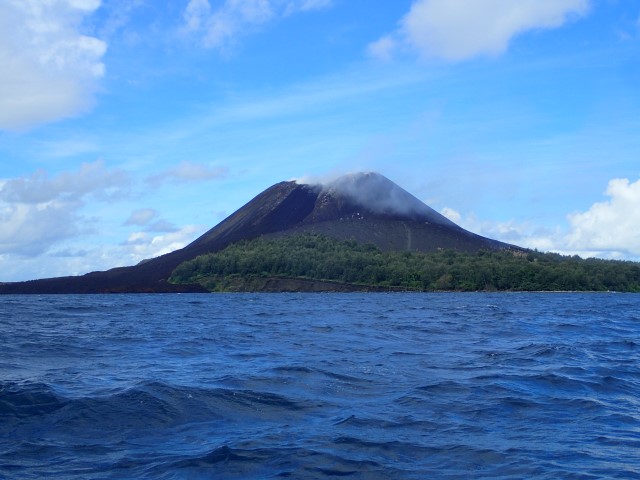 You then spend around 1.5 hours on Anak Krakatau island which is classified as a National Park. You land on the beach which has black sand due to all the volcanic activity.
You then can trek for around 20 minutes to a rim at the base of the volcano. You trek for around 5 minutes through a forest area close to the beach and then the forest clears to a landscape which resembles the surface of Mars. Devoid of any plant life, you are surrounded by volcanic rocks which have been ejected from the volcano during many of it's volcanic eruptions.
At the rim you can see a section where there was a huge volcanic lava flow which travels all the way from the top of the volcano to the sea. This volcanic flow is from the eruptions in February 2017 and March 2017.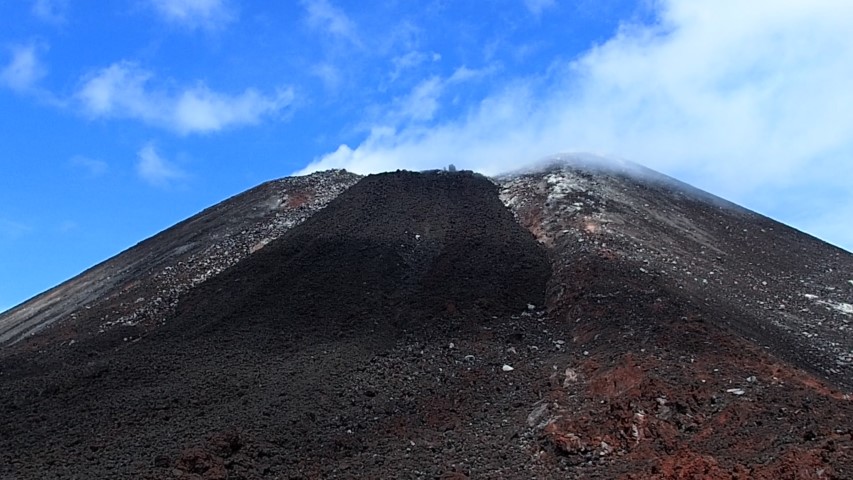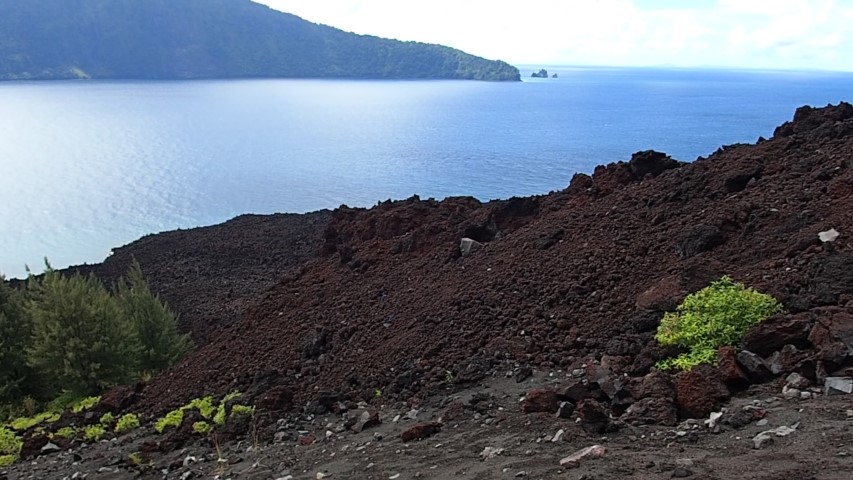 After your time on Anak Krakatau volcano, you get back on your boat and you travel to Rakata Island, which is the island left after the explosion of Krakatoa volcano in 1883. The boat trip to Rakata only takes around 15 minutes. Around Rakata island are some coral reefs with loads of great marine life. The coral is not in the best condition, with lots of bleaching but there is still lots of marine life to do some decent snorkeling.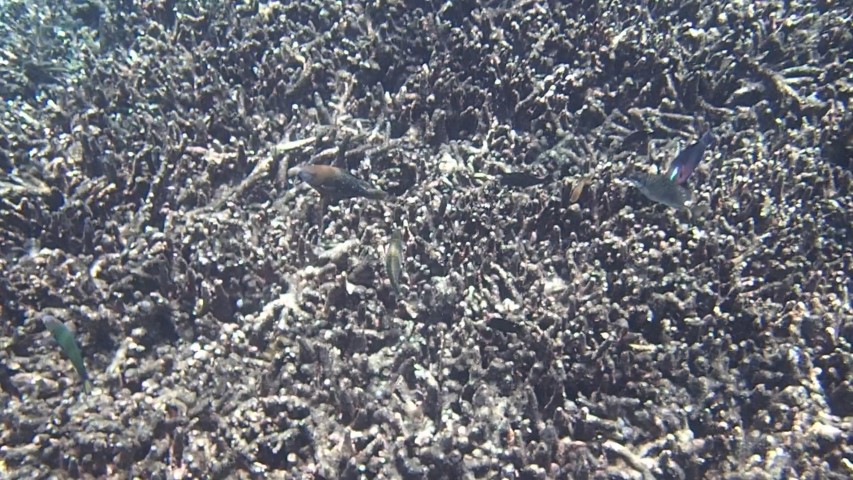 You spend around 30 minutes snorkeling and then get back on the boat for your lunch which is usually some nasi goreng (Indonesian fried rice) with some fried chicken.
After lunch the boat heads back to Carita Beach. On my trip the wind had died down so the seas were much calmer than the trip out so this took under 1 hour to get back.
You then get back in the car and head back to Jakarta. As you leave Carita Beach at around 3pm you do hit some traffic heading back to Jakarta and also when you enter Jakarta you hit the peak hour traffic for everyone going home.
On the weekends, expect loads of traffic just getting out of Carita Beach. Carita Beach and the neighbouring Anyer Beach are very popular places for Jakarta people to visit on the weekends. On my trip it took more than 1.5 hours just to get out of Carita Beach and past Anyer. In total it took just over 4 hours to get back to my hotel in Jakarta.
Companies that arrange Day trips from Jakarta to Anak Krakatau:
Krakatau Ecotourism
Krakatau Tours
Krakatau Trail
Krakatau Volcano Tours