Grand Hyatt Hotel Bali Indonesia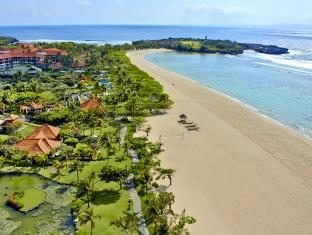 I have had the pleasure of staying at the Grand Hyatt Hotel in Nusa Dua a few times and will definitely return as it is one of the best beach resorts I have stayed, not just in Bali but across all of Asia.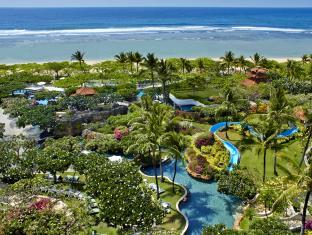 The Grand Hyatt Hotel Bali is set on 50 acres of land with incredible manicured gardens, lagoons and several hundred meters of white sandy beach front. The Grand Hyatt has 636 rooms and 5 large swimming pools.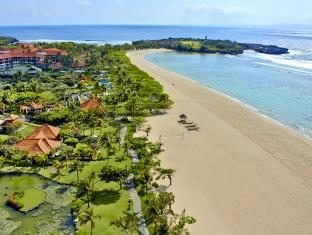 The Grand Hyatt is the sort of self-contained resort where you can go and stay on not have to leave if you just want to relax by the pool, lay on the beach, swim in the ocean. When it comes time for breakfast, lunch and dinner then you will be spoilt for choice as the Grand Hyatt has 5 restaurants to choose from as well as some relaxing bars where you can order food and snacks with a nice beer or cocktail. The choice of restaurants include the Garden Cafe serving international food, Salsa Verde the Italian Restaurant right at the front of the resort overlooking the beach, Pasar Senngol serving a range of traditional Balinese and Indonesia food, Watercourt Restaurant serving Balinese food and the pick of all of these, Nampu Japanese Restaurant which has 2 dining sections, 1 with full dining area with tables or there is the teppanyaki restaurants with the chefs cooking your meal in front of you on the teppan hot plate. There are plenty of other top class restaurants located within the other beach resorts not far in Nusa Dua.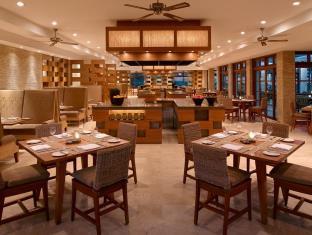 If all the beach side activities get to much for you then head to the Kriya Spa, on the grounds of the Grand Hyatt, for a relaxing massage or beauty treatment. The staff at the Kriya Spa are highly trained and offer you the best service. You may be able to get a cheaper massage in other parts of Bali though it will not be as professional as you will find here.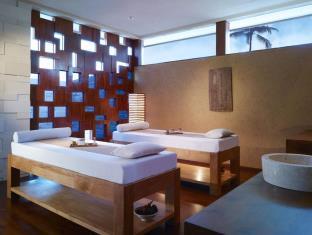 Grand Hyatt Hotel is located around 20 minutes from Bali's International Airport. You can book a room at the Grand Hyatt Bali directly on the Hyatt Website or you sometimes find deals on the Agoda hotel booking website.
See more about Bali Indonesia
Check out the most popular articles about Bali on this site:
[do_widget id=wpp-8]