Shangri-La Hotel Jakarta Indonesia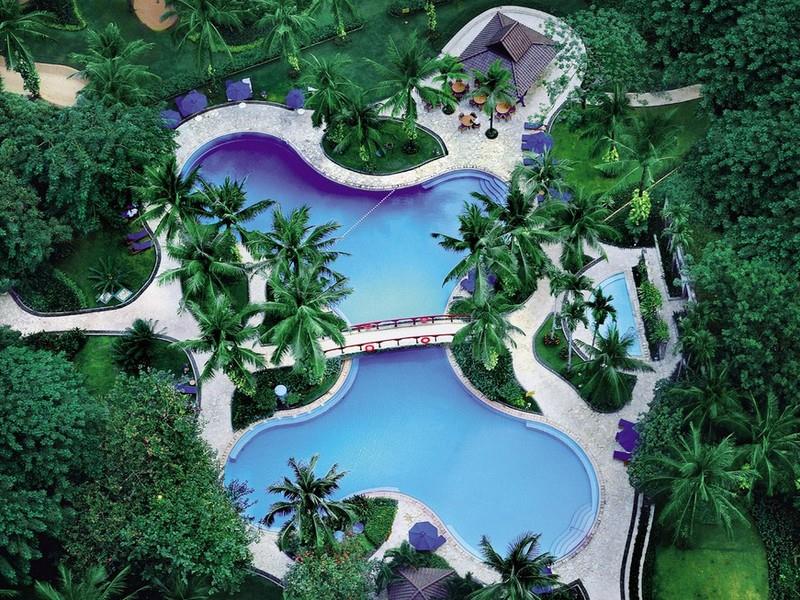 I had visited Jakarta many times and had always stayed at the Grand Hyatt Hotel in Central Jakarta. As a diamond member I always great service at any of the Hyatt properties though my last stay in felt the rooms at the Grand Hyatt were getting a bit old and when the bathtub plug didn't work and I could fill it to have a relaxing bath I decided that may be the end of my relationship with the Grand Hyatt in Jakarta (unless they renovate soon).
So next trip I looked for a new hotel to stay in Jakarta. I had recently been to Manila and stayed at the Shangri-la Hotel in Makati and was really impressed with both the service and the quality of the rooms (even as a first time guest with no loyalty status). So I decided to give the Shangri-La Hotel in Jakarta a go. I booked in for 3 nights and was just as impressed as with my stay at the Shangri-la in Manila.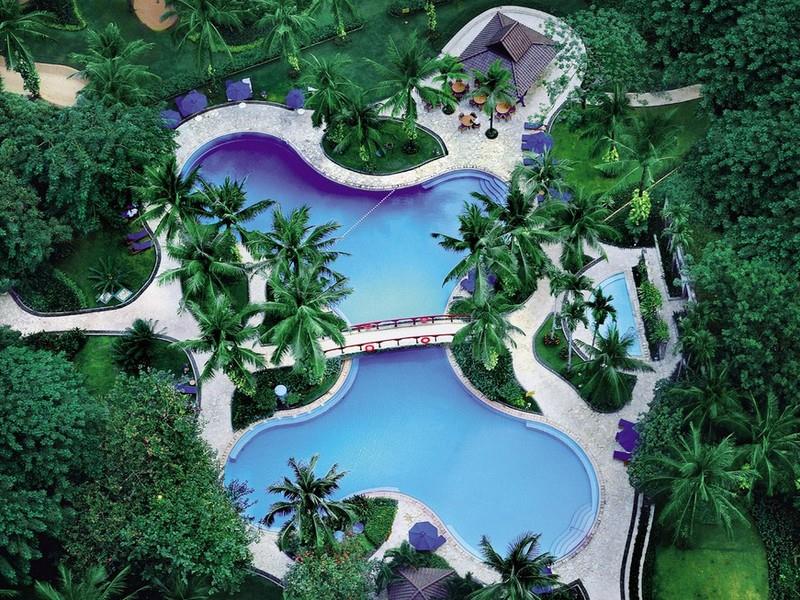 As I arrived at the hotel I was greeted at the door and rather than checking in at the front desk, they took me straight up to my room and did the check in process (copy passport and credit card) up in the room. This only took a few minutes so was very quick. I was only staying in a standard room through I was on on a high floor so I had a good view over Jakarta (not that impressive) and could look straight down to the hotel pool which is a huge lagoon style pool (pictured above).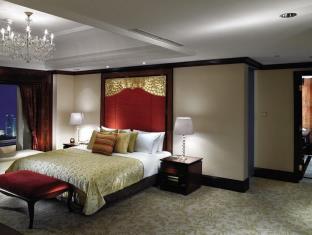 At the swimming pool is a pool side bar which you can order drinks and snacks from. It is nice to lay around at the pool for a few cleansing ales and a bit to eat in the humid heat of Jakarta. For food there are 5 restaurants to choose from. The lobby lounge serves light meals and snacks. The Satoo Deli shop also serves light meals. Then the other 3 restaurants are well worth a visit. Nishimura Japanese Restaurant is located right down in the lower ground floor serving up traditional Japanese food. Shang Palace Chinese Restaurant serves up traditional Cantonese Chinese food. Rosso Italian Restaurant serves up a range of Italian including pizza, pasta, steak and seafood. I have tried all the restaurants and would go back to any of them again. There is also a fully equipped gymnasium to work off the food you consume at these great restaurants.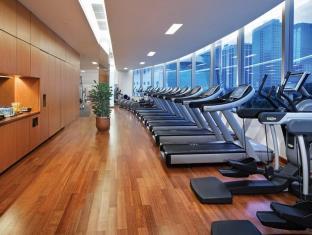 If you are after a bit of nightlife then you do not need to leave the hotel. Down in the basement level there is one of the best bars in Jakarta called B.A.T.S. BATS has a live band playing every night until very late.The bar closes at . The bar gets packed though doesn't get busy until after 10pm. For the single guys reading you will be pleased to know that lots of friendly local Jakarta girls hang out at B.A.T.S.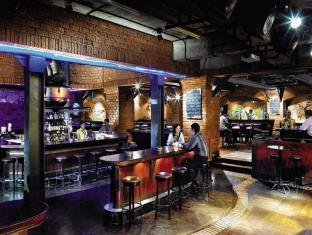 The Shangri-la Hotel is located in central Jakarta only around 10 minutes taxi from the Grand Hyatt. Next to the Grand Hyatt there are 2 large shopping malls, Plaza Indonesia and Grand Indonesia Shopping Mall.
So verdict about the Shangri-la Jakarta – both thumbs up for the quality of the rooms, the service from the staff and the great choice of restaurants and facilities. No I just need to get my loyalty membership up there to see how the service really shines for a loyal guest. I will definitely stay at the Shangri-la again on my next trip to Jakarta.
You can book direct with the Shangri-La Hotel Jakarta website. Or sometimes there are discounted room rates on the Agoda hotel booking website.
Check out more pics of the restaurants in the Shangri-la Jakarta – Shang Palace Chinese, Nishimura Japanese, Rosso Italian.
Read more about Jakarta Indonesia