Real Forest People – Orangutan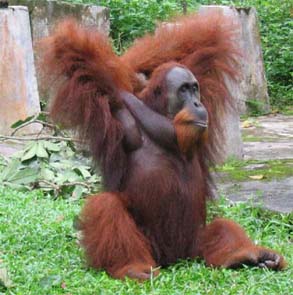 Orangutans are my favourite animal. They are so much like people it is uncanny. Orangutans have 97% of the same DNA as humans so are some of our closest living relatives. The word orangutan comes from 2 Malay / Indonesian words Orang meaning people and Hutan meaning forest. So Orangutan means Forest People.
There are only 2 places in world where Orangutans are still living in the wild and that is on the island of Borneo (shared with Malaysia and Indonesia) and in Sumatra Indonesia. It is believe that there is only 40,000 orangutans left living in these 2 places, down from 60,000 10 years ago. It is expected that if the deforestation continues that the Orangutan could be extinct in the wild within 20 years.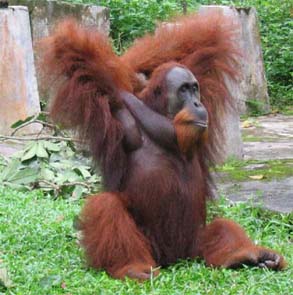 So what are the best places to see Orangutan. There are a few places in Borneo which are easy to reach from Singapore or mainland Malaysia though you expect that there are heaps of crowds visiting the wildlife sanctuarys in Borneo. In my opionion the best place to see Orangutan is in Sumatra Indonesia. So lets start with the places in Sumatra where you can see Orangutan and then further down I'll list the places in Sabah and Sarawak East Malaysia Borneo.
Orangutan in Sumatra Indonesia
There are a few places you can go to see the Orangutan in Sumatra Indonesia. In North Sumatra there are a few small villages bordering on the Gunung Leuser National Park which stretches from North Sumatra, a few hours drive from Medan, up to the province of Aceh in the northern tip of Sumatra.
The easiest village to reach from Medan is Bukit Lawang which takes around 2.5 hours by car from Medan. Bukit Lawang had one of the first Orangutan rehabilitation centres where they took Orangutans who had been people's pets and reintroduced them into the wild by teaching them how to find their own food and build there nest to sleep at night in the trees.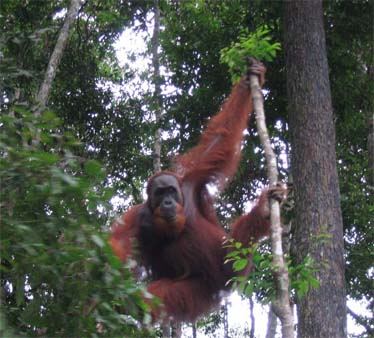 The rehabilitation has now closed down as the jungle of Gunung Leuser National Park is saturated with Orangutan and it would be dangerous to the current population to continue to reintroduce more Orangutan. What used to be the rehabilitation centre is now called the Orangutan Centre and you can still visit here and see the orangutan up close. Every morning and afternoon the park rangers go around 20 minutes walk into the jungle and take food like bananas and different types of fruit and vegetables to give to any of the reintroduced Orangutan. A few years ago 6 or 8 Orangutan would come to the feeding platform each day to get their free feed. Nowadays maybe around 2 – 3 come which is a good sign that the Orangutan are finding their own food and they have no need to come back. At this feeding platform around 20 – 30 tourists come to see the Orangutan. This is way less than the 100 – 200 people who visit the same sort of places in Borneo.
There are plenty of guys in the village of Bukit Lawang who are trained jungle trekking guides who can take you trekking in the National Park. You can go for short treks or go and stay over night in the jungle. This is your best chance to see some of the wild orangutans with the crowd of people around. There are plenty of other wildlife to see in Gunung Leuser National Park including Gibbons, Thomas Leaf Monkeys and Macque Monkeys. There are wild elephants and Sumatran tigers as well through you would have to trek 3 – 4 days into the jungle and even then yuor chances of seeing these is very slim.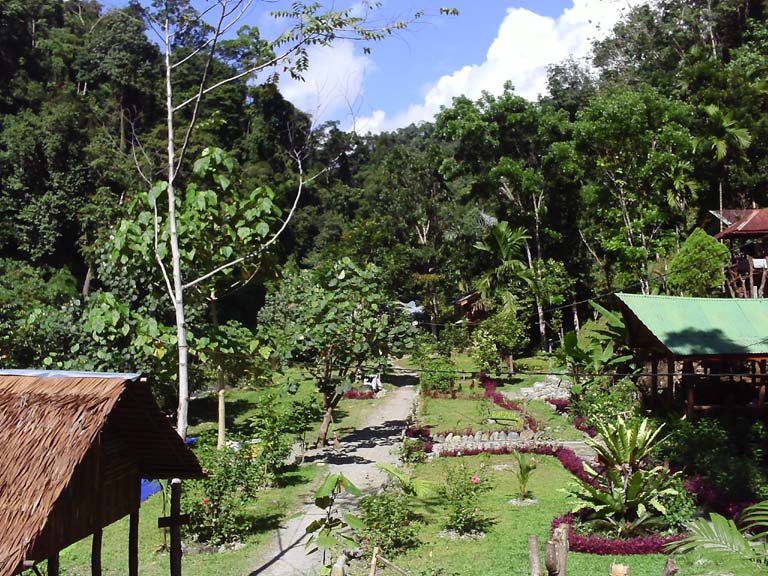 Another village around 2.5 hours drive from Bukit Lawang, or 4.5 – 5 hours drive from Medan is Tangkahan. They do not have a feeding platform at Tangkahan though you can go for jungle treks for your chance to see real wild orangutan (not reintroduced into the jungle). Tangkahan is also famous for their troup of Elephants which is used to patrol the jungle. See the article on this site about Bukit LawangElephants in Tangkahan. Or read more about Bukit LawangTangkahan North Sumatra including how to get there.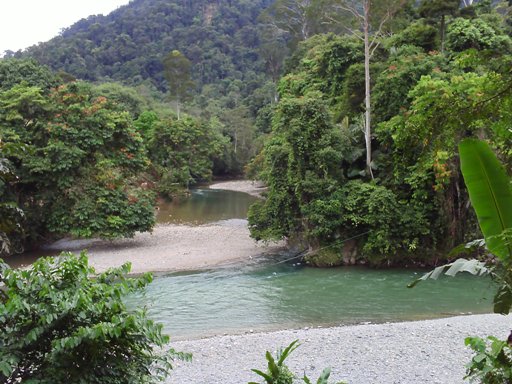 There is one more village worth mentioning here where you can see Orangutan in North Sumatra and that is Ketembe close to Kutacane. Ketembe is a very remote village located right on the other side of Gunung Leuser National Park. From Medan it takes around 7.5 hours to drive to Ketembe. As it is more remote, here you will only find wild Orangutan. There are a few guesthouses in Ketembe to stay in and there are treking guides who can take you into the jungle for short treks or overnight camping trips. Check out more information about Ketembe.
Orangutan in Borneo
Borneo is the 3rd largest island in the world.The island is divided with the northern section belonging to Malaysia. There are 2 Malaysian states in Borneo – Sarawak and Sabah in the very north. The southern part of Borneo is owned by Indonesia and is called Kalimantan. Most of Borneo has lush jungle rainforest and you will find orangutan in all these areas, Kalimantan, Sabah and Sawarak.
Orangutan in Sabah East Malaysia Borneo
Sabah in the north of Borneo has a few wildlife sanctuaries where you can visit and see the Orangutan up close. The capital of Sabah is Kota Kinabalu which you can fly direct from Kuala Lumpur or Singapore. You then need to change planes and go to the eastern side of Borneo to Sandakan Airport. Or you can take a bus from Kota Kinabalu to Sandakan which takes around 5 hours. From Sandakan it is around 1 hours drive to the Sepilok Orangutan Rehabilition Centre which has a wildlife sanctury where you can see the Orangutan being feed each day. There are package tours that do day trips from Singapore so expect huge crowds to be there during the feeding time. The time I went there must about been over 200 people.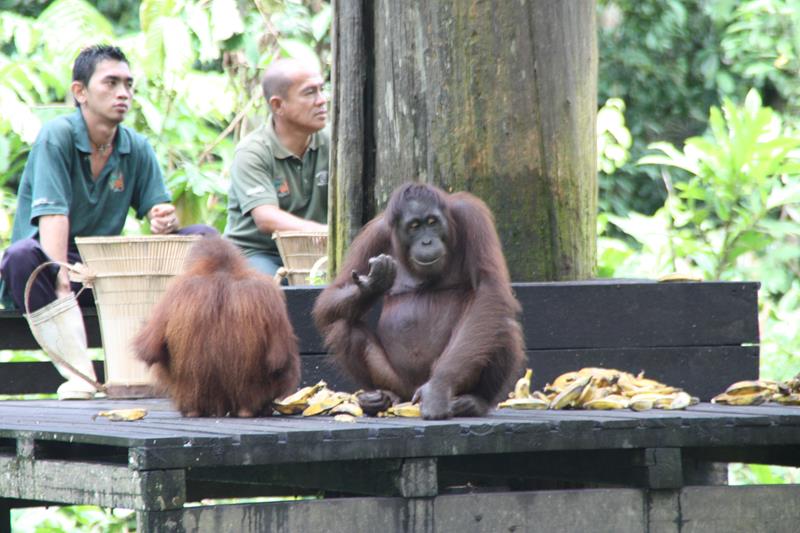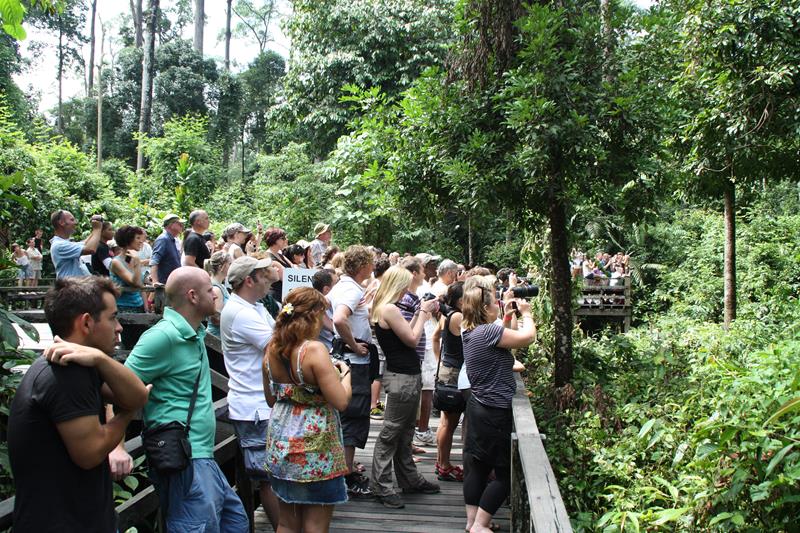 See more pics and read more on how to get to Sepilok Orangutan Rehabilition Centre.
Also see more about Kota Kinabalu.
Orangutan in Sarawak East Malaysia Borneo
The capital city of Sarawak East Malaysia is Kuching which you can fly to direct from Singapore, Kuala Lumpur or from Kota Kinabalu. Around 1.5 hours drive from Kuching is the Semonggoh Wildlife Park which is a small animal sanctuary which has some orangutan there. Again you have quite large crowds visiting the wildlife park each day. The Semonggoh is set in a nice natural environment and you get good views of the Orangutan climbing down from the trees on ropes to get their daily feed. Read more about Kuching.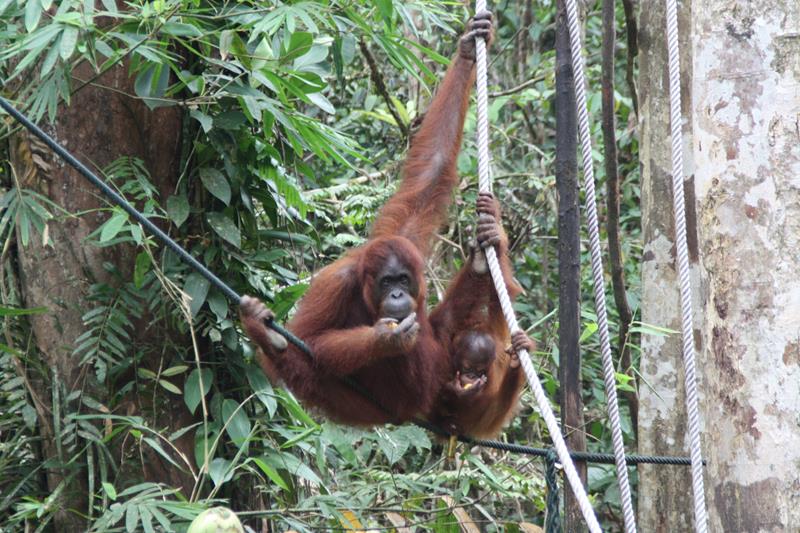 Orangutan in Kalimantan Indonesia Borneo
The Orangutan in Kalimantan are the hardest to get to see. The Tanjung Puting National Park is located in Central Kalimantan. To get there you can fly direct from Jakarta to Pangkalanbun. From Pangkalanbun you need to travel 30 km, around 45 minutes by car to a small town called Kumai. You then need to catch a boat from Kumai into Tanjung Puting National Park as the park is only accessible by water. There are a few budget hotels to stay in the Tanjung Puting National Park close to the Orangutan Rehabiliation Centre called Camp Leakey. Read more about Pangkalanbun.