Great Nonya food at The Malaya Restaurant Sydney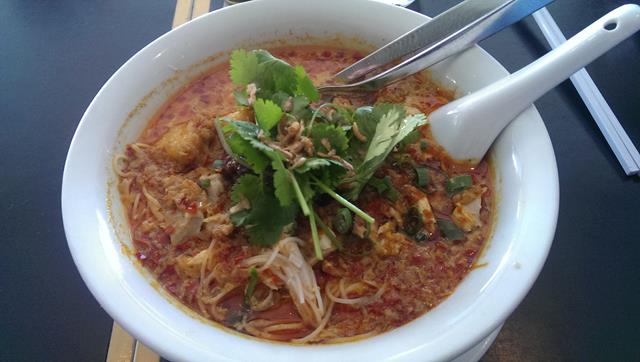 The Malaya has been one of the best Malaysian restaurants in Sydney for more than 20 years. What was originally a small, cheap restaurant in North Sydney and then the restaurant moved upmarket to the trendy King Street Wharf on the edge of Sydney's CBD, with water views overlooking Darling Harbour.
The Malaya serves a great range of Nonya food (Peranakan cuisine) which developed in Malaysia with immigrant Chinese marrying the local Malay and their foods were combined to make some of the tastiest and spiciest food on this planet.
I have visited The Malaya at King Street Wharf quite few times over the last 7 years and the food is just as good or better than the old days in North Sydney. I have never been disappointed with the food or the service. The prices are much higher these days but for some of the best Malaysian food and a great view of the harbour, then you couldn't expect less.
Last visit was for a lunch to get away from the stress of work. I picked 2 dishes from the Chefs Suggested Signature dishes menu. For entree I had the Otak Otak, which is very common in Singapore, Malaysia and Indonesia. A white fish fillet minced with chillies and spices and wrapped in banana leaf and cooked over a grill. I was in Singapore last year and enjoyed some great Otak Otak and this dish at The Malaya was just as good. The prices didn't quite match up. Here at The Malay the Otak Otak was $17. I think I paid S$3 in the hawker centre in Singapore!
For the main event I had the delicious Coconut Beef Rendang. This is a real delight and so full of flavour. The menu says it is an Indonesian dry coconut curry though the 'Randang' you get in Indonesia is a more dry curry. The 'Rendang' you get in Malaysia has a wetter curry sauce. Both tasty. I do like the Indonesian version (originally from Padang in West Sumatra) though I do prefer the Malaysian version with the delicious curry sauce which is great soak up with a nice steamed rice.
A previous time I visited The Malaya I had their very tasty Laksa noodle soup which is delicious. At $25 for a chicken laksa you would expect it to be good and The Malaya delivers a worthy laksa for that price!
This will not be my last time to visit for sure. Long Live The Malaya! Best Malaysian Nonya restaurant in Sydney!
The Malaya
39 Lime Street
King Street Wharf
Sydney CBD
Ph: (02) 9279 1170
Website: www.themalaya.com.au
Check out the location of The Malaya Restaurant in King Street Wharf Sydney
Check out the most popular Sydney articles:
[do_widget id=wpp-7]