Harrys Steak Bistro Burleigh Heads Gold Coast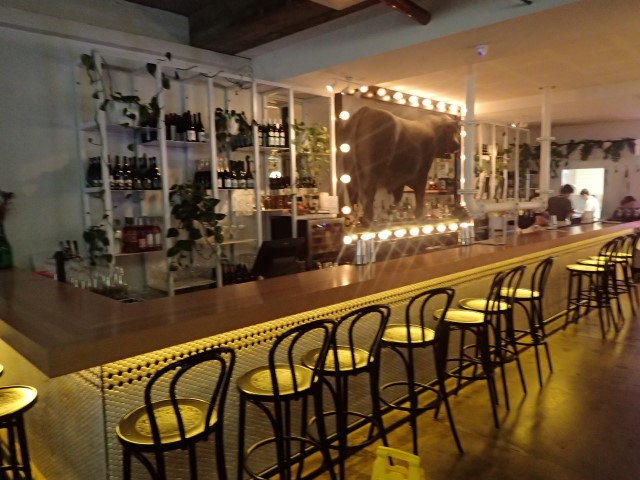 Harry's Steak Bistro in Burleigh Heads Gold Coast is a quality steak restaurant, a good place to come for a good meat feed. We rate Harry's Steak Bistro up there with the Best Steak Restaurants on the Gold Coast.
Harry's menu is focused on the meat! The main menu has a choice of 4 steaks, 230g rump steak ($19.95), 270g scotch fillet steak ($29.95), 250g eye fillet steak ($39.95) and a 350g sirloin steak ($49.95). Each week they also have a special steak on offer which they refer to as 'What Harry's eating this week'.
Also on the main menu is a Wagyu cheeseburger ($19.95) or the Chicken Shnitzel burger ($19.95). They also serve up a chargrilled whole chicken ($29.95).
There are 10 entrees on the menu including fried chicken ($16), chargrilled mooloolaba prawns ($24), crispy fried calamari ($18), chargrilled octopus ($17) and same tasty charred lamb skewers ($22).
We went for the fried chicken to share as a entree and it came out and was not what we expected. We were expecting some deep fried chicken like some southern fried chicken but this a like a stir fried chicken topped with some marinated cucumber, spring onion and a dressing. it was still tasty but a bit disappointing when we werelooking forward to some deep fried chicken pieces.
For our steak mains we had a eye fillet and a scotch fillet. Both cooked to perfection, just the way we like it. The only thing I would have changed about the main meal is that they serve the steaks with a big dob of herbed butter on top. I just wish this had been on the side as half way through the steak, the butter had all melted and made the steak a bit greasy.
The steak is served with a side salad and a bowl of unlimited frites (french fries!).
We could have asked for more chips but the serve was big enough for the 2 of us. We didn't order any of the $9 sides which include onion rings, mash potato. There was no need for the expensive sides and we passed on the $3 sauces. The steaks at Harry's are well seasoned and with the herb butter I don't think these steaks need a sauce.
Expect to pay around $60 per person for a good meal at Harry's. We paid $125 for 1 entree, 2 steaks and 2 beers each.
Harry's Steak Bistro
1744 Gold Coast Hwy
Burleigh Heads
Ph: (07) 5535 2699
Open for dinner 7 days a week, open for lunch Friday Saturday and Sunday.
Monday to Thursday 5pm – 10pm
Friday to Sunday `12pm – 10pm
Website: harryssteakbistro.com.au
Check out the location of Harry's Steak Bistro on the Gold Coast
[do_widget id=wpp-16]