8 Eight Street Asian Food Street in Surfers Paradise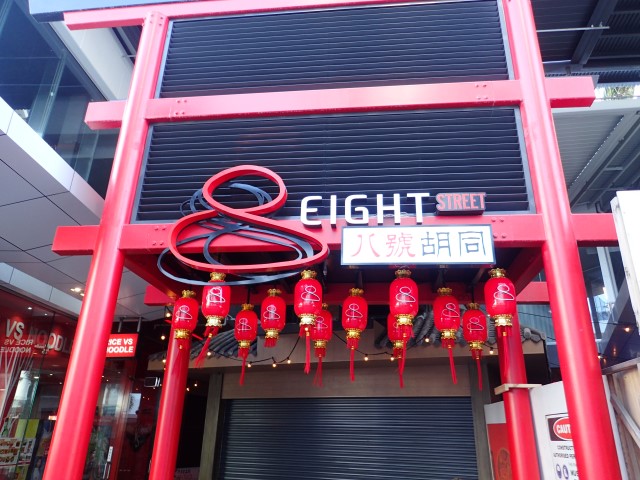 8 Eight Street is a new food street in the heart of Surfers Paradise, specialising in Asian food. 8 Eight Street is located in the laneway next to the Hilton Hotel, running between Orchid Avenue and Surfers Paradise Boulevard. 8 Eight Street is offering some of the cheapest food on the Gold Coast.
There are already some established Asian restaurants on Eight Street including Rice vs Noodles, Sushi Avenue, the Korean Kitchen and Yum Cha Noodle Haus.
Modifications have been done to the laneway with new buildings housing up to 12 new food stalls / restaurants. The finishing touches are being put on the buildings and it is expected new restaurants will start opening in March 2018. Stay tuned for some great new Vietnamese, Chinese, Thai and Japanese food coming to the streets of Surfers Paradise. Asian street hawker food in downtown Surfers Paradise.
Stay tuned for more reviews of the great new restaurants that open on Surfers Paradise new 8 Eight Asian Food Street.
Fragrance of India opened in 8 Street in June 2018 – serving up some delicious Indian food at reasoanble prices.
Fragrance of India is opened in 8 Street, right next to Ramen Danbo. Serving up a great range of authentic Indian cuisine including some of the best curries you'll find on the Gold Coast. All the curries at Fragrance of India are Gluten Free, MSG free and all the food is certified Halal.
Read more about Fragrance of India
Ramen Danbo delicious Japanese Ramen Noodle soup
Ramen Danbo is the latest cheap eats food store to open within 8 Eight Street in Surfers Paradise. Serving up delicious Japanese Ramen Noodle Soup priced from $13. Read more about Ramen Danbo.
Kathmandu Momo House and Bar
Located right at the front of 8 Eight Street, on Orchid Avenue is Kathmandu Momo House which serves delicious Nepalese food including the delicious Nepalese dumplings called Momos. Read more about Kathmandu Momo House.
Check out the location of 8 Eight Street in Surfers Paradise
Read more about 8 Eight Street