Awesome Breakfast Cafe – Crepe Addict in Surfers Paradise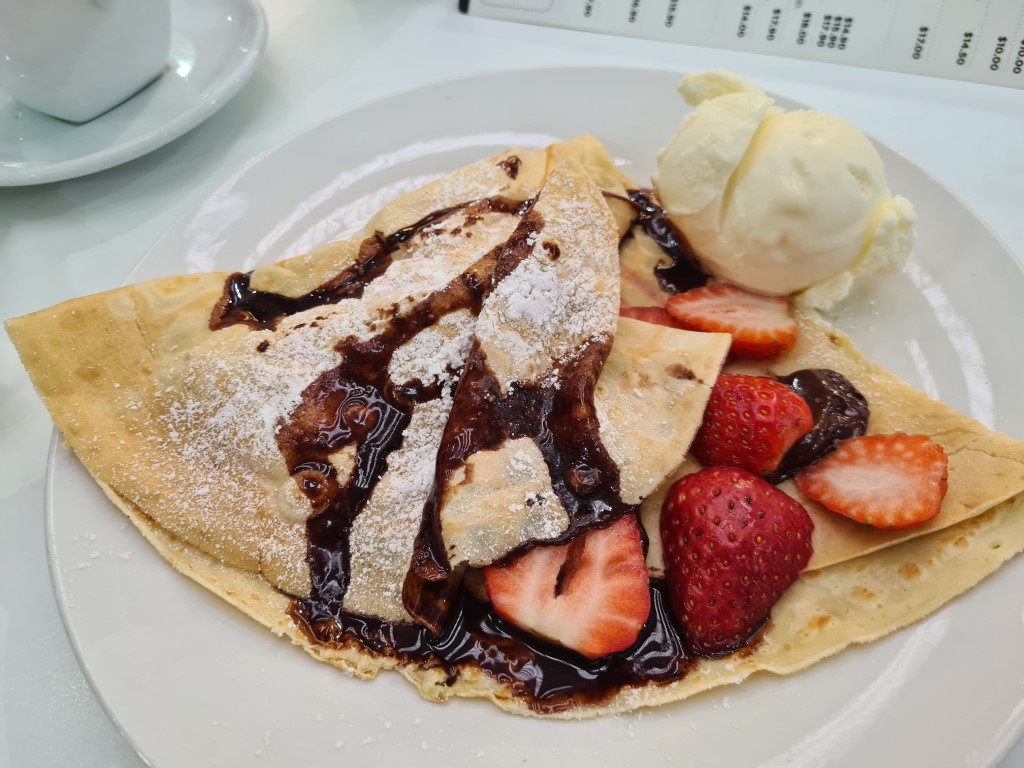 If you are looking for a great place for breakfast in Surfers Paradise then go check out Crepe Addict in the Paradise Centre Shopping Mall located on the corner of Caville Avenue and Gold Coast Blvd. As the name suggests, Crepe Addict specialises in French crepes and pancakes. They have a great selection of both savory and sweet crepes, a good selection of pancake as well as a full, all day breakfast menu.
I went in just for a light breakfast and had a coffee and a delicious crepe with lemon and sugar. This was only $7 for the crepe. So delicious and definitely a good price for a light breakfast.
I have been back to Crepe Addict a few times since I first posted this. I went back in March 2022 and had their sweet Strawberrt Bliss Crepe ($12.90) which is delicious. It is never too early to have chocolate sauce dribbled over your breakfast.
i also tried one of the savory crepes, the Sunny Side Up ($10.90) which has bacon, egg and cheese inside the crepe. This was nice but I think I like the sweet crepes better.
I will definitely get back to Crepe Addict for their Big Breakfast ($18) as I saw the chef make this up for another customer dining at the same time and it looks great value with bacon, eggs, sausage, tomato, mushroom, hash brown and toast. $18 is a great price for a big breakfast in Surfers Paradise as many cafes and restaurants are charging around $23 for their big breakfast.
Also on their all day breakfast menu they have Traditional Breakfast ($10) with bacon eggs and toast, the eggs on toast ($10), smashed avocado ($14.50), scrambled eggs ($17) served with feta, capsicum, spinach, onion and avocado on sourdough bread. They also have French Toast ($18) and Canadian Pancake ($17.90) which is 3 pancakes with 2 slices of bacon, egg, banana and maple syrup.
To enter Paradise Centre Shopping Mall, you will see the big Hard Rock Cafe Guitar sign just above.
Crepe Addict
Paradise Centre Shopping Mall
Cavill Avenue
Surfers Paradise QLD 4217
Open 7 days a week from 7.30am – 3pm
Check out the location of Crepe Addict in Surfers Paradise
[do_widget id=wpp-60]