Delicious Cheap Indian Food in Surfers Paradise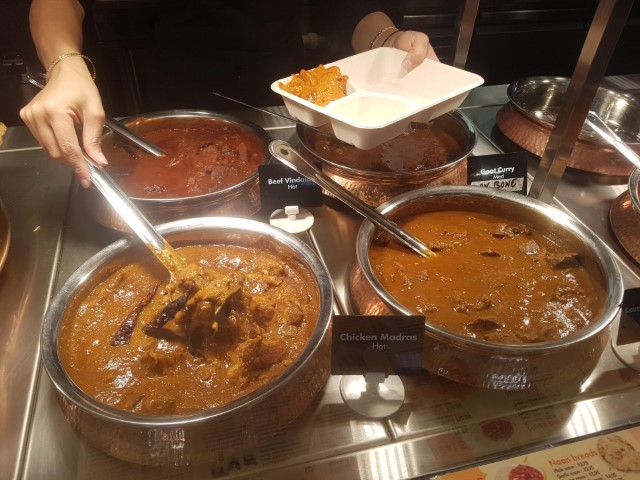 Fragrance of India is the newest food stall to open in the 8 Street Food Mall in the heart of Surfers Paradise, opening in June 2018. Fragrance of India is not just your average cheap food stall, this place serves up delicious authentic Indian cuisine and street food, using good quality, fresh ingredients. All of the curries at Fragrance of India are gluten free and msg free and all of the food is certified Halal. There are also some Vegan and Dairy free options available.
I went in for lunch and choose the choice of 2 curries with rice and a papadam for $12.95. I choose my favourite Indian curry, the Chicken Tikka Masala and the lovely lady behind the counter recommended I also try the Chicken Madras curry.
The Chicken Tikka Masala was excellent, one of the best Tikka Masalas I have eaten in a while. The Chicken Madras was also fantastic with a real spicy bite to it!
The full range of delicious meat curries Fragrance of India serve up include the Chicken Tikka Masala, Mango Chicken, Goat Curry, Beef Korma, Butter Chicken, Chicken Madras, Chicken Curry, Beef Vindaloo and Lamb Rogan.
There is also a great selection of vegetarian curries including Dal Tadka, Dal Makhani, Vegetables Korma, Chana Masala, Alu Gobi, Jeera Aloo, Mixed vegetables and Vegetales Jalfrezi. Also paneers including Kadai Paneer, Palak Paneer, Matar Paneer and Malai Kofta.
There is also a great selection of entrees including Onion Bhaji, Chole Tikki Chaat, Pani Puri, Pav Bahji, Chole Bhalura, Paratha, Samosa, Samosa Chole Chaat, Chicken Tikka, Momo and Dahi Puri.
For the Biryani fans, they serve up Vegetarian or Chicken, Lamb or Beef Biryani served with raita. $15.95 for the meat biryani or $14.95 for the veg biryani.
The meal deals include a Mini Meal – 1 choice of curry and rice for $9.95. Double Meal – 2 curry choices with rice and papadam for $12.95. Triple Meal – 3 choices of curry, rice and papadum for $14.95.
They also have Thail with 3 choices of curry served with rice, raita, salad, pickle and papadam. Veg $15.95 or Non-veg $16.95.
I give the big thumbs up to Fragrance of India for some delicious Indian food at a very reasonable price!
Fragrance of India
Shop 8.03
8 Street (Hilton Building)
8 Orchide Avenue
Surfers Paradise
Ph: 0421 973 397
Open 7 days a week from 9.30 till late
Website: http://www.fragranceofindiasurfers.com.au/
Check out the location of Fragrance of India at 8 Street Surfers Paradise