Sumatra An Awesome Backpacker Trail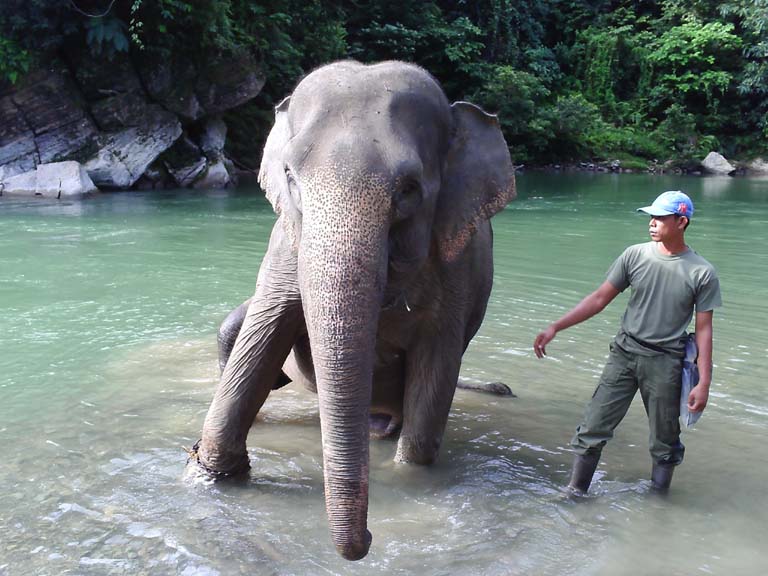 Sumatra Indonesia has had a well worn backpacker trail for more than 20 years. It is still one of the cheapest places on the planet to travel in and if you are prepared to travel rough, staying in basic accommodation, you can still travel for around $20 per day. The 5th largest island in the world, Sumatra has the ideal conditions to visit some of the most unique animals on the planet and some of the most diverse geographical topologies on all of the planet.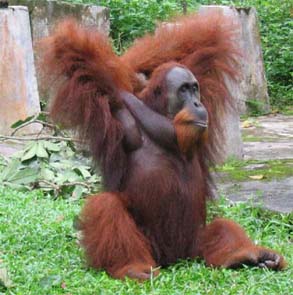 Sumatra is DIVERSE. Diverse cultures, 52 different languages spokens, geopraphical topology to suit all visitsor (beaches, tropical islands, jungle, rivers, lakes, mountains, volcanos, scuba diving, jungle trekking, rock climbing, wind surfing, caving and paragliding).
Sumatra has some of the most unique wildlife on the planet, rare and endangered species like the Sumatran Orangutan, Sumatra Tiger and Asian elephants still roam in the National Parks of Sumatra. Where else can you go to scrub an elephant?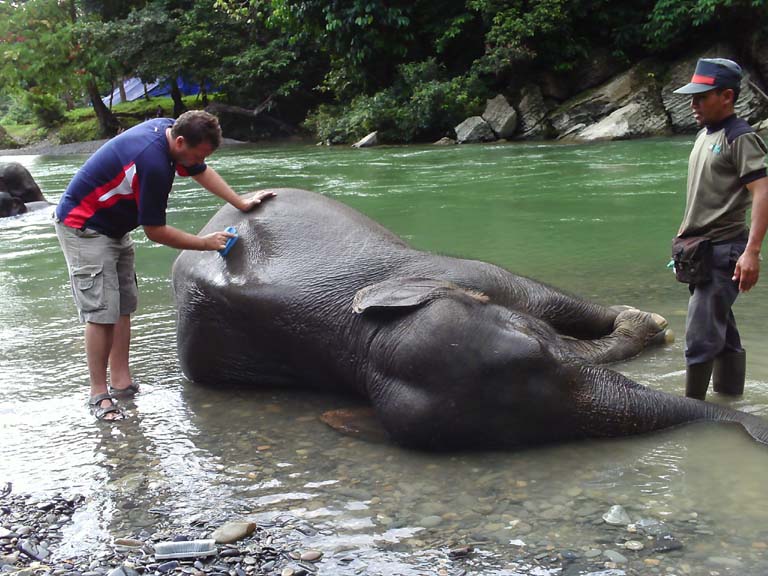 Sumatra is still one of the poorest places on the globe, very close to some of the major Asians hubs like Singapore, Bangkok, Kuala Lumpur and Hong Kong, though still only sees a very small percentage of tourists that visit this amazing destination.
Traversing the equator, Sumatra has a tropical environment with stable temperatures all year around of around 30 degrees during the day.
There are several entry points into Sumatra. By plane you can fly direct to Banda Aceh (Aceh Province), Medan (North Sumatra) or Padang (West Sumatra).
By ferry you can get to Sumatra via Penang in Malaysia direct to Medan, from Melaka in Malaysia to Dumai in Centra Sumatra or from Java you can get from the ferry port of Merak in Java to Bandar Lampung in South Sumatra.
Check out the various cities, towns, villages and tourist attractions in Sumatra Indonesia:
Aceh
Banda Aceh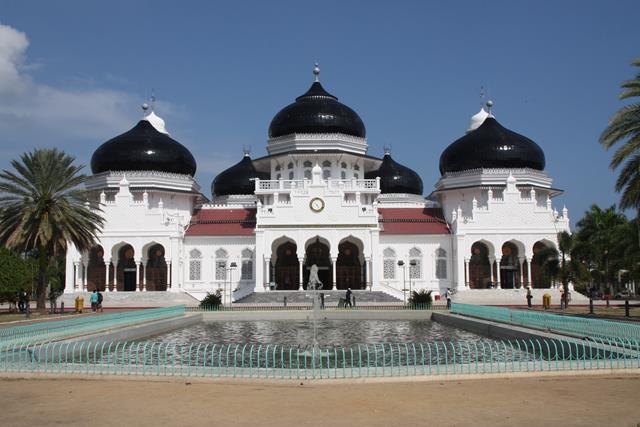 Bandan Aceh is capital city of Aceh province, the very northern province of Sumatra, Aceh Province had many years of civil war between the Indonesian Government and the local Islamic loyalists who demanded independence and Sharia Law to be implemented in the region.
Banda Aceh was devastated by the 2001 Tsunami off the coast of Sumatra where more than 200,000 people were killed. The town centre has rebuilt and has many monuments to the Tsunami throughout the town. The Tsunami did see an end to the major fighting.
You can easily get to Banda Aceh with direct flights from Kuala Lumpur Malaysia or there are flights from Medan or Jakarta to Banda Aceh. There is also a long 10 hour bus ride from Medan.
Pulau Weh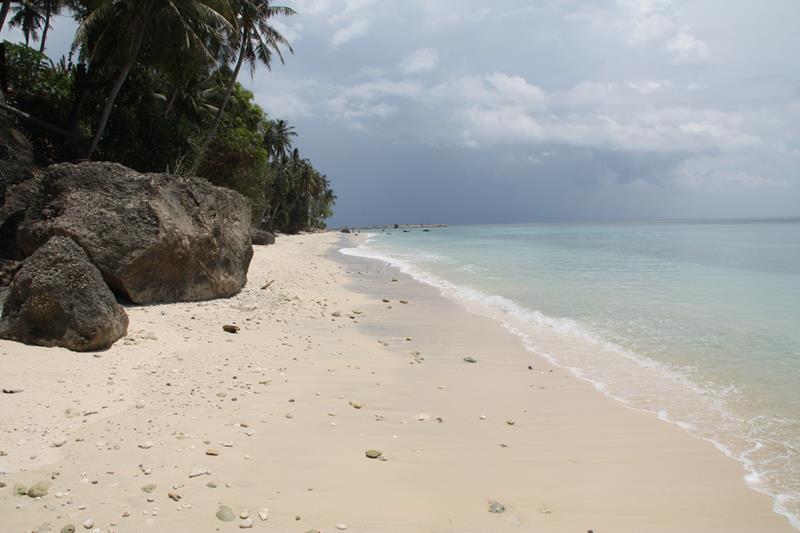 Pulau Weh is a beautiful tropical island just 45 minutes by ferry from Banda Aceh. With some of the best scuba diving in Indonesia. With some beautiful white sandy beaches, coral reefs, waterfalls and some good spicy food. There is also a small volcano on Pulau Weh and some hot springs for bathing.
There is a monument at the very northern coast of Pulau Weh '0 km Indonesia' which marks the most easterly and northern point of Indonesia.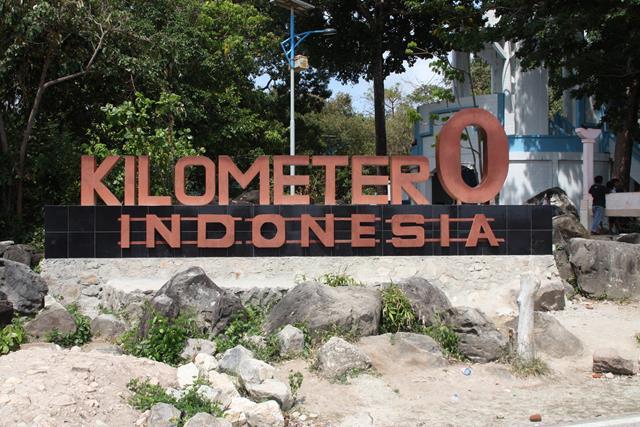 Read more about Pulau Weh Sumatra.
Nias Island
Nias Island is famous for it's excellent surfing. Located off the coast of Aceh, you can get a ferry from the town of Sibolga or Singkil. There are buses that leave from Medan in North Sumatra or you can catch a bus from Berastagi or Lake Toba to get to Sibolga. The ferry crossings from Sibolga take around 10 – 12 hours to get to the ferry port of Gunung Sitoli on Nias Island. The ferries from Singkil take around 5 – 6 hours to get to Nias.
North Sumatra
Bukit Lawang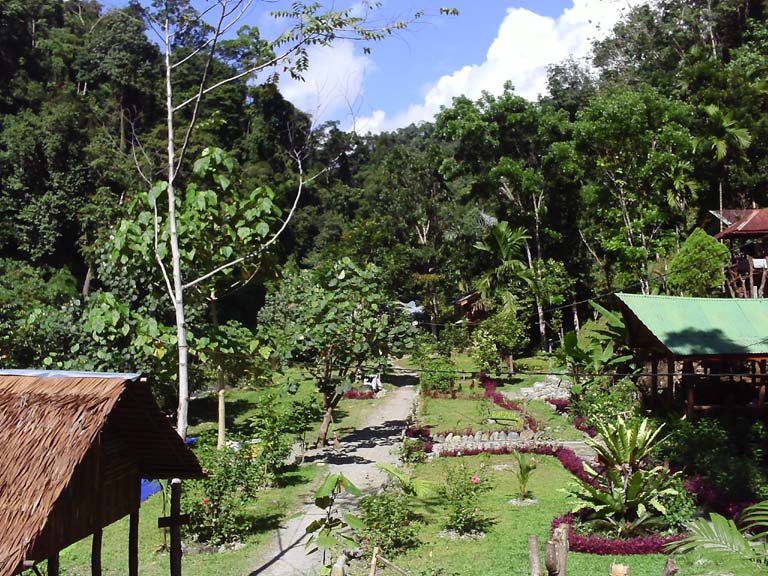 Bukit Lawang is one of the must visit places of Sumatra! Bukit Lawang means 'Gateway to the Hills' (Bukit – meaning hills, Lawang meaning gateway in bahasa Indonesia). This is the place to come to see the amazing Sumatra Orangutan.
Bukit Lawang is on the border of the Gunung Leuser National Park, home to some of the great animals of Sumatra including Orangutan, Elephants, Sumatran Tigers, Sun bears and sun bears. It is easy to arrange jungle trekking tours into the 'skin of the jungle'. These are days trips or overnight trips. You can organise longer treks into Gunung Leuser National Park but that is only recommended for experienced jungle trekkers. If you have never been in the jungle, try the overnight trip first before you venture further. If you can't walk up 3 – 4 flights of stairs without getting out of breath, I suggest you do some walking before you even try the overnight trip in the jungle.
In the 1970s, one of the first Orangutan Rehabilitation centres opened at Bukit Lawang, introducing Orangutan that had been kept as pets, back into the wild. Altough the rehabilitation centre no longer operates, they still manage the Orangutan Centre where you visit in the mornings and afternoons to see the daily feeding of the semi-wild orangutan. Even to see the Orangutan feeding at Bukit Lawang, expect a 20 – 30 minute walk through the jungle, up some steps to get to the feeding ground.
There are regular buses that leave from Medan (the capital city of North Sumatra) going to Bukit Lawang. It takes around 3.5 hours on the public bus or there are mini-buses that get there in around 2.5 – 3 hours. A private car will take around 2.5 hours. Bukit Lawang is only 68 Kilometers from Medan but the roads are not in the best condition. Roads out of Medan have improved but the closer you get to the jungle, the more wear and tear there is on the roads.
Gunung Leuser National Park is one of the largest National Parks in Indonesia stretching from North Sumatra into Aceh Province in the north of Sumatra. With the Gunung Lesuer (Lesuer Mountain) in the heart of the National Park, around a 5 day trek to get to. Bukit Lawang is not a good place to start a trek to Gunung Leuser. There are a number of villages on the fringe of the Gunung Lesuer National Park which are better start of points to do a 4 day trek.
Medan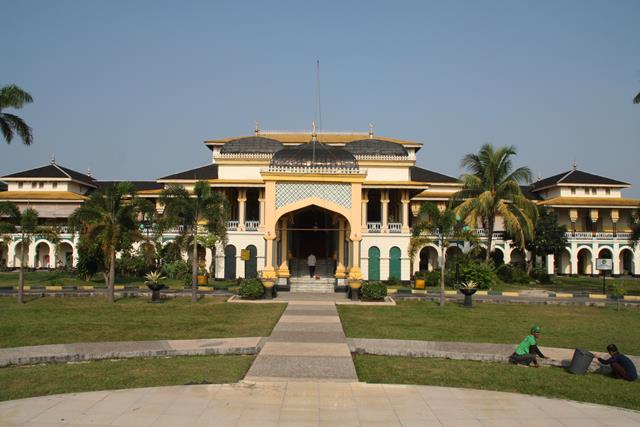 Medan is the capital city of North Sumatra, a noise, overcrowded city, Medan is the 3rd largest cities of Indonesia. With a population of over 2 million people, Medan is a busy city which you don't need to spend alot of time in. The gateway to the best attractions of North Sumatra. There are some nice hotels in Medan, as well as some dirt cheap backpacker hotels to do a quick overnight layover in Medan, before you visit the real amazing places in Sumatra!
There are a few interesting places to visit in Medan so you could easily spend 2 -3 nights in Medan, if you are not in a rush. With the spectacular Grand Mosque and Maimoon Palace close to the centre of town with loads of large modern shopping malls close by. There are loads of massive, modern shopping malls and loads of great restaurants serving a range of Sumatra food, Indonesian food as well as a good selection of Indian and Chinese cuisine available. There is a decent nightlife in Medan, with loads of cheap bars, a few nightclubs and plenty of pubs where you can get a good pub meal and a few cold beers at a cheap price.
There are some other tourist attractions in Medan like some 'zoos' and wildlife parks like the Crocodile farm on the outskirts of Medan city. There is also a range of religions in Medan with various Mosques, Churches or temples to the various religions. Grand Mosques, small mosques, an impressive Roman Catholic Cathedral and various Taoist Chinese temples, Hindu temples and some Buddhist temples and shrines.
There are direct flights to Medan from Singapore, Kuala Lumpur, Jakarta, Padang and several other cities in Indonesia.
You can also get a ferry from the island of Penang in Malaysia direct to Medan. The ferry trip between Penang and Medan takes around 6 hours. There used to be a few ferry companies running services from Penang to Medan but now with the very cheap air travel in South East Asia, it is quicker and almost cheaper to fly instead of catching the ferry.
Berastagi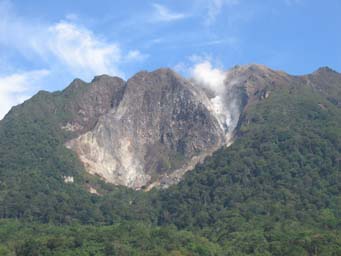 Berastagi (pronounced in Indonesian as 'brastagi') is only 2 hours away from Medan, with many buses leaving every hour. Berastagi is an agricultural centre of North Sumatra which has 2 active volcanoes, Sinabung Volcano and Sibayak Volcano. Right at the base of Sibyak there are some great hot springs where you can bathe which is supposed to be therapeutic to your skin and health.
You can still do treks to the top of Sibayak volcano which will take around 2 hours to climb to the peak. You used to be able to make the much longer hike to the top of Sinabung Volcano but in recent years there has been alot of volanic eruptions at Singabung which has now seen an exclusion zone around the volcano.
There are regular public buses and mini-buses running between Berastagi and Lake Toba.
Sikulikap Waterfall
Sikulikap Waterfall is an impressive waterfall located just 20 minutes north of Berastagi. If you are traveling from Medan to Berastagi you can stop along the way. From the main highway, the waterfall is around a 15 minute hike through the forests to see this 30 meter tall waterfall. This is one of the nicest waterfalls in North Sumatra…Sipiso-piso falls below, being the must visit Waterfall in Sumatra.
Sipiso-Piso Falls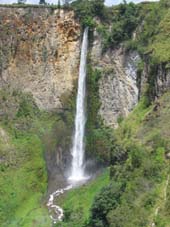 Sipiso-Piso waterfalls is the most impressive waterfall in Sumatra. Located 30 minutes drive south of Berastagi, the falls are 120m tall (360 feet). Sipsio-piso falls are located on the edge of a canyon right at the north lip of the Lake Toba caldera. The whole landscape around Lake Toba was formed by a super-volcano which exploded 75,000 years ago forming a massive hole which filled with water to be known as Lake Toba.
If you are traveling from Berastagi to Lake Toba, it is easy to make a quick stop to check out these watefalls. i would definitely recommend the stop to break up the 2 – 2.5 hour trip to Lake Toba from Berastagi.
Lake Toba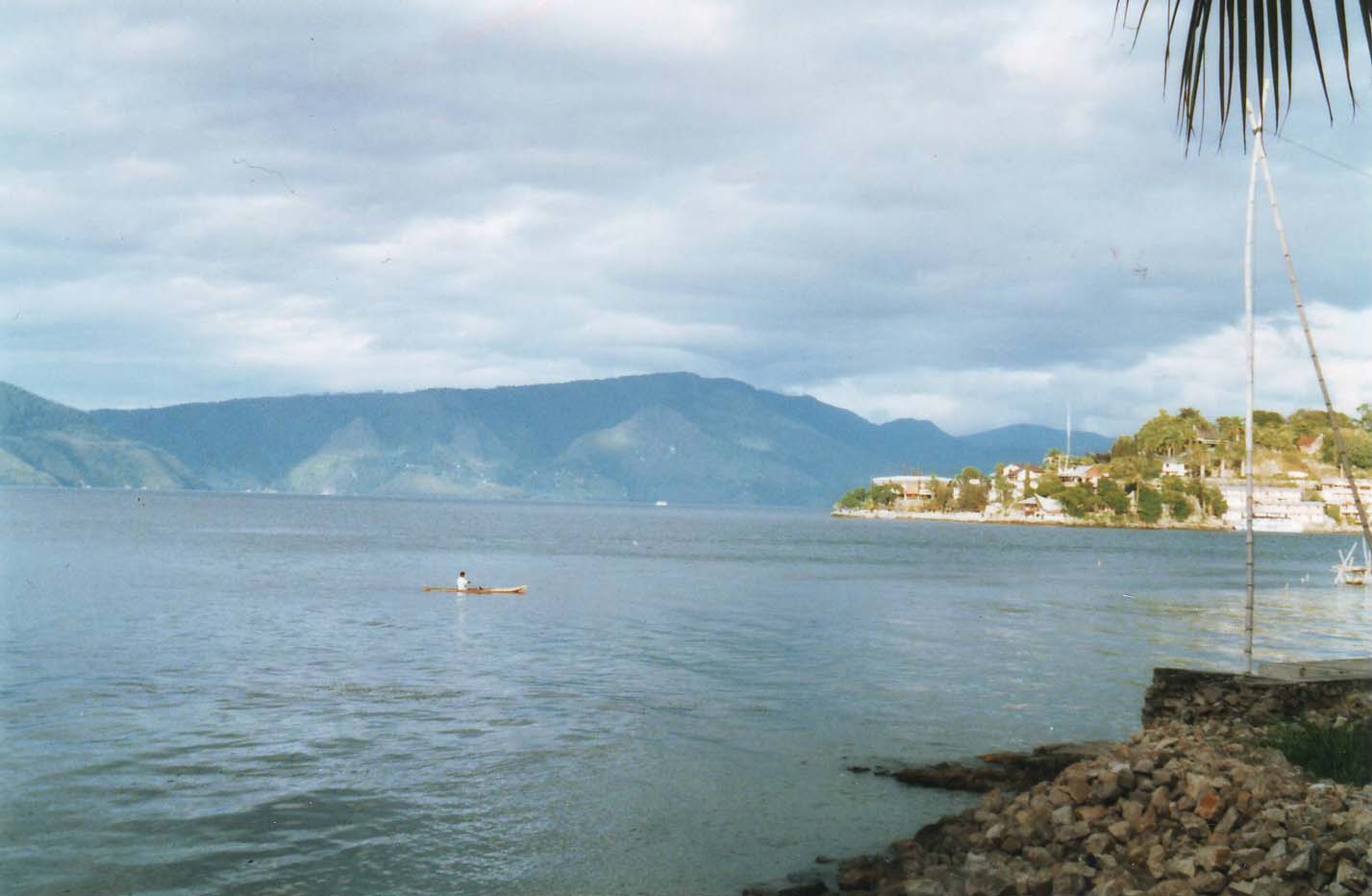 Lake Toba is another must visit place in Sumatra, the largest lake in South East Asia, In the centre of Lake Toba is Samosir Island (not really an island as there is an isthmus connected on the far side of Samosir). Samosir Island is the place to come and have a relaxing holiday by the lake with enough places of interest to spend 3 – 5 days of relaxing. Or stay more days if you want more relaxing! While Sumatra is the 5th largest island in the world, Samosir is the 5th largest lake islands (not really an island…).
Lake Toba has the very unique culture of the Batak people. Whilst the rest of Indonesia has the majority population following the Islam region, the people of Lake Toba are predominantly Christians. While it's is rare to get a good pork dish in the rest of Indonesia, there are some great pork dishes in Lake Toba. Really good pork dishes!
Before Christianity was introduced to the Batak people, there was a bit of a history of cannibalism around this region of Suamtra! There are some archaeological sites you can visit on Samosir Island, where ceremonial grounds were located where the local tribe used to sacrifice opposing tribe members and cook them up in a big pot. Christianity stopped the eating, but the Batak people still have a mix of traditional religions. If you spend anytime in Lake Toba you will hear some great local legend stories about how the lake was formed.
As well as the majestic lake, there are a number of beautiful waterfalls and hiking trails on Samosir Island, which is an island located within Lake Toba. If you like hiking, then there is a great hike from the end of Lake Toba, up to the highest point of Samosir Island (
A small ferry travels from Parapat across to Samorsir Island where there is a great range of cheap accommodation on the island.
When I first visited Lake Toba, 20 years ago, I planned to stay 2 nights! 1 month later I moved onto Bukit Lawang!
Tangkahan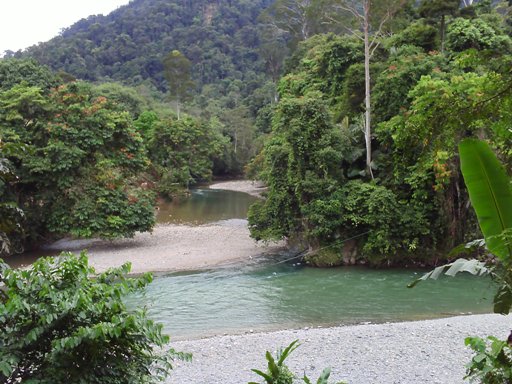 Tangkahan also right on the border of the Gunung Lesuer National Park, Tangkahan is the place to go to scrub an elephant! Tangkahan is a village surrounded by Palm Oil plantations. As a way to protect the village of Tangkahan from the encroaching oil plantations, and to protect the jungle from poaching, the village setup a troop of elephants that patrol the jungle for poachers. This then started a great tourist attractions to bring in money so the villagers can make money from tourism.You can visit the elephant camp and help by contributing to protect the jungle. You can just go along to see the daily washing of the elephants or you can pay to have your own elephant jungle trip through the jungle. Due to the popularity, you can only get a 1 -2 hour trip on the elephants.
You can also arrange jungle trekking trips from Tangkahan for a chance to see real wild Orangutan, but you need to be lucky.
There are 2 rivers connecting right at Tangkahan village with some great swimming and there are some hot springs with volcanic water spurting into one of the rivers. There are also some great waterfalls easy walk from Tangkahan.
Tangkahan can be access by bus from Medan (up to 5 hours bumpy trip) or you can get a 4WD from Bukit Lawang which will take around 2.5 hours.
Read more about washing elephants in Tangkahan
Jungle Trekking in North Sumatra
There are a few villages you can visit and arrange jungle trekking in North Sumata. These villages include Bukit Lawang, 2.5 hours from Medan, Tangkahan (5 hours bus ride from Medan) and also Ketembe, at the very southern border of the Gunung Leuser National Park, around 3 – 4 hours from Berastagi.
Read more about Jungle Trekking in Sumatra
White Water Rafting
There are a number of rivers in North Sumatra with some great White Water rafting. The Bohorok River and Wampu Rivers are both accessible from Medan (around 2 – 3 hours drive to each of the rivers).
Also The Bingei River (just 1.5 hours from Medan) has grade III and grade IV rapids.
West Sumatra
Padang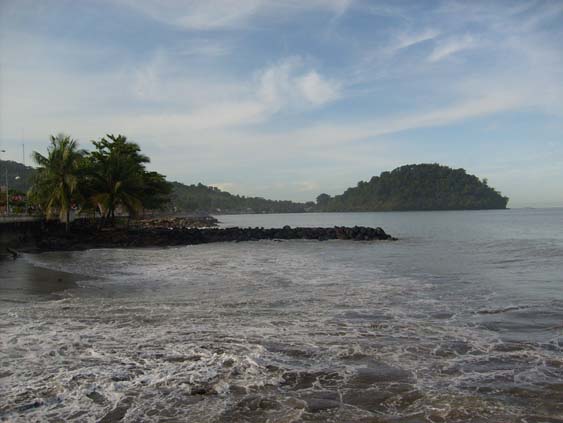 Padang is the capital city of West Sumatra, the gateway to Mentawai Islands. If you are into surfing, you will visit Padang. Even if you are getting on a live aboard boat for a surfing boat trip, you'll have to arrive in Padang.
There are a few places of interest in Padang including some caves built by the Japanese during their occupation of Sumatra during the 2nd world war.
Padang has a great selection of it's own culinary delights including the beef randang which is one of the best curry dishes you will find in Indonesia. There are loads of traditional Padang Restaurants with the sign out the front saying 'Masakan Padang' which means Padan Cuisine. In these restaurants, you walk in, they load up the table with a little serving of all of the food they offer, then they only charge you for the dishes you touch. This is a great way to try loads of different types of the local food.
There are direct flights to Padang from Medan, Jakarta, Singapore and Kuala Lumpur.
Mentawai Islands
Mentawai Islands are surrounded by some of the best surf breaks on the globe, Mentawi Islands is also home to some very remote tribes and some hard core jungle trekking. If you want some easy treking then visit Bukit Lawang. If you want to go somewhere totally remote, then visit the Mentawai Islands.
The largest of the Mentawai Islands is called Pulau Seribut. There are ferries that leave from Padang that go to the main ferry port on Pulau Seribut.
Bukittinggi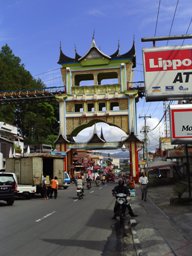 Bukittinggi is probably the most interesting place in West Sumatra, home to the Minangkabau people. With their own language and a matriarchal society, some of the architecture of the local Bukittingi buildings and homes are worth a visit, with the most distinct long houses with the bull horns.
Bukittinggi only has a population of around 117,000 people but has alot of interesting places to see in town as well as easy day trips from here.
Right in the centre of town are some great examples of some Dutch colonial buildings erected during the time the Dutch ruled Indonesia, dating back to 1663, including the Clock Tower right in the heart of town.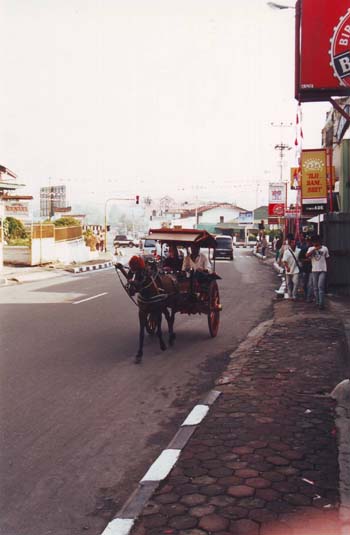 Crossing the Equator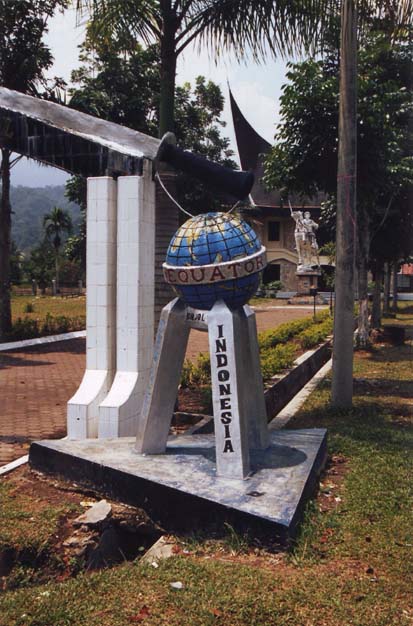 Just north of Bukittingi, you can cross the equator. On the Trans-Sumatran Highway there is a monument and a white line painted on the road to show you were the Eqator crosses over Sumatra. This is a great photo opportunity, standing in both the Northern Hemisphere and Southern Hemisphere at the same time.
Lake Maninjau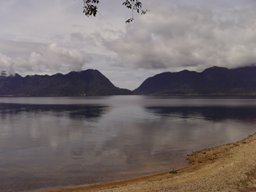 Lake Maninjau is just 1.5 hours bus ride from Bukittingi, so you can easily do a day trip here. Lake Maninjau is a great place to relax so you could spend a few days here or a few weeks. Very relaxing.
Kerinci Volcano
Kerinci is an active volcano located with the Kerinci National Park, south of Padang.
Cental Sumatra
Pekanbaru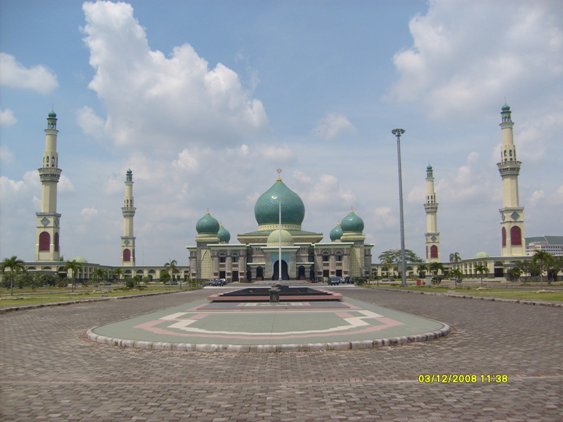 Pekanbaru is a large town in Central Sumatra which has a lot of oil companies and mining companies operating out of the surrounding areas.
Pekanbaru is a stop over city if you need it to be, espcially if you arrive into Dumai ferry port, crossing over in the ferry from Melaka in Malaysia. There are enough places of interest in Pekanbaru to spend 1 or 2 nights. The Penkanbaru Grand Mosque is one of the most impressive Mosques in all of Asia. There are some large modern shopping malls and some great night food markets to try some local Pekanbaru dishes.
Dumai
Dumai is a sea port town in Central Sumatra. This is where you arrive by ferry from Melaka Malaysia and get on a mini-bus to go to Bukittingi or Padang. Apart from the bus terminal next to the ferry terminal, there is not much reason to stay in Dumai. Buses direct to Bukittinggi will take around 5 – 6 hours from Dumai. You can get from Dumai to Pekanbaru in around 1 hour.
South Sumatra
Palembang
Palembang is the capital city of South Sumatra.
You can easily reach South Sumatra from Jakarta. A 2 hour drive from Jakarta and then around 2 hours on a ferry to the capital city of Bandar Lampung. There is a train service that runs from Bandar Lampung to Palembang.
Bandar Lampung
Bandar Lampung is the most southern city of Sumatra, what used to be a large fishing village on the coast of the Bunda Strait, has expected to a large city with a population of almost 900,000 people. There are boat trips you can do out to see Anak Krakatau, the active volcano island. There are also dolphin sight-seeing tours you can do.
Bandar Lampung has been popular with backpackers as stop over city, traveling from Jakarta, across the Sunda Strait and up through Sumatra.
Anak Krakatau Volcano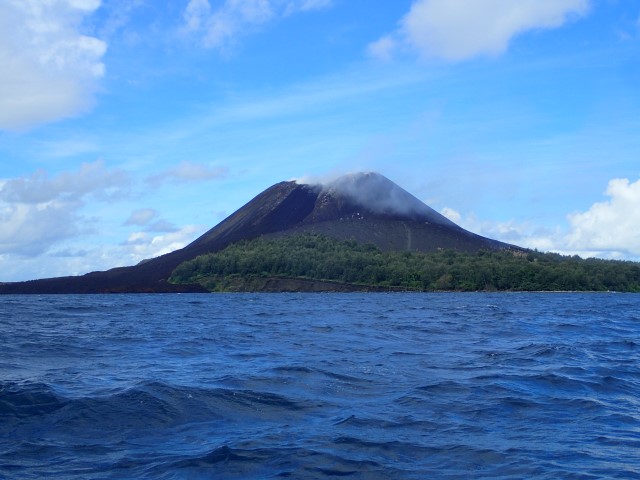 Anak Krakatau is an active volcano in the middle of the Sunda Strait, the sea between Sumatra Island and Java Island. Anak Krakatau means 'Child of Krakatau' (or more commonly known as Krakatoa Volcano which exploded in 1883). Anak Krakatau is the new volcano formed, close to where Krakatoa exploded and it continues to grow. Currently Anak Krakatau is over 500 meters tall and has regular volcanic activity. You can arrange a boat trip from Bandar Lampung to visit the island of Anak Krakatau and climb to the rim of the volcano.
Read more about day trips to Anak Krakatau.
My Experiences in Sumatra and advice
A met loads of interesting travelers like authors who worked out of the US but traveled around Asia for cheap accommodation and solitude to great something. Some of those said Sumatra was one of the cheapest places to stay. 10 years ago, you used to get 60 day visas into Indonesia. Now you can get only a 30 day visa on arrival
Although Sumatra is an excellent place for some cheap backpacking travel, tourism has picked up and some good quality hotels have opened in the larger cities and towns. Now you can travel through Sumatra with a bit of luxury too!
How long can you stay in Sumatra?
You can get a 30 day visa on arrival as you enter any of the sea or airports in Sumatra Indonesia.
10 years ago, you used to get 60 day visas into Indonesia. Now you can get only a 30 day visa on arrival but it is easy enough to travel back to Singapore or Malaysia to do a quick visa run.
Traveling from Sumatra to Singapore direct, after a long stay in Sumatra, can be a massive culture shock. There is the great stop over point of Bintan Island, which is off the coast of Sumatra, but much closer to Singapore. You can catch a ferry from Medan to Bintan, or there are cheap as flights. Then from Bintan Island to Singapore is a 45 minute ferry ride.
Have you been to Sumatra? Do you have any tips for backpackers? Cheap places to stay or tourist attractions that are not listed here? Post a comment below so other travelers can read the tourist advice for Sumatra.
[do_widget id=wpp-23]