Gringo Loco Cantina Mexican Restaurant Surfers Paradise Gold Coast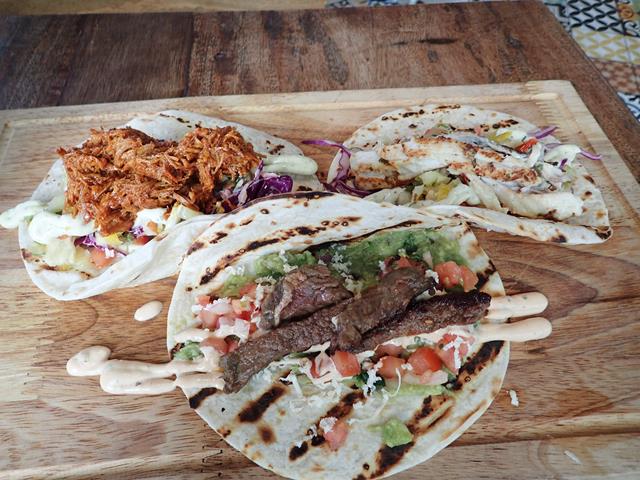 If you love Mexican food, beer and tequila then you have got to visit Gringo Loco Catina. Located on the Soul Boardwalk, directly across from Surfers Paradise Beach.
Whether you like tacos, burritos, Quesadillas, Tostaditas or Ensaladas, this place has the lot, as well as some creative, fun dishes with full Mexican flavours.
I went in very hungry at lunch time, after missing breakfast I was ready for a decent feed. I sure got that and left very content.
First up I ordered 3 different tacos, 1 grilled fish taco with pineapple salsa, cilantro & lime mayo. 1 beef taco with sliced rump steak, pico de gallo, queso, guacamole & chipotle and 1 pulled pork taco with apple slaw, queso & chilli Jam. The tacos are soft tacos with char grilled flour tortillas. They can also serve gluten free tortillas.
The tacos are served mild with a hint of spice but if you like your food fully spicy then there are 2 types of hot sauces on each table to add some fire to your meal. A bottle of Chipotle Hot Sauce and a bottle of Green Habanero sauce.
I also ordered a plate of the Chorizo Bolas – some delightful deep fried balls with potato, chopped chorizo sausage, chilli jam with a light lime mayo dressing.
A very decent, fully stocked bar serves up a range of local and imported beers including Corona beer and they also have an impressive selection of boutique beers from the Balmain Brewing Company. They also make some great cocktails and have a good range of Mexican tequilas.
There is inside dining where the floor to ceiling windows can be fully opened up which is perfect for the climate at Surfers Paradise. There are also tables right out the front of the restaurant with views over to Surfers Paradise Beach. Prices are very reasonable.
Well worth a visit to this tasty Mexican Restaurant in the heart of Surfers Paradise Gold Coast.
Gringo Loco Cantina Mexican Restaurant
Soul Broadwalk
101/4 The Esplanade
Surfers Paradise
Ph: 1 300 529 224
Website: www.gringolococantina.com.au