Sake Japanese Restaurant Melbourne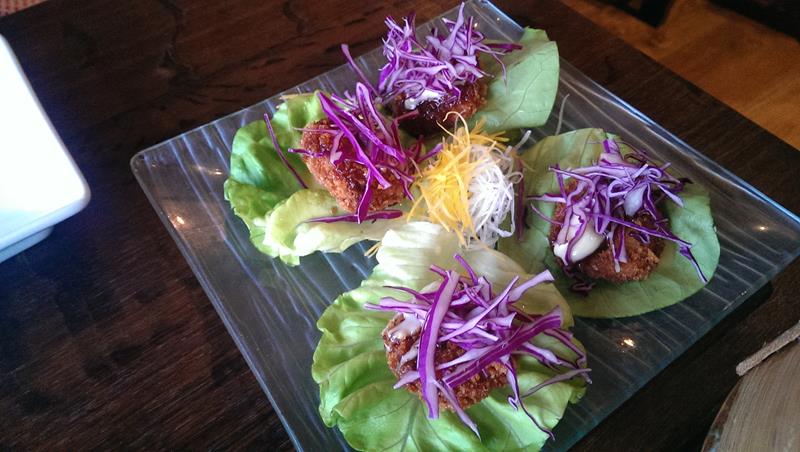 Sake Restaurant and Bar is a chain of restaurants on the east coast of Australia, with 2 restaurants in Sydney (at the Rocks and Double Bay), 1 at Eagle Street Pier in Brisbane and this restaurant at Hamer Hall Melbourne, right next to the Arts Centre at Southbank right next to the Yarra River, just over from the Melbourne CBD.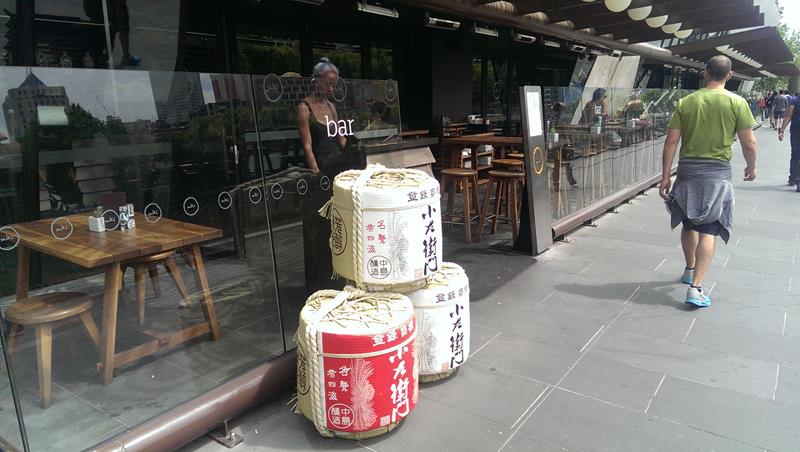 I had eaten at the Sydney and Brisbane Sake Restaurants before I dined at Melbourne branch and already had great Japanese dining experiences. The Melbourne branch held up the high standards of great Japanese food, a fine dining restaurant with great decor.
Their website lists them as a Australia's best contemporary Japanese Restaurant, I guess that means modern Japanese compared to a traditional Japanese restaurant. The food at the Sake Restaurants is very Japanese and I'd say a fusion of Japanese flavours mixed with Australian produce with a mix of other Asian cuisine flavours. Tripadvisor has the Sake Restaurant in Melbourne ranked #255 out of 4158 restaurants in Melbourne, which puts it close to the top 5% of restaurants.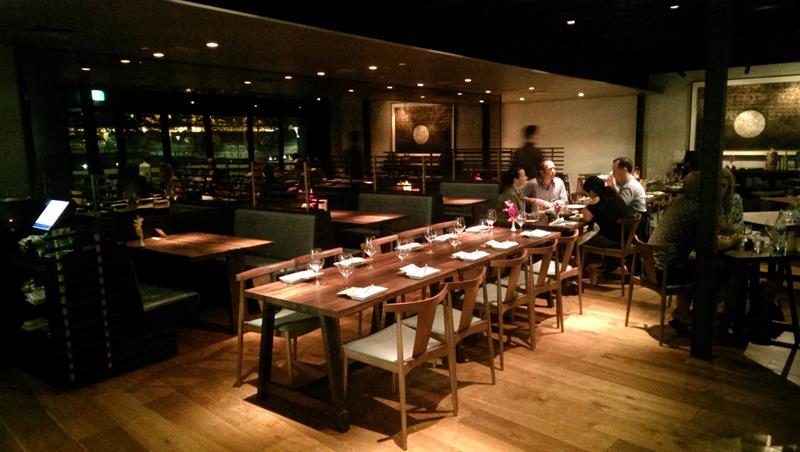 I went in for a light meal early on a Sunday night with a friend who also loves Japanese food. We started off with the Jalapeno Salmon Sashimi ($24) which had a spicy sauce from the jalapenos topped with slices of crunchy daikon (Japanese radish).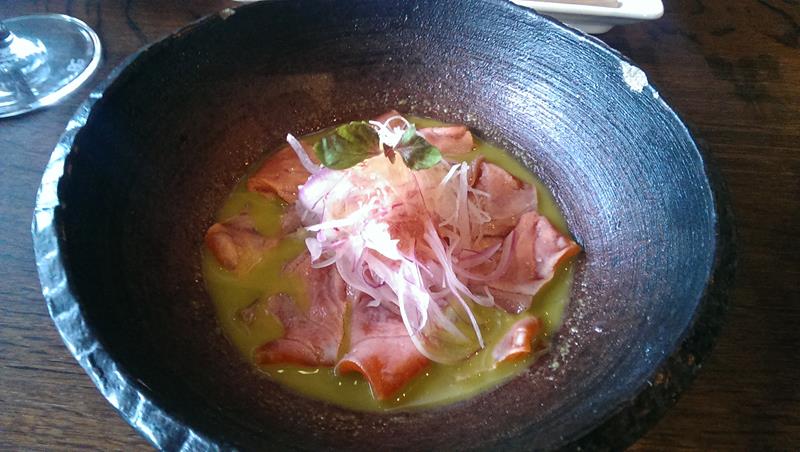 My friend and I had eaten Tonkatsu (breaded pork fillets) together in Tokyo a few months before so we had to order the Tonktasu cups ($16) from the starter menu. It had small pan-fried slices of the Tonkatsu pork belly with spring onions served in a lettuce leaf with mustard miso and Japanese BBQ sauce. Yum yum yum, I love tonkatsu!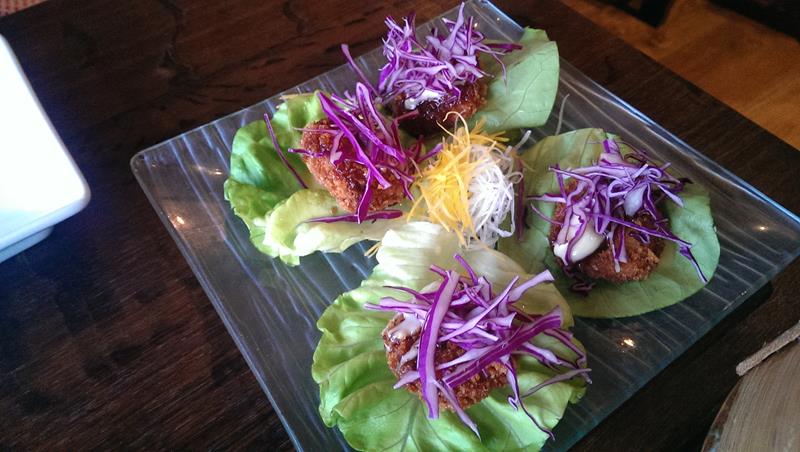 Next up were some lovely gyoza dumplings ($18). Rather than the traditional pork dumplings these were steamed Wagyu beef dumplings. The dumplings were a good size and all were devoured quickly. We also had a plate of the chicken teriyaki ($29) (sorry no pic, we were too busy drinking sake and forgot about taking a pic of that dish).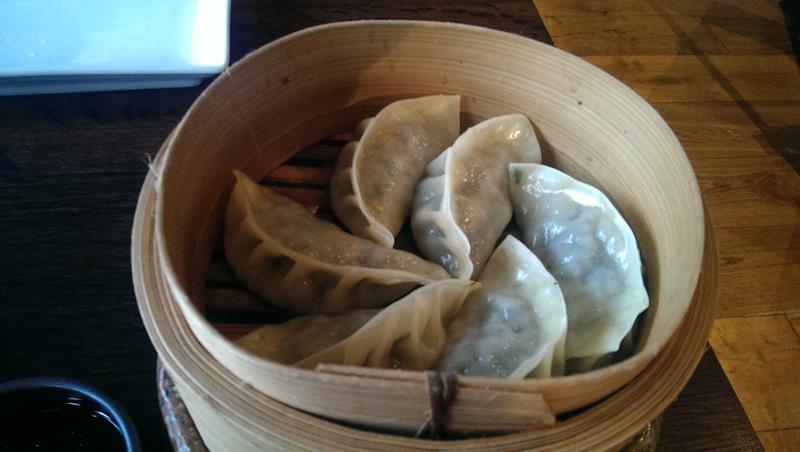 Keeping with the name of the restaurant, Sake, they have a huge drinks menu with a great selection of Japanese sake. They serve the sake by the glass, carafe or bottle. They also offer Japanese shochu and umeshu as well as a full menu of white and red wines and spirits. On the drinks menu are Sake Bombs which are a draught beer with a shot of sake for $10 each.
As it is a restaurant and bar, you don't have to go to Sake Restaurant for a full meal. They have a bar menu which has dishes like the steamed wagyu dumplings ($17), chicken teriyaki hand roll ($8), popcorn shrimp ($15) and a sashimi tasting plate for $14. As this restaurant is right below the Melbourne Arts Centre you can pop in here for a drink and a snack before a show.
Sake Restaurant and Bar is located at:
Hamer Hall, Arts Centre Melbourne,
100 St Kilda Rd,
Melbourne VIC 3004
Tel +61 (3) 86870775
Website: http://www.sakerestaurant.com.au/hamer-hall/
The new Sake Restaurant and Bar opened in Double Bay in Sydney at the end of 2014 and I now have to try that restaurant to finish the whole set of Sake Restaurants. I am sure it meets the same quality standards as all the other Sake Restaurants I have been to. Stay tuned for that review – join our mailing list to be notified of new articles and reviews (link at the top of the page)!
Check out the most popular articles about Melbourne