Sama Sama Yakiniku Japanese Restaurant Nusa Dua Bali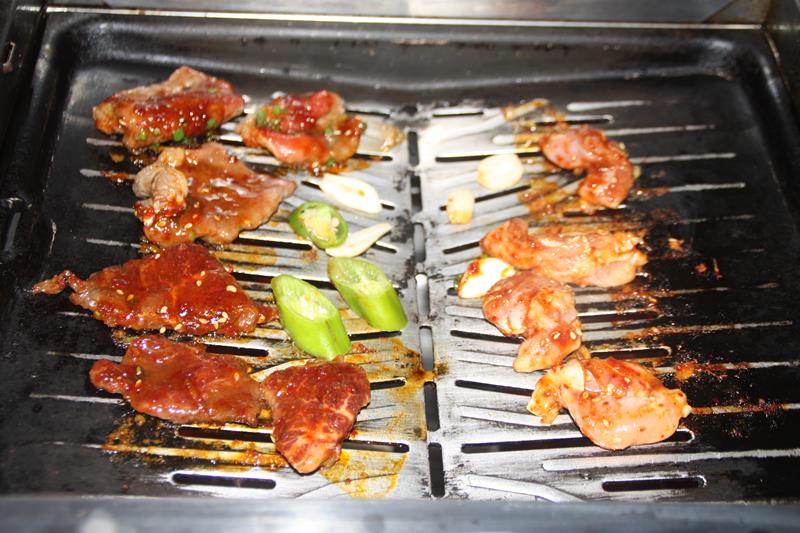 Sama Sama Yakiniku Japanese Restaurant, located at Jl. By Pass Ngurah Rai 128 Mumbul, Nusa Dua is a traditional Japanese Yakiniku (grilled meat) restaurant. Each table in the restaurant has a gas grill built into the table for grilling a range of meat including beef, chicken and seafood.
I went in for dinner at Sama Sama Yakiniku restaurant with a friend and had a delightful meal. We ordered 3 different plates of meat including a plate of Wagyu Bara beef (150,000Rp), special premium boneless rib (150,000Rp) and a plate of Torimono (Chicken meat 35,000Rp). Each of the plates of meat is marinated in a range of sauces. The meat arrives and you wack the meat on the grill, cook it all up and get stuck into the eating.
We polished off our 3 plates of meat with rice. I thought we would have needed to order more though this was enough for 2 people. I drank a few bintang beers and all up the meal came to just over 400,000Rp which is around A$40. This same meal would have cost me over $100 if I was back in Sydney.
The service at the restaurant is typical Indonesian service, friendly but inefficient. The staff stand around and stair into space or stand in a corner chatting with their colleague. Once you can get their attention they are friendly and slow go fill your order.
Sama Sama Yakiniku Japanese Restaurant is located only 10 minutes by taxi from the resorts in Nusa Dua or around 20 minutes from Kuta beach. The restaurant does offer free pick up and drop off service. Just give the restaurant a call to make a reservation and arrange the pick up.
Give them a call to make a reservation and arrange the car pick up service.
Address: Jalan By Pass Ngurah Rai No.128, Kuta Selatan, Badung, Bali 80361, Indonesia
Check out the most popular articles about Bali on this site: