Best Bars With Views Over Kuala Lumpur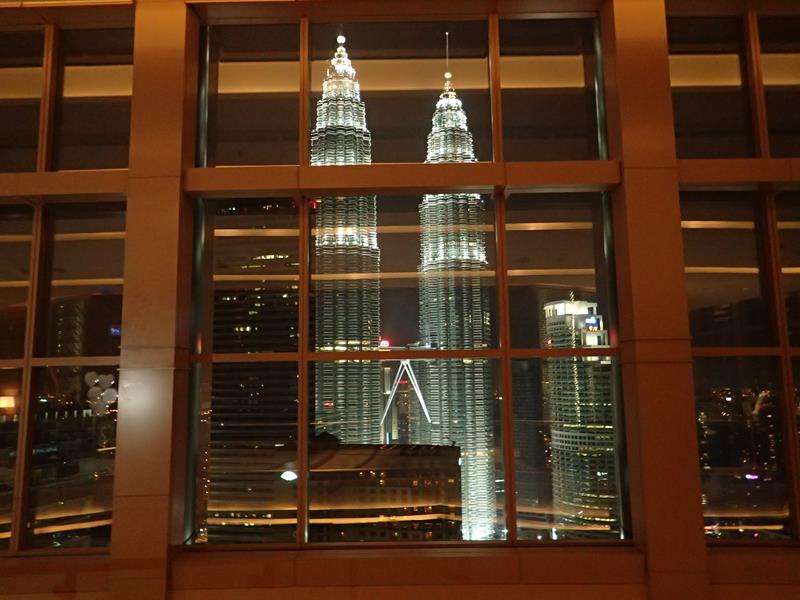 Kuala Lumpur has it's fair share of rooftop bars with some amazing views over the KL city skyline. Check out this list of the best rooftop bars with views over Kuala Lumpur:
Marini's On 57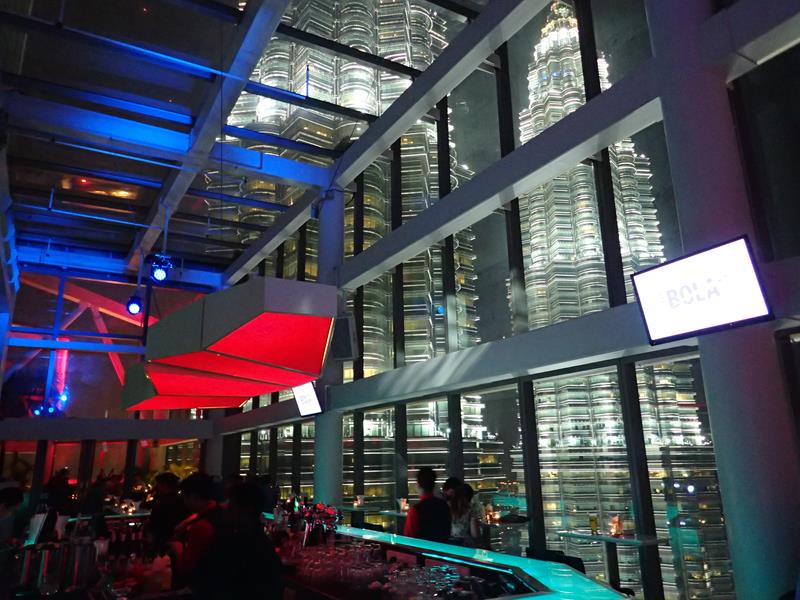 Out of all the bars with views in Kuala Lumpur we think Marini's on 57 is the best. It is super classy with the best view out of all the bars in KL. Marini's on 57 is the highest bar in Kuala Lumpur on Level 57 of the Menara 3 Building (KLCC Tower 3), right next to the Petronas Twin Towers. The views over to the Petronas Twin Towers is breathtaking. You are looking straight into the towers and can see into some of the very fancy offices and boardrooms in the towers. There is the rooftop bar, a lounge area which serves a great range of whiskys and cigars and there is also a very nice Italian Restaurant. You need to take 3 separate elevators to get up to level 57. They have a great selection of beers on tap including Asahi Japanese Beer, Hoegarden and Leffe Belgian beer, Kronenbourg 1664 French Beer and Carlsberg. Beer prices are very reasonably considering it is the best bar in town. A small Asahi beer only costs 18 Ringgit. A Kronenbourg is 28 Ringgit.
Marini's On 57
Level 57
Menara 3 Building
Petronas Towers
Kuala Lumpur
Website: http://www.marinis57.com/
Heli Lounge Bar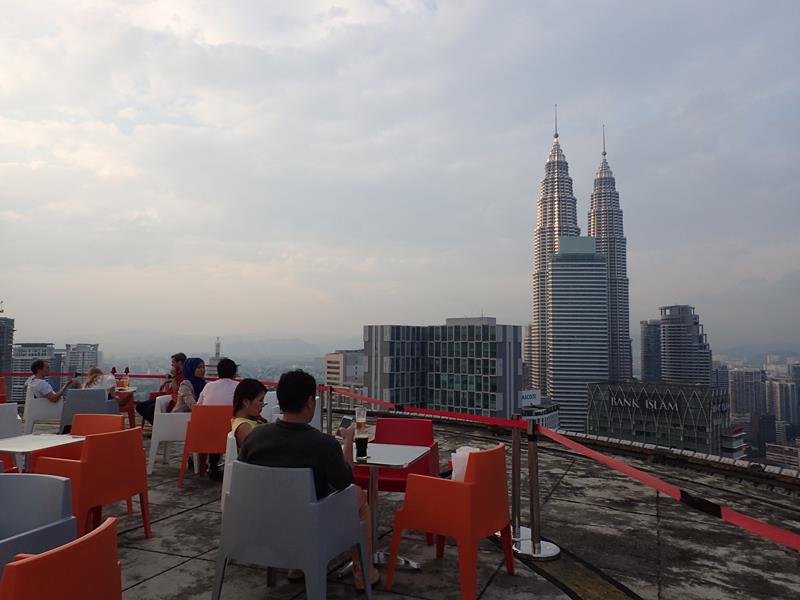 Heli Lounge Bar is a true rooftop bar in Kuala Lumpur. Built on a heli pad which is used as a helicopter pad during the day. At night time a temporary bar, tables and chairs are moved up to the heli pad to form one of Kuala Lumpur's coolest bars. With 360 degree views from where ever you sit, this is one of the best views in town! This is the bar to come to to watch the amazing sunsets over Kuala Lumpur.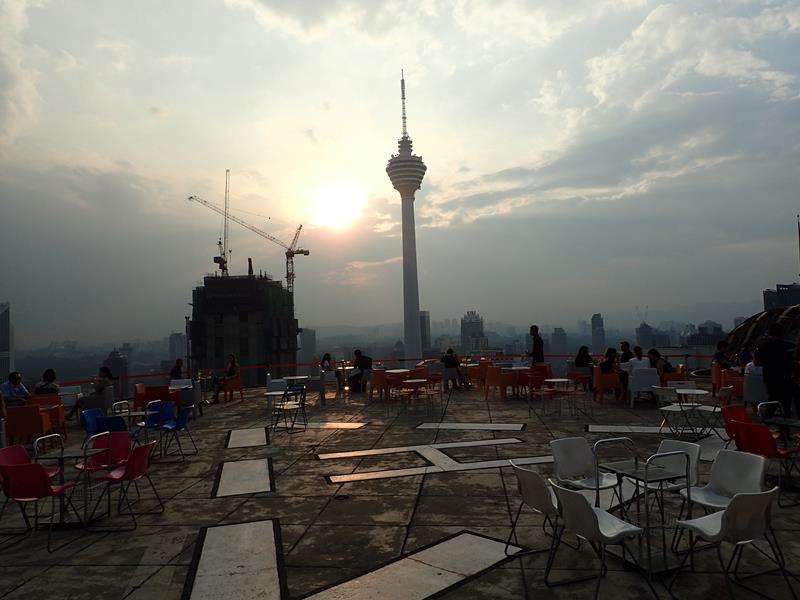 You first go up to lift to level 34. You order your first drink at the bar on this level, then you proceed up 5 flights of stairs to the Heli Lounge Bar. Any drinks after the first they have runners that go down 1 level to a service bar to fix your drinks. There is also a great food snack menu with mini burgers, chicken sausage hotdog, french fries and wedges plus loads of other snack foods.
Heli Lounge Bar
Bukit Bintang
Level 34
Menara KH Building
Jalan Sultan Ismail
Kuala Lumpur
Ph: (03) 2110 5034
Sky Bar @ Traders Hotel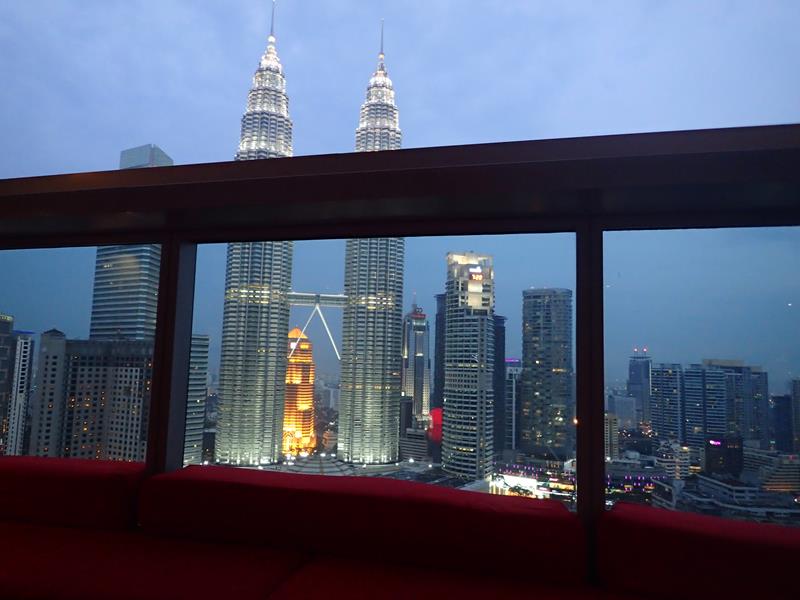 Sky Bar is located on level 33 of the Traders Hotel. Located around the hotel swimming pool, the Sky Bar has great views over to the KLCC Petronas Twin Towers and across of the KL city skyline. The drink prices are a bit high (40 Ringgit for a pint of Tiger Beer) though they have a DJ playing cool music every night of the week. Sky Bar is open Sunday to Thursday 10am – 1am and Friday and Saturday 10am – 3am. Check out more information about Sky Bar.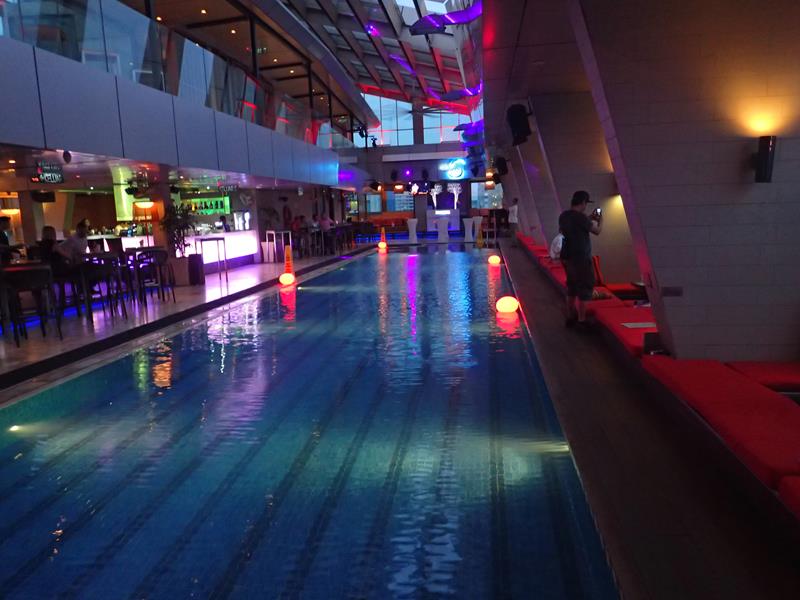 Sky Bar
Traders Hotel
Level 33
Kuala Lumpur City Centre
Ph: (603) 2332 9888
View Rooftop Bar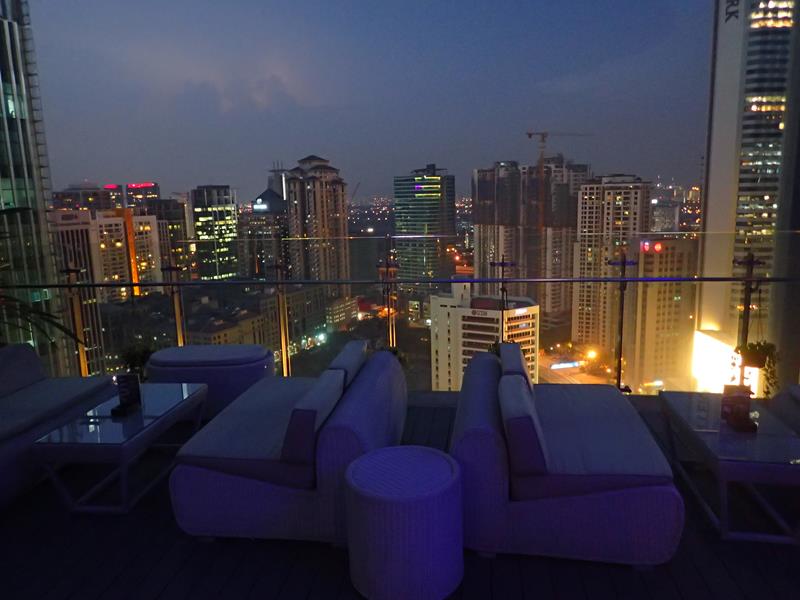 The View Rooftop Bar is located on Level 30 of the GTower Hotel on Jala Tun Razak Kuala Lumpur. The View Rooftop Bar is open Monday to Thursday 5pm to 1am, Friday, Saturday and public holidays 5pm to 3am, closed on Sunday. There is a nice view out from The View Rooftop bar though you only see around 30% of the skyline. To the left and the right tall buildings block the view. Check out more information about the View Rooftop Bar.
View Rooftop Bar
Level 30
GTower Hotel
199 Jalan Tun Razak
Kuala Lumpur
Ph: +60 3-2168 1881
Thirty8 @ Grand Hyatt Hotel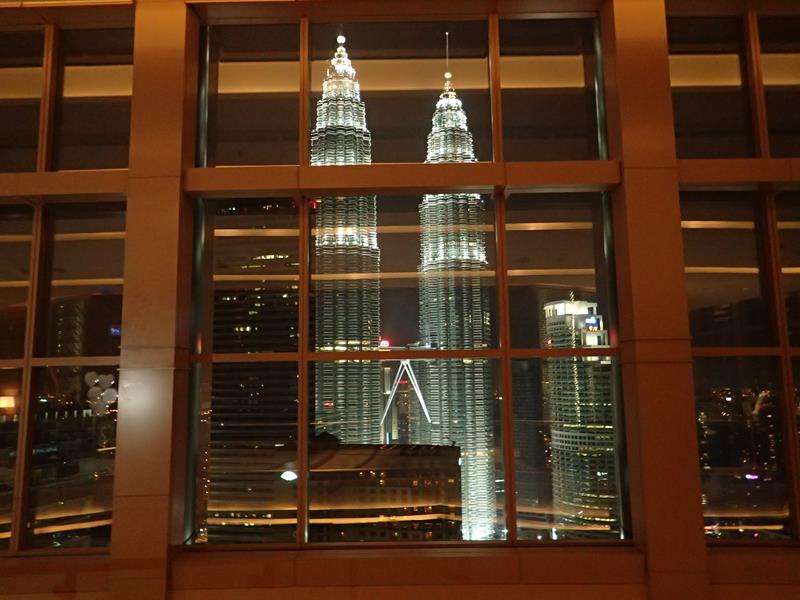 Thirty8 is a classy bar / restaurant located on Level 38 of the Grand Hyatt Hotel on Jalan Pinang in the heart of Kuala Lumpur. The floor to ceiling windows gave awesome views all over the Kuala Lumpur skyline, with direct views over to the Petronas Twin Towers. The bar and restaurant has 360 degree views all over the Kuala Lumpur city skyline. The bar at Thirty8 is open every day from 12pm – 1am. See more on the Thirty8 website.
Thirty8
Grand Hyatt Hotel
Level 38
12 Jalan Pinang
Kuala Lumpur
Ph: +60 3 2182 1234 extension 2340
Stratosphere @ The Roof
Stratosphere @ The Roof is another open-air bar on a helipad located in Bandar Utama Petaling Jaya Selangor, around 30 minutes drive from the centre of Kuala Lumpur. Open Wednesday to Saturday 8pm to 2am. Check out more on The Roof website.
Also check out the Best Rooftop Bars in Bangkok
Coming soon the Best Rooftop Bars in Singapore
Also check out the Best Bars with views over Tokyo
[do_widget id=wpp-17]