Flight Review Aircalin Sydney to Noumea Business Class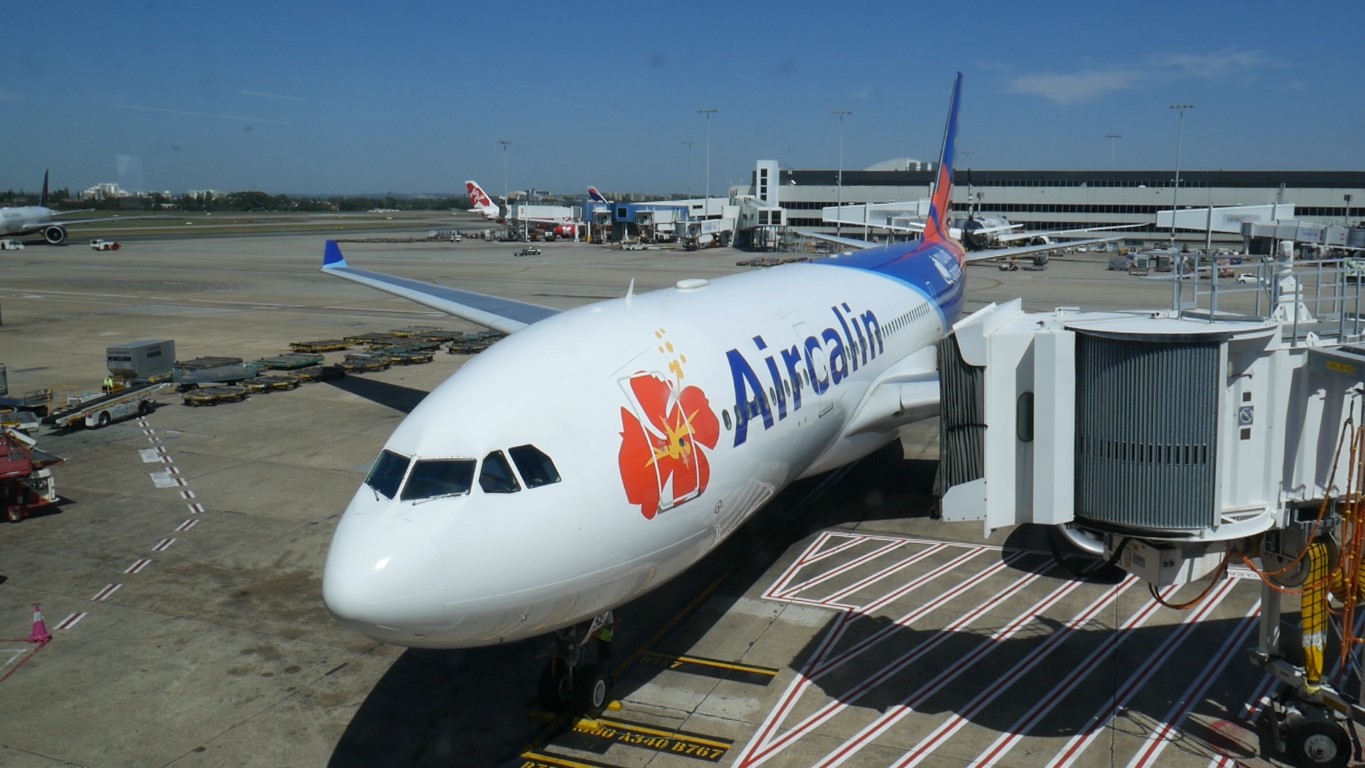 Airline: Aircalin
Flight no: SB141 (Qantas codeshare QF361)
Route: Sydney International Airport (SYD) to Noumea New Caledonia (NOU)
Aircraft Type: Airbus A330-200
Flight time: 2 hours 30 minutes
Travel Class: Business Class
Seat:  5H Window Seat
Seat Width: 22 inches
Seat Pitch:  49 inches
Check out the full flight review video for Aircalin Sydney to Noumea on the A330-200
I booked this Aircalin flight through the Qantas website as it has a code share Qantas flight number which allows me to earn Qantas Frequent Flyer points and status credits. It also allowed me to book an economy ticket and then use Qantas Frequent Flyer points to upgrade to Business Class. The upgrade to Business Class cost 21,800 points.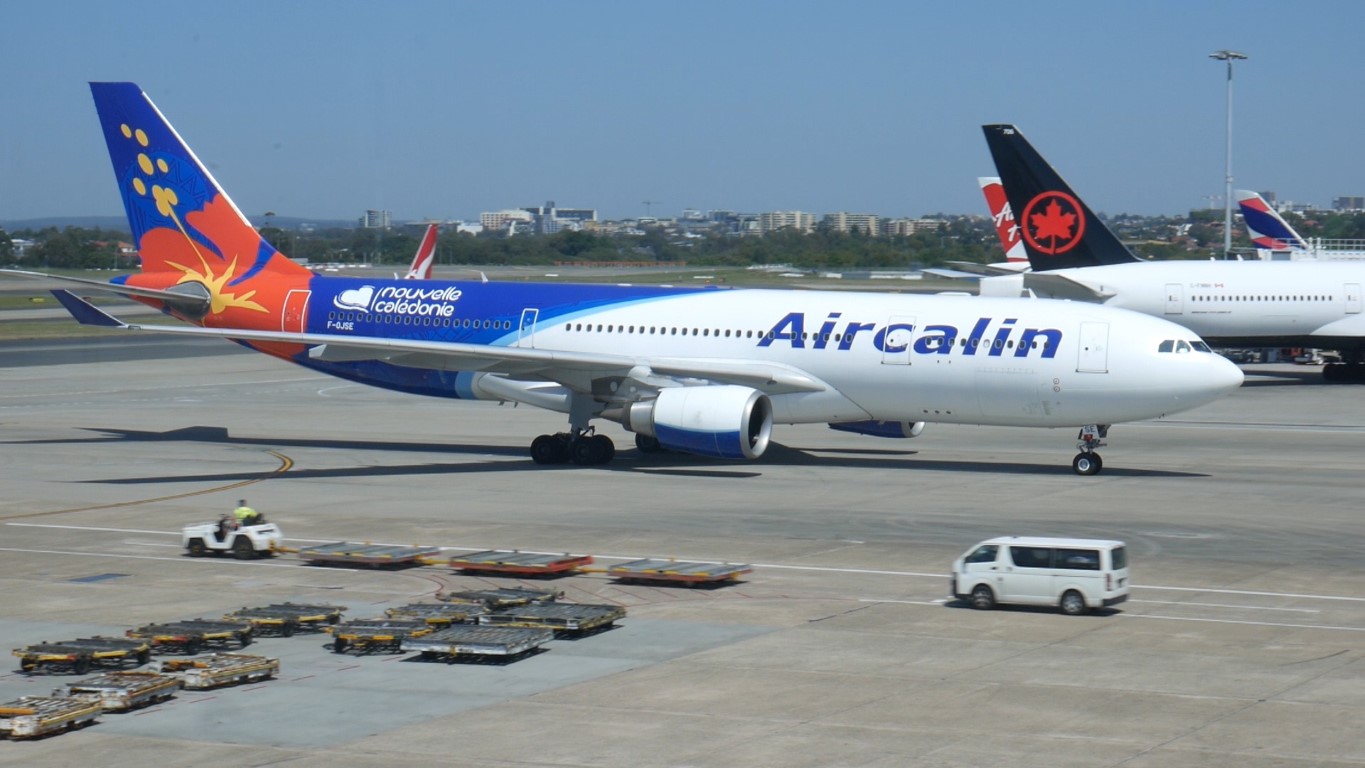 I was quite excited for this flight as the plane normally used to service this route is the brand new A330-900neo, which Aircalin took delivery of in August 2019. Aircalin is the first Oceania airline to take delivery of the new A330-900neo. They have ordered 2. The second will be delivered in 2020, replacing their older A330-200 which are 19 years old.
When the plane arrived in Sydney for my flight I saw that it was not the new A330-900neo but one of the older A330-200. The crew on board had told me that the A330-900neo had been delayed flying from Osaka to Noumea so missed the cutoff for the flight to Sydney so they replaced it with the older A330-200. C'est la vie! Oh well the A330-200 is still a great aircraft and this gives me a good excuse the fly with Aircalin again to try the A330neo!
At the airport
Check in for the Aircalin flight was at Row B. They have 2 queues for check-in, 1 for Economy and a separate queue for Business / Hibiscus Class.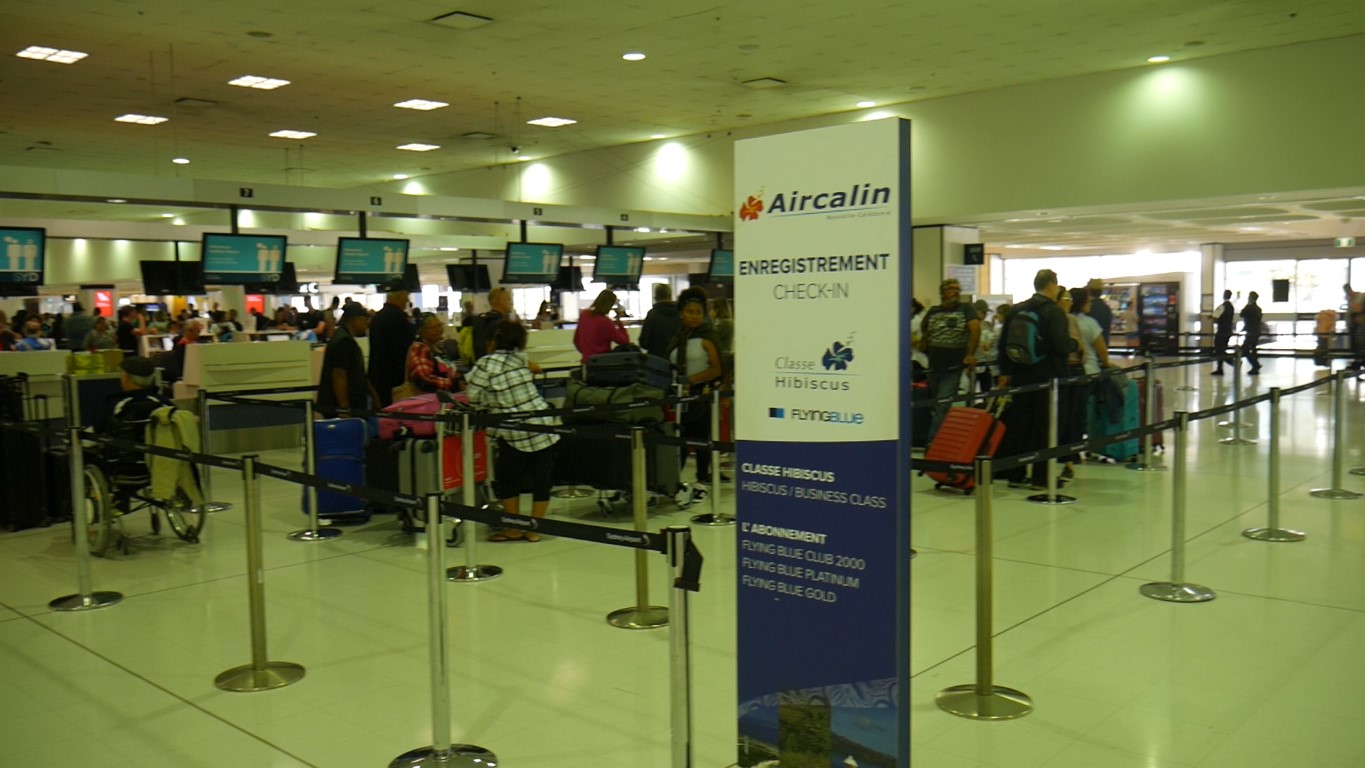 With the business class ticket you get an Express pass to pass through security quickly. You also get entry to the Qantas Business Class lounge on level 2 of the airport.
I arrived in the Qantas Business Lounge mid-morning and they were still serving their breakfast menu with a range of hot food including hash browns, baked beans, bacon and scrambled eggs. They also had a good selection of fruits, yogurt, breads and pastries. All the food is self service and complimentary.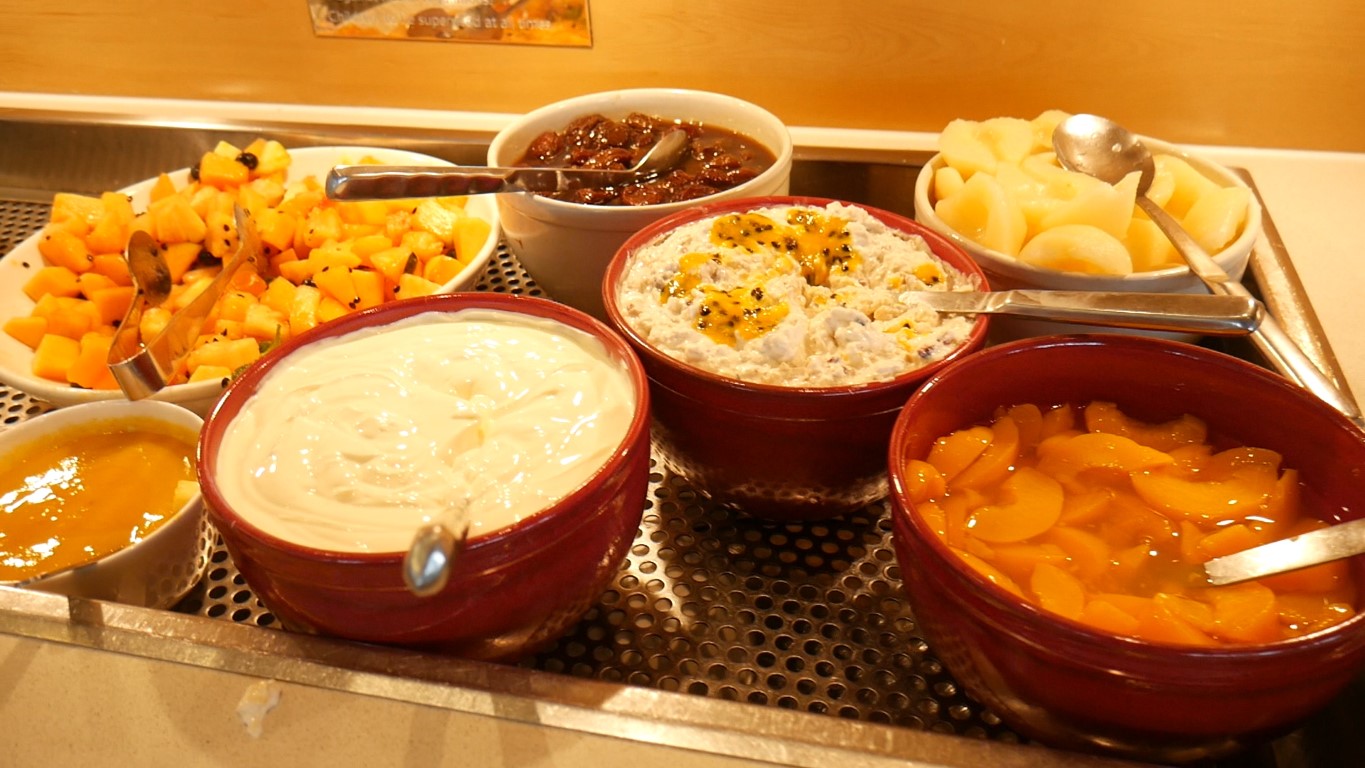 They make announcements in the Business Lounge when it is time to board the Aircalin flight and the departure gate is only a few minutes walk from the lounge.
On the plane
The A330-200 which was used for this flight (rego: F-OJSE) is 19 years old and the interior had been renovated around 5 years ago so was still modern. This A330-200 will be sold off to another airline once Aircalin take delivery of their 2nd A330-900neo. The A330-200 still has a good 10 or more years of service.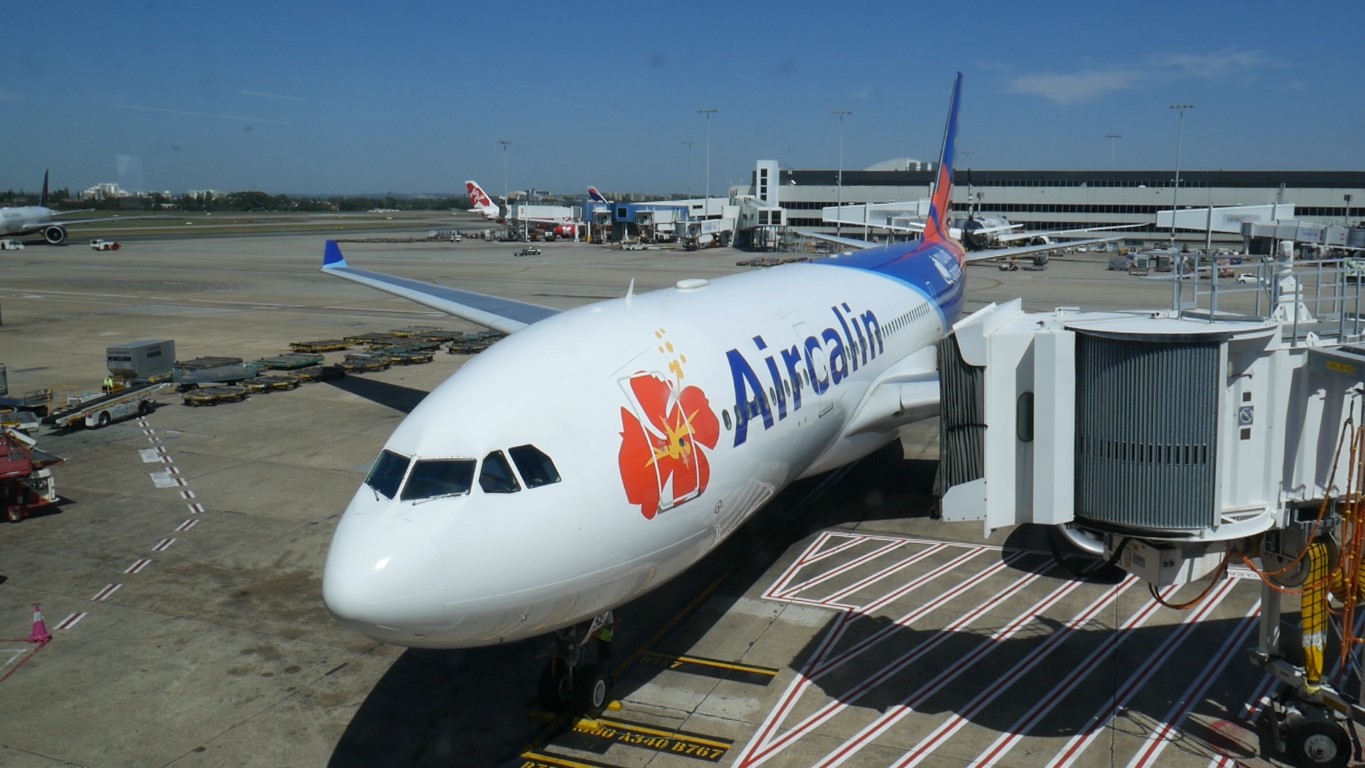 The Seat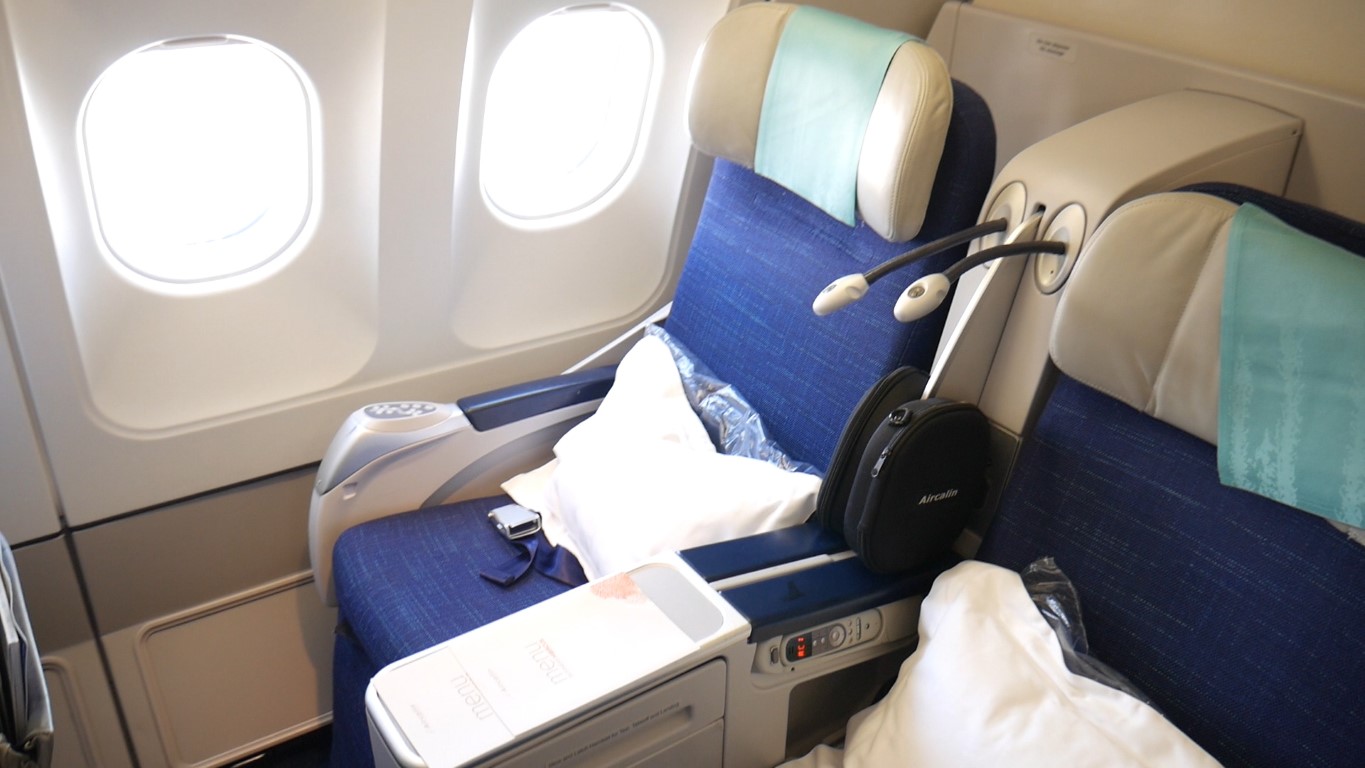 The Business Class cabin on this plane has 24 business class seats in a 2-2-2 configuration. I had a spare seat next to me which is always nice, so no need to step over someone to get the aisle.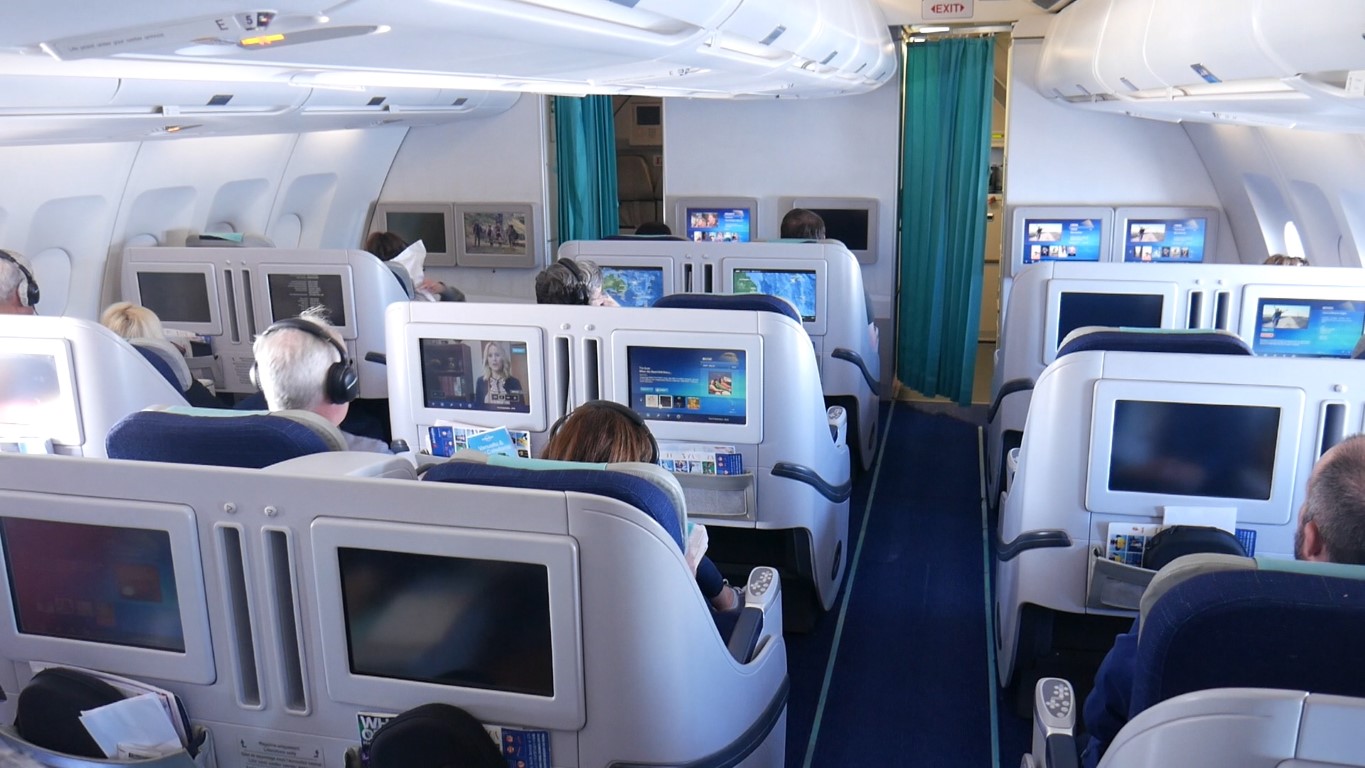 There is loads of legroom in this business class seat to really stretch your legs out.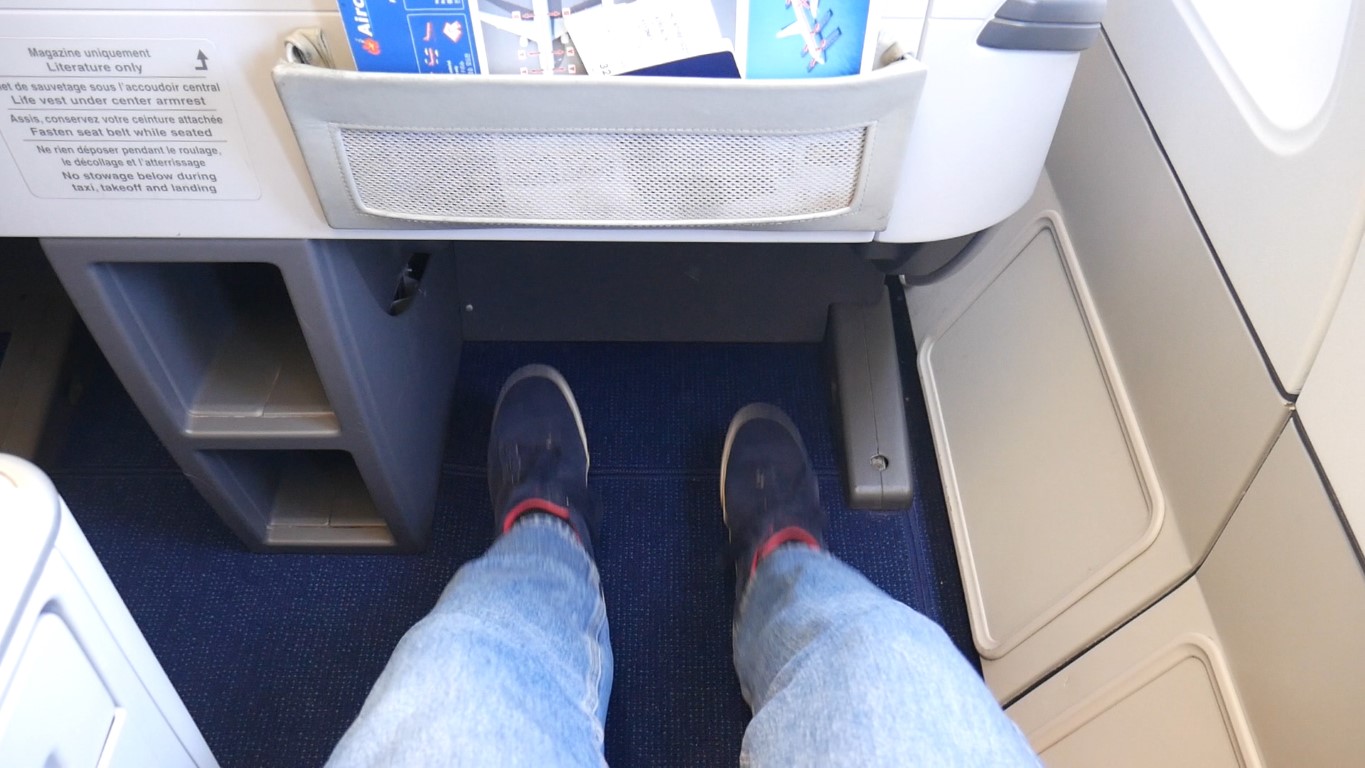 The seats are lay flat but I would not call them total lay flat as in the bed position the seat slopes down under the seat in front. As this flight is only a 2.5 hour day flight, I did not intend to sleep. Just recline my seat and watch a movie and eat the meal.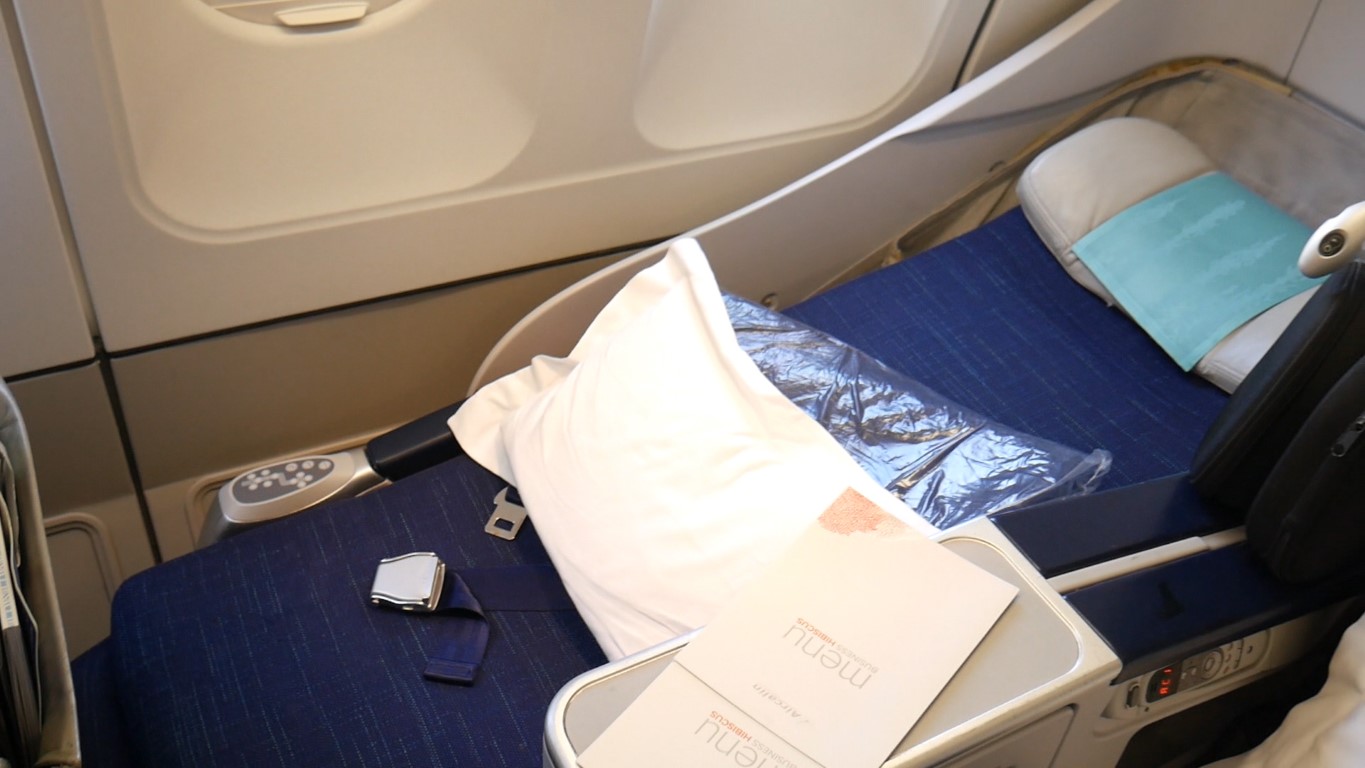 At the base of the seat, down near my knee, was a Universal power adapter. Just above the arm rest is also a USB port for charging your electronic devices.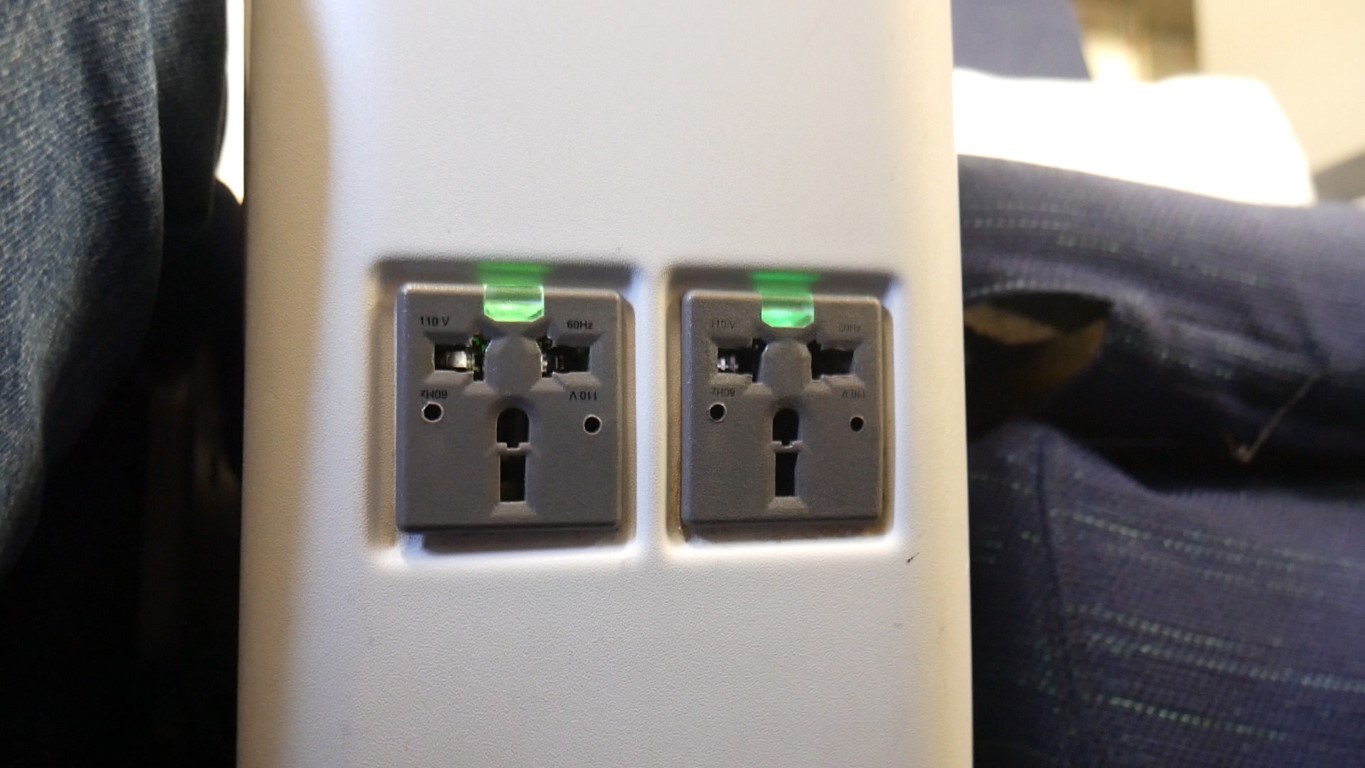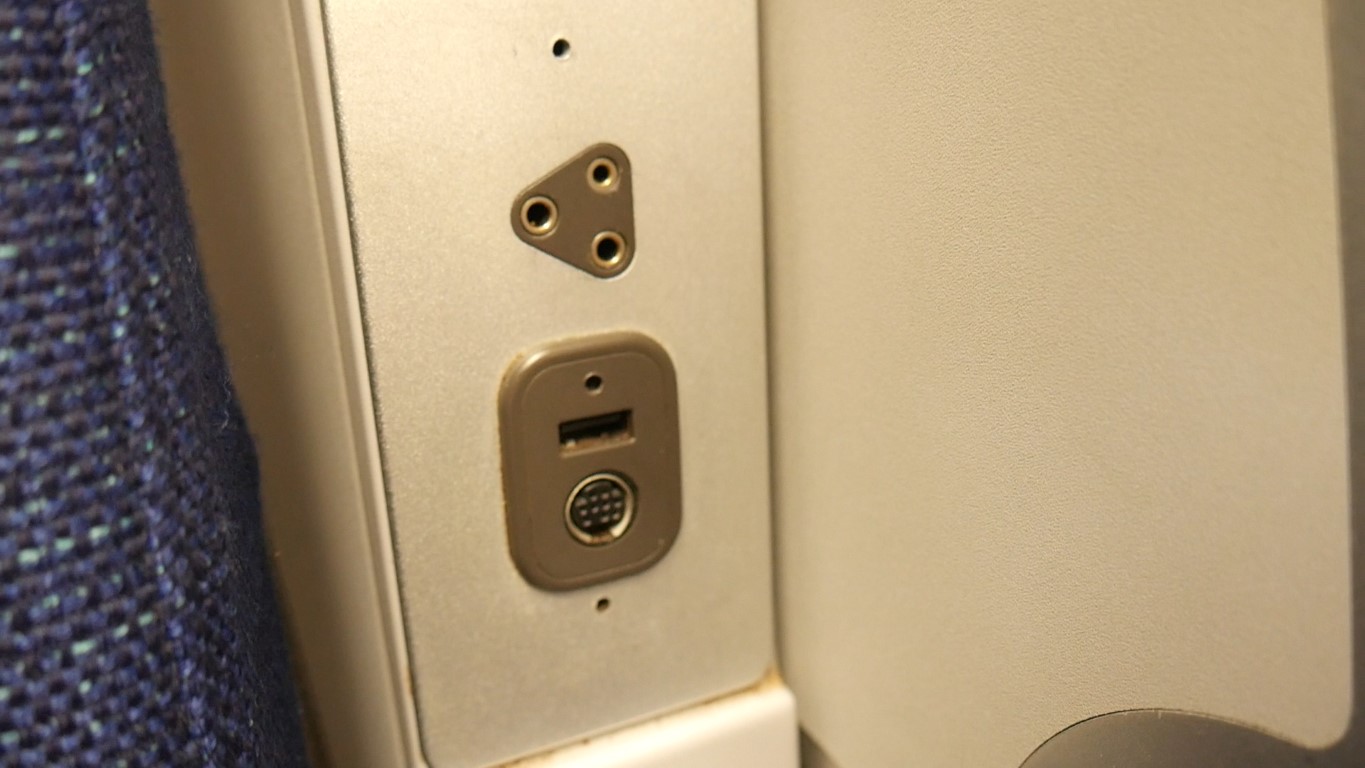 Entertainment On-board
In the seat pocket is a copy of the Aircalin Inflight magazine called 'Altitude'. There are some nice travel articles in both French and English. There is also a 'What's On' tourist magazine which shows the current events and festivals in Noumea and across New Caledonia.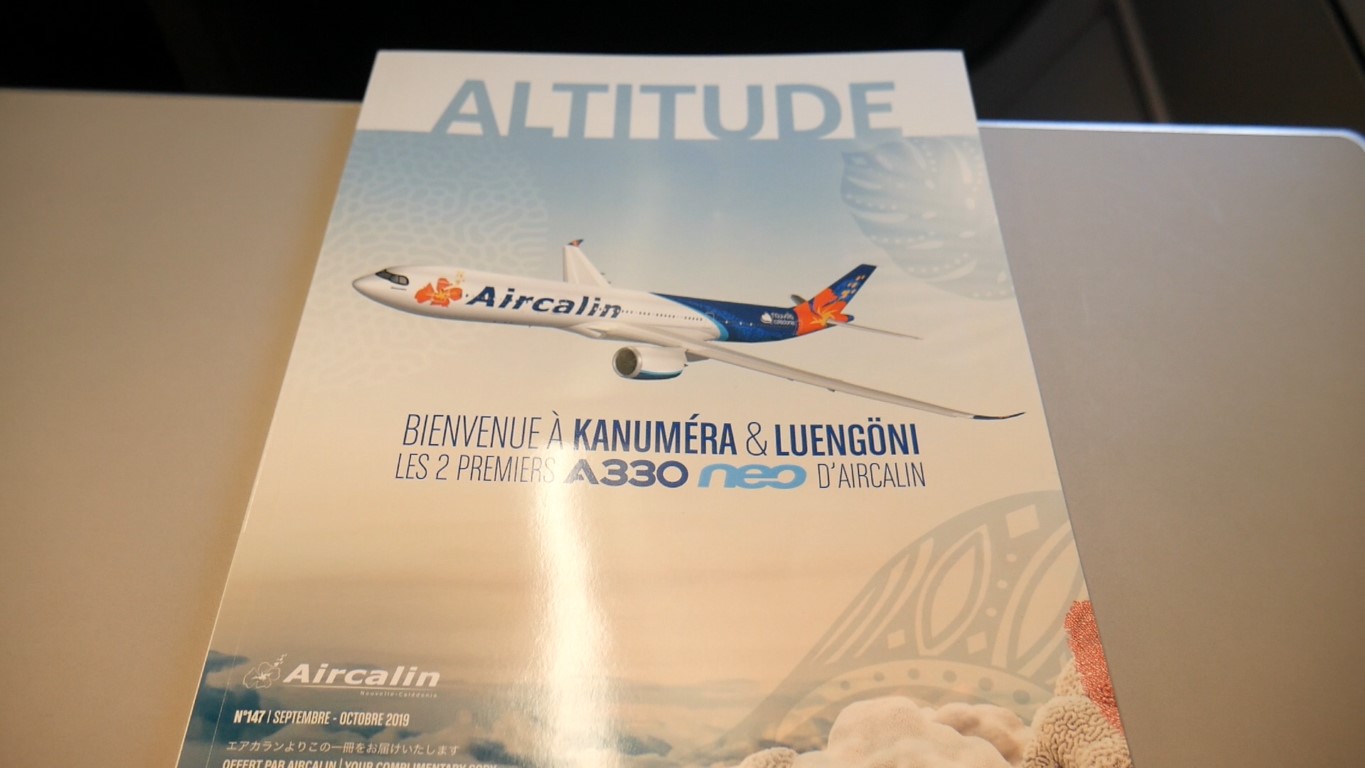 The entertainment screen is a nice sized touch screen. There is not a huge selection of movies but as this is a short flight there is only really time to watch 1 movie so I had no trouble finding something to watch.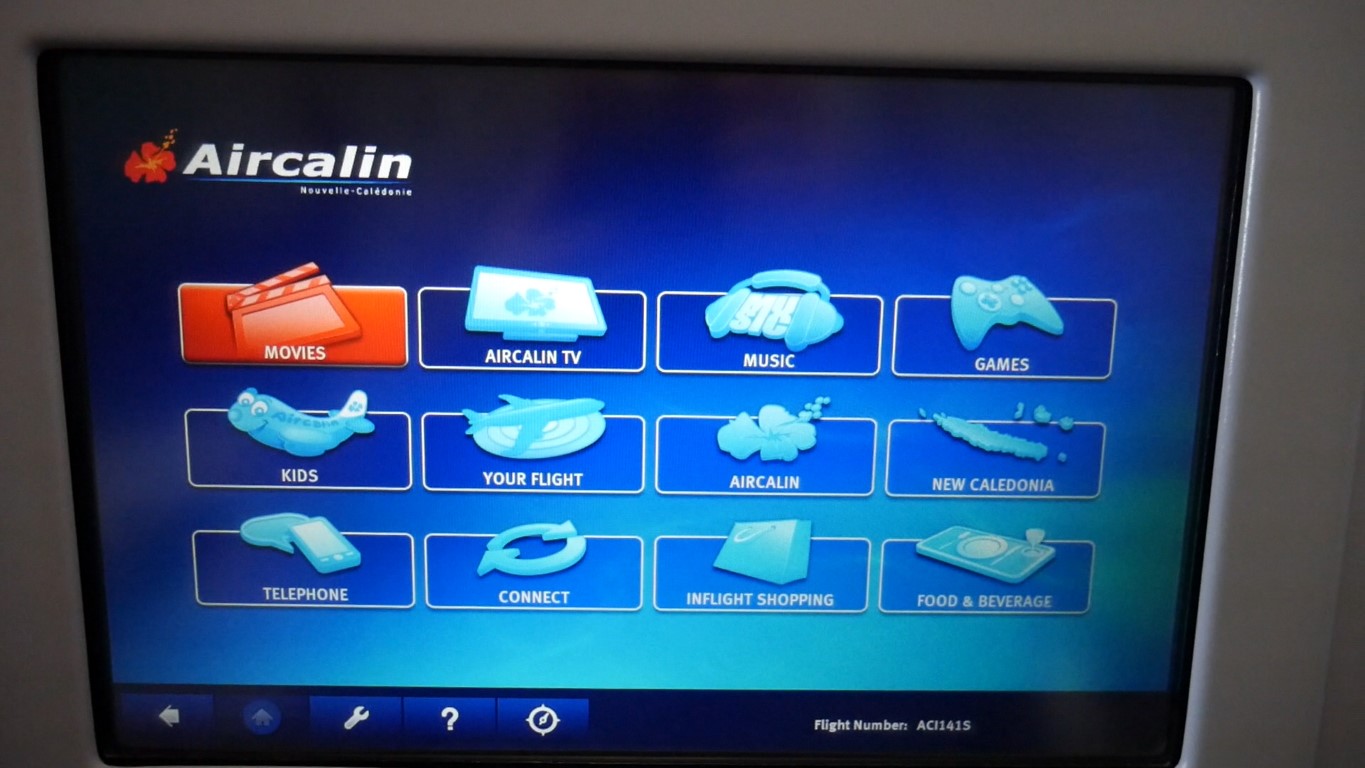 The entertainment screen also has a flight map so you can track the progress of the flight.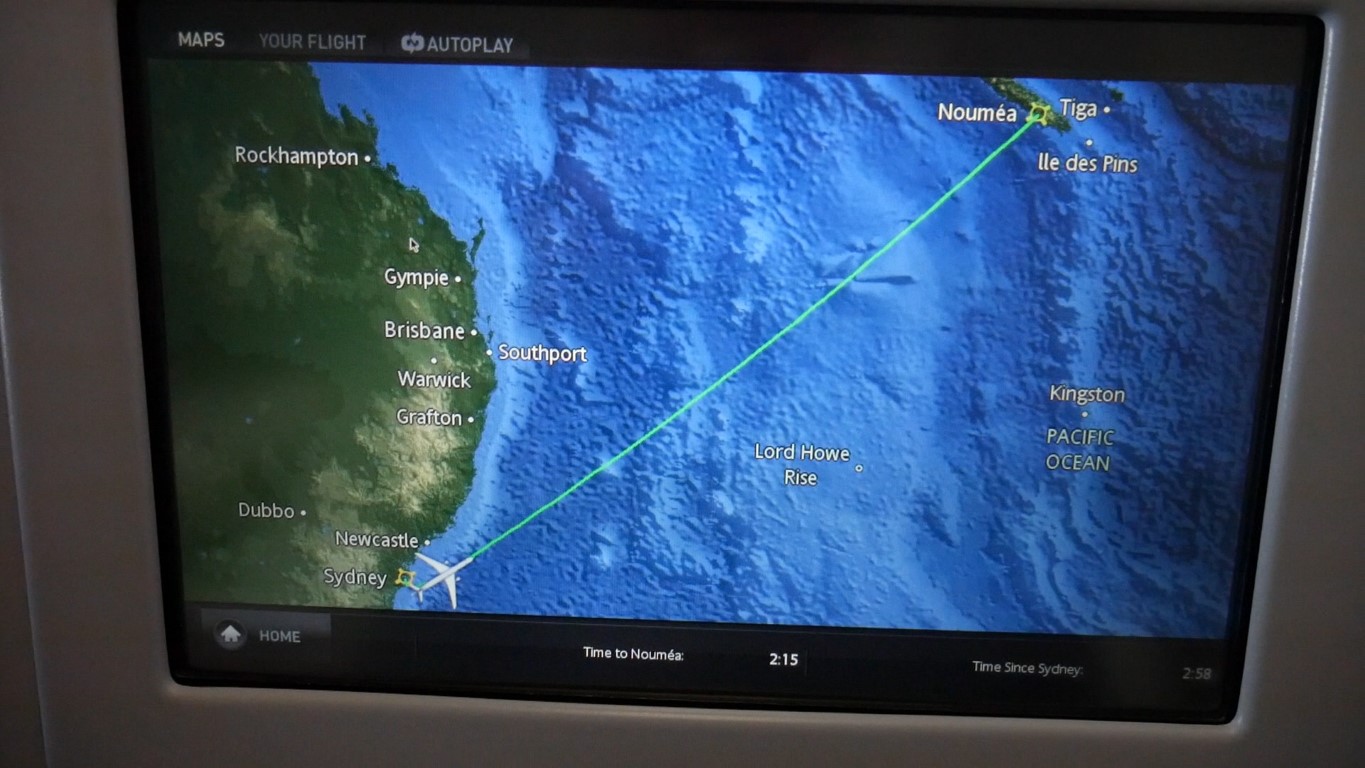 There is also a set of very good quality noise canceling headphones which are very comfortable to wear.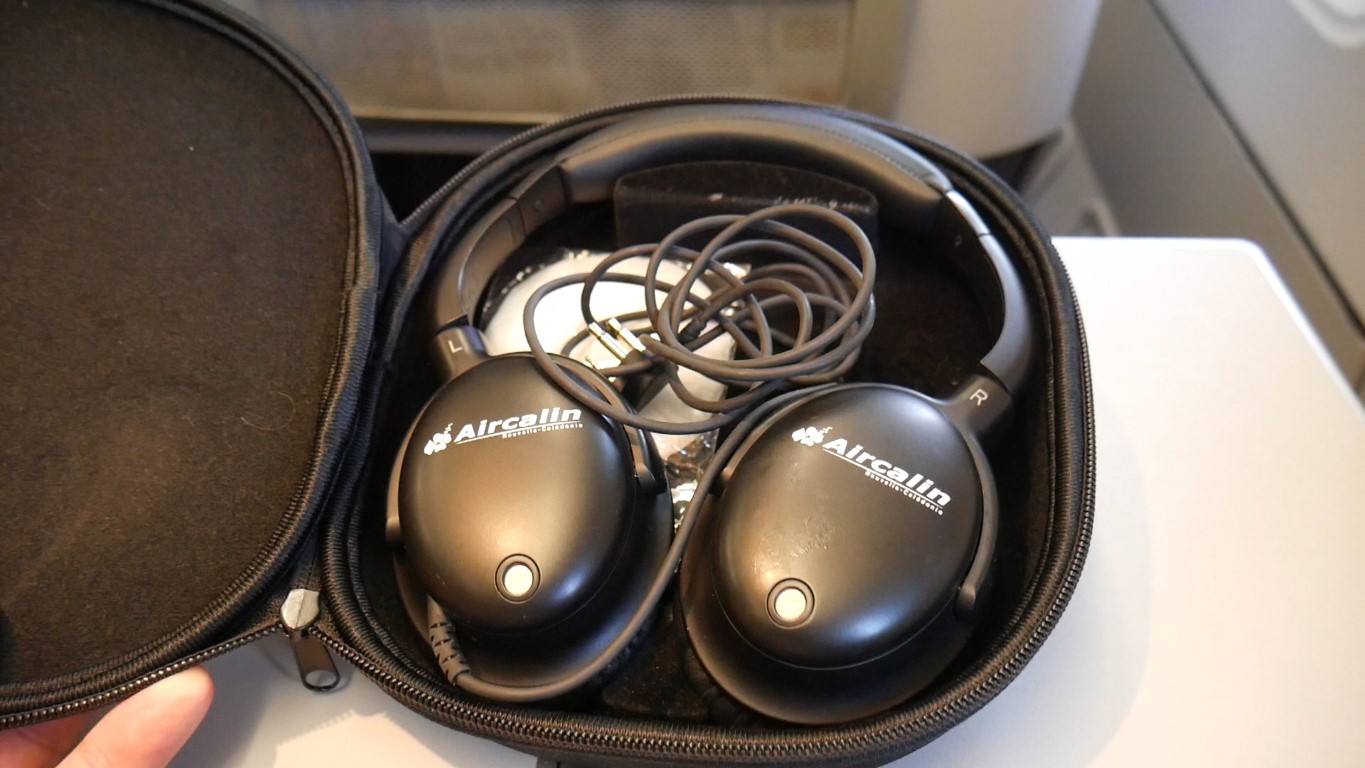 The food
My one word description for the food on Aircalin is 'Awesome'! The French love their food, and New Caledonia being a French territory they also take their food very seriously and this reflects in the food served on board Aircalin.
Before take off the crew serve up a glass of French Champagne. I was offered a second glass of champagne which is very rare on any airline. Only 1 time before have I been offered at second pre take-off drink and that was on Fiji Airways. I think I need to fly with the Oceania airlines more often!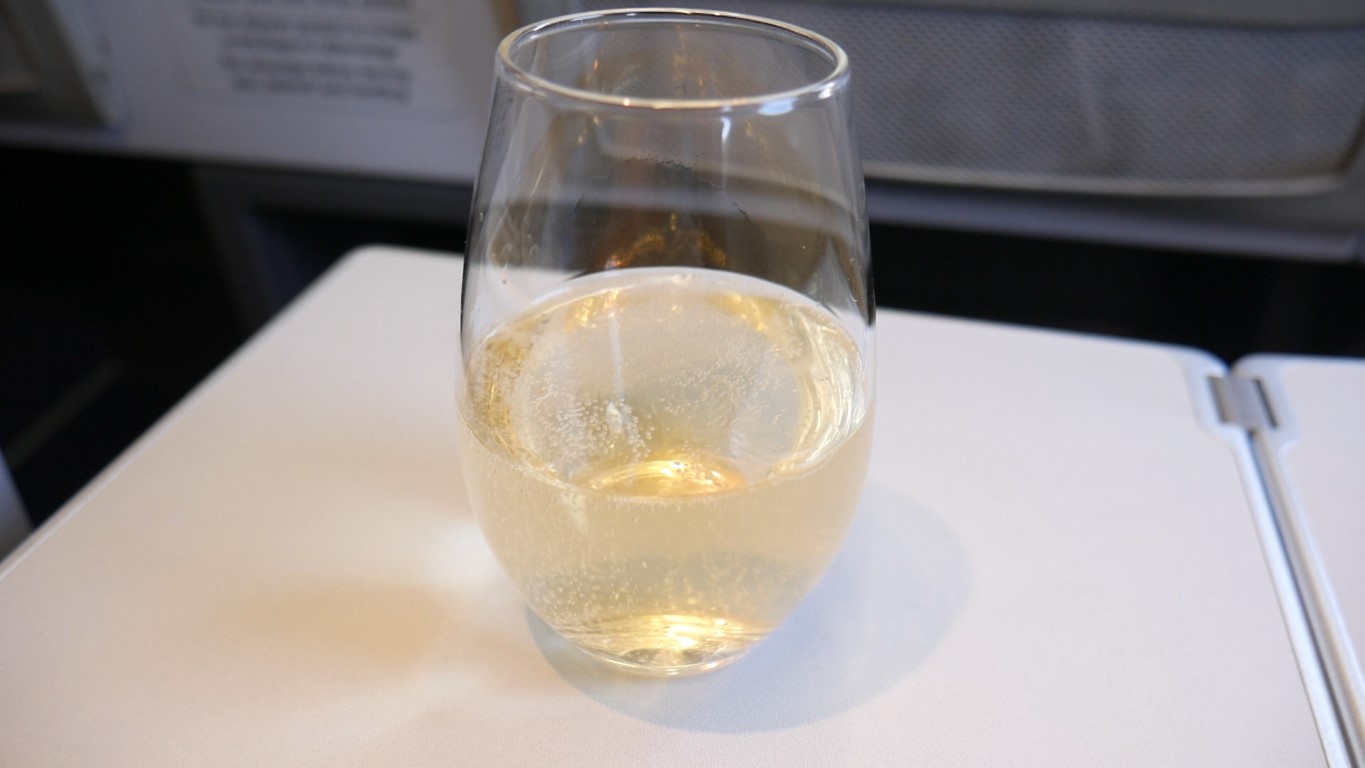 Lunch was served on this flight and you get a huge amount of food!
The huge tray of food had a small salad which was colourful and a contrast of textures with carrots, lettuce, apple (Qantas take note!). The entree was thin slices of smoked duck breast on a bed of apple salad with raisins.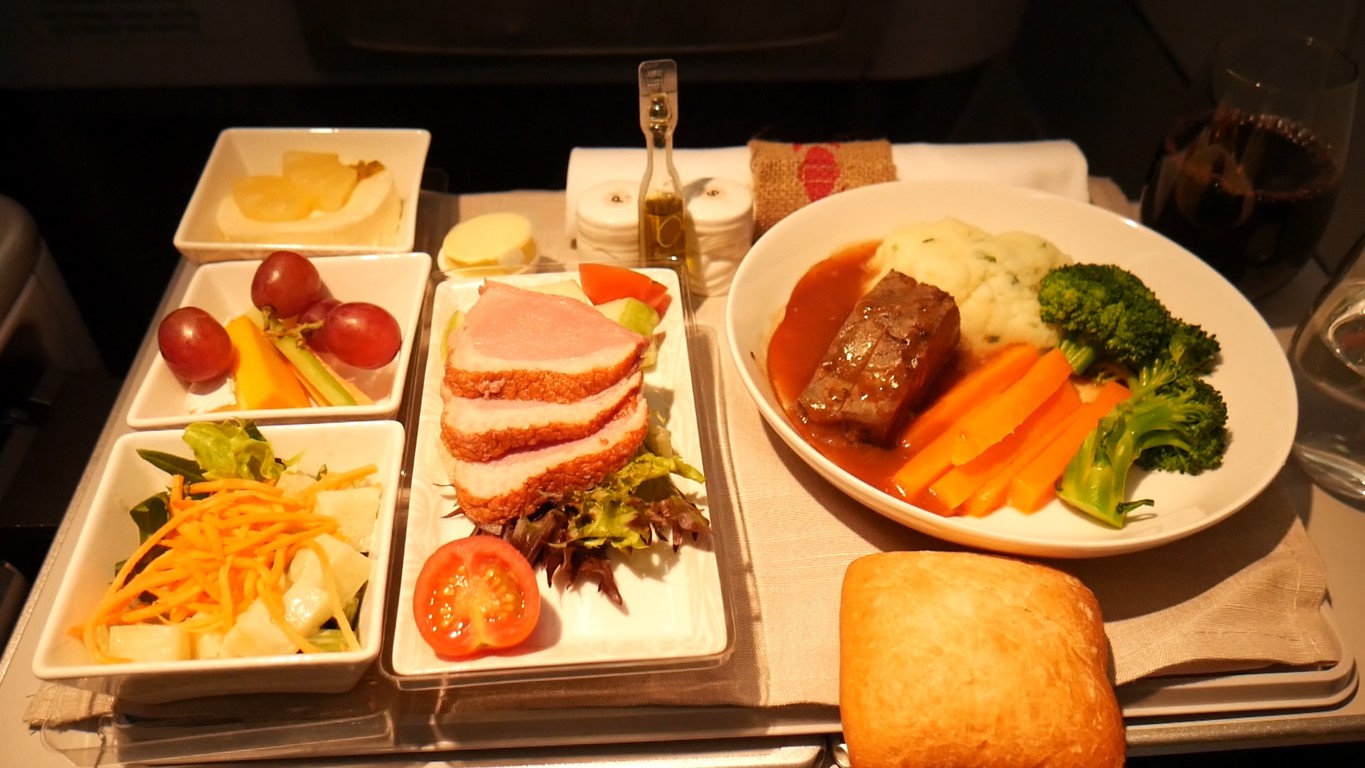 There was a choice of 2 main meals. A braised beef in red wine sauce mashed potato and carrots or a Basa fish fillet and prawns, topped with crustacean sauce, linguini and snap beans. I went for the beef which was delicious. The beef was slowed cooked and could be cut with the fork as it was so tender. The mash potato was spot on and the carrots were nice and firm. A great dish!
Also on the tray of food was 2 desserts. A small dish of fresh fruit and cheeses and then the star of this meal was the mango and pineapple entremet which was so delicious.
With the meal I enjoyed a very nice glass of red wine from Bordeaux France and with the dessert I had a glass of French Cognac which was like drinking rocket fuel!
Final say on this flight
What an awesome flight! The Oceania airlines truly give excellent service. All the crew members on this Aircalin flight were delightful. All friendly and served with a smile. They were all French speakers but all spoke excellent English as well.
The food was a standout! A huge quantity of food and all very high quality, tasty dishes.
I will definitely be back on board Aircalin soon to try their excellent service and also to try that brand new A330-900neo. I look forward to the new plane smell and the excellent service Aircalin provide.
[do_widget id=wpp-6]