Flight Review Singapore Airlines Singapore to Sydney Business Class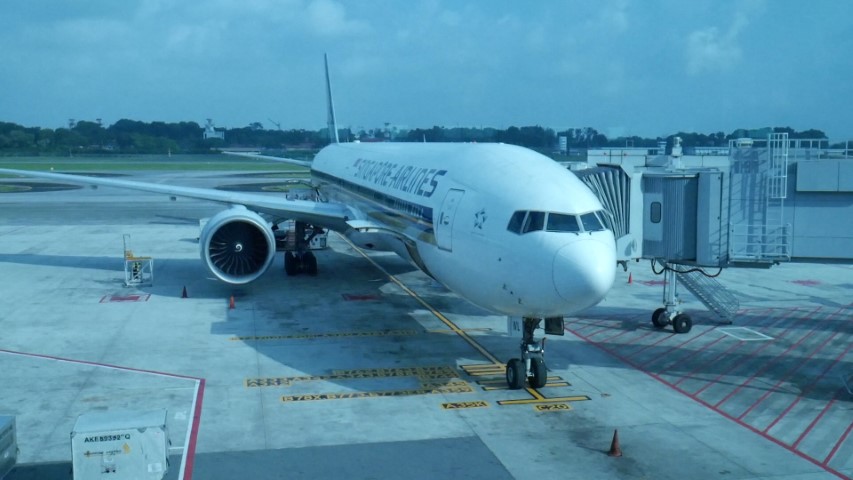 Airline: Singapore Airlines
Flight no: SQ211
Route: Singapore Changi Airport (SIN) to Sydney Airport (SYD)
Aircraft Type: Boeing B777-300ER
Flight time: 6 hours 37 minutes.
Travel Class: Business Class
Seat: 22A Windows seat with 180 degrees total lay flat bed
Seat Width: 28 inches
Seat Pitch: 55 inches
Check out our video review of Singapore Airlines Singapore to Sydney Business Class
Singapore Airlines have 5 flights everyday from Singapore to Sydney. The following flights are operated by Singapore Airlines from Singapore to Sydney:
SQ231 leaves Sinapore at 12.45am and arrives into Sydney at 10.25am. Aircraft used for flight SQ231 is the A380-800.
SQ341 leaves Singapore at 7.10am and arrives into Sydney at 4.50pm. Aircraft used for flight SQ241 is the B777-300ER.
SQ211 leaves Singapore at 9.35am and arrives into Sydney at 7.15pm. Aircraft used for flight SQ211 is the B777-300ER.
SQ288 leaves Singapore at 10.30am and arrives into Sydney at 8.10pm. Aircraft used for flight SQ288 is the B777-300ER.
SQ221 leaves Singapore at 8.20pm and arrives into Sydney at 5.55am. Aircraft used for flight SQ221 is the A380-800.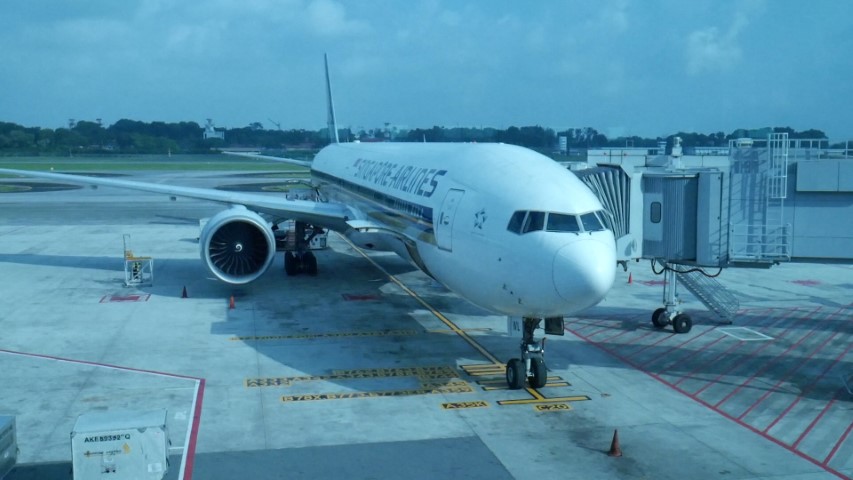 For this flight SQ211 from Singapore to Sydney, I had stayed overnight in Singapore Changi Airport as had arrived into Singapore from Tokyo Narita on flight SQ638 (see the flight review for Singapore Airlines SQ638 here).
As I had arrived at 9pm at night, it was too late to head out of the airport for some sightseeing so I checked into the Ambassador Transit Hotel in Terminal 2. My flight in the morning left from Terminal 3 so I just had to take the Skytrain that connects Terminal 2 to Terminal 3. It only takes a few minutes on the Skytrain to get to Terminal 3. I already had my boarding pass as I had checked in on the this flight at Tokyo Narita Airport.
After I arrived at Terminal 3, I went and relaxed at the Singapore Airlines SilverKris Lounger before my flight. You gain free entry into the SilverKris Lounge with a business class ticket on Singapore Airlines.
The lounge is huge and has a huge food buffet with loads of food to consume. As it was morning time, there was lots of your typical breakfast foods like bacon and eggs as well some delicious Asian dim sum dumplings.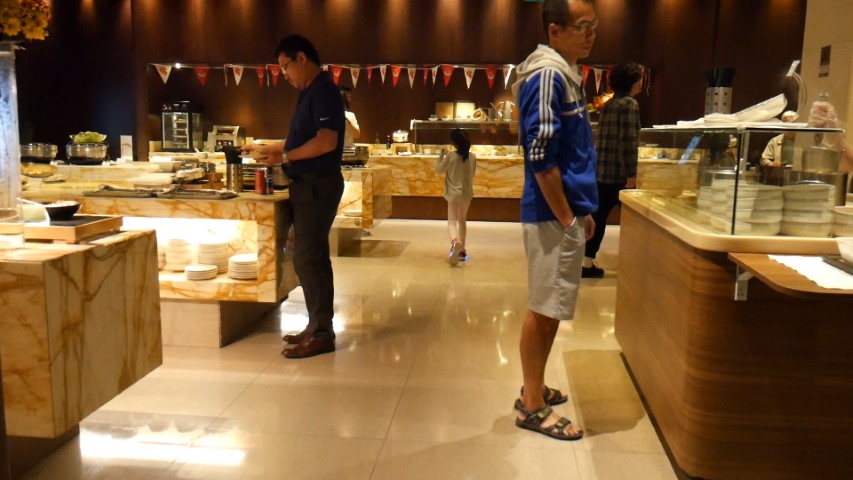 When it is time for boarding, there is a dedicated boarding door for First Class and Business Class passengers.
The Seat
This Singapore Airlines B777-300ER Business Class section had the old business class seats. Singapore Airlines have been refitting their B777-300ER with the newer business class pods.
The leg room was just ok, with your feet stretched out in front, they did push up against the seat in front. There is a space to stretch your legs out horizontally.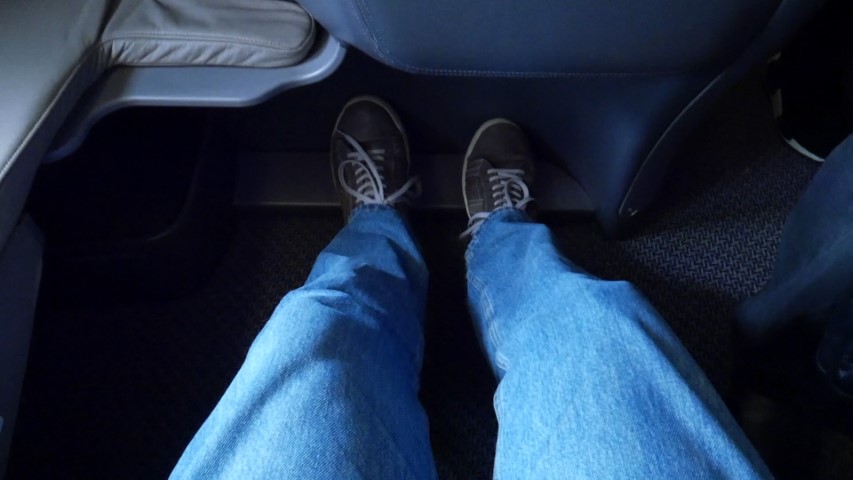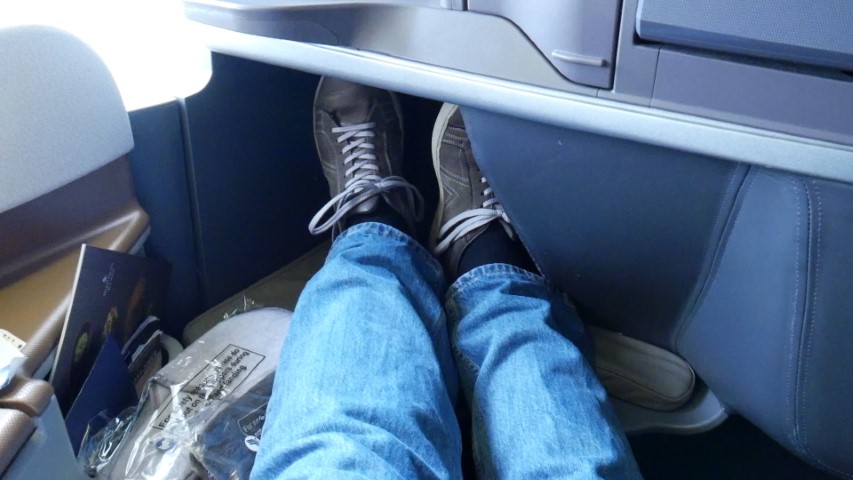 The seat reclines back about half way. It doesn't recline all the way back to the lay flat position. To turn the seat into the lay flat bed you need to get up and unlock a latch on the seat back and then pull it forward to lay it down flat.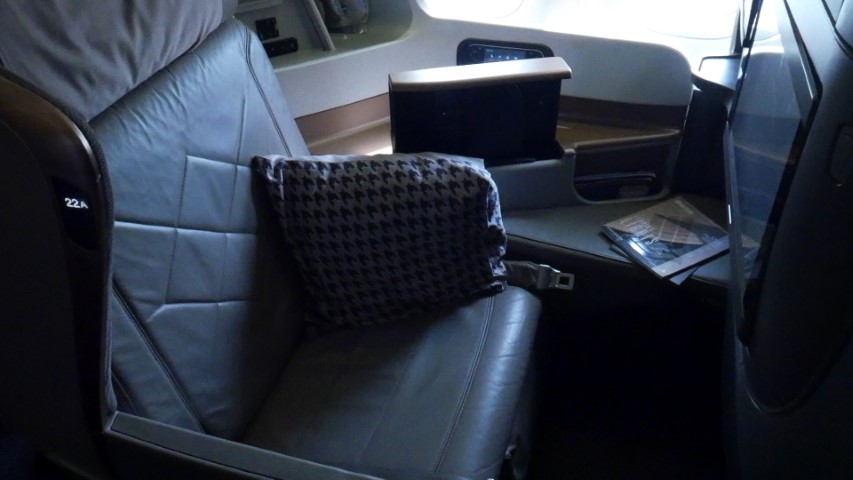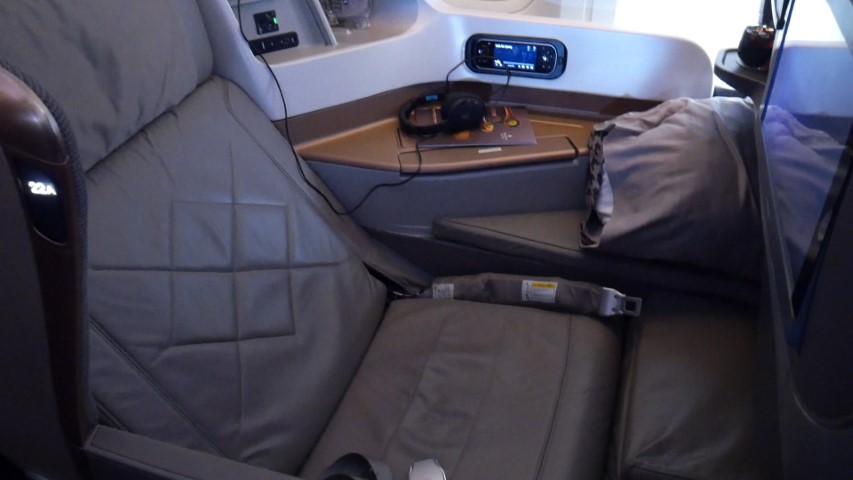 There are a few small compartments where you can store your personal effects like your wallet, passport and mobile phone.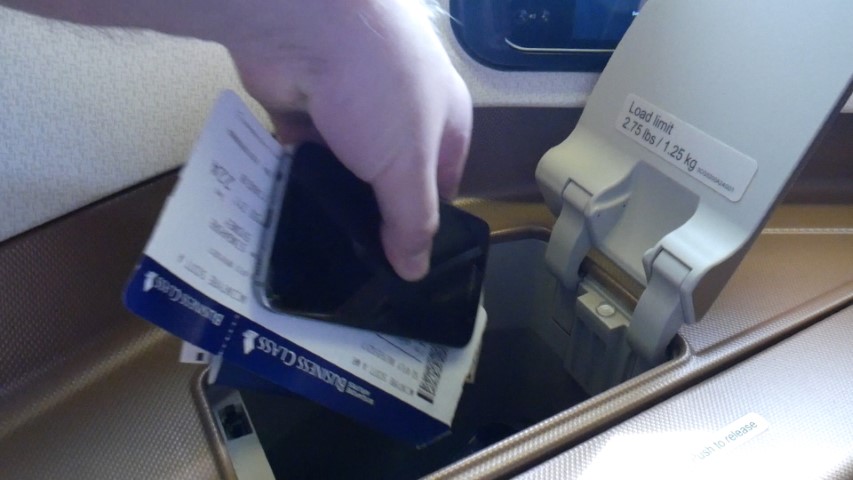 Within one of the these compartments you will find a Universal power socket to plug in any electrical device, There is also 2 USB ports, HDMI port and an iPod port. You'll also find a good pair of noise canceling headsets in the storage compartment.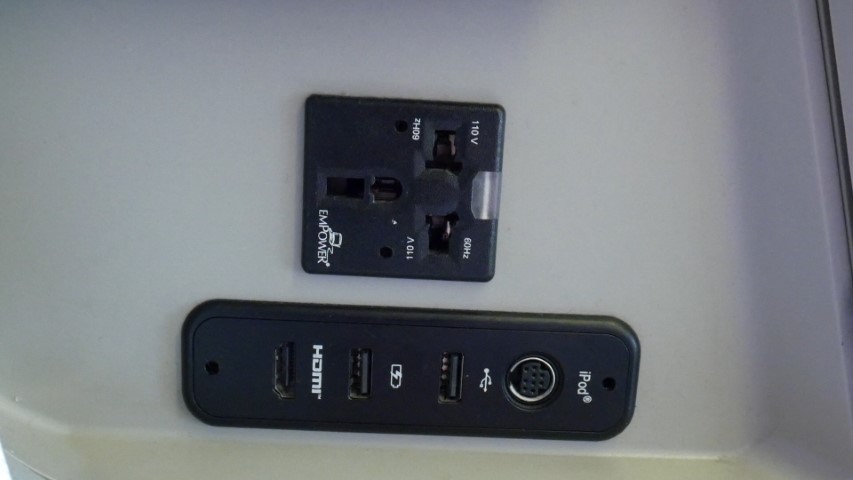 Also built into the seat is the entertainment system controller. As this is the older style business class, the entertainment screen is not a touch-screen so you change channels using this controller.
Entertainment System
On this flight the entertainment was the older style screen which was not a touch screen. The screen size is still a nice sized 16″ screen and loaded up with heaps of latest release movies and TV shows.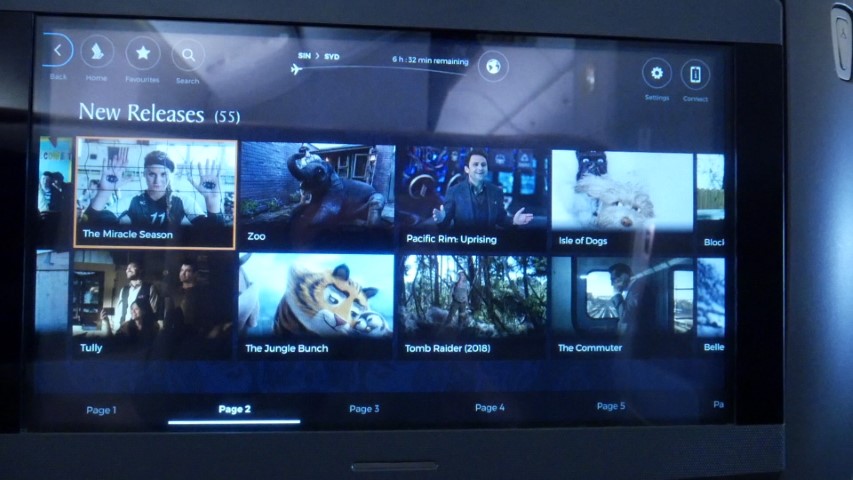 There is also a cool flight map so you can see the progress of the plane and the various cities you are flying over.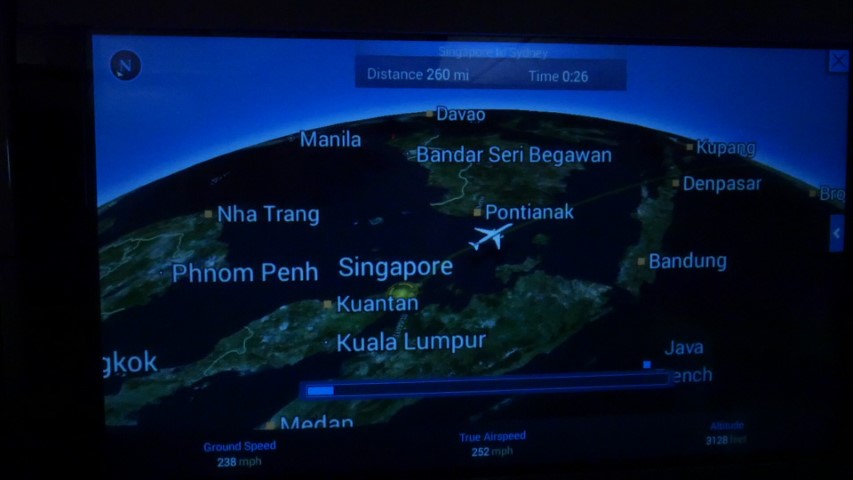 The food onboard
Always one of the highlights for any Singapore Airlines flight is the food. On this SQ211 flight, 2 meals are served. First brunch is served straight after take-off, then just before landing a refreshment meal is served.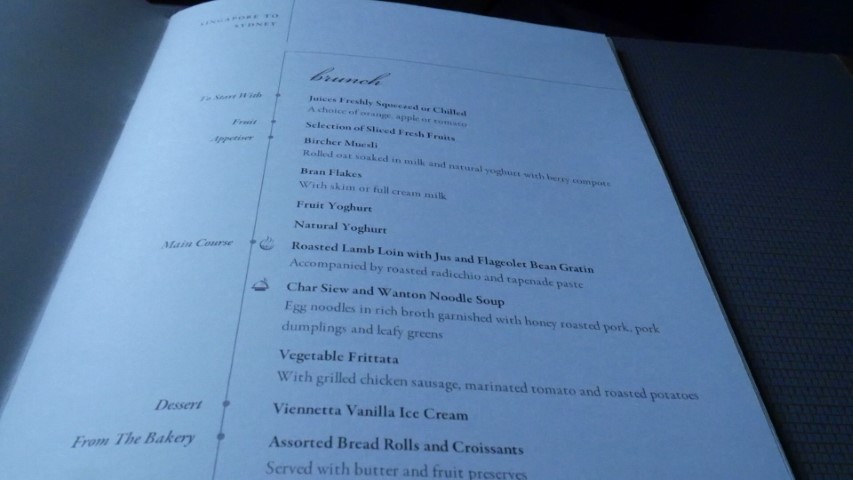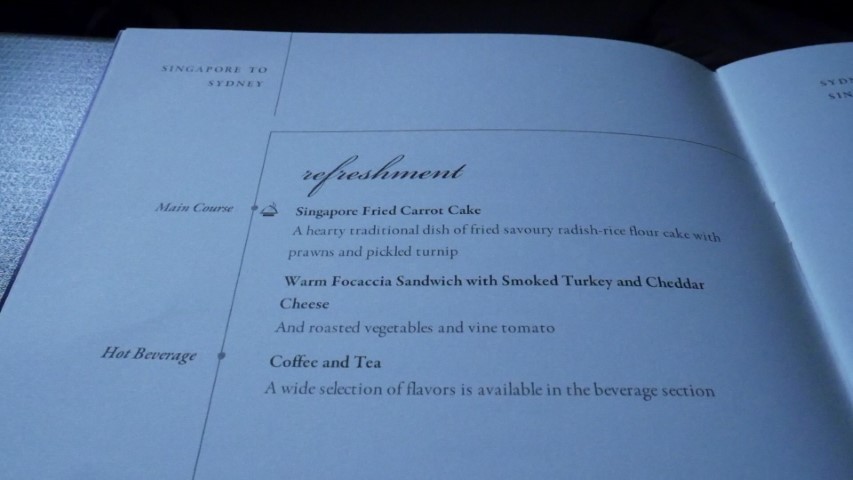 The Brunch menu started with some fresh fruit and shortly after I was given a choice of pastries. I chose a delicious apple danish. There was also some fresh creamy yoghurt served.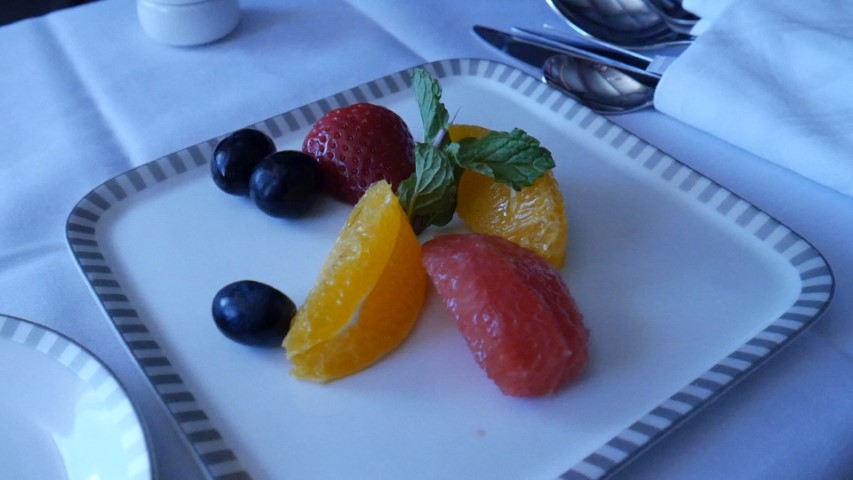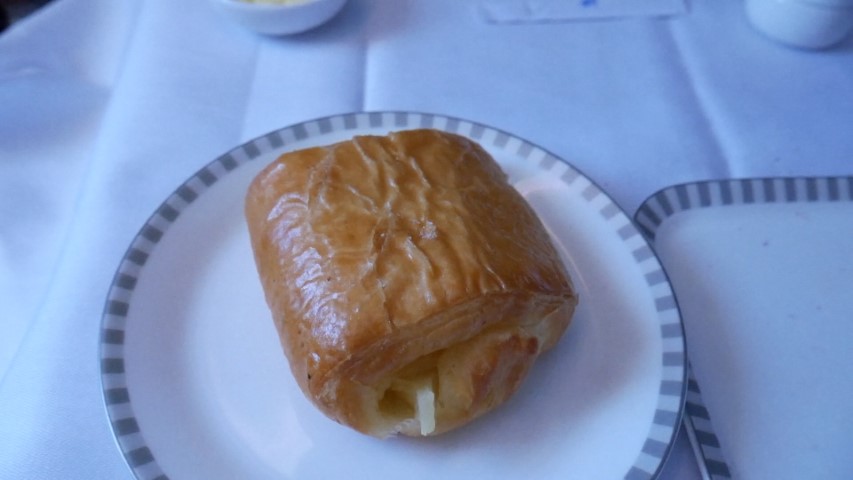 For main meal there were 3 choices available:
Roasted Lamb Loin with Jus and Flageolot Bean Gratin accompanied with roasted radichio and rapenade paste
Char Siew and Wanton Noodle Soup with egg noodles in rich broth garnished with honey roasted pork, pork dumplings and leafy greens.
Vegetable Frittata with grilled chicken sausage, marinated tomatos and roasted potatos.
I went for the Char Siew and Wanton Noodle soup which was absolute winner. Such a delicious noodle soup with good quality pork slices and the pork dumplings were plump and tasty. Great meal Singapore Airlines!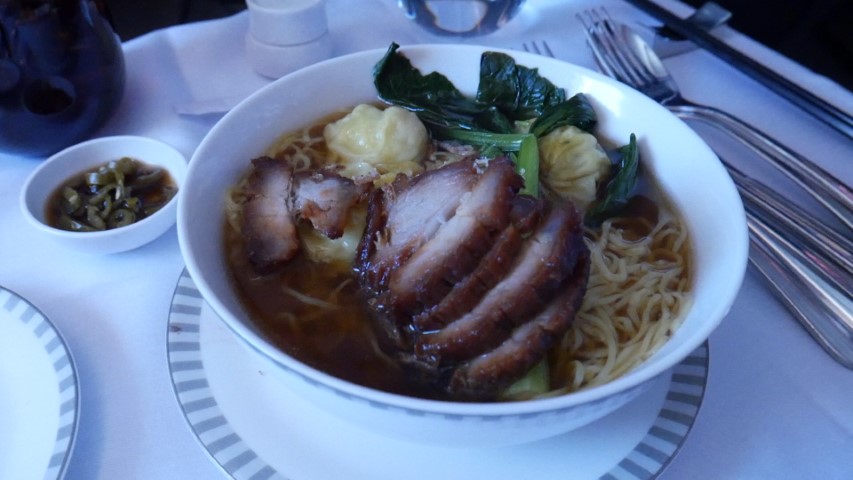 For dessert there was this delicious Viennetta Ice cream. Yum Yum dessert!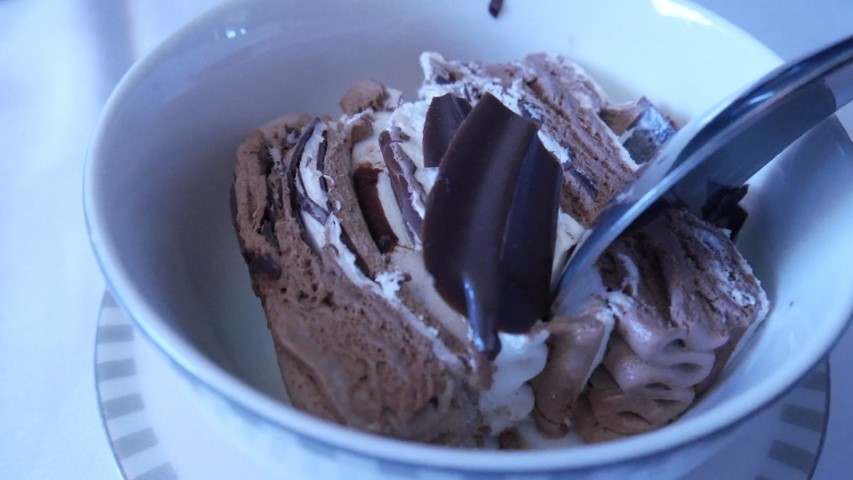 For the refreshment meal before landing, there were 2 choice. Either some Singapore Fried Carrot Cake or a warm Foccacia bread with smoked turkey and cheddar cheese. I went for the turkey sandwich. Now this didn't look the best when it arrived, with the melted cheese oozing out of the sandwich but it really was a tasty sandwich. There was also a little bit of aluminum foil stuck to my sandwich, Not a big deal but just a tiny little kink in the Singapore Airlines great service.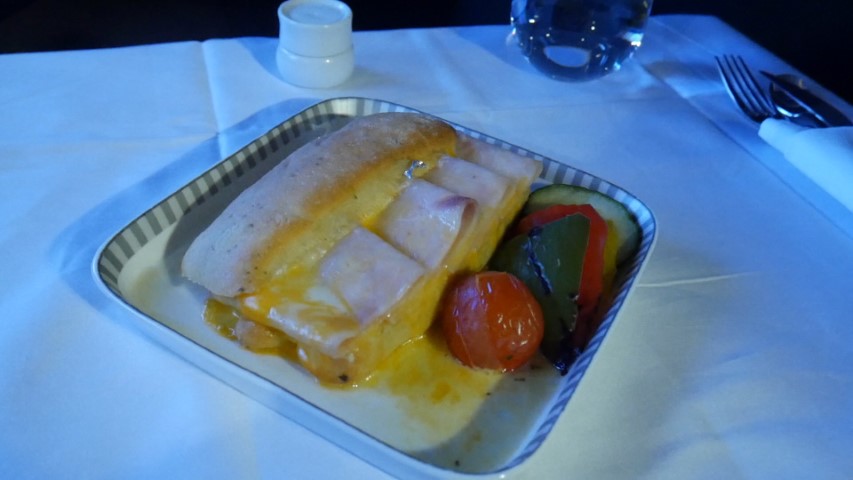 Service on Singapore Airlines
This was my 4th flight with Singapore Airlines in 2 weeks. I flew from Sydney to Singapore, Singapore to Tokyo Narita, Tokyo Narita back to Singapore and this final leg from Singapore to Sydney.
The service on Singapore Airlines is some of the best I have experienced on any airline. This flight did have a flew things missing from the other flights. On the other flights I was escorted to my business class seat by a crew member, on this flight this didn't happen. With the drink after take-off this was served with a small bowl of nuts. On this flight they didn't serve the bowl of nuts. And that tiny little piece of aluminum foil stuck to my 2nd meal just lost a few points from the overall great flight.
Now these things I mentioned above are no big deal as I still really enjoyed this flight but if I am doing a flight review then I really need to point out the difference I experienced on the other Singapore Airlines.
Anyways, Singapore Airline is a great airline and I really look forward to flying with them again. I am a few miles off being a Silver KrisFlyer so need to keep flying!
Happy Flying everyone!
You can book flights directly on Singapore Airlines website.
[do_widget id=wpp-6]