Kin Senn Signature Thai Street Food Restaurant Thai Town Sydney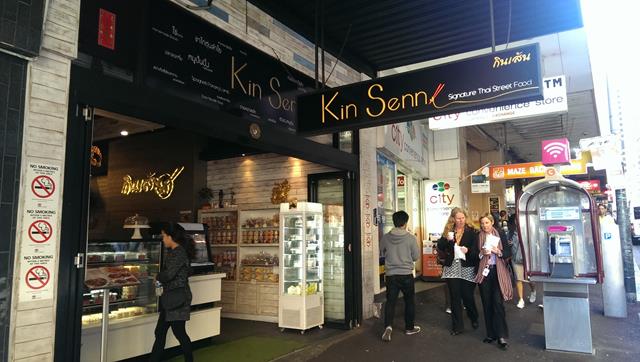 Kin Senn is a Thai restaurant located in Sydney's Thai Town on Pitt Street in the Sydney CBD. Serving up great Thai street food, this is a very popular restaurant with very reasonable prices, especially the great lunch time specials starting from $9.90.
I went in for lunch on a week day and was impressed with their lunch special. You get a main meal – choice of (chicken, beef or pork) Stir fried cashew nuts served with rice, Green curry with rice, Pad See Ew Noodles, Fresh Thin Rice Noodle Soup with stewed pork or Thai Fried Rice. With the main mean you get a Spring roll as entree. For $9.90 this comes with a soft drink or for $11.90 it comes with a glass of wine or for $12.90 it comes with a Singha beer.
I went for the Fresh Thin Rice Noodle soup with stewed pork and choose the Singha beer options which I think is a bargain. You can pay $8 or $9 for a beer in most Sydney restaurants so for $12.90 I got the beer plus I the spring roll and the delicious noodle soup.
The lunch special is available Monday to Friday from 11am to 4pm (not available on Public Holidays).
At the front of the restaurant is a counter selling loads of different types of Thai sweets and cakes.
Kin Senn Thai Restaurant is located in Thai Town Sydney just 10 minutes walk from Central Station or 10 minutes walk from Town Hall Train Station. Located on Pitt Street there are plenty of other Thai Restaurants in Thai Town if Kin Senn doesn't have any tables available.
Kin Senn Signature Thai Street Food
421 Pitt Street
Thai Town
Sydney CBD
Ph: 9281 8525
Website: www.kinsenn.com.au
Open 7 days a week from 9.30am until late at night
Check out the location of Kin Senn Thai Restaurant in Sydney Thai Town
Check out other restaurants in Sydney CBD