1 day stop over in Singapore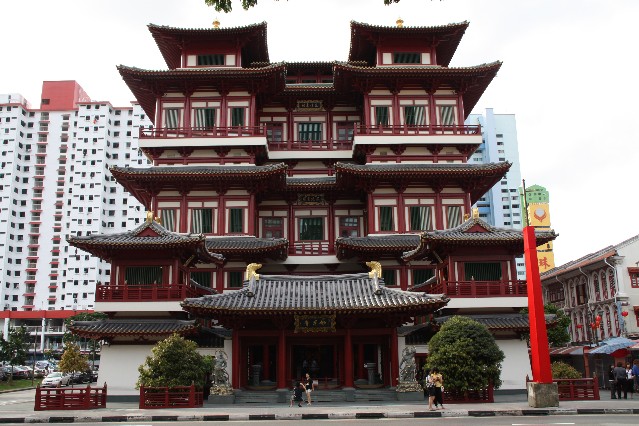 So you have a one day stopover in Singapore, arriving early in the morning and have a connecting flight to your final destination late evening. You don't want to spend the day in the airport – although you could as Singapore airport is the best in the world with lots of things to do.
What can you do and see with just 1 day in Singapore? The short answer is heaps! Singapore is a very small country and you can drive from one end of Singapore to the other in just over 1 hour. So how do you make the most of your time, seeing the best sites Singapore has to offer? Well read on and we offer a suggestion for the best one day stopover in Singapore. We give you 2 itinieraries here for those who want to explore on their own and others that want the least amount of hassle getting around to see the best sights.
Now you could catch taxis to all these locations but that would increase the cost, not that Singapore taxis are that expensive. One of the best things about Singapore is the public transport MRT (Mass Rapid Transit) system http://www.smrt.com.sg/. The MRT is clean, fast, efficient and you can get to most places in Singapore cheaply. You can purchase an ezLink Tourist Pass. You can get 1, 2 or 3 day passes which allow you to unlimited travel on all Singapore's public transport network including the MRT trains and buses.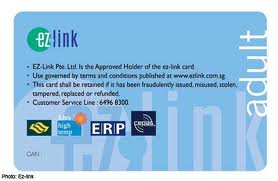 A one day Singapore Tourist Pass Card costs S$10 (bargain!). You do need to pay a $10 deposit for the card but you get that back at your final destination. You can buy the one day pass at Changi Airport MRT between the hours of 8am – 4pm and 5pm – 9pm. Or you can buy online via the Singapore Tourist Pass website and have it delivered to you by mail before you travel to Singapore. http://www.thesingaporetouristpass.com.sg/
Now we got our travel ticket sorted let's jump on the train and enjoy a day in Singapore. I have estimated times including travel time so if your arrival time or departure time are different you can remove some of these items from your schedule.
8.00am Leave Changi Airport and travel to Little India MRT Station. This involves a few changes of trains. Following instructions below.
Changi Airport MRT – East-West Line (Green) to City Hall Station.
Change trains to the North South Line  (Red) and get off at next stop Dhoby Ghaut.
Change trains to North East Line (Purple) and get off at next stop Little India.
This trip should take around 45 minutes.
8.45 – 9.45 Explore Little India which has so many sights to see.
Check out the Sri Veeramakaliamman temple.
Explore the Tekka markets.
Stop for a chai.
Must see Mustafa Centre department store which is open 24 hours a day and sells everything!
Check out more information about Little India Singapore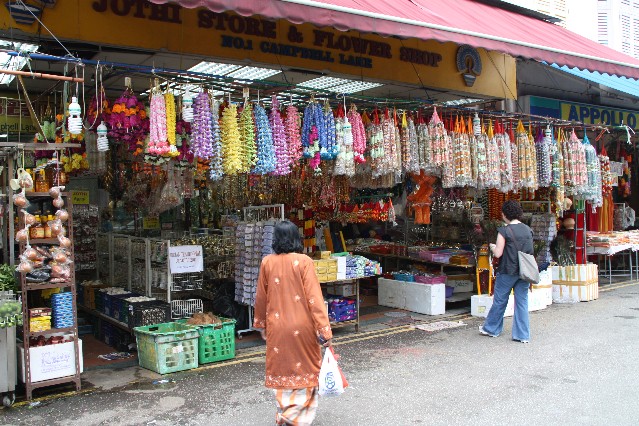 9.45am – 10.00am Walk to Kampong Glam the Arab quarter of Singapore. It's only a 15 minute walk from Little India to Kampung Glam or you could get the MRT from Little India Station to Bugis station which is the closest to Kampong Glam but that would take another 2 train changes. Or catch a taxi for a few dollars.
10.00am – 11.00am Explore Kampong Glam.
Check out the Sultan Mosque.
Walk down Arab street and check out all the fabric and jewelry shops.
Check out more information about Kampong Glam Singapore.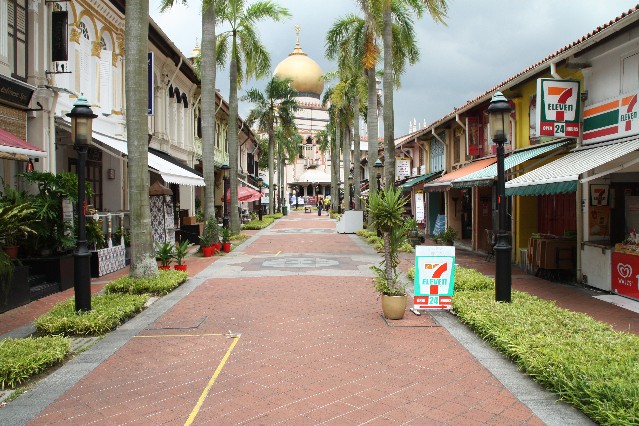 11.00 – 11.20 Catch the MRT train from Bras Basah MRT station to Clarke Quay.
Bras Basah Circle Line to Doby Ghaut.
Change line to North East line and go 1 stop to Clarke Quay.
11.20 – 12.20 Explore Clarke Quay
Clarke Quay is a shopping / food district built right on the Singapore river. Although there are plenty of good restaurants in Clarke Quay to try, our suggestion is you head over to Chinatown for lunch (next stop). You can choose to walk to Chinatown or get back on the MRT North east line and go 1 stop to Chinatown MRT Station.
See more information about Clarke Quay Singapore.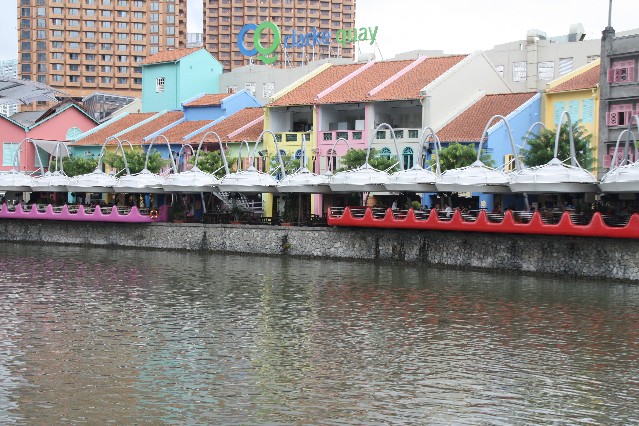 12.20 – 12.30 Walk to Chinatown
It will probably take around 15 minutes to walk to Chinatown or you can go back to the MRT station and catch the train just 1 stop.
12,30 – 1.30pm Lunch in Chinatown
Chinatown is one of my favourite places to eat in Singapore. There are so many restaurants to try. Loads of Chinese Restaurants and plenty of other choices of Asian food including Korean and Japanese.
1.30pm – 2.30pm Explore Chinatown
See the Buddha Tooth Relic Temple and Museum.
Check out the Sri Mariamman Temple and the Jamae (Chulia) Mosque.
See more information about Chinatown Singapore.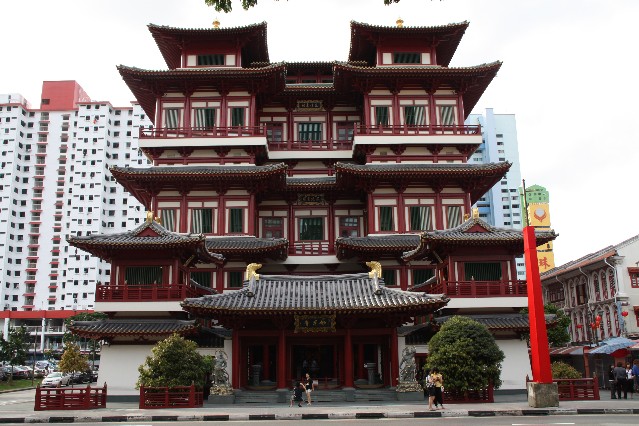 2.30pm – 3pm Travel from Chinatown to Orchard Rd
From Chinatown MRT station catch the North East line train to Dhoby Ghaut.
Change lines to the North South Line (Red) and go 2 stops to Orchard MRT station.
3pm – 4.30pm Explore all the shopping centres on Orchard Road
There are heaps of shopping malls on Orchard Rd. ION Orchard Shopping Mall, (one of the largest shopping mall on Orchard Road) is located right on the corner of Orchard Rd and Scotts Rd, directly above the MRT station.
See more information about Orchard Road Singapore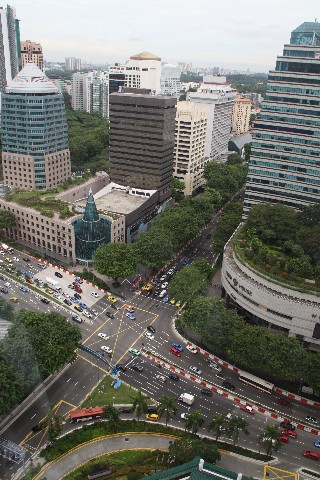 Now it is time to sit back and relax with a nice cocktail and watch the sunset. Let's go over to the best view in Singapore – the Marina Bay Sands.
4.30pm – 5pm Catch the train from Orchard MRT station to Bayfront MRT Station
Catch train from Orchard MRT on the North South Line to Dhoby Ghaut.
Change trains to the Circle line and get off at Bayfront
Marina Bay Sands – Unfortunately you won't be able to take a dip in the amazing infinity pool at the top of the building as that is reserved for guests of the hotel. You can have some nice drinks at Ku De Ta which has great views over the Singapore Skyline and located right next to the swimming pool.
Read more about Marina Bay Sands.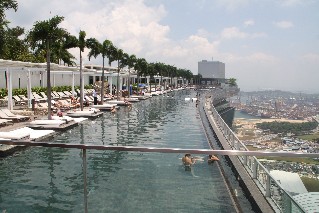 6.30pm – OK now time for dinner. You could easily stay at Ku De ta and have a great meal though we suggest you head to the best place in Singapore to get good quality seafood – Newton Circus.
Go back to the Bayfront MRT station and retrace your steps back the way you came from Orchard Rd but go one more station past Orchard to Newton Station.
Catch the train from Bayfront on the Circle Line back to Dhoby Ghaut.
Change trains to North South Line and get off at Newton.
Newton Circus is an open air food court with loads of food vendors mainly selling seafood but also a range of Chinese stirfries, chicken wings and some Indian food. Our recommendataions are to try to Singapore Chilli Crab, a must try in Singapore.
Read more about about Newton Circus.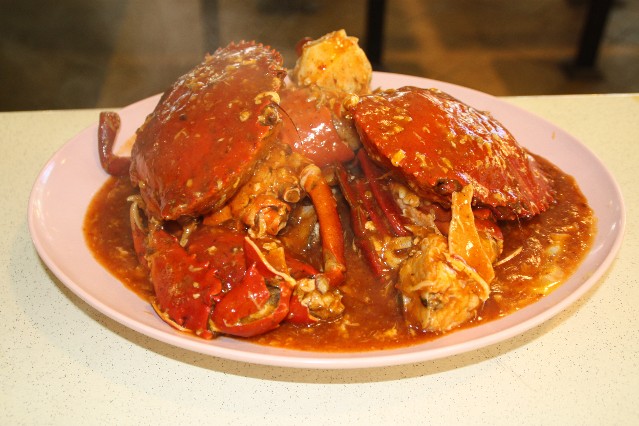 Take your times and enjoy a good dinner then head back to Singapore airport in time for your flight out. From Newton MRT station is on the North South Line, catch the train to City Hall and change trains to the East West line which goes directly to Changi Airport.
This is a lot of travelling and changing trains though you will get to see lots of the best sights of Singapore get to see how the MRT is one of the best public transport systems in the world.
Now for the easier option which will allow you to see more of Singapore and less hassle.
Option 2 –
Rather than buying the Singapore Tourist Pass, there are a number of bus tours that do a loop around Singapore stopping at all the best tourists attractions in Singapore. Most of these bus tours are hop on hop off tours so you get off the bus to explore a site and then wait for the next bus to come along.
At Changi Airport there is a counter at both Terminal 2 and Terminal 3 that sells tickets to all the tour companies for hop on hop off buses which will take you from the airport and around Singapore to see all the sights mentioned above and many more and then back to the airport at the end of the day.  These ticket offices at Changi airport are open from 7am – 11pm. See Changi Sightseeing website.
Enjoy Singapore!!
See more of our articles about Singapore
Also see our article 1 day stop over in Sydney