Flight Review Qantas QF2 A380 Singapore to Sydney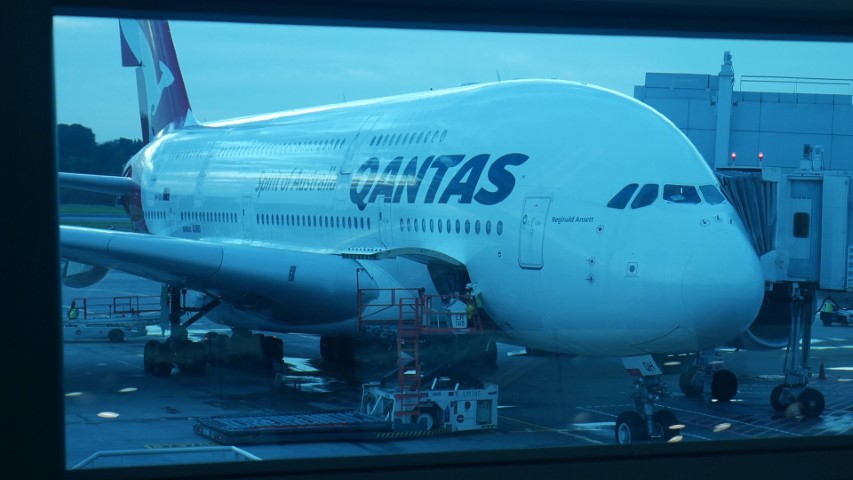 Airline: Qantas
Flight no: QF2
Route: Singapore Changi Airport (SIN) to Sydney International Airport (SYD)
Aircraft Type: Airbus A380
Flight time: 7 hours 10 minutes
Travel Class: Business Class
Seat: 22A Window Seat Total Lay Flat bed
Seat Width: 21.6 inches
Seat Pitch: 78 inches
Check out our video flight review for Qantas QF2 A380 Singapore to Sydney
QF2 is the return leg of the Qantas flagship flight between London and Sydney traveling via Singapore, referred as the Kangaroo Route. This flight review is just for the leg between Singapore and Sydney.
I had purchased a Premium Economy seat ticket costing $1649.90, I then used 25,000 Qantas Frequent Flyer points to upgrade to a Business Class seat.
The interesting thing about booking this flight, I had originally tried to book a return flight via the Qantas site, booking QF1 to Sydney to Singapore and the return leg QF2 from Singapore to Sydney. When I searched for the return leg, the QF2 had no seats available on the date I wanted to return. I ended up booking just one way QF1 from Sydney to Singapore and I was going to check other airlines to see what options I had to get back to Sydney. I then decided to search again (minutes later) for one way from Singapore to Sydney on the Qantas website. Mysteriously there were seats available but when I went to book it directed me to the Qantas Singapore website and charged me in Singapore dollars, incurring an additional foreign exchange fee on my credit card. Does Qantas only have seats available on certain routes from the destination website? I suspect they do. It doesn't make sense why the seats would be available on their Singapore website and not on their Australia website. I almost booked on another airlines due to this!
At the airport
Singapore Changi Airport is one of the best airports in the world. It cost me $23 dollars to get a taxi from my hotel in Singapore to the airport.
Qantas flights leave from Terminal 1. The check-in is automated, with electronic kiosks where you insert your passport and print out your boarding pass and bag tags. These are the same electronic kiosks that are found in Sydney airport.
The bag drop was not automated when I was there but it looks like they are installing the automated system where you can scan your boarding pass to auto drop your bags.
It doesn't take long to clear the airport security and gain access to the huge selection of duty free shopping and food available at Singapore airport.
The Qantas Singapore Lounge
With the business class ticket you do have access to The Qantas Singapore Lounge which is one of the best Qantas lounges around the globe.
There is a fully stocked bar, buffet food and there is also a chef cooking up some daily specials. When I was here I enjoyed some delicious stir fried black pepper beef.
This lounge gets extremely busy as there are loads of Qantas flights and partner airline that use this lounge. The lounge is huge and there is usually no problem find a comfy seat. There are some large TV screens down the back showing Australian news or showing sports.
It is around a 10 minute walk from The Qantas Singapore Lounge to were flight QF2 leaves.
On the plane
The A380 is an awesome aircraft. Double decker super jumbo. Now the flight I had used the plane called 'Reginald Ansett' rego number VH-OQH. This specific plane rolled off the Airbus production line in August 2009 which makes the plane just over 9 years old. The Business Class section is on the top deck.
In Business Class you are giving an amenities kit which contains an eye mask, ear plugs, tooth brush and tooth paste, a pair of socks and a moisturizer kit which is great to use on your hands, face and lips to stop them drying out from the dry air conditioned air on the plane.
For this night flight you are also given a pair of the Qantas cotton pajamas to wear while you are sleeping to prevent your own clothes from getting wrinkled.
The Seat
The seats on this Qantas A380 are the original Skybed II seats that were first installed on this plane. I don't really rate these seats as they are getting a bit dated. They are comfortable but the total lay flat bed is not a true flat bed. What I mean by this is that the seat does lay flat but it is not fully flat at 180 degrees. It slightly slopes down as there is not enough room under the seat in front for the bed to lay flat. This makes you feel like you are slipping down the seat in this position. I do get a bit of sleep on these seats but always wake up having to pull myself back up the bed.
Also the seat configuration is 2-2-2, so if you are in a window seat you do not have direct access to the aisle. If your neighbour is sleeping you have to climb over the lay flat bed to get to the aisle.
There is plenty of leg room in this business class seat, with a full 78 inches between your seat and the seat in front.
The window seats have 3 storage bins under the windows where you can store your personal items and small bags. At the front of the seat is a universal power adapter and some USB ports to charge your devices like mobile phone or tablet.
The good news is that Qantas has announced that they will be upgrading the business class seats on the Qantas A380s to the similar seats as they use in the Qantas Airbus A330s (the Vantage XL seat) which I rate as some of the best seats in the sky. These are total 180 degree lay flat seats. The bad news is that this upgrade will not be completed until the end of 2020. With 12 A380s in the Qantas fleet I guess it will take some time. They do not start upgrading these seats until Q2 2019.
The Entertainment System
The Entertainment System is also the original system installed in the plane. With a tiny 10″ screen, these screens are way behind many other business class Entertainment systems in other airlines (or on the Qantas A330).
The other bad news about the entertainment system on the Qantas A380 Business class section is that the screen is on a swivel arm and needs to be stowed inside the seat during take off and landing. This is a real bummer as one of the best features of the entertainment on the A380 is the Skycam, with a camera mounted in the tail of the plane, which you can watch while the plane is flying. I think the best time to watch the Skycam is during take-off and landing!
The good news about the entertainment system is that it is loaded with hundreds of movies and TV shows, so there is always something to watch, even if you are a frequent flyer with Qantas.
Also on the Qantas Entertainment System is an electronic flight map which shows you the route your planes if flying and show the various cities you are passing by.
The food
On this flight from Singapore to Sydney, 2 meals are served. An evening supper after take-off and a breakfast before you land into Sydney.
The menu for the evening supper meal had a choice of 5 dishes:
Sweet potato soup with toasted almond and mint salsa
Spaghettini arrabiata with basil and parmesan
Barbecue duck dumplings with aromatic broth, shiitake mushrooms, egg noodles and Asian greens
Roast pork roll with braised fennel, capers and black pepper mayonnaise
Roast chicken with potatoes, green beans and chipotte lentil sauce
For dessert there were a choice of 3 desserts:
Apple and vanilla crumble with cinnamon cream
Ice cream
Seasonal fruit
For the main meal I choose the BBQ duck dumplings which was a big bowl of noodle soup. The duck dumplings were nice, big and tasty but I must say that the noodles in the soup were a bit ordinary. It was like they used a packet of Maggie instant noodles. Which is OK because I like Maggie instant noodles but since this flight originated in Singapore I would expect they could have sourced some freshly made noodles.
For the dessert I had the Apple and vanilla crumble which was a delicious dessert.
For the breakfast before we landed there was a choice of:
Apple danish
Fruit salad
Yoghurt
Brookfarm macadamia toasted muesli with cranberries
Bacon and egg brioche roll with roast tomatoes and hot sauce
I went for the bacon and egg brioche which was a great breakfast with a glass of orange juice and a cup of coffee.
Final say on this flight
I find the service on Qantas hit and miss. The QF1 flight from Sydney to Singapore I had an awesome experience, with the staff being lovely, friendly, even stopping to have a chat with me. The crew on this QF2 were efficient but not as friendly. maybe being a night flight the staff are not as awake and friendly. The service was good but I just didn't get a friendly feeling from any of the crew on this flight. This is very much my opinion. You can have great flights with Qantas and then the next flight will be ordinary. While the food was tasty and served promptly, I still think Qantas has a long way to go with the consistency of the food they serve on board.
I am a frequent flyer with Qantas and will continue to fly with them but with my recent experience with flights on Singapore airlines, it is no wonder that Qantas recently didn't make it into the top 10 airlines of the world. They are still a good airline but not a great airline.
You can book flights directly on the Qantas website.