The Sparrows Mill Korean fried chicken Sydney
A friend had told me about this place on Liverpool St in Sydney which serves the best Korean fried chicken. It is a Korean restaurant serving lots of different types of Korean food including hotpots, Korean pancakes but they also have a huge selection of different fried chicken dishes.
So a bunch of colleagues went down for a Friday lunch – Friday Fried Chicken.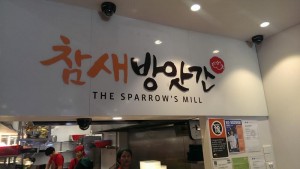 8 of us went down and got to The Sparrow's Mill  on a mission to try as many of the fried chicken dishes. We ended up ordering 5 different fried chicken dishes and decided to get 2 Korean seafood pancakes to balance out the meal.
The first dish to come out what the Sweet and Spicy Chicken – described on their menu as a 'delicious different spicy sauce with a rich tomato fragrance'. The cost is $18 for a half chicken or $34 for a whole chicken. It does have a nice spicy bite to it and the rich tomato sauce is a bit sweet. The chicken is so well cooked with different pieces including drumsticks, chicken wings and breast pieces.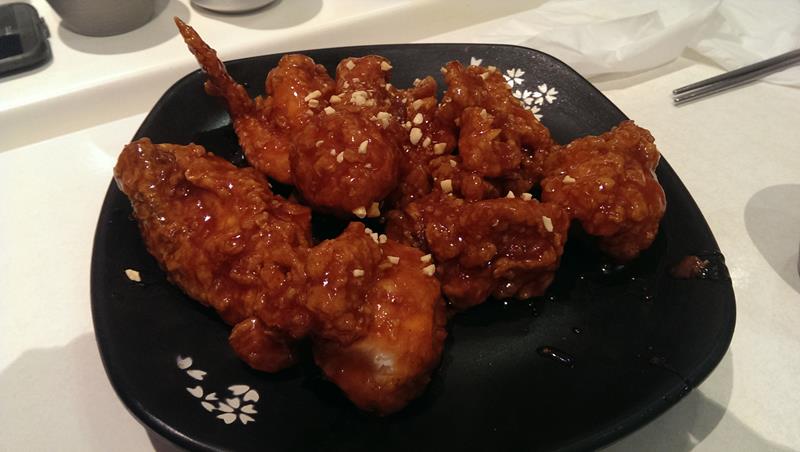 Next came their signature fried chicken dish – the Hot and Spicy Gangjung Chicken – incredible gangjung meets with hot and spicy sauce. This one has a real bite to it. Some of our crew who are not chilli fans struggled with this, though they soldiered through and atleast eat one piece and then complained how spicy it was. I loved it! They do serve a small bowl of dices radish to eat to cool the palate after chomping this spicy chicken down.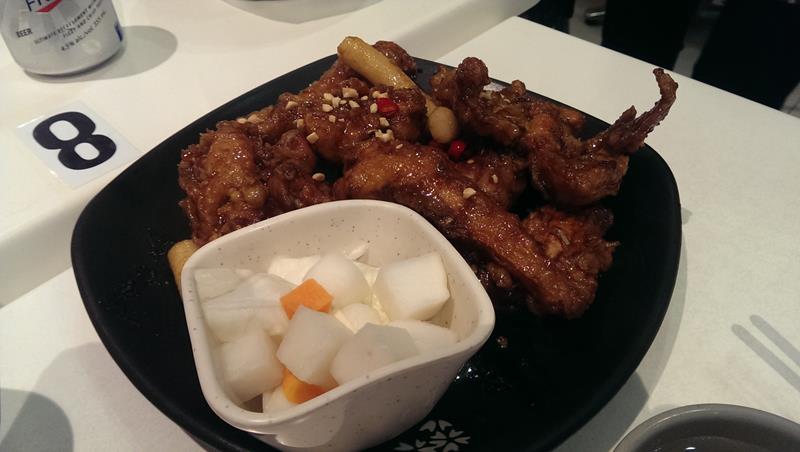 The next was Sparrow's Mill's Spring Onion Fried Chicken which is crispy fried chicken coasted with a special wasabe sauce and sprinkled with spring onions. This was my favourite of all the dishes. A mild spring onion flavour with just a hint of the wasabe taste, so no fire breathing after eating this one.
My collegues had decided to order a whole chicken serve of the Snow Cheese Chicken – a crispy fried chicken dish with a blue cheese coating. Now I am not a big cheese fan and smelly cheese is my least favourite. I did polish off only 1 piece of the Snow Cheese Chicken and am not a fan. The blue cheese taste is a bit strong for my liking though the cheese fans at the table did get stuck into this dish saying it was their favourite. Give me more spicy chicken anyday!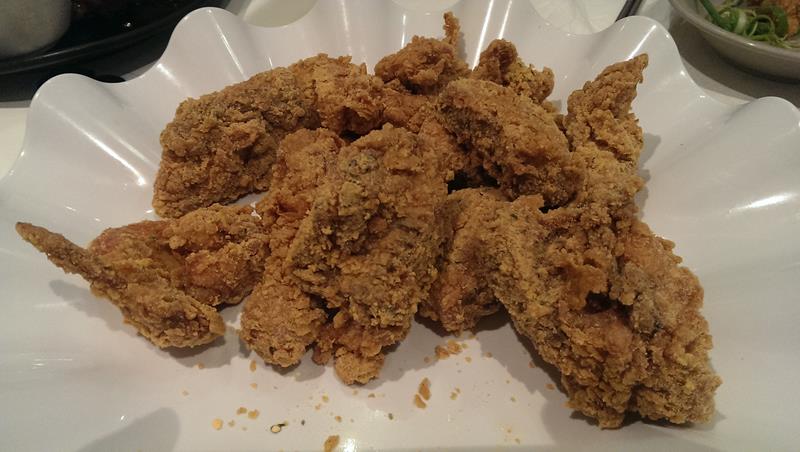 The seafood pancakes were very delicious with nice large sized king prawns. A tasty dipping sauce it served up with the pancakes.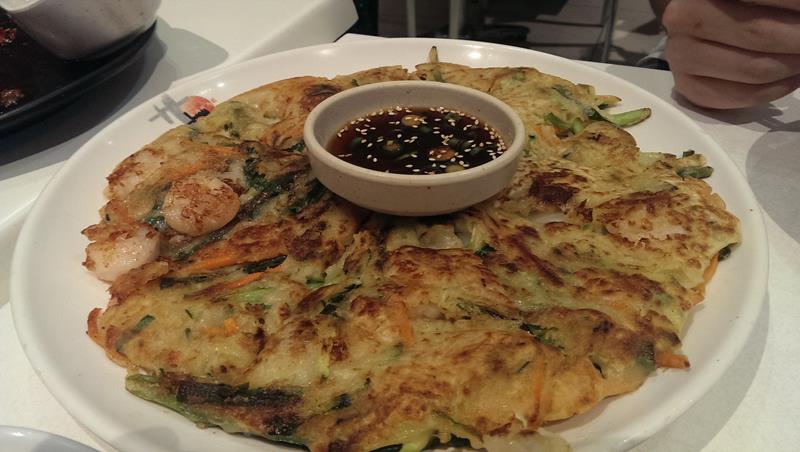 Sparrow's Mill Korean Restaurant is a very casual dining restaurant located at Shop 3 116-120 Liverpool Street, Sydney. There is often a queue out the front with hungry dinners waiting for a delicious Korean fried chicken feed.