Betty's Burgers – delicious burgers in Surfers Paradise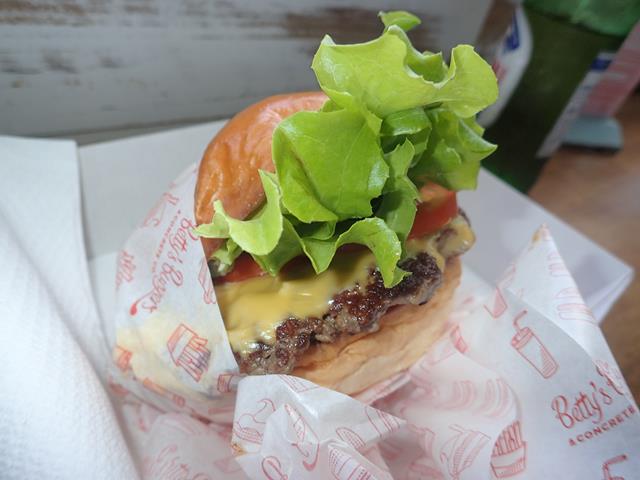 Betty's Burgers is located right in the heart of Surfers Paradise on the Gold Coast, located on the Surfers Paradise Boulevard, within the Chevron Renaissance shopping mall. The full name of the restaurant is Betty's Burgers and Concrete Co but I didn't see and bags of concrete for sale, just delicious burgers.
Burgers on the menu include the Betty's Classic which is your standard burger with a Angus beef pattie, lettuce, tomato, onion, cheese and Betty's Tasty Sauce. There is a crispy Chicken Burger, Pork Belly burger, Shroom Burger or Bare Betty which is the same as the Betty Classic but without the bun for those wanting a low carb burger.
I went in for the Classic Betty. It was so good I went back a few nights later for another one take away! It truly is a Classic Burger, simple and oh so tasty!
The Concrete part of the name of the restaurant is actually referring to their selection of awesome desserts which is dense chocolate or vanilla frozen ice-cream blended at high speed with a choice of mix ins including things like Maltesers, Cookie Dough, Chocolate sauce, Strawberry sauce, Waffle Cone pieces, New York Cheesecake, Peanut Brittle and lots of other yummy goodies. I didn't get to try these Concrete desserts but will have to go back to try. Stay tuned for the pics of my Dessert Masterpiece! If you have tried the desserts at Betty's Burgers add a comment below to let us know your favourite mix!
Betty's Burgers is licensed and have a range of bottled beers, Ciders and Wine by the glass. There is indoor dining and a nice area out the front with a great view down Surfers Paradise Boulevard for some quality people watching.
If you love a good burger then definitely try one at Betty's. The Classic burger is only $10. Betty's Burgers also has a restaurant in Noosa!
Betty's Burgers and Concrete Co
Chevron Renaissance Shopping Centre
12-14/3240 Surfers Paradise Blvd
Surfers Paradise
Ph: (07) 5538 6565
Website: http://www.bettysburgers.com.au/
Check out the location of Betty's Burgers in Surfers Paradise
[do_widget id=wpp-16]