Flight Review Fiji Airways Sydney to Nadi A330-200 Business Class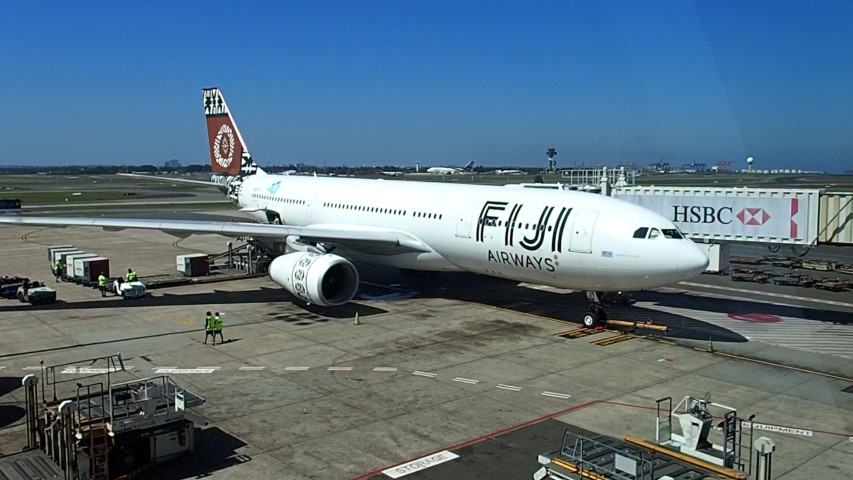 Airline: Fiji Airways
Flight no: FJ910
Route: Sydney Australia to Nadi Fiji
Aircraft type: Airbus A330-200
Flight time: 3 hours 40 minutes
Travel class: Business Class
Seat type: Angle flat seat
Seat Width: 21″
Pitch: 60″
Check out the full flight review video for Fiji Airways A330-200 Business Class Sydney to Nadi Fiji
Before the flight
At Sydney airport, Business Class customers have a Premium check-in counter and are given an express pass to travel through customs. Both these perks saves alot of time at the airport.
As a business class passenger of Fiji Airways, you also get access to the Qantas Business Lounge.
I had booked my flight through the Qantas website. The return flight cost $1,888.58. The FJ910 flight also has a Qantas Co-shared flight number of QF391. As a Platinum Qantas Frequent Flyer I earned 5775 Frequent flyer points and 85 status credit points.
On the booking it said the aircraft was going to be a B737-800. I was pleasantly surprised when I got to the boarding gate and found the plane to be the Airbus A330-200. A much bigger plane.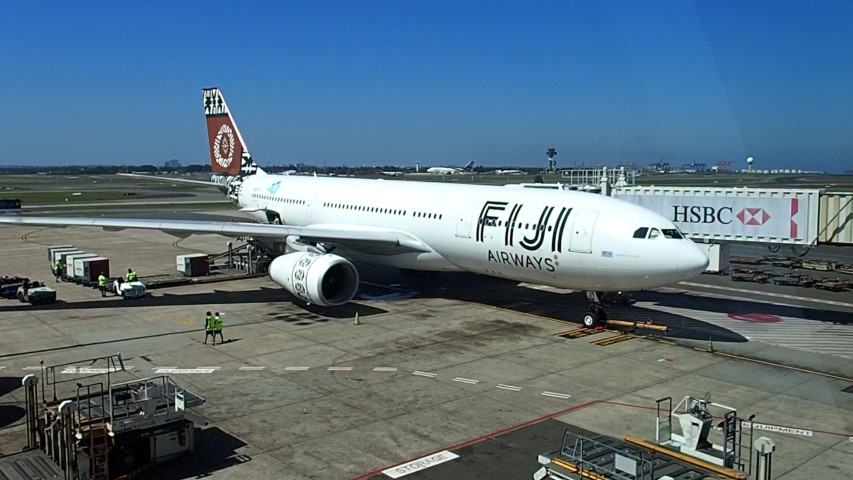 The seat
The business class pods on Fiji Airways A330-200 are very nice. One of the nicest business class seats I have sat in.
The seat is an angled lay flat seat. It reclines fully to a flat bed but the seat slopes down a bit but this being a day flight and only 3 hours and 40 minutes I just had a little snooze so was totally comfortable in this seat.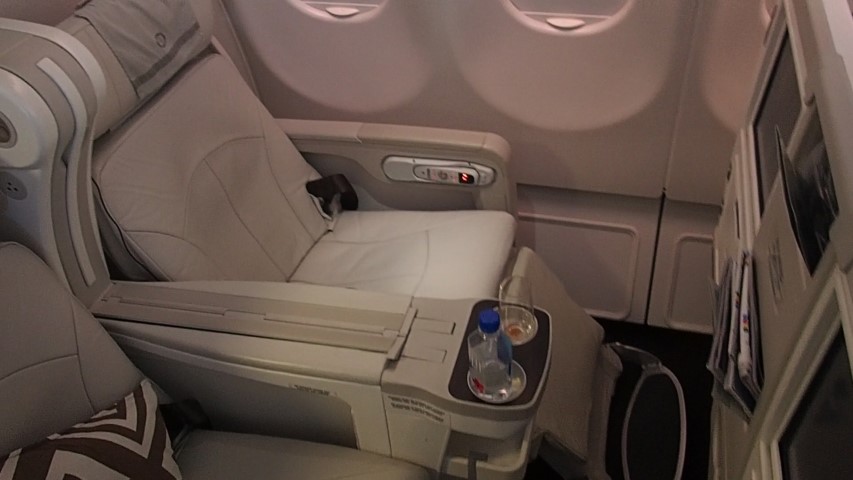 The seat has an electric outlet and USB port built into seat.
The seat has plenty of legroom and has a nice leg rest for when you are slightly reclined watching a movie or eating.
Built into the seat infront, just below the Entertainment screen are 2 small storage pods to store your phone, passport or any other small items.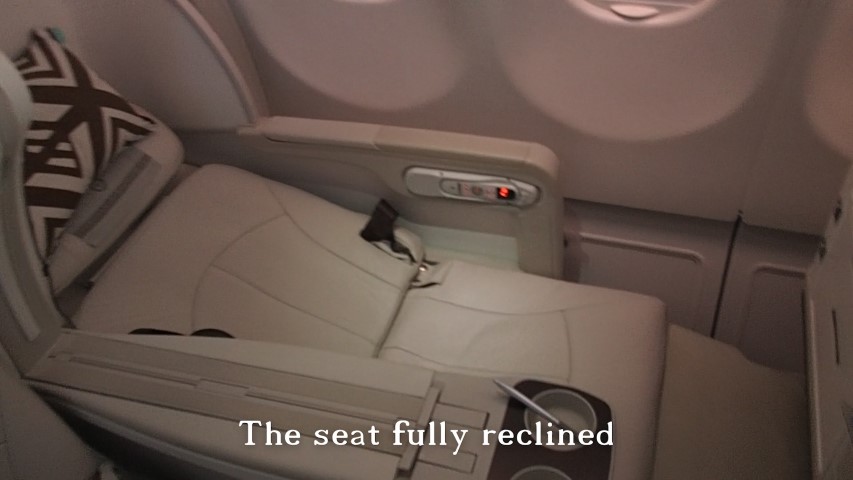 The Entertainment:
The entertainment screen is a 15.4 inch LCD screen which is a nice sized screen. They provide you with a very good quality noise canceling head set.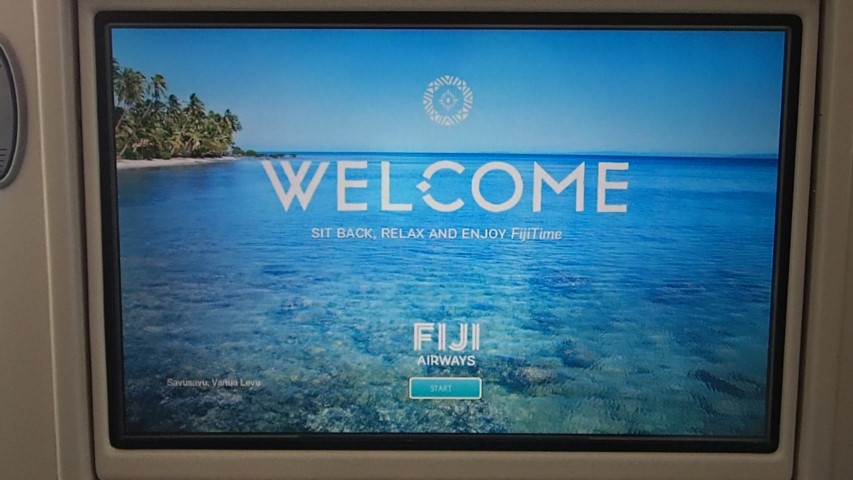 The FijiTime entertainment system is loaded up with heaps of latest release movies. I managed to watch 1 movie during this flight. There are also TV shows, documentaries and over 500 music albums to listen to.
The Inflight Magazine is also called FijiTime and has some great travel articles about Fiji.
The food
Fiji Airways scores major points for the excellent food I was served on board this flight!
Just after take-off, when they reach the cruising altitude, they first come out with a drink service. I ordered a nice glass of Shiraz red wine which comes with a bowl of cheesy pretzel snacks.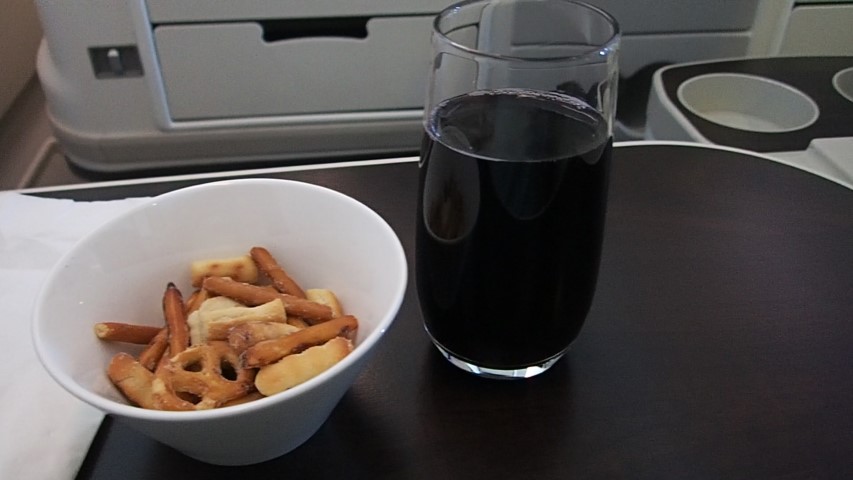 I give extra points for the drink service coming out first, with a snack to enjoy before the meal service. Many other airlines now incorporate the drink service and food service together. I do like the drink service to be separate and come out early, just after take-off. The separate drink service just breaks up the flight time nicely.
For the food, there was a starter of a Rissoni Pasta Salad with basil parmesan dressing served with a choice of garlic bread, omega linseed or wholemeal bread roll.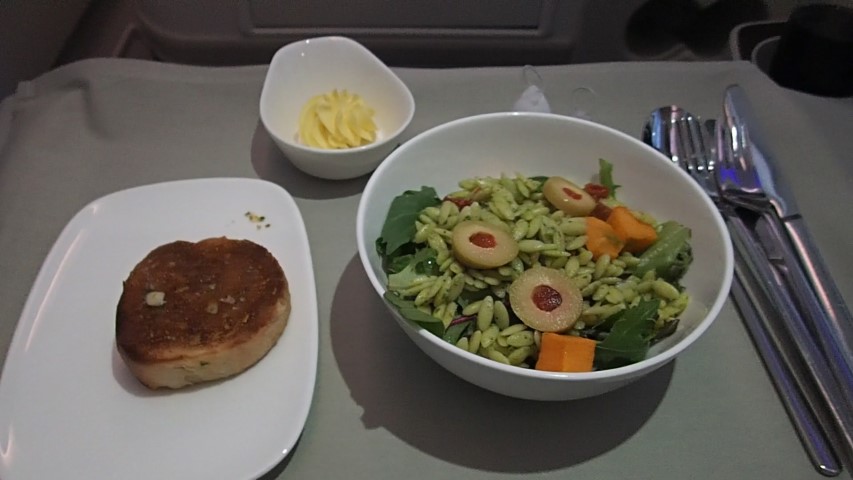 I choose the garlic bread which was very nice, with nice big pieces of garlic. The Rissoni Pasta Salad was an excellent starter. Nice and light with the salad and the Rissoni Pasta gave a nice contrast to the salad.
For main meals there were 3 choices – 1. a Lamb Curry, A fijian inspired curry served with coconut rice, papaya and a diced pineapple choka. 2. Ginger Glazed Mahimahi served with dill caper creamed sauce, potato mash and sauteed pumpkin. 3. The vegetarian option of Mushroom and Sweet Potato Goulash bound with red capsicum, fettucine pasta tossed in garlic, parsley butter and chives.
I choose the Lamb curry and this tops the best meal I have had on a flight this year! The lamb was really tender, the curry was very mild, I would have liked it more spicy but I am sure they make it mild so anyone can eat it. The rice was fragrant and moist, not dry. Well done Fiji Airways! This was an excellent meal.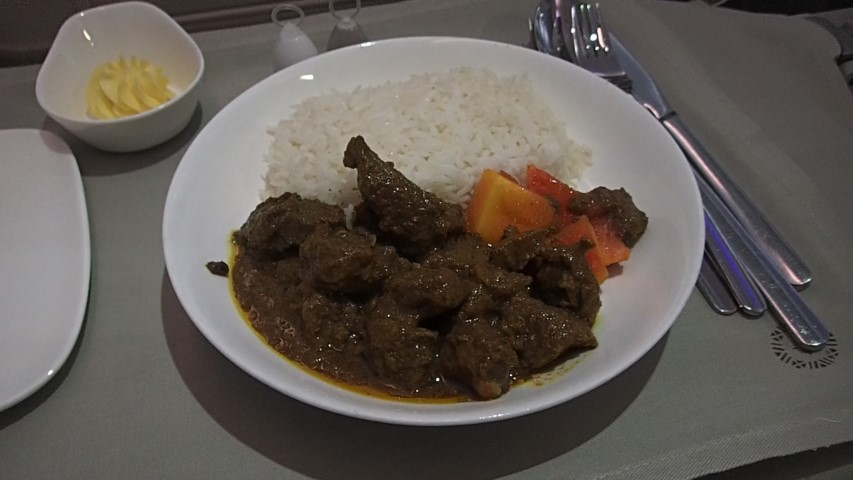 For dessert I had a choice of a chocolate brownie or a cheese platter. I went for the Chocolate Peppermint Brownie served with cream rosette and a mint leaf. A very tasty dessert which was finished off with a cheeky glass of Old Tawny Port wine with the dessert.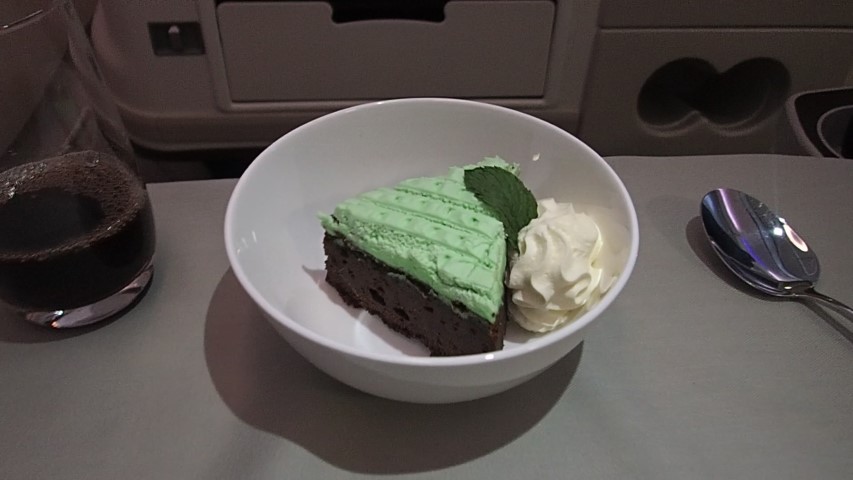 The Service
Outstanding service on Fiji Airways! We had 3 flight crew in the business class cabin servicing 24 passengers.
I have never seen a flight crew so happy to do their jobs. Always with a smile, and a genuine smile at that. I was really impressed with the service on Fiji Airways. if they haven't won awards for their Inflight Service then they should!
Before take-off instead of the usual Champagne service, on Fiji Airways there was a choice of Chilled water, A fruit mocktail or the Fiji rum cocktail. I went for the Fiji rum cocktail which wasn't very strong but very tasty. More Fijian rum next time please Fiji Airways!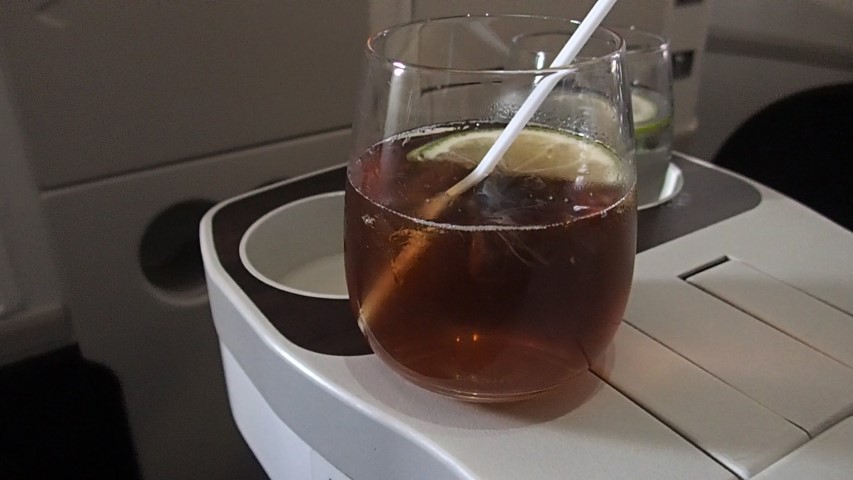 Final word on this flight
This is my first time to fly with Fiji Airways and I was so impressed. Great plane, great business class seats, the best service I have ever received on a plane and the cabin crew just topped everything off just with their smiles.
I am looking forward to the return flight from Nadi to Sydney. Review coming soon!
For this great flight I am giving a score of 9.5 / 10. Extra Fijian Rum and a spicier lamb curry and it would have been the perfect score!!
You can book flight directs on Fiji Airways Website or for flights from Australia you can book via the Qantas Website.
Fiji Airways have direct flights from Sydney, Melbourne, Brisbane and Adelaide from Australia.
Fiji Airways also have direct flights to Nadi Fiji from Auckland, Wellington, Christchurch, Hong Kong, Singapore, Los Angeles and San Francisco. Fiji Airways also have flights to all the major islands in the South Pacific.
Thanks Fiji Airways!
[do_widget id=wpp-6]