Robot Restaurant Kabukicho Tokyo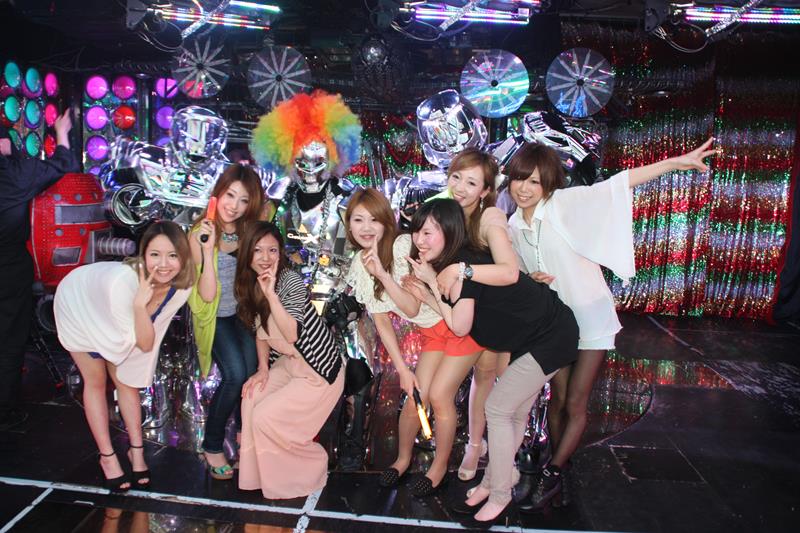 ROBOT RESTAURANT HAS NOW CLOSED FOR BUSINESS
Tokyo has a lot of different themed restaurants like the Ninja Restaurant, Maid Cafes and the Robot Restaurant. Restaurants where you don't just go to eat but enjoy some entertainment at the same time.
The Robot Restaurant is a multi-million dollar themed restaurant in the heart of Tokyo's red light district, Kabukicho. The building was purpose built and goes down underground several floors and opens up into the Robot stadium where you can enjoy one of the most entertaining shows in Tokyo, with robots and girls in bikini performing as you eat a very ordinary bento box. I had dinner before I came and glad I did as the bento box was not good with greasy cold chips.
The restaurant has nothing to do with the food. It is all about the robots (and the bikini girls). Most of the robots are actually just people dressed up as robots which dance around or roll around on roller skates. There are a few large robots which are remote controlled to move around the stage area.
From the time you arrive at the entrance of the Robot Restaurant it is a complete assault on your senses. On the ground floor they have a waiting room where you sit before you are led down several flights of stairs down to the Robot arena. The entire entrance and all the way down these stairs is covered with neon lights, flashing lights blinking in multiple colours with loud techno music blarring.
One the bottom floor, where the robot arena is, the area sits around a few hundred people, lined up in 3 rows on either side of the stadium floor. Behind the rows of seats are huge video screens which is where the performance begins. The beginning is a short video which tells a story of the rise of the robots in human civilization. Unfortunately the commentary is in Japanese so I missed most of the story.
Then out come the robots to continue to story riding around the stadium with the girls in bikinis dancing around. I can honestly say it was entertaining and well worth the 5000 Yen entrance fee (around US$42). The performance goes for around 1.5 hours with a few intermissions which allow you go to buy a beer which only cost 500 Yen. The show kept my interest the entire time. During the last intermission you can get down onto the arena floor and get your photo taken with the robots (and bikini girls 🙂 ).
The robot restaurant has 3 performances each week night (5.55pm, 7.50pm and 9.45pm) There are 4 performances on Saturday and Sunday (4pm, 5.55pm, 7.50pm and 9.45pm)  It is best to book in advance especially for the earlier performances. You can book a ticket on their website and collect them when you arrive. Just arrive 20 minutes before your performance. They have lockers at the ticket office which are free to store any of your bags in