Flight Review Vietnam Airlines Business Class Sydney to Ho Chi Minh City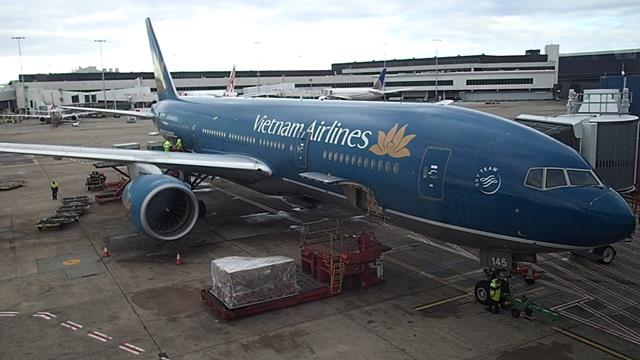 Flight no: Vietnam Airlines Flight VN772 (Qantas Code Share QF359)
Route: Sydney Australia to Ho Chi Minh City Vietnam
Aircraft type: B777-200ER
Flight time: 8 hours 45 minutes
Travel class: Business Class
Seat type: Old still recliner seats – NOT lay flay
Seat Width: 21 inches
Seat Pitch: 59 inches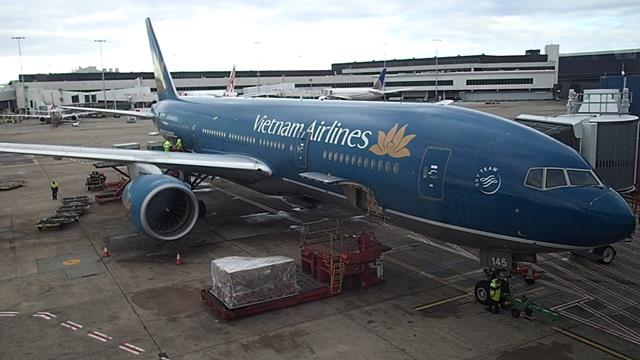 This is my first time flying with Vietnam Airlines. I booked the flight through the Qantas website. Although Vietnam Airlines is not part of the OneWorld Alliance they have done a deal with Qantas to fly this route on behalf of Qantas. I still earned Qantas Frequent Flyer Points and Status credits just as I would have flying on a Qantas plane.
Flying business class I was entitled to use the Qantas Business Class Lounge at Sydney airport. As I am a Platinum Qantas Frequent Flyer I got to use the Qantas First Class Lounge. Loyalty Pays! The Qantas First Class lounge is very nice. Worth the Loyalty! I started the morning with the delicious First Class Signature Breakfast with poached eggs, bacon, sausage, hash browns, roasted tomato and thick, crusty toast.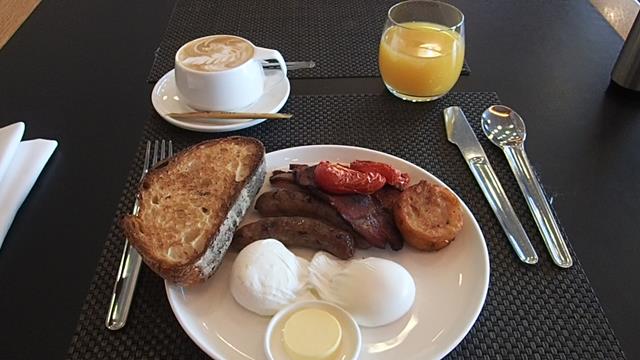 I had read up on Vietnam Airlines and learned they had a good safety record and had one of the newest fleets of aircraft in South East Asia. When I arrived at the gate I was surprised to see an old B777-200ER looking like it needed a good paint job. I since read the B777-200ER that fly between Ho Chi Minh City direct to Sydney or Melbourne are being replaced by new B787-9's in December 2016.
The interior of the plane didn't look as old as the outside. Nice and clean, despite the old business class style seats it looked quite nice. The old style seats are actually very comfortable. This was a day flight, leaving Sydney at 10.15am and arriving into Ho Chi Minh City at 4pm, so I was not wanting to have a long sleep, though managed a few hours of napping during the flight.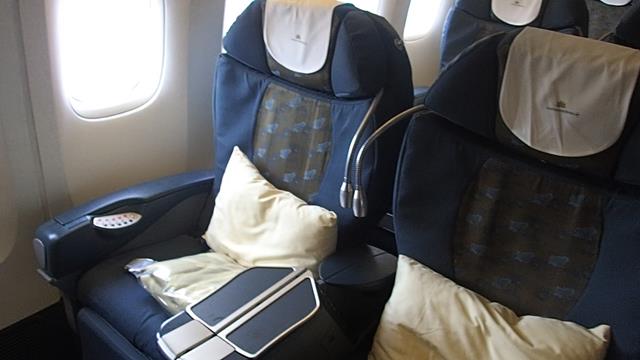 There was an old entertainment system which swiveled out of the business class seat, with a small screen, though after takeoff I was handed an iPad which was loaded up with plenty of recent release Hollywood movies.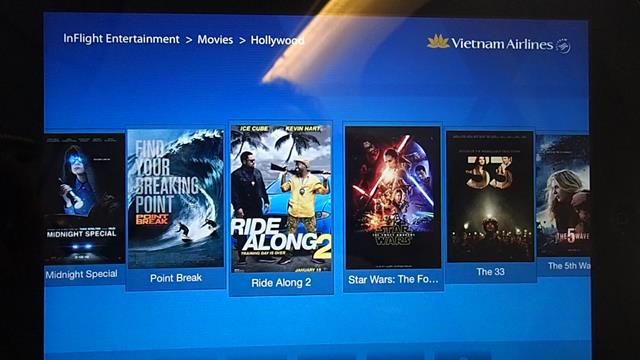 Before take-off I was served a nice glass of Champagne (served in a wine glass, not a Champagne glass, but better than in a plastic cup like on a recent JAL Japan airlines flight – see the JAL review here). I polished off the glass of Champagne and was pleasantly surprised when the hostess offered me a second glass! I have never been offered a second glass of Champagne before take-off on any other airline. Good start to the flight!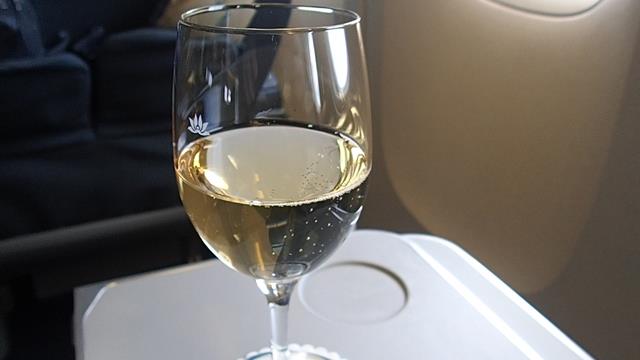 The Business Class food menu had a great choice. There was a choice of lunch just after takeoff and a refreshment (nice sized meal) just before landing. Drinks were served first with a small appetizer with some smoked salmon, scallop and something else (that orange ball pictured below), I have no idea what it was but it was tasty….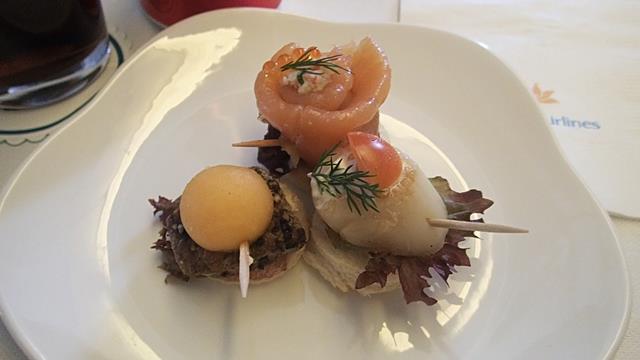 For lunch after take-off I chose the entree of smoke chicken and prosciutto with salad which was very tasty.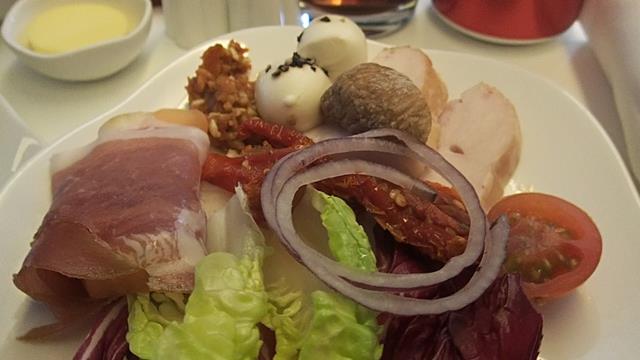 After the entree they served a delicious Potato and Leek soup which is my favourite type of soup ever!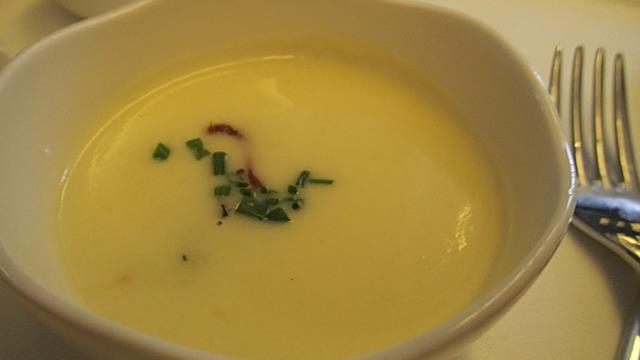 The main meal I chose the very delicious grilled beef with potato gratin. Top marks for a great main meal.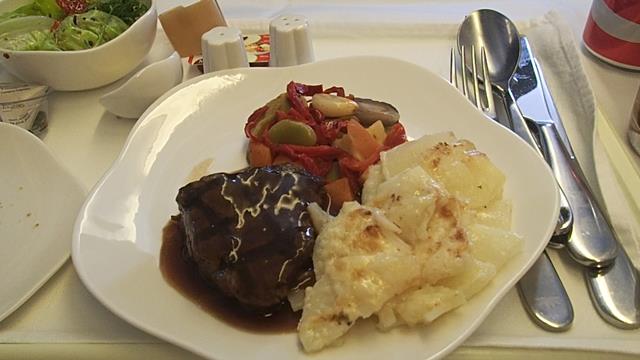 Dessert was some fresh fruit with a Brandied Fig ice cream which was also delicious.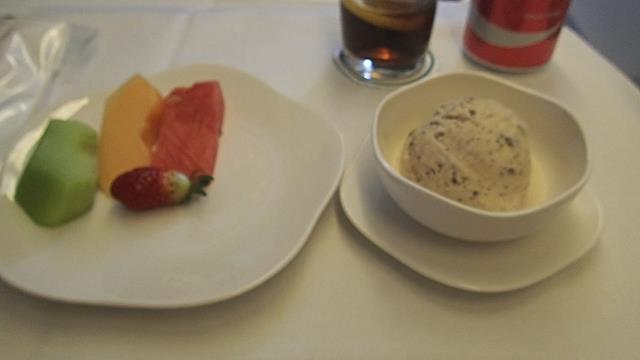 After eating and watching a movie I did get a few hours of napping in. Although the seats were not completely lay flat they did stretch back enough to get some comfortable napping in. I don't think this would be the case for a night flight when you want to get a good nights sleep! Bring on the lay flat beds on the new B787-9!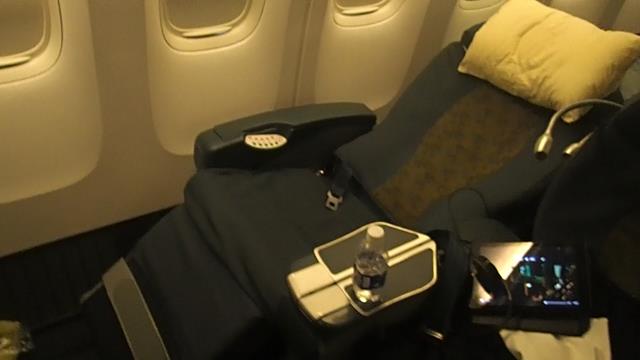 Around 1.5 hours before landing we were served the refreshment meal, which is a decent meal. I had the braised pork with rice noodles which was awesome and served with a delicious garlic bread and some fruit for dessert. The best meal I have had on a flight this year! The braised pork was spicy which I do love.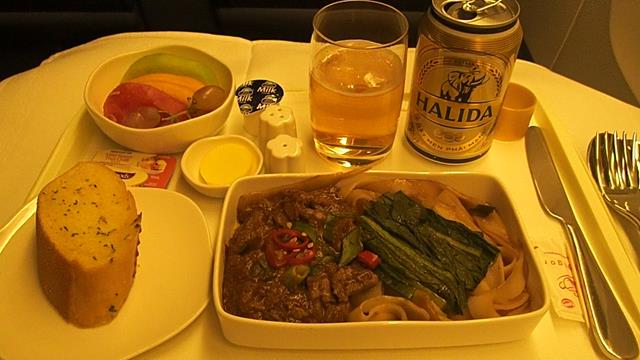 When we landed, the plane taxied into the Domestic Terminal which I am not sure why. We got off the plane via steps onto the tarmac and there was a mini-bus waiting for business class passengers, and larger buses waiting for the domestic passengers to transfer us to the International terminal for customs clearance into Vietnam.
My score for this Vietnam Airlines flight is a huge 4.5 out of 5. Great service, lovely crew and the food was the best I have had on any flight this year! If it was a newer aircraft I may have given 5/5!
Check out the full video Flight Review for this Vietnam Airlines Flight
Check out the most popular Flight Reviews on this site:
[do_widget id=wpp-6]