Phraya Nakhon Cave 1 hour from Hua Hin Thailand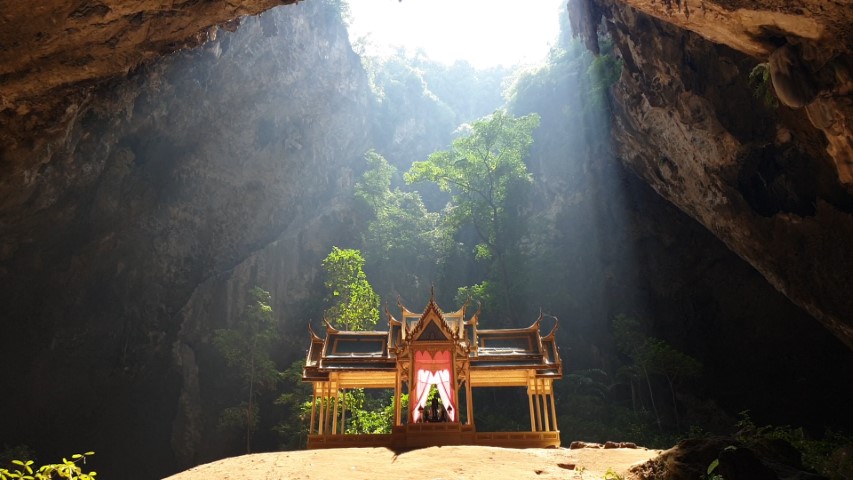 Just 1 hours drive south of Hua Hin is the most impressive cave in all of Thailand, the Phraya Nakhon Cave. This is a must visit if you are visiting Hua Hin. I would also say make an effort to visit Hua Hin, just so you can go and visit Phraya Nakhon Cave. Well Hua Hin has so much more to offer than just this cave. Hua Hin is one of my favourite towns in Thailand!
The Phraya Nakhon Cave is located within the Khao Sam Roi Yot National Park which means "The mountain with three hundred peaks".
The national park has a series of limestone hills which has a network of caves but the best to visit is Phraya Nakhon caves.
It is very easy to do a half day trip here from Hua Hin, Hua Hin is located 3 hours by car south of Bangkok.
Not alot of people get to see Phraya Nakhon Cave as it is a bit difficult to get to. It is easy enough to drive from Hua Hin to the Khao Sam Roi Yot. Once inside the National Park there is a 2km trek through the National Park, which includes some very steep climbing up
uneven, rocky steps. The last of these climbs is 430 meters up!
It took me around 45 minutes to walk from the car park to get to the Phraya Nakhon Cave. On the way back it probably took me 1 hour as was exhausted from the walk to get to the cave. Half way back there is a small restaurant which serves food and cold drinks.
Inside the Phraya Nakhon Cave is a Golden Pavilion which dates dates back to 1890, when it was built to honor the visit of the King of Thailand, Rama V.
Best time to visit is between 10.30am and 11.30am when the sun is streaming down through the opening in the roof, which illuminates the Golden Pavilion.
The trek to get to the cave starts by climbing a head land which has some great views of the beaches within the Khao Sam Roi Yot National Park.
While this would be a great area to fly a drone and get some video footage, it is illegal to fly your drone inside this National Park. Thailand are making it illegal to fly drones in most areas of Thailand.
There is an entrance fee to the Khao Sam Roi Yot National Park of 200 Thai Baht per person. At the entrance where you pay the park fee there are also some restaurants with cheap food and drink.
Check out the video of visiting Phraya Nakhon Cave Thailand
Check out the location of Phraya Nahkon Cave Thailand