Thali-ya Indian Restaurant Nishi-Shinjuku Tokyo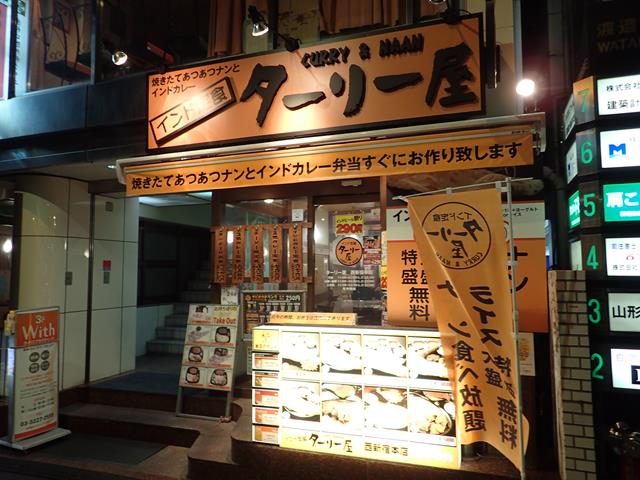 Thali-ya Indian Restaurant is a small restaurant located right next to Nishi-Shinjuku Subway train station on the Marunouchi Line, around 12 minutes walk from Shinjuku Train Station.
Thali-ya is only a small restaurant with just a few tables and a long counter, the food is very reasonably priced and it serves up great, tasty Indian food. Great curries, tasty tandoori dishes, awesome salads and some of the best naan bread you will find in Tokyo. If you are staying at the Hilton Hotel or Hyatt Regency Hotel in Nishi-Shinjuku then this restaurant is less than 5 minutes walk away.
I went if for dinner on a Sunday night and there were plenty of seats. I ordered up the Tandoori plater which comes with a tandoori chicken leg, a piece of tandoori chicken thigh, a beef kofta, 2 choices of curry (they have different types of curries each day) and a choice of either naan bread or rice. I went with the garlic naan which was so tasty.
I also had 2 Indian beers with my dinner, King Fisher Strong. The total cost of my meal was 2200 Yen, around A$25.
The staff are friendly Indian guys with an Indian chef who all speak good English. The menu is in Japanese and English with lots of pictures to show you what the dishes look like.
Thali-ya Indian Restaurant also has a take-away service.
Thali-ya Indian Restaurant
First Floor ST Bldg
8-5-4 Nishi-Shinjuku
Tokyo
Ph: (03) 3362-8882
Website: http://www.thali-ya.com/ (website in Japanese)
Open Monday to Saturday 11am – 11.30pm
Sunday 11.30am – 10.30pm
Check out the location of Thali-ya Indian Restaurant Shinjuku Tokyo
Check out the most popular articles about Shinjuku Tokyo
[do_widget id=wpp-5]