Best Bento Box in Sydney at Kabuki Shoroku Japanese Restaurant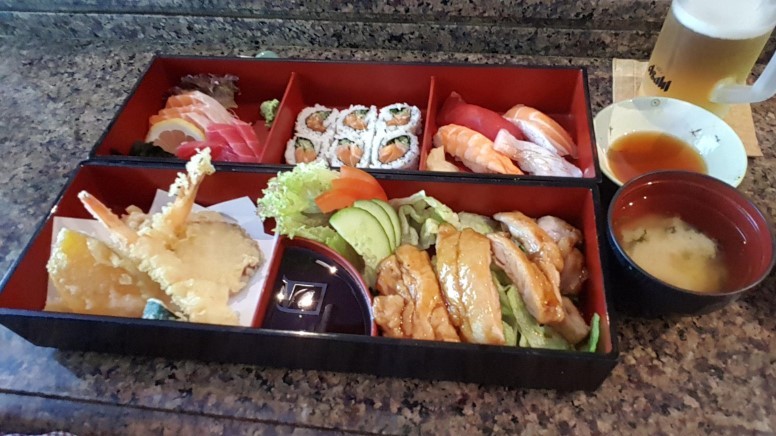 Kabuki Shoroku Japanese Seafood Restaurant is my favourite Japanese restaurant in Sydney, so it should be no surprise that I rate their lunch time Bento boxes the best Bento box in Sydney!
I have been dining at Kabuki Shoroku Japanese Restaurant for many years now and rate their food the best Japanese food in Sydney. I even took a Japanese colleague here for dinner while he was visiting from Tokyo. He commented that he thought the food at Kabuki Shoroku was authentic and delicious Japanese food.
When it comes to the Bento boxes, Kabuki Shoroku have 4 on offer. You can only get their delicious Bento boxes at lunch time Monday to Friday.
They have 3 versions of their 'Kabuki Bento Box' which comes with Edo style Sushi, sushi roll, sashimi tempura, miso soup and choice of Chicken Teriyaki ($39), Fish Teriyaki ($44) or beef Teriyaki ($44).
The other bento box is their 'Shoroku Bento Box' which comes with Sashimi, Tempura, Grilled fish of the day, steamed rice and miso soup for $35.
I went for the Kabuki Bento Box with the chicken teriyaki. Now you really need to come with a big appetite as this bento box is packed full of loads of food. Each dish within the small compartments are delicious. The Edo style sushi is awesome (read more about the excellent sushi at Kabuki Shoroku here), there were 4 pieces of the Edo style sushi in this bento box with different types of fish. Then there are 6 pieces of the sushi roll with cooked tuna inside and the sashimi had 3 slices of the freshest tuna and 3 slices and delicious salmon. This is served with some fresh wasabi sauce and there is a small compartment in the bento box where the staff pour in some soya sauce to dip in your sashimi and sushi.
The tempura had some vegetables and 2 nice plump prawns and then there was the star of the bento box, the delicious teriyaki chicken which was served on some lettuce and slices of tomato and cucumber. The chicken is fresh and cut into meaty strips.
I have eaten many bento boxes all over Sydney and I stand by my statement as this being the best in Sydney!
Kabuki Shoroku Japanese Restaurant is also the place to come to try some of Japan's best boutique beers. They have a separate menu with a choice of 4 boutique beers which come from the Saitama prefecture in Japan, which is not far from Tokyo. The 4 Japanese boutique beers include a Pilsner, a wheat beer, an IPA and a unique sweet potato ale.
So if you are looking to eat the best bento box in Sydney, then head down to Kabuki Shoroku Japanese Restaurant in the Sydney CBD. The restaurant is located on the ground floor of the St Martins Tower Building which is located between Clarence Street and York Street, right opposite the northern end of the Queen Victoria Building.
Kabuki Shoroku Japanese Restaurant
202 Clarence Street
Sydney
Ph: 9267 4552
Website: http://www.kabukishoroku.com.au/
Opening hours:
Lunch Mon – Fri 12pm – 2.30pm
Dinner Mon – Sat 6pm – 9.30pm
Closed on Sunday
Check out the location of Kabuki Shoroku Seafood Japanese Restaurant Sydney