Risque decor at Chinese Cafe Eight Chinese Restaurant Tokyo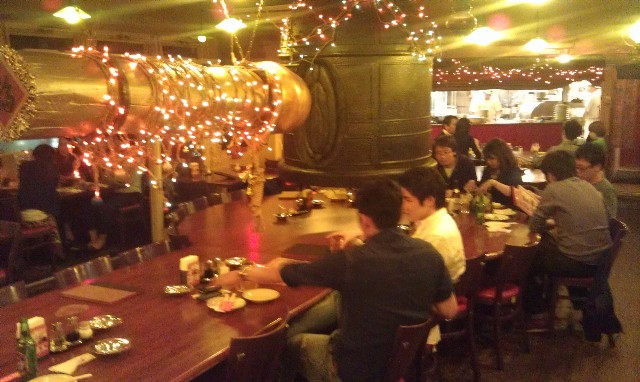 Chinese Cafe Eight is a chain of Chinese Restaurants in Tokyo Japan. They offer an exciting menu with Chinese food from different regions of China. The restaurants also have a very unusual (and a little risqué) decor – read on for more information and pictures of the decor.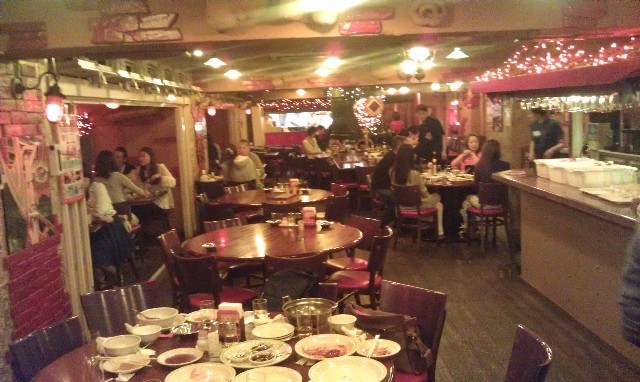 I have dined at the Chinese Cafe Eight restaurant in Roppongi, which is located directly across from the Grand Hyatt Hotel, just behind the huge Roppongi Hills Shopping Mall. I had dined twice at this restaurant and did not notice the unusual decor. Another big plus for the restaurant in Roppongi is that it is open 24 hours a day, 365 days a year. A great place to head to after all the pubs and clubs close in Roppongi.
First time I went in, I was staying at the Grand Hyatt Hotel and had walked out to get something to eat. Out the front of the Hyatt I could smell the lovely aromas coming from the restaurant so walked across the road and went in. I sat at one of the large communal dining tables which has a huge metal bell suspended over the table. The menu was huge, offering so many different types of Chinese food including dumplings, noodle soups, stir fried dishes and some lovely looking Peking Duck.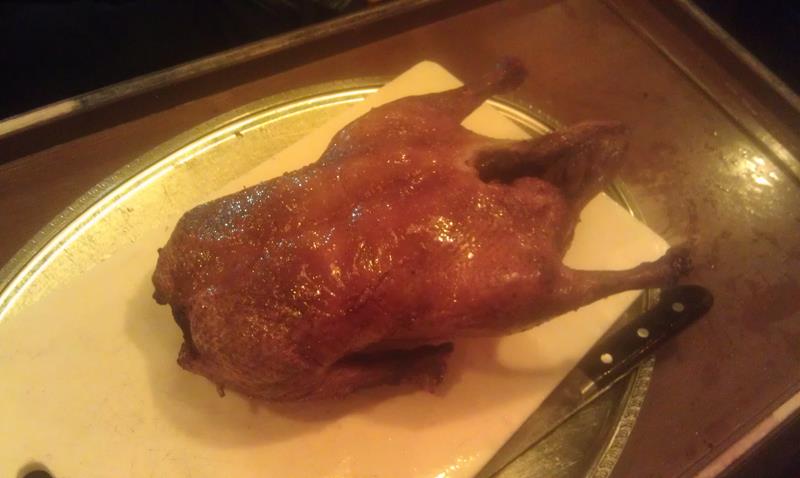 Second time I went in, I had been doing some shopping at Roppongi Hills and decided to go back as remember the great Chinese food. Again I sat at the same communal table, under the huge bell, and still didn't notice the unusual decor.
Third time round I had taken my female boss and 5 other colleagues who had flown in from the US. I had taken them to Roppongi Hills for some shopping and then took them to Chinese Cafe Eight for a good Chinese feed. We sat at a large round table in the middle of the restaurant. As soon as we sat down my boss pointed up to the roof above our table and asked me what that was. I looked up and had to get out of my chair to see what was hanging from the roof. As I stood and took a step back I started to comprehend what I was looking at. Boobs and bums! There was a whole series of what looked like plaster casts of breasts and bums directly above our table. My colleagues didn't believe me that I had not noticed these before.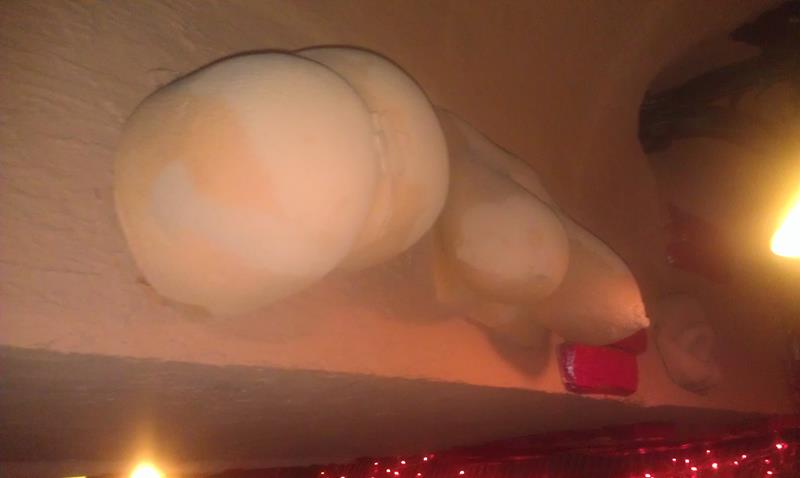 We all had a laugh and then scanned around the restaurant to discover the restaurant was full of these sorts of decorations. One of the colleagues from the US had gone to the bathrooms and came back and told me to check out the recess in the wall covered by some red curtains on the way to the bathrooms. I went up to check it out. I opened up the red curtains to peer inside to a wonderful collection of golden dongs with coins thrown on as some sort of wish or offerings to the dongs!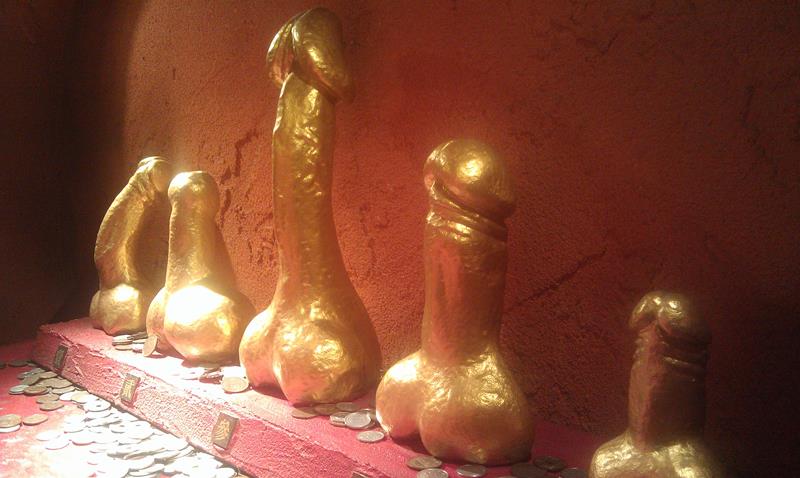 On the way back from the bathrooms, I looked over at the communal table I had sat at twice before and then noticed that the large donger that rings the bell was another large dong, phallus symbol. How did I not notice this before? I put it down to being focused on the delicious Chinese food!!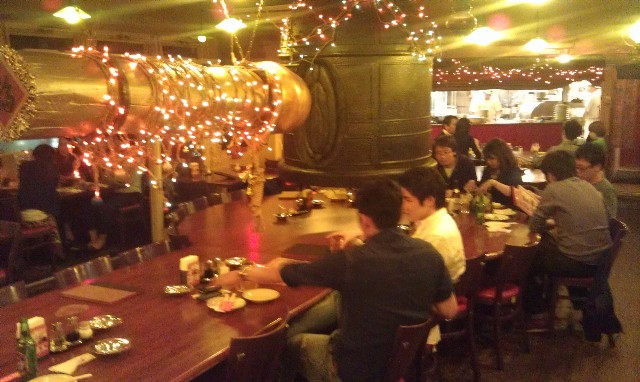 I will definitely go back to dine at Chinese Cafe Eight and want to get around to all the different locations in Tokyo to see what interesting decor they have in their restaurants. I would say that the food at Chinese Cafe Eight is the best Chinese food I have eaten in Tokyo. And with the very interesting decor it makes it so much more than your typical Chinese Restaurant.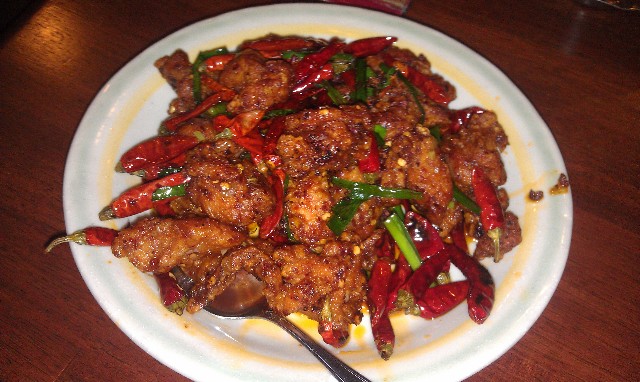 As well as the restaurant in Roppongi, Chinese Cafe Eight have restaurants located in Tokyo at Ebisu, Akasaka, Shinjuku and Shinsaibashi. Check out the Chinese Cafe Eight website; (in English). Their website proudly announces they serve the Best Peking Duck in Tokyo! I tried the Peking duck with my colleagues and it is pretty damn good!
Check out our other Tokyo Restaurant reviews.
Check out the most popular articles about Shinjuku Tokyo
[do_widget id=wpp-5]