Delicious Food at Shiraz Persian Restaurant in Surfers Paradise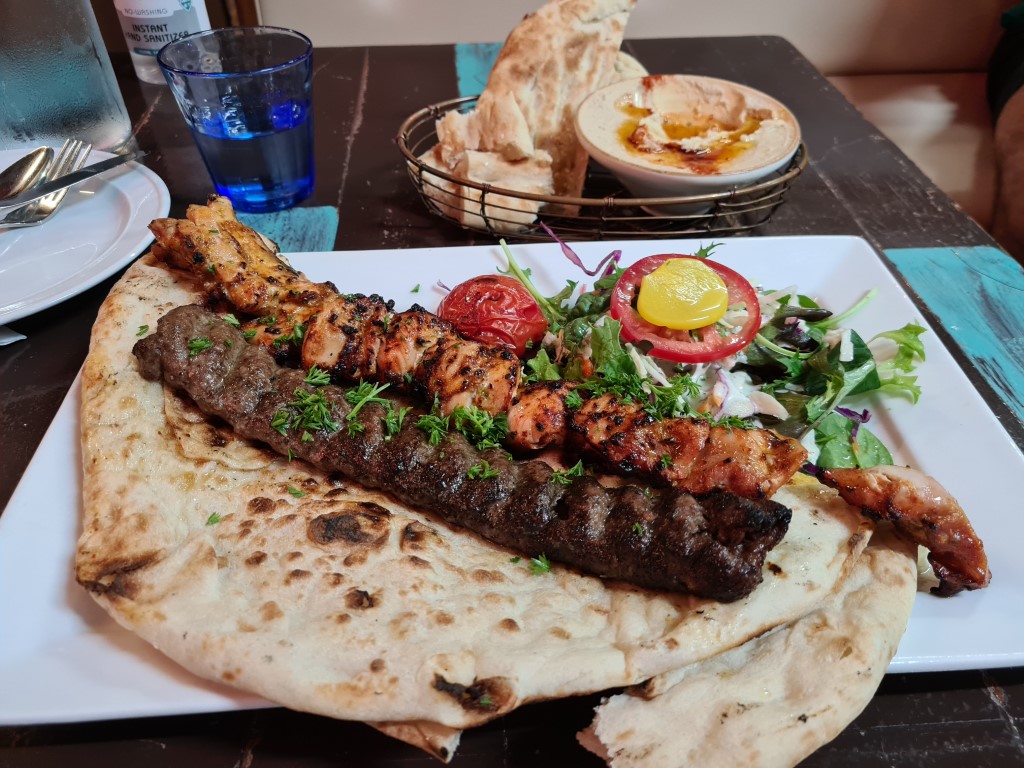 Get ready for some of the best food on the Gold Coast! Shiraz Restaurant in the heart of Surfers Paradise has been serving up delicious Persian food for many years. One of the most popular restaurants on the Gold Coast. Serving up a range of grilled meats, with rice, breads and delicious dips. I went in for dinner at Shiraz Persian Restaurant and had one of the best meals.
First up I had to try their hummus, a dip made from chickpeas and tahini. For $7.50 you get a very large serve of their creamy, thick hummus which is topped with virgin olive oil, a sprinkle of paprika and served with a generous serve of Turkish bread.
For the main event I went for their Noon-o-Kabob ($28) which is 2 skewers of grilled meat (either 2 minced lamb or 2 boneless chicken or a mix of 1 of each which I had). This is served with a side salad. The grilled kabobs are served on top of 2 large sized Persian flat breads. This was a huge serve which could have feed 2 people. I worked my way through most of this but with the hummus, I was defeated to finish the lot.
The grilled chicken kabob was my favourite from this feast. It is grilled to perfection with a load of interesting spices which made it taste sensational.
Shiraz Authentic Persian Restaurant is a certified Halal restaurant. They are not licenced so do not serve alcohol but they do accept BYO so you can bring your own.
This is a perfect restaurant for a family feast or celebration. Great for sharing plates of this delicious Persian food. There is indoor dining or outdoor dining out the front of the restaurant. The restaurant also does take-away or food delivery. Check out their website below to order delivery.
Shiraz Persian Restaurant
3106 Surfers Paradise Blvd
Surfers Paradise QLD 4217
Open 7 days a week for lunch and dinner, Monday – Sunday 11.30am – 9pm
Website: https://shirazgoldcoast.com/
Check out the location of Shiraz Persian Restaurant in Surfers Paradise Gold Coast