Flight Review Qantas Sydney to Jakarta A330-200 Business Class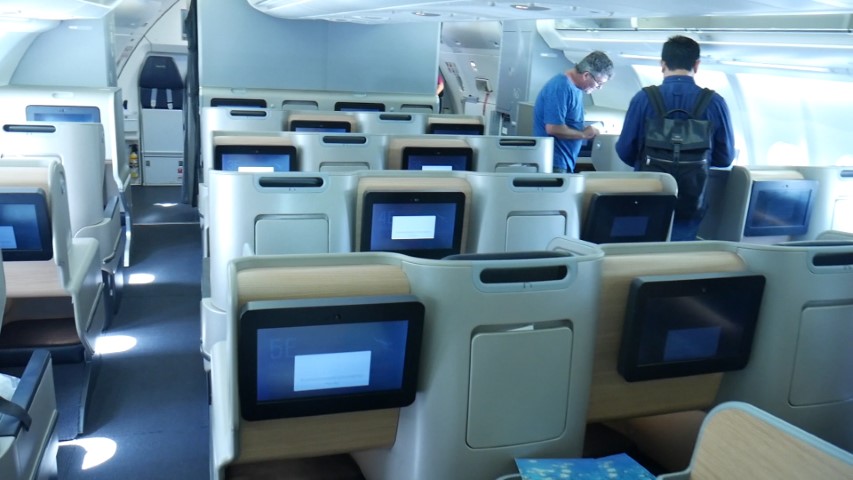 Airline: Qantas
Flight no: QF41
Route: Sydney International Airport (SYD) to Jakarta Soekarno-Hatta International Airport (CGK)
Aircraft Type: Airbus A330-200
Flight time: 7 hours 10 minutes
Travel Class: Business Class
Seat: 5A Window Seat fully lay flat bed seat
Seat Width: 21.5 inches
Seat Pitch: 78 inches
Check out the full video flight review for Qantas flight QF41 from Sydney to Jakarta
For this flight I booked a return Economy ticket. I then submitted a request to upgrade to Business Class from Sydney to Jakarta. The day before the flight I got an SMS message confirming my upgrade was successful. The upgrade cost 30,000 Qantas Frequent Flyer points.
At the airport
The check-in process at Sydney Airport is very easy. There are electronic check-in kiosk which scans your passport and pulls up your reservation. There are loads of these kiosks so no need to queue. The kiosk then prints out your boarding pass and luggage tags. There are plenty of staff in the check-in area who can help you operate the kiosk if you need help. There is also Business Class and First Class check-in desks if you would prefer to deal with a person rather than a machine.
The bag drop off is automated too. Once you attach the luggage tags, you scan your boarding pass and then off goes your luggage to be loaded on the plane. Easy!
With a business class ticket you get to travel through the express pass through security which cuts down the queue time during busy periods.
Qantas Business Class Lounge
You also get access to the Qantas Business Lounge which is located upstairs. I arrived at the lounge just after 11.30am. At one end of the lounge the food buffet was still serving breakfast food. The breakfast food included things like fruit salad, muesli, poached fruit, breads for making toast, muffins and some hot dishes like scrambled eggs, bacon, hash browns and baked beans.
At the other end of the lounge the buffet had switched to the lunch menu with dishes like a mix of salads and a big bowl of potato salad and hot food of steamed rice, chicken curry and steam vegetables. The quality of the food at the Qantas Lounge has improved greatly. Now the presentation is really good and the food is very appealing and tasty.
There is also a barista in the Qantas Business Lounge to make you a nice coffee and a good selection of gelato.
On the plane
There is a separate queue for business class passengers and Gold Frequent flyers or above.
The plane for this journey is the A330-200. The specific plane for my flight is named 'Surfers Paradise' rego: VH-EBC. This plane is usually used for domestic flights between Sydney and Perth but used for this international flight occasionally.
The Seat
The business class cabin on all the Qantas A330s have been upgraded to the excellent Vantage Xl business class pod, which I rate as one of the best business class seats in the sky. This business class seat has so much leg room allowing your to stretch your legs fully out. The seat reclines into a total lay flat bed. On night flights the cabin crew put a seat mattress on the seat to make it more comfortable to sleep. This flight to Jakarta is a day flight so no mattress, so I just recline the seat a bit to relax to watch movies.
I am in seat 5A which is a window seat. The business class pod has a compartment where you can store your mobile phone, passport and other small personal items. Also in this compartment is a bottle of water and the noise canceling headset. On the exterior of this compartment is a Universal power adapter and a USB port for charging your electronic devices.
You will also find a business class amenities kit which contains an eye mask, ear plugs, tooth brush and tooth paste, a pair of socks and a very nice quality moisturizer kit with lip balm, hand cream and face moisturizer.
There is a nice 16″ touch screen Panasonic entertainment TV which is loaded up with loads of movies, TV shows and music. It also has an excellent electronic flight map to watch the progress of your flight. There is a one touch feature which allows you to switch from watching a movie to seeing the flight map, then one touch will take you back to the movie.
The food
This flight from Sydney to Jakarta has 2 meals served. First a full 3 course meal is served after take-off. Then around 1 hour before landing into Jakarta they serve a small refreshment meal.
The menus on Qantas flights changes regularly but here is an example of the food that was served on my flight:
Main meal.
A choice of 3 starters:
Tomato, saffron and chickpea soup with coriander yoghurt
Salad of duck with cucumber, herbs, cashews, chilli and lime dressing
Tasting plate with sweet potato hummus, dukkah spiced labne, butter bean and and chickpea salsa, roast capsicum, marinated zucchini and pita bread
A choice of 4 main dishes:
Pan fried potato gnocchi with roasted cherry tomatoes, zucchini, asparagus, parmesan and burnt butter
Balinese style chicken with garlic rice, snake bean, cherry tomato, turmeric and coconut salad
Seared Humpty Doo barrumundi with pan fried polenta, broccoli and almond romesco
Braised lamb shank with white bean cassoulet, snow peas and gremolata
A choice of desserts:
Selection of cheese with accompaniments
Summer berry pudding with creme freiche
Pat and Stick's Ice-cream sandwich
Seasonal fruits
Chocolates
For starter I had the tomato soup which was excellent. This was served with some nice sour dough bread and the classic Neil Perry salad or what I call the classic Neil Perry bowl of salad!
For the main meal I chose the pan fried gnocchi which is a pasta dish I really enjoy. This had loads of flavour from the burnt butter and Parmesan but the gnocchi was a bit disappointing. The gnocchi was very soft and squishy, rather than a nice firm gnocchi.
For dessert I chose the ice-cream sandwich because you cannot go wrong with an ice-cream sandwich! This was delicious served with a nice cup of tea and a cheeky glass of dessert wine. An excellent dessert to complete this meal.
Prior to arrival the choice of meals were:
Stir fried vegetables with sweet potato noodles, soy and sesame
Beef kofta with Moroccan eggplant, peal couscous and coriander yoghurt
One of the crew recommended the beef kofta and this was a dish I had eaten on a previous Qantas flight so I knew it was good. Again this dish did not disappoint!
The Service
The crew on board this flight were some of the friendliest cabin crew I have ever encountered. All the crew made me feel welcome, came and had a chat with me throughout the flight and gave me excellent service.
Even the Captain of the plane did something that I thought was extra cool. When we were flying over Ayers Rock in the centre of Australia he made an announcement to look out the left hand side of the plane (same side I was on). We got great views of Ayers Rock below. Then after we passed Ayers Rock, the captain made a slight right hand turn then announced we were passing over the Olgas, another famous rock formation. It was pretty cool that the Captain changed direction so we could see this famous sight. Thank you Captain Scott!
Final words on the flight
This was one of the best flights I have had with Qantas. Great crew, very nice food and service and the highlight was the fly over through the red outback of Australia to see Ayers Rock and the Olgas from the sky. Well done Qantas. You really made my day with this flight!