Man Mo Temple Hong Kong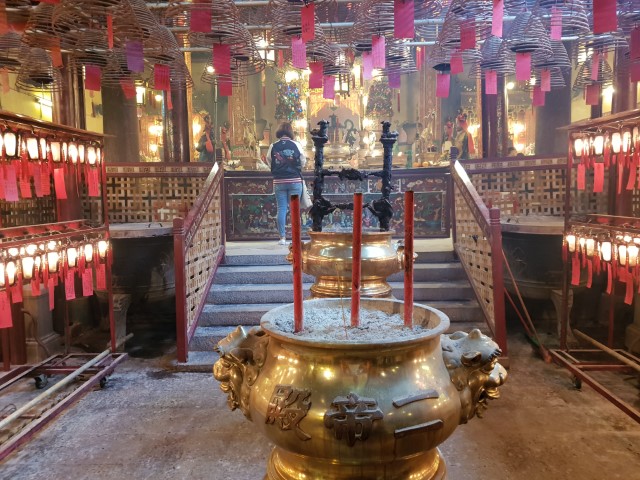 Man Mo Temple is one of the top tourist highlights on Hong Kong Island. The temple dates back to 1847 and built as a tribute to the God of Literature (Man) and the God of War (Mo). Man Mo Temple is located in Sheung Wan, just up from Central on Hong Kong Island.
Man Mo Temple is one of the most popular Chinese temples with many locals visiting regularly for prayers. It gets very busy inside with both local Chinese and the many tourists who visit. The temple is located on the hill leading up to Victoria Peak, surrounded by many apartment building towers.
Inside the temple are a number of different rooms, with different alters for worshiping and prayers. It is incredibly smokey inside the temple with worshipers placing their own incense sticks as well as large incense coils hanging from the roof. Asthmatics beware, the smoke can be very over whelming.
Man Mo Temple is located on Hollywood Road which is often referred to as 'Antiques Street' as the street is lined with Chinese antique and curios shops.
On the opposite side of the street from Man Mo Temple is some steps named Ladder Street, that go down to Upper Lascar Row (originally named Cat Street), which is a street lined with Chinese art shops. In the middle of the row are markets selling all sorts of souvenirs and arts and crafts.
Man Mo Temple is one of the stops that the Big Bus Hong Kong tour stops at. The Big Bus Hong Kong bus tour is a great way to see many of the highlights on Hong Kong Island in one day.
Check out the location of Man Mo Temple in Hong Kong