Wat Kalayanamitra – Large Sitting Buddha Temple in Bangkok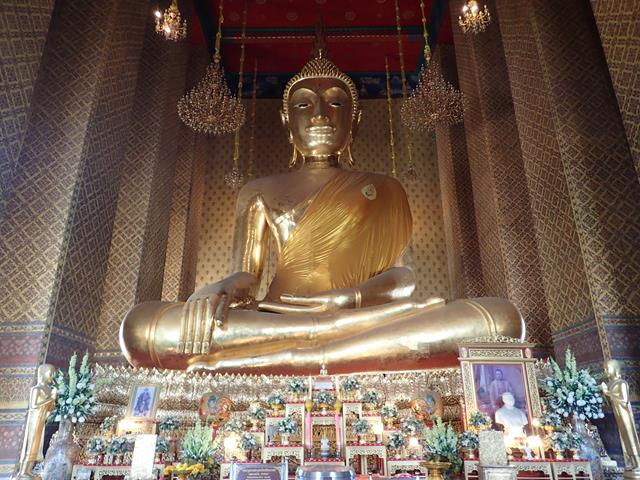 Wat Kalayanamitra is a Buddhist Temple on the western bank of the Chao Phraya River, on the other side of the river from the Bangkok city centre. Wat Kalayanamitra has one of the best sitting Buddha statues in Bangkok, located inside the main temple building, a large golden sitting Buddha which is more than 20 feet tall (6 meters tall). The full name of this temple is Wat Kalayanamitr Varamahavihara – trying saying that 3 times quickly!
Wat Kalayanamitra is only 500 meters away from Wat Arun. While Wat Arun is one of the most visited temples in Bangkok, Wat Kalayanamitra is not visited by many tourists, it just doesn't seem to be listed on many travel information sites.
There is no entrance fee to visit the Golden Buddha at Wat Kalayanamitra. Inside the main temple there is a donation box if you want to donate your own entrance fee. These sort of temples do go through continual restorations so they need donations to keep the restorations going.
As well as the main temple with the sitting Buddha Statue, there are some other smaller temples on the grounds with some smaller Buddha statues on display. Although not many tourists visit this temple, it is visited by a fair few local Thai Buddhist. As with all Buddhist temples in Thailand you should be dressed respectfully. There is no where to hire sarongs here so best to bring you own, or wear long pants. The sarong option is best as Bangkok is always hot!
There is a ferry pier out the front of Wat Kalayanamitra but there are no regular ferries schedule to stop at that stop. You can hire a river taxi along the Chao Phraya River and ask them to drop you off out the front of the temple. The best way to get there is to get a river boat from the pier infront of Sapphan Taksin BTS Skytrain station. The ferries from here will drop you at the ferry pier infront of Wat Arun which is definitely worth visiting. You can then walk down to Wat Kalayanamitra which will only take around 10 minutes.
Check out the location of Wat Kalayanamitra in Bangkok