Flight Review Cebu Pacific Air Manila to Puerto Princesa Palawan Island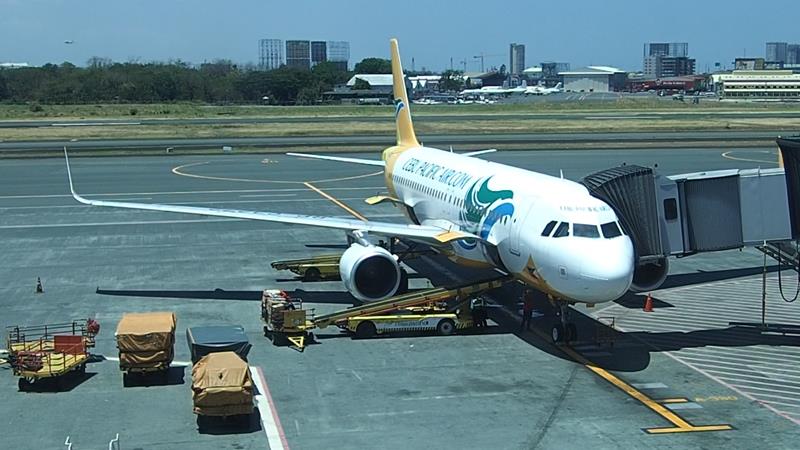 Airline: Cebu Pacific Air
Flight no: 5J643 (Cebu Pacific have 10 flights per day between Manila and Puerto Princesa)
Route: Manila Ninoy Aquino International Airport to Puerto Princesa Palawan Island
Aircraft type: Airbus A320
Flight time: 1 hour 20 minutes
Travel class: Economy – Cebu Pacific only have Economy Class
Seat Width: 17 inches
Seat Pitch: 29 inches
Check out the full flight review video for this Cebu Pacific Air flight from Manila to Puerto Princesa
At the airport: Just a warning, Manila airport is a bit hectic so always best to get there before your flight with plenty of time to go through the various security checks and check in queue.
This Cebu Pacific Air flight from Manila to Puerto Princesa leaves from Terminal 3. Check in for domestic flights opens around 2 hours before the flight and you want to get there around this time as you cannot proceed upstairs to the restaurants and shops until you have checked in.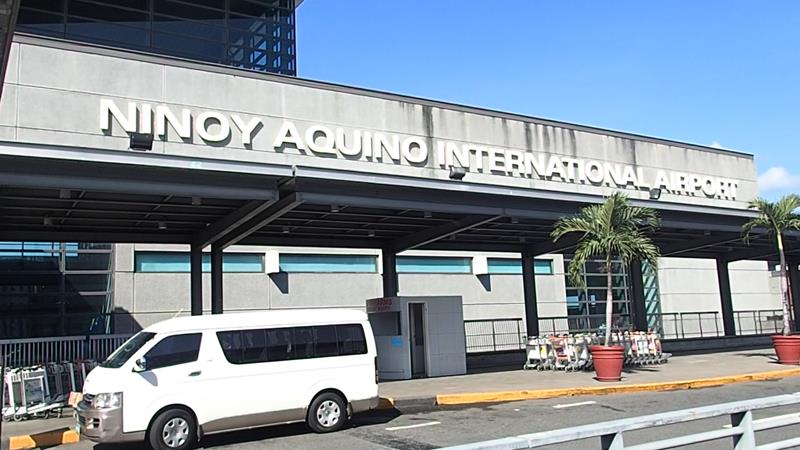 When you arrive at Manila's Ninoy Aquino International Airport you have to pass through security to enter the airport departure check in counters. On this occasion it took 10 minutes to get through this first security check. A previous visit to this terminal 3 it took around 40 minutes to get inside.
Once checked in you can either go upstairs where there is a good selection of shops and restaurants including the famous Jollibee Filipino Fast food restaurant. It is best to spend time up here as after you pass through the next security check to get to the departure gates there are only a few shops and small cafes.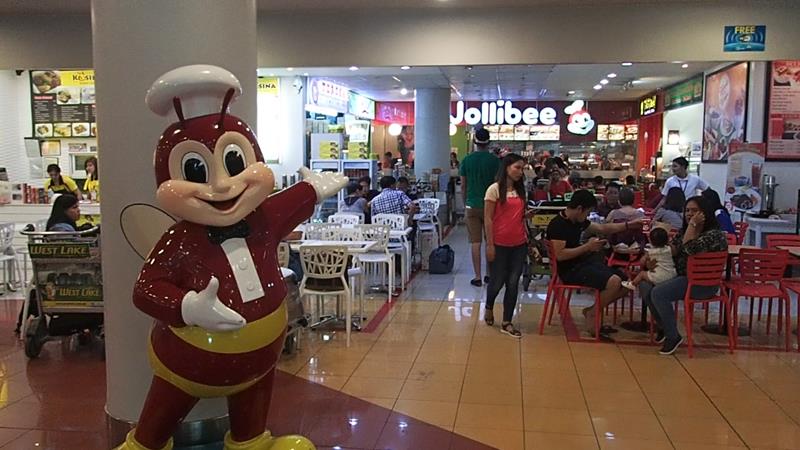 On your ticket they give you a temporary departure gate. In my case it was Gate 117. You are supposed to wait here until they announce the flight boarding and which gate you actually board on to the aircraft. When my flight board was announced it was just at the next gate 118.
Inside the plane:
The seat: All of the seats on this Cebu Pacific A320 are Economy Class. Cebu Pacific is classed as a budget airline for the Philippines. The A320 has sufficient leg room. I am 187cm tall and there was enough leg room for this short 1 hour 20 minute flight.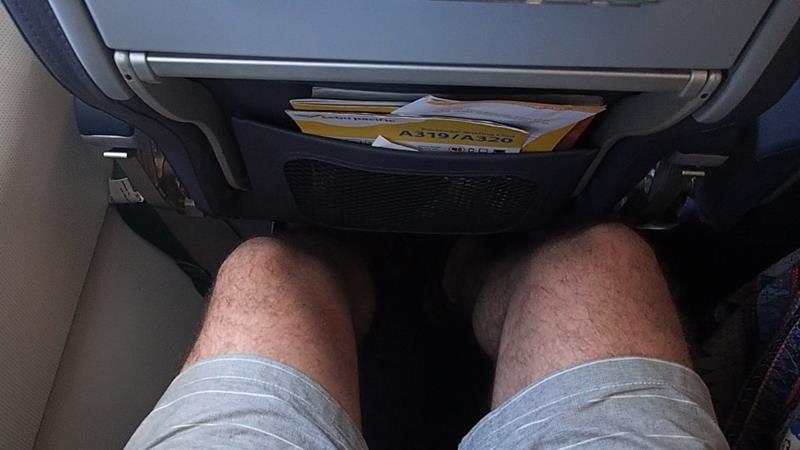 The Entertainment: There are no inflight entertainment screens built into the seat. They do give you an inflight magazine produced by Cebu Pacific (Smile) which has more advertising than articles but there are some good travel articles about the destinations that Cebu Pacific fly to.
In my opinion it is fine without inflight entertainment. I had a window seat and there is loads to watch out the window. This route between Manila and Puerto Princesa passes over loads of the Filipino islands, reefs, beautiful beaches and a volcano in the middle of a lake just 10 minutes after take-off. I spent the whole flight looking out the window amazed at the beautiful scenery below.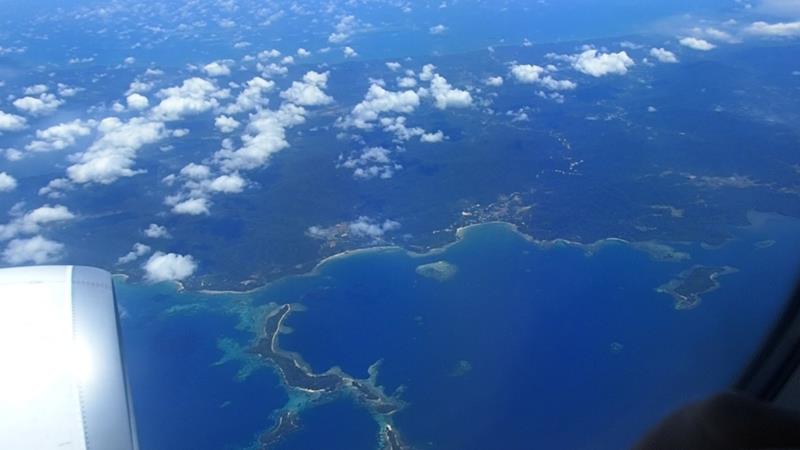 The Food: When you book your ticket with Cebu Pacific you can pre-order food. There are only 2 choices of meals to pre-order, a Tuna Capers Crossini sandwich (201.60 Pesos) or the Hazelnut Chocolate Banana Croissant (201.60 Pesos). I pre-ordered the Tuna Capers Crossini.
Straight after we took off the in flight staff brought me the Tuna Capers Crossini which comes with a free drink.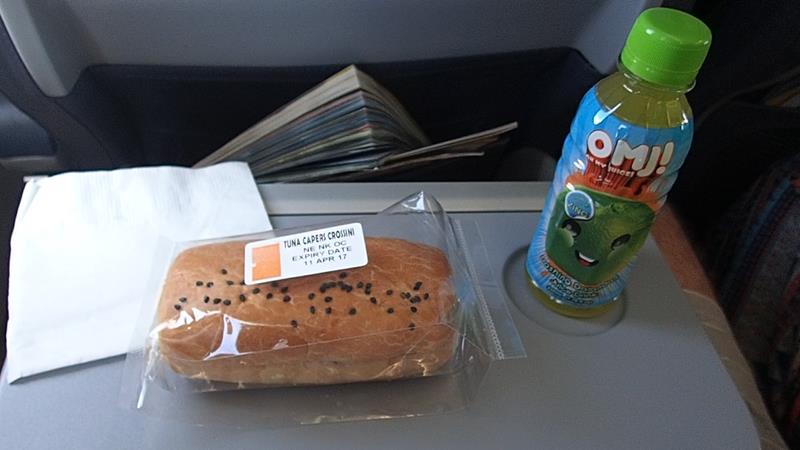 If you do not pre-order your meal, there are meals available on board including instant noodle cups and tea and coffee.
The service: The staff seemed friendly enough and it was nice to get my meal as soon as we took off. Other than the meal service there is not much interaction with the onboard staff.
Arrival at Puerto Princesa Airport: Puerto Princesa is not a big airport. It doesn't take long for your baggage to come out.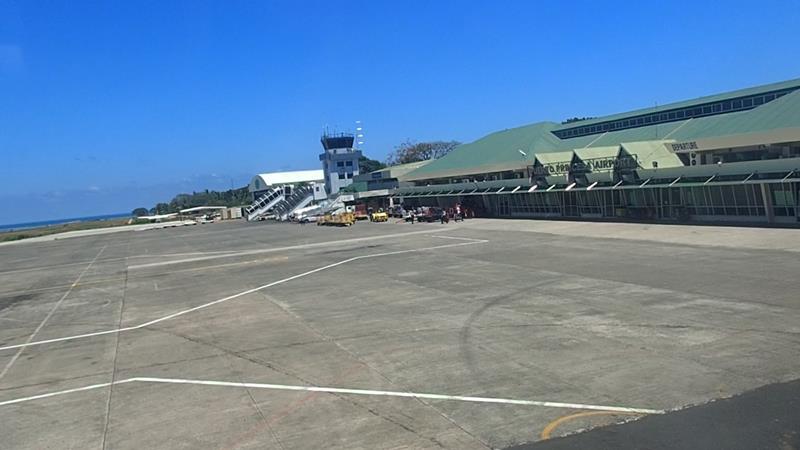 Once you get your luggage, exit the airport, cross the street and there is a choice of transportation. If you are staying at a hotel close to the airport the best option is to jump in one of the small tricycles. It will cost 100 Pesos to get to your hotel.
Many of the larger resorts have free van shuttle services to get to your hotel. I was staying at the Princesa Garden Island Resort – which I highly recommend – and they had their free shuttle waiting. Just look for the sign of the hotel or resort that you are staying at.
Booking Flights to Puerto Princesa: To fly to Puerto Princesa you can book directly on Cebu Pacific Website.
The other options to fly to Puerto Princesa is to go from Manila on Philippines Airlines or AirAsia.
You can also fly direct to Puerto Princesa from Cebu City with Cebu Pacific, Philippines Airlines and AirAsia.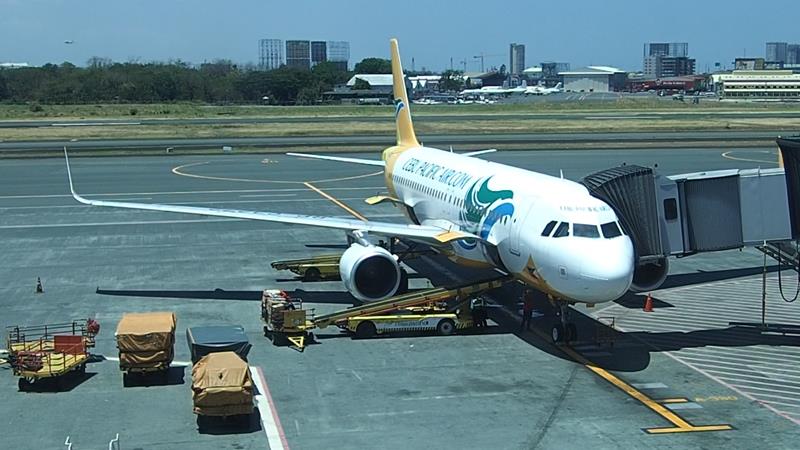 Check out the most popular Flight Reviews on this site:
[do_widget id=wpp-6]