The Lagoons of El Nido Palawan Island Philippines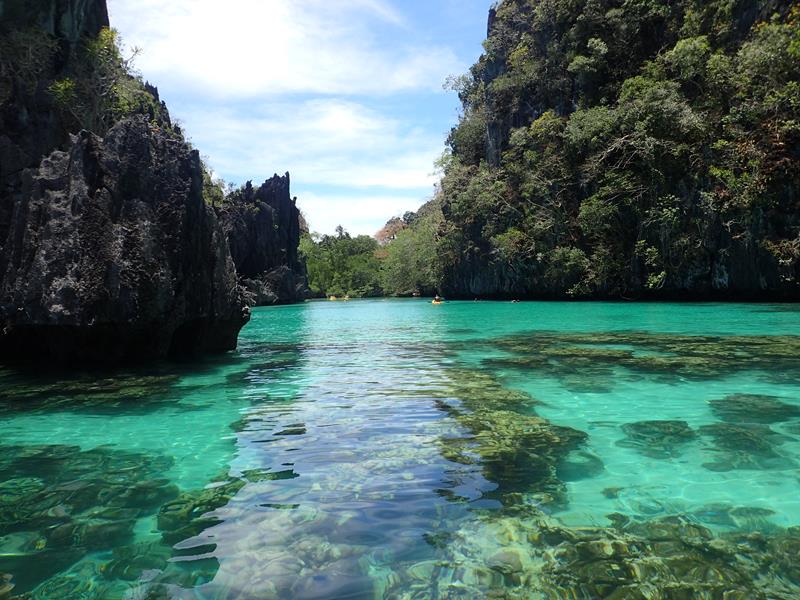 El Nido on Palawan Island Philippines is the most beautiful place I have visited. El Nido has so much to offer with beautiful tropical islands, white sandy beaches, caves and some of the most spectacular lagoons in the world.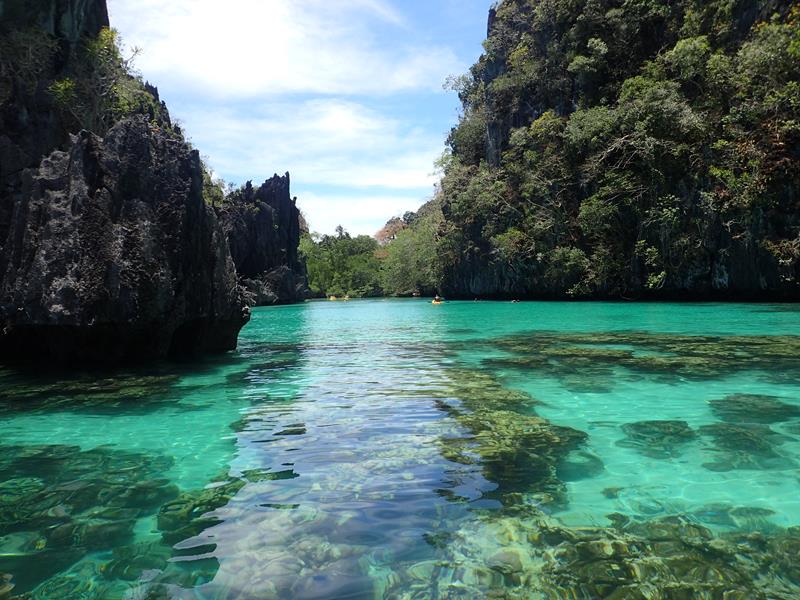 There are many different tours you can take. One of the most popular tours is a boat tour to visit the lagoons of El Nido including the Small Lagoon, Big Lagoon and the Secret Lagoon. There are heaps of tour operators in El Nido and they all refer to this tour as Tour A (Lagoon Tour). The Lagoon Tour generally leaves around 9am and returns at 4pm.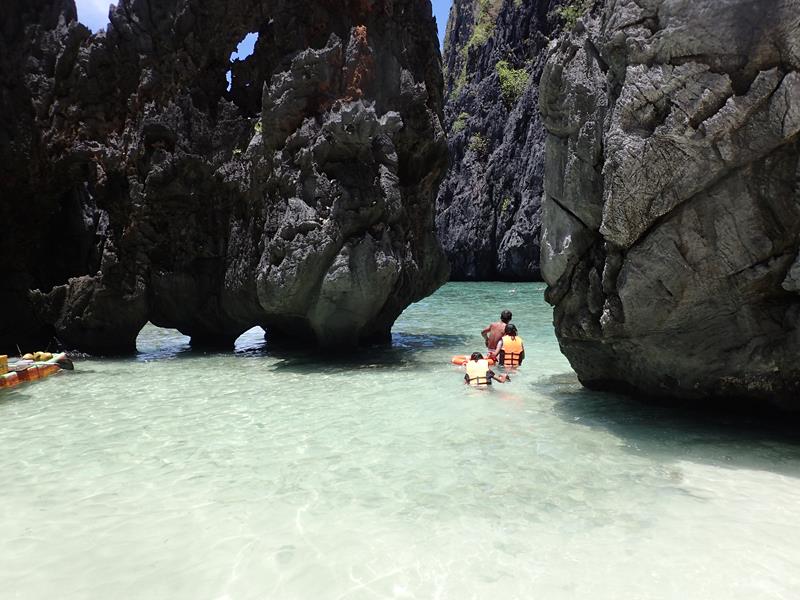 It costs 1200 Pesos to do Tour A the Lagoon Tour plus if this is your first tour you need to pay and extra 200 Pesos for the Eco-Tourism Development Fee (ETDF). This fee lasts for 10 days so you can take other tours without paying this again.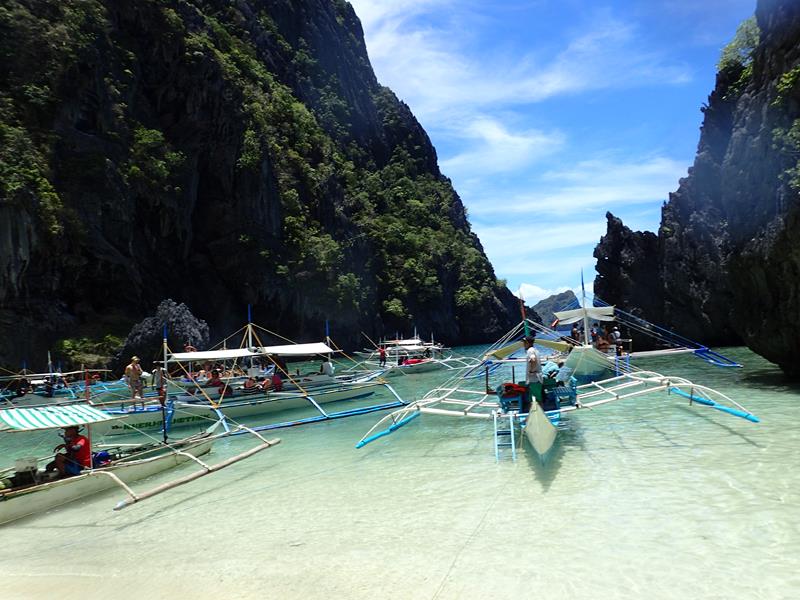 Tour A also visits some of the beaches like 7-Commando Beach. Lunch is included on the boat and is usually a seafood feast with prawns, freshly BBQ fish or squid, loads of salad and vegetables and a huge selection of fresh tropical fruit like banana, mango, watermelon, papaya and pineapple.
On the boat tour that we did, we first headed to 7-Commando Beach. The tour guide said as there were lots of boats already at the beach he would take us to the next beach around called Papaya Beach. This was a  good call as there were less boats here and less people on the beach.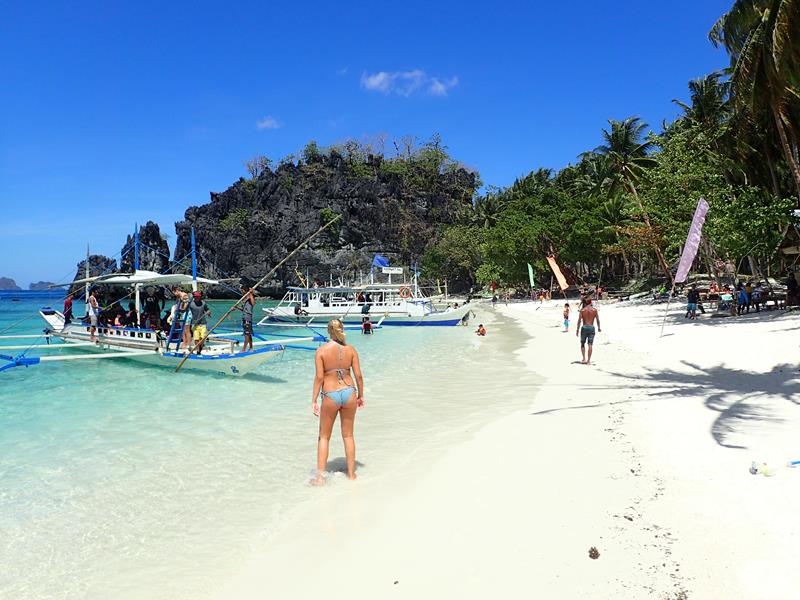 If you only have time to do one boat tour in El Nido make sure it is on the Tour A Lagoon Tour as this is the best tour to do in El Nido. I also did the Tour C Beaches Tour which is the second best tour to do in El Nido.
The best time to visit El Nido is in April, May and June which is classed as the 'summer months' with very little rainfall and loads of sunshine. With the great weather also comes load of tourists. Around Easter you also get loads of local Filipino tourists visiting El Nido.
At many of the lagoons there will be loads of boats visiting at the same time so expect some traffic jams getting in and out of the lagoons.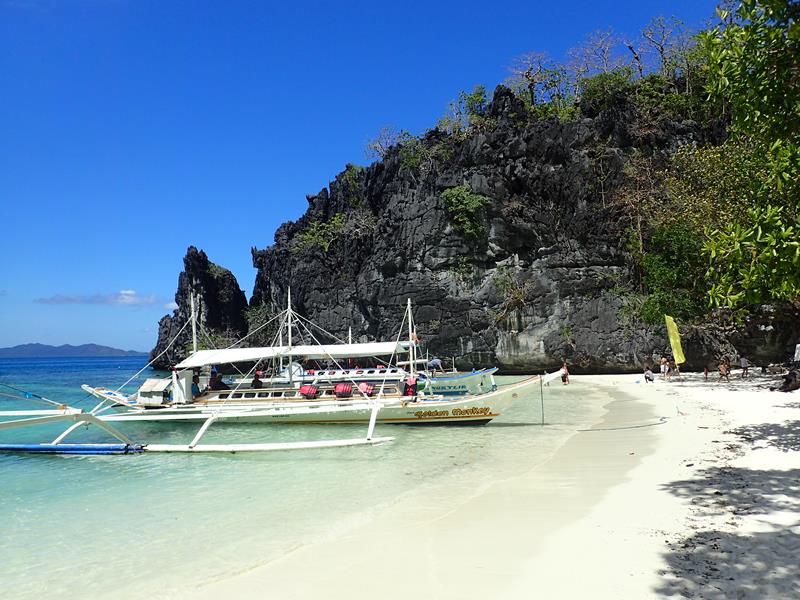 Getting to El Nido
To get to El Nido you can fly directly there on Air-Swift from Manila, Cebu City or Caticlan (Borocay). Air-Swift operate the ATR42-600 Twin Propeller planes which seat 50 passengers.
The other option to get to El Nido is to fly direct to Puerto Princesa from Manila or Cebu City on either Cebu Pacific, Philippines Airlines and AirAsia.
From Peurto Princesa it takes around 5 hours by van to get to El Nido. You can go in a shared van for 600 Pesos or you can book a private van for 6000 Pesos. Some of the private vans have onboard WiFi internet.
Around Puerto Princesa are some highlights that you should also visit including Underground River cave as well as the most beautiful Sabang Beach. If you have time travel to Sabang Beach (2 hours from Puerto Princesa) and then travel up to El Nido from Sabang (4 hours to El Nido).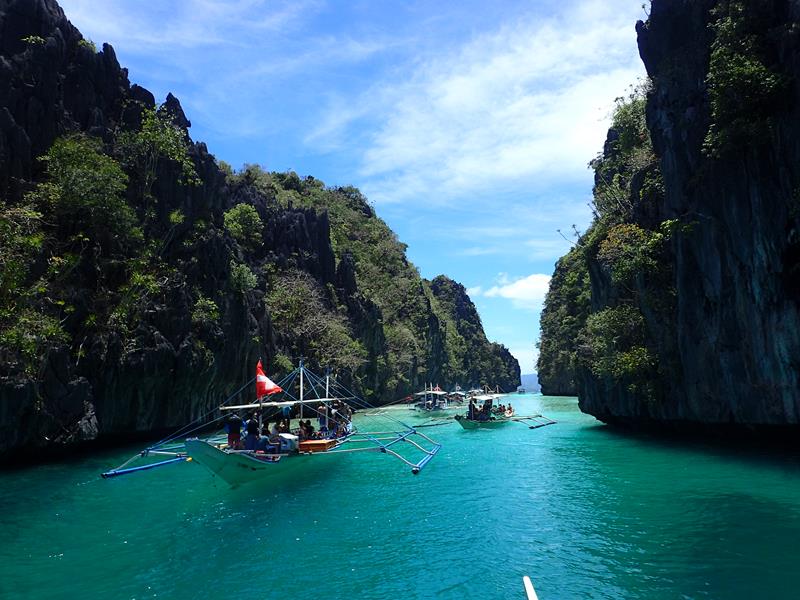 Check out the most popular articles about Palawan Island Philippines:
[do_widget id=wpp-9]