Flight Review Jetstar Sydney to Bali Business Class B787-8 Dreamliner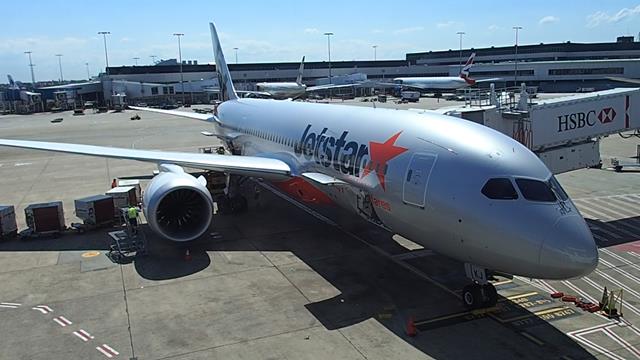 Flight no: Jetstar flight JQ37
Route: Sydney to Denpasar Bali
Aircraft type: Boeing 787-8 Dreamliner
Flight time: 6 hours
Travel class: Business Class
Seat width: 19 inches
Seat pitch: 38 inches
Service time: Jetstar flies daily between Sydney and Bali. The JQ37 flight leaves Sydney at 5.30pm and arrives into Bali at 8.55pm local time
Check out the video of this flight to Bali
Alot of people look down on Jetstar and make bad comments about the airlines service. I must admit I am a big fan of Jetstar. I fly with Jetstar regularly between Sydney and the Gold Coast and I have flown them international between Sydney and Phuket Thailand once, between Sydney – Gold Coast – Tokyo Narita airport 2 times and I have flown with Jetstar between Sydney and Bali 4 times. I have never had a problem with the flights being delayed or cancelled. I have never had a problem with the service.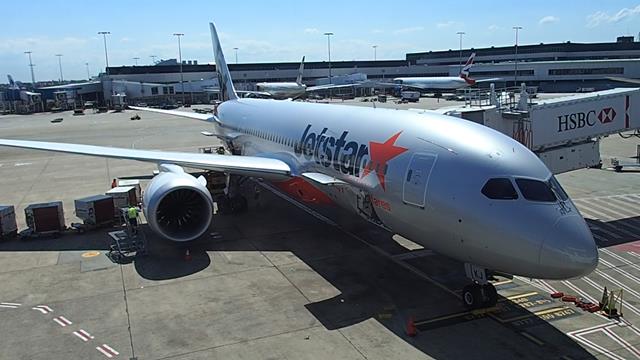 Jetstar is a budget airline. You cannot or should not try to compare with the major full service airlines. When it comes to price, you get some of the cheapest fares to fly with Jetstar. So how can that be bad? I will not hesitate to fly with Jetstar ever!
When it comes to price for this flight between Sydney and Bali I don't think Jetstar can be beaten. For an economy ticket the prices ranges between $299 and up to $589.
For a Business Class ticket the price ranges from $549 up to just over $1000 depending on what day and time of year you travel. The price does go much higher in peak times. If you are flexible on what day you travel, getting a Jetstar Business Class seat to fly to Bali for $549 (one way) is a bargain!
At the airport: If you purchase a Business Class seat on this Jetstar flight you get a complimentary pass into the Qantas Business lounge before your flight.
If you are a Platinum Qantas Frequent Flyer (like me) you get access to the Qantas First Class lounge which is just awesome. Chefs cook up freshly prepared meals. I enjoyed some delicious Salt and Pepper Calamari before my flight.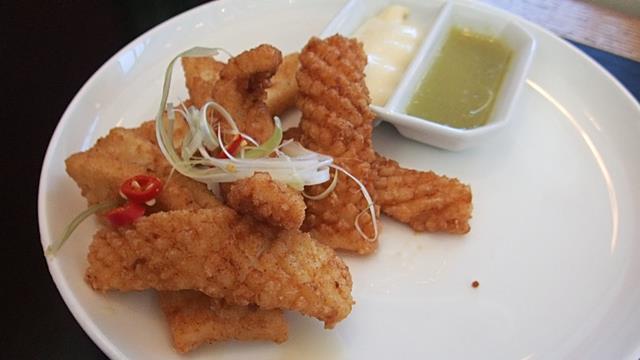 Inside the plane:
First of all the plane that Jetstar uses to fly between Sydney and Bali is the Boeing B787-8 Dreamliner. Now this is a very fine aircraft! The plane is build from carbon fiber so is lighter and travels higher so you get less turbulence. Inside the cabin is so quiet compared to other aircraft. The windows are much larger so give you a better view outside and down to the ground below.
The Seat: The Business Class section of the Jetstar B787-8 Dreamliner has 21 seats, 3 rows of 2 – 3 – 2 configuration. Jetstar used to call this section 'Star Class' but recently refer it as Business Class. This definitely does not compare to the premium airlines business class seats. This really compares more like Premium Economy seat. The seat does not recline back into a lay fly bed, but more reclines about 9 inches back so you can recline back to try to get some sleep.
I was sitting in the best seat on the plane, seat 1A which has heaps of legrooms, better than having your legs under the seat in front in the other 2 rows of Business Class.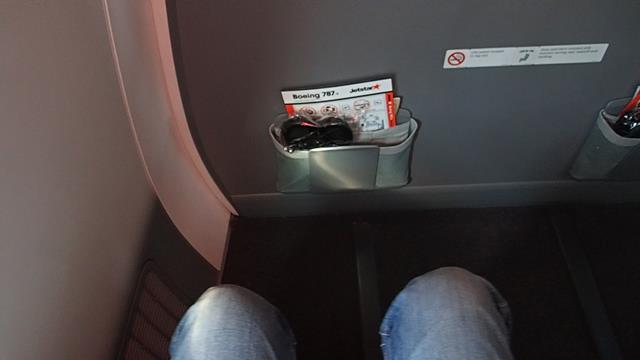 The Food: I have always had good experience with the food in the Business Class section of Jetstar. The food is included in the price of the ticket.
Before the meal they come around and serve a drink and give you a packet of cashews and pretzals
The meal starts with a selection of canapes – Lightly smoked salmon rosette and some cheesy refried beans. Also served with a salad greens with balsamic and olive oil dressing.
There are 3 choices of main meals available in the business class section. On this flight I had a choice of Coconut poached chicken breast, Salmon and red pepper croquettes or a Goats cheese and pesto cannelloni. I went for the Coconut poached chicken breast which didn't look all that good but it was very tasty.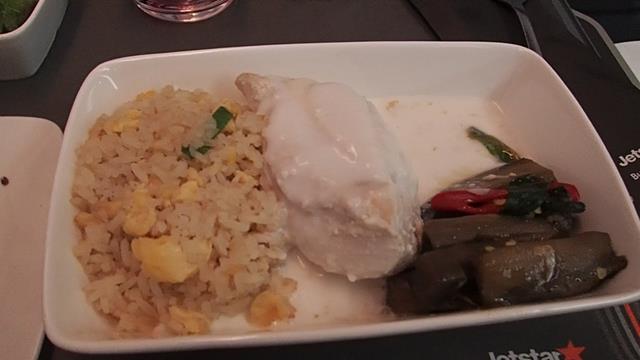 For dessert there was 2 choices – a Chocolate orange tart or a Australian cheese plate. They have a choice of dessert wines or Australian port wine. I had the chocolate orange tart with a glass of the port. Dessert was delicious!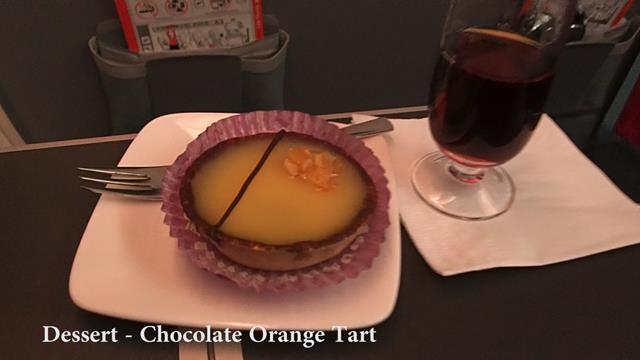 The service: As mentioned above, I have never had a problem with the service on Jetstar. On this flight I took between Sydney and Bali, the crew were all from Thailand. Jetstar do have service staff from all over the Asian region and rotate them through the various routes. This Thai crew were lovely! Friendly, genuine smiles, greeted me with a big smile and were very courteous in their service.
Another nice touch in the service category is the glass of Champagne before take-off, just like all the premium airlines Business class cabins.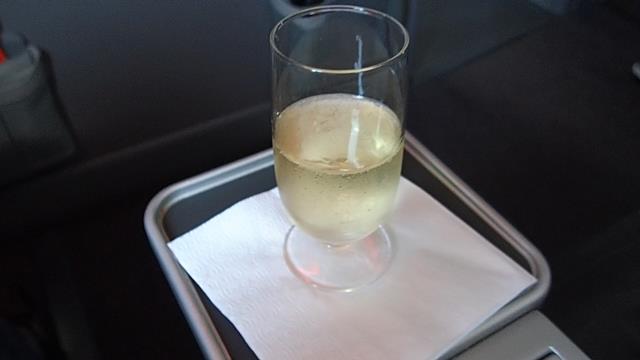 You also get a Jetstar Business Class Amenities kit which is loaded with some blue ginger hand balm cream and a lip balm cream, inflated neck pillow, toothbrush and toothpaste, ear plugs, a pair of socks and a eye mask. This is actually a really nice amenities kit considering this is a budget airline!!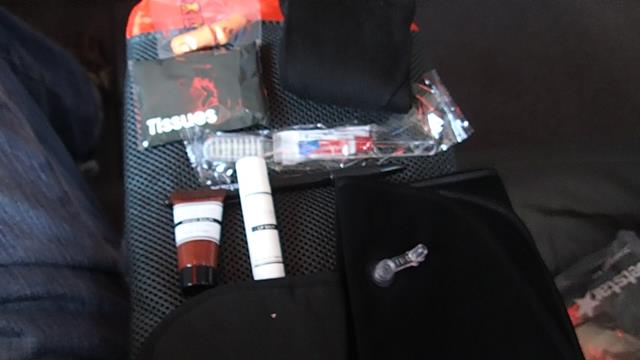 The entertainment: Entertainment is included in the price of the Business Class ticket. If you are in Economy you have to pay extra for the entertainment.
There is a pop-up TV screen which comes up out of the arm rest. The screen is a 10.6 inch touchscreen and has is fully loaded with movies and TV series. Hundreds to choose from. You also get a set of noise canceling headset which cuts out more of the noise (mainly the noise of the other passengers as the Dreamliner is so quiet inside). As well as the movies and shows there is also the flight map screen which shows you were you are and how long before you land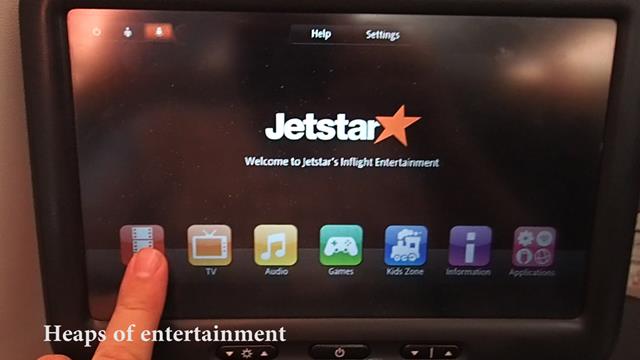 There is also a Jetstar Inflight magazine which has lots of travel articles about the destinations where Jetstar fly to.
Last thoughts: The flight time was supposed to be 6 hours but we arrived 20 minutes early so the flight time between Sydney and Bali was only 5 hours 40 minutes.
I look forward to my next trip on Jetstar to Bali!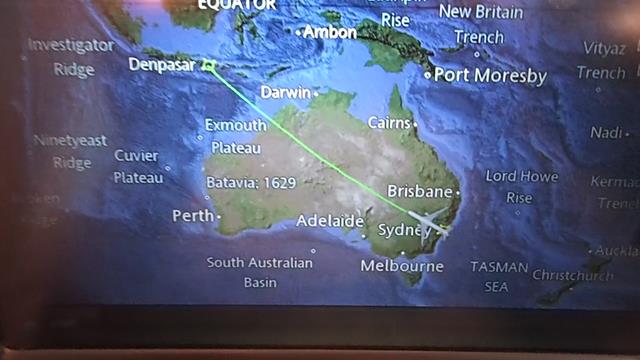 You can book flights with Jetstar directly on the Jetstar Website.
Check out the most popular Flight Reviews on this site:
[do_widget id=wpp-6]