Flight Review Malaysia Airlines Flight MH705 Manila to Kuala Lumpur Business Class B737-800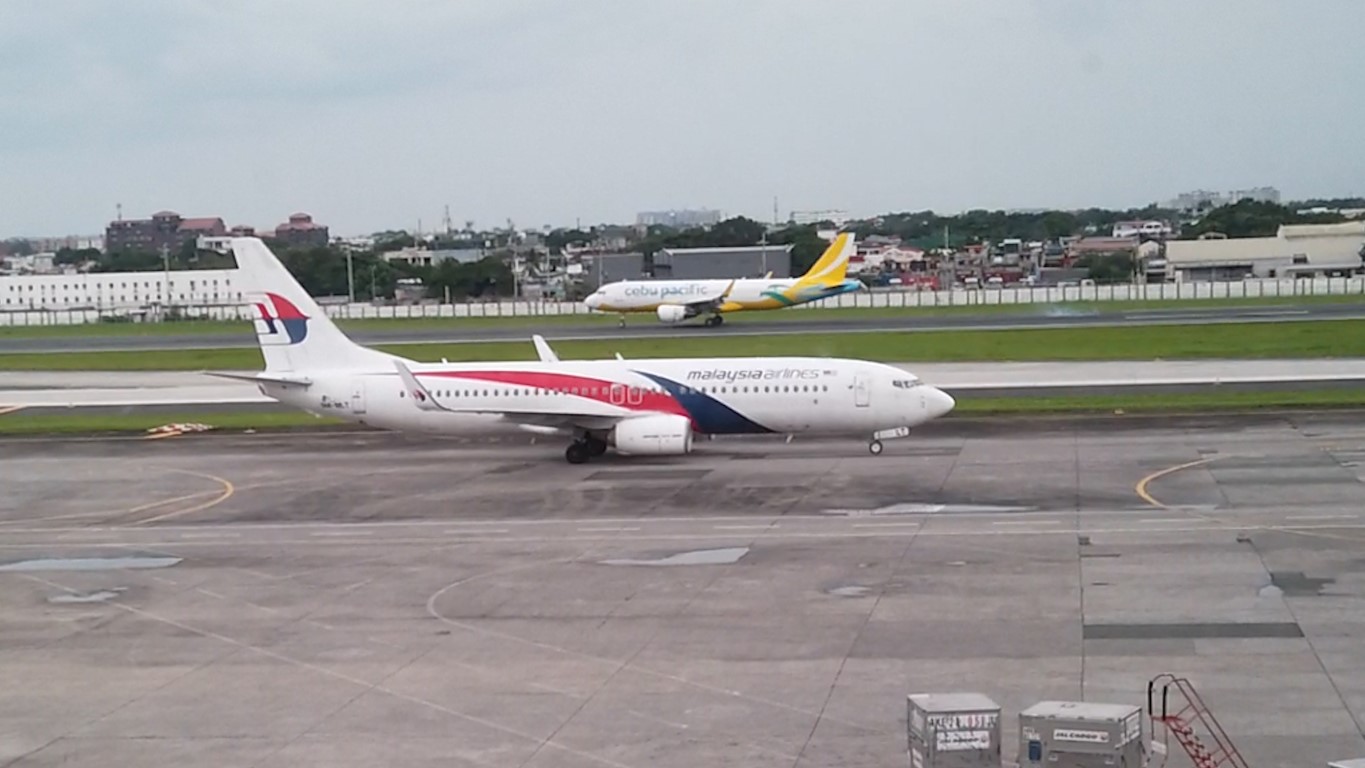 Airline: Malaysia Airlines
Flight no: MH705
Route: Manila Ninoy Aquino International Airport (MNL) to Kuala Lumpur International Airport (KUL)
Aircraft type: Boeing B737-800
Flight time: 3 hours 30 minutes
Travel Class: Business Class
Seat no: 4F Window Seat
Seat width: 21 inches
Seat pitch: 42 inches
Check out the video of this Malaysia Airlines MH705 flight from Manila to Kuala Lumpur
After a quick 48 hour layover in Manila, I was flying to Singapore. I used Qantas Frequent frequent flyer points for this flight so was limited to airlines in the OneWorld Alliance Group, so only option for me was to fly with Malaysia Airlines via Kuala Lumpur. This review is just for the flight from Manila to Kuala Lumpur.
This flight MH705 leaves at 3pm from Terminal 1. I left my hotel in the City of Dreams in Paranaque at 12pm and only took 15 minutes by taxi to get to the airport. Malaysia Airlines flies between Manila and Kuala Lumpur daily.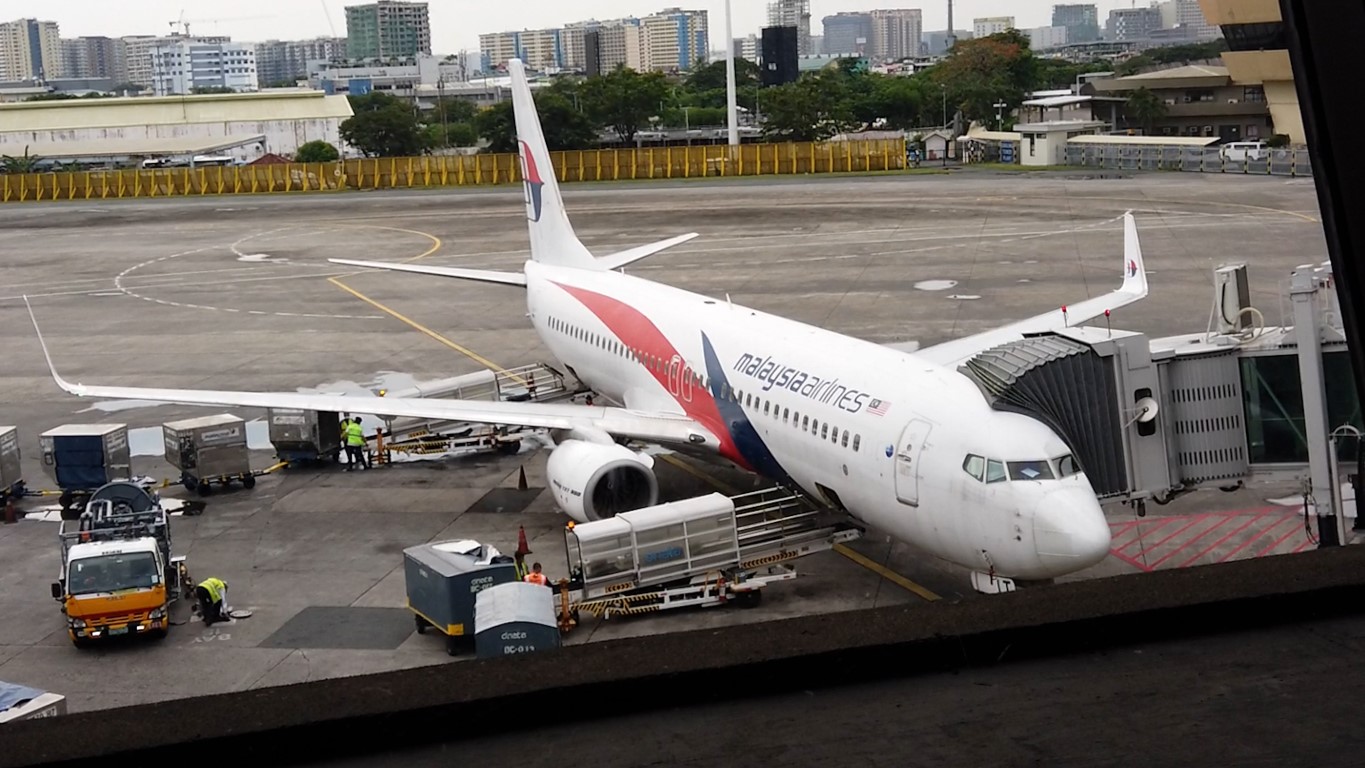 At the airport
Manila's Ninoy Aquino Airport opened in 1999 and it really doesn't look like it has had any renovations since then. It is looking a bit tired and run down.
It is a very busy airport with mostly local Filipino overseas workers departing for various countries around the world especially to places like Dubai and Qatar.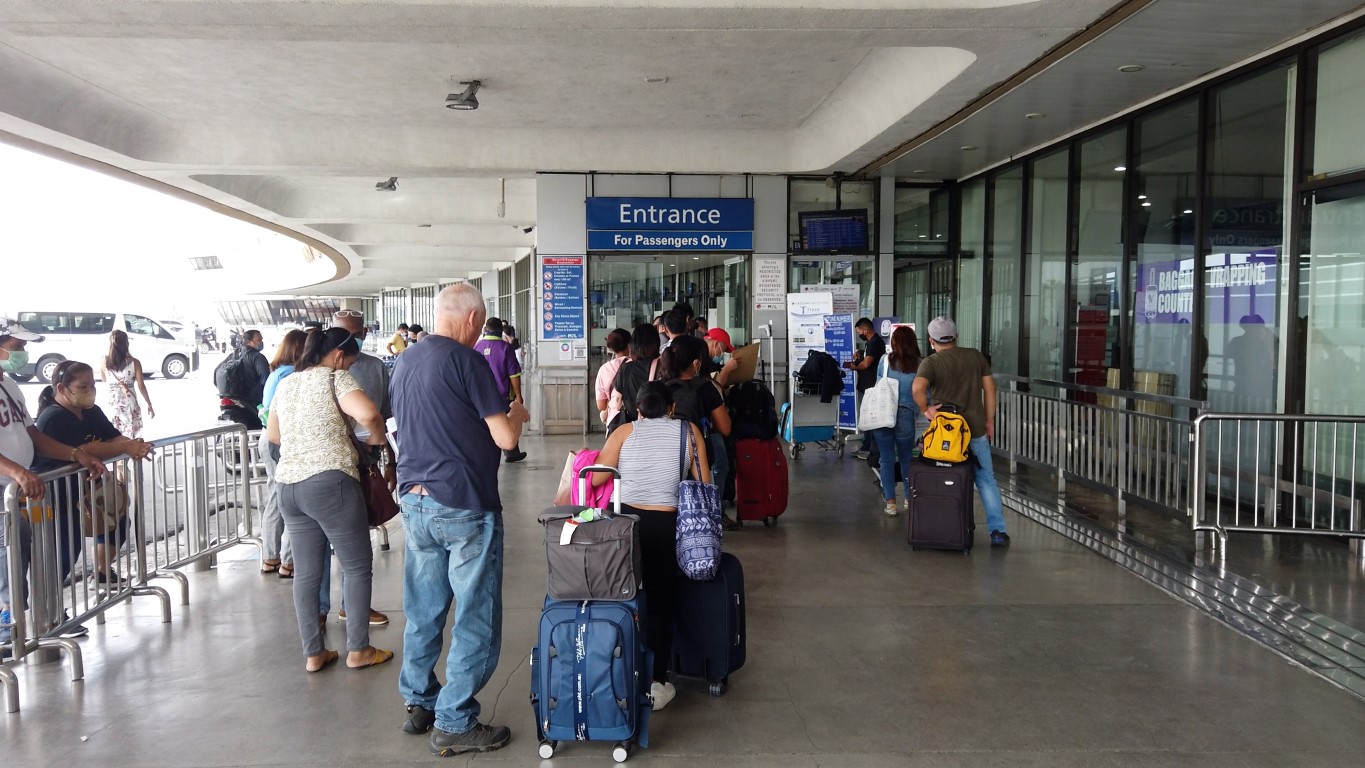 Malaysia Airlines has a separate check-in desk for Business Class passengers and there was no queue when I arrived. This flight was in July 2022 and then I had to show that I was fully vaccinated before they would check me in. As I was only transiting at Kuala Lumpur Airport I did not have to show my registration on the MySejahtera which was a requirement to gain entry to Malaysia (not sure if that is still the case).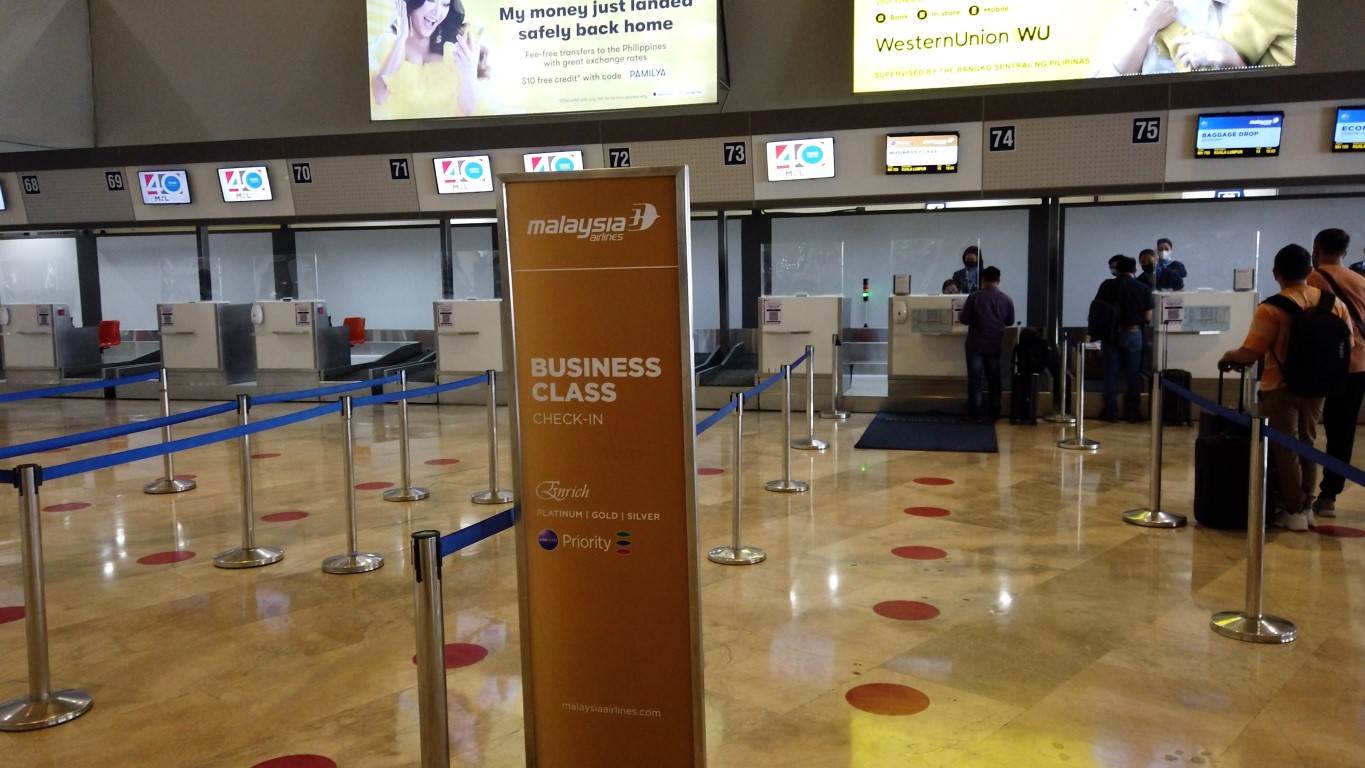 There was a huge queue at immigration (mostly of Filipinos). They used to have a separate entrance for Foreign Passports but that was not open so I had join the one queue. It looked like it would take more than 1 hour to get through immigration. After about 20 minutes in the queue, an immigration official was going through the queue and asking Foreign Passport holders to come out of the queue and go over to were they have a Diplomatic immigration queue. This saved a heap of time to get through immigration.
Once passed Immigration and Security there is really not much going for Manila Airport. There is only a few small Duty free stores and only a few coffee stores including a Starbucks. Manila airport is nothing like the major Asian airports like Singapore's Changi or Kuala Lumpur International Airport.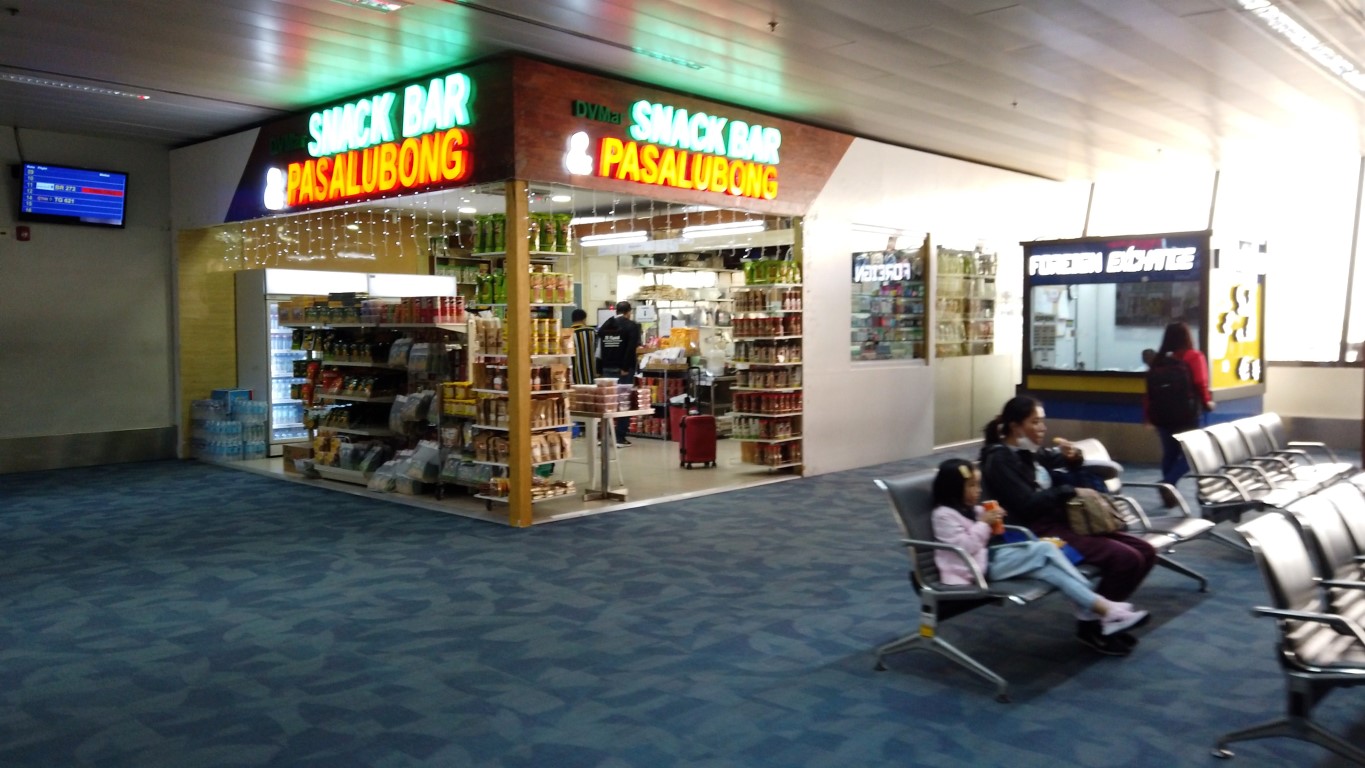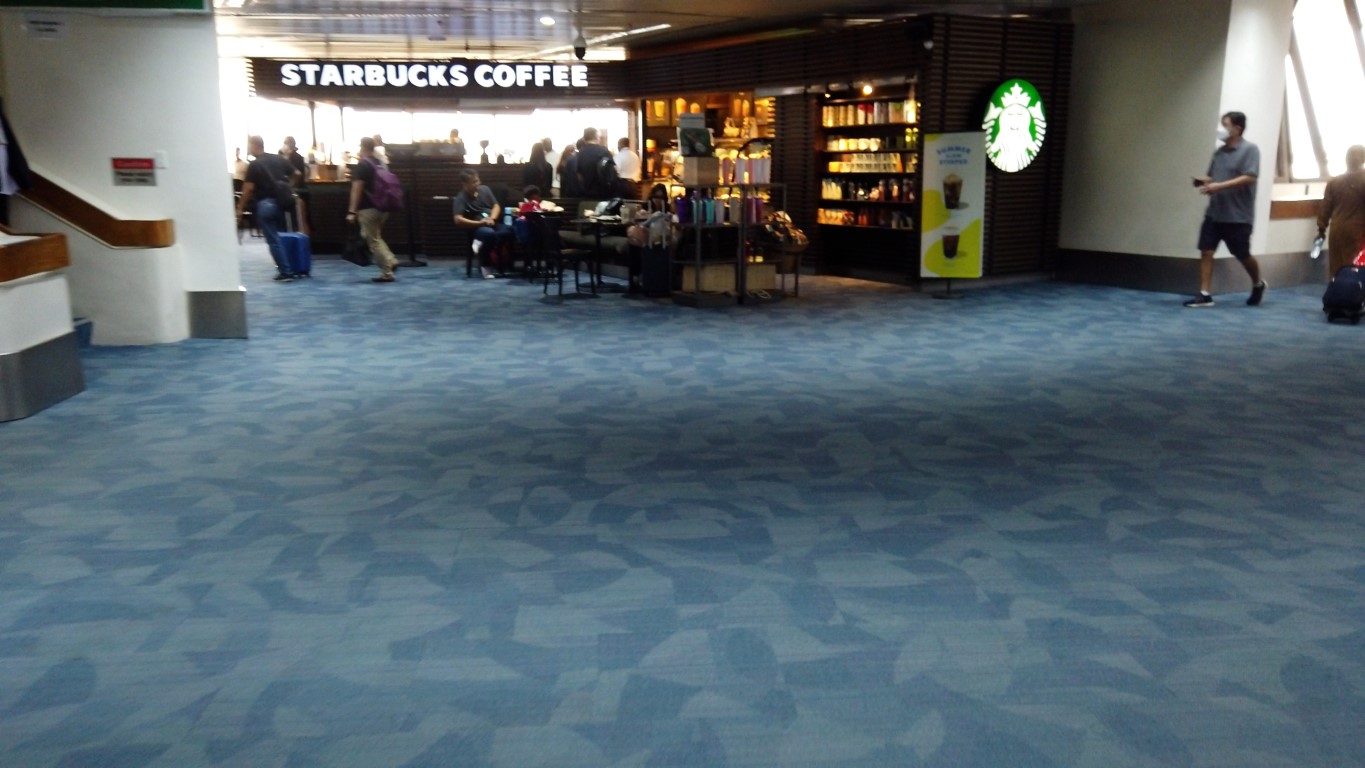 The Business Class Lounge at Manila Airport
There are a few Business Lounges at Manila Airport. I did walk past the Japan Airlines Sakura Lounge. Malaysia Airlines do not have their own lounge at Manila airport but Business Class passengers have access to the Marhaba Lounge which is only small, just opposite the gate where the Malaysia Airlines flight was departing from.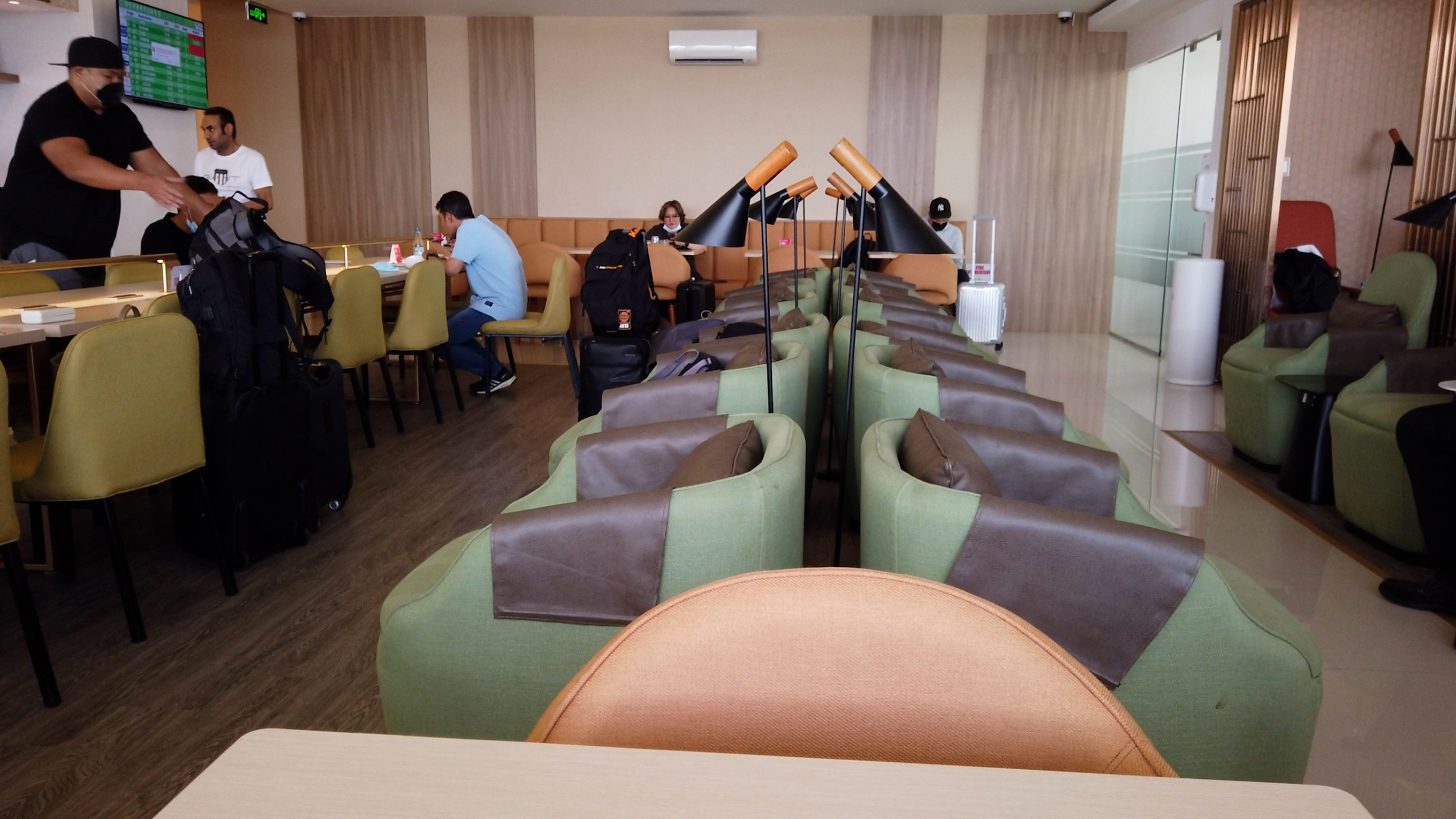 They do have a nice selection of food and a choice of soft drinks and beers (San Miguel Light and San Miguel Pilsner). I did not see any spirits on offer. I had a nice stewed chicken dish and some pasta. Both were very tasty.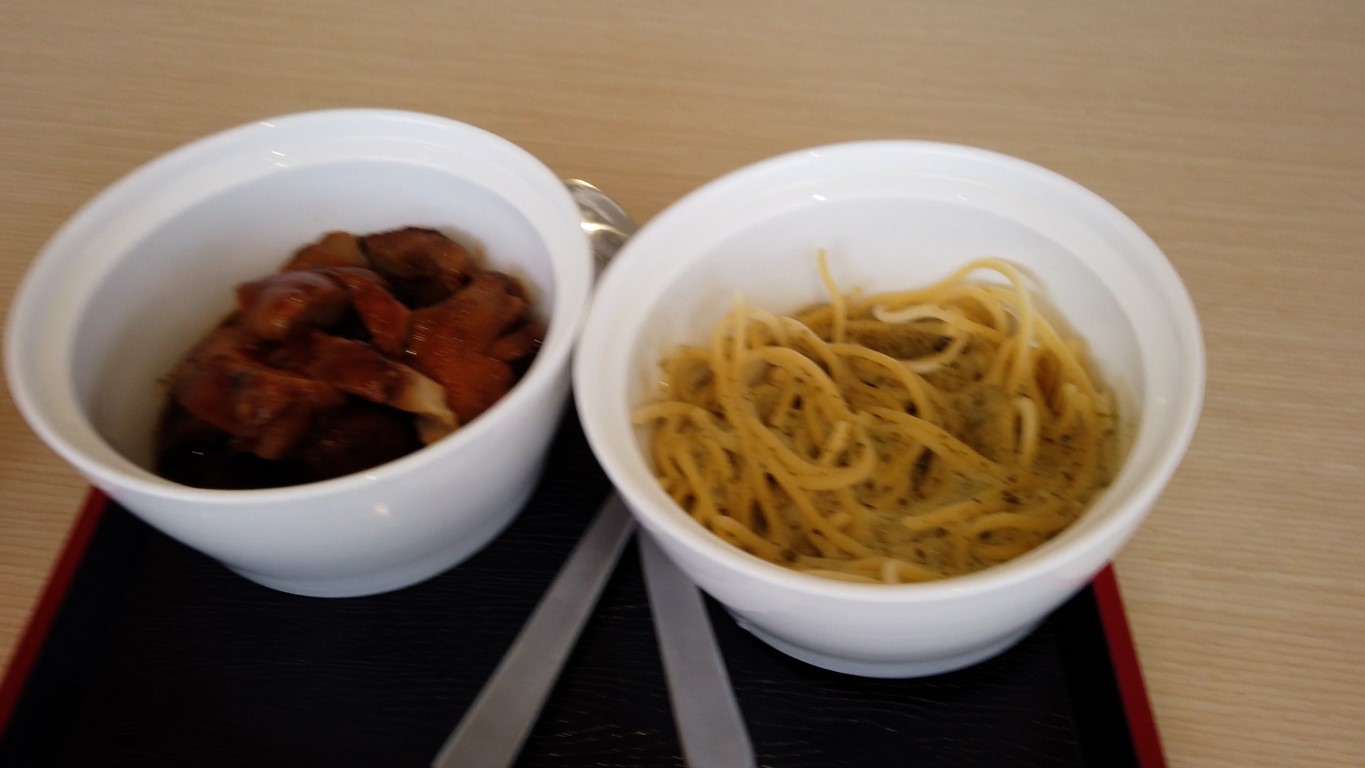 The Marhaba Lounge does have a nice large window to look out over the runway.
On the plane
My plane for this flight was a Boeing B737-800 with registration number 9M-MLT which joined the Malaysia Airlines Fleet in October 2013.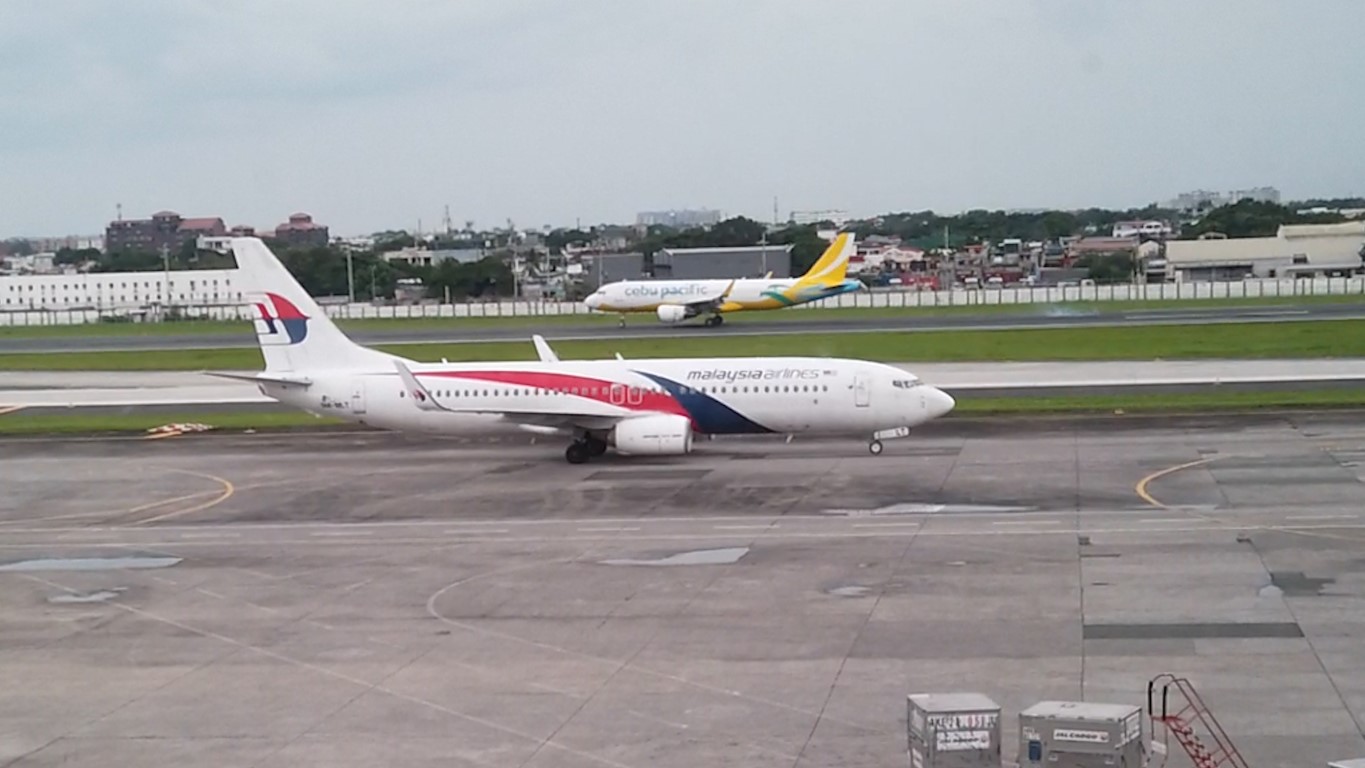 The Business Class section seats 12 passengers (3 rows in a 2 x 2 configuration). There seats are just recliners and only recline a small amount, so no full lay flat but this is an afternoon flight so I was keen just to watch a movie and enjoy the meal they serve.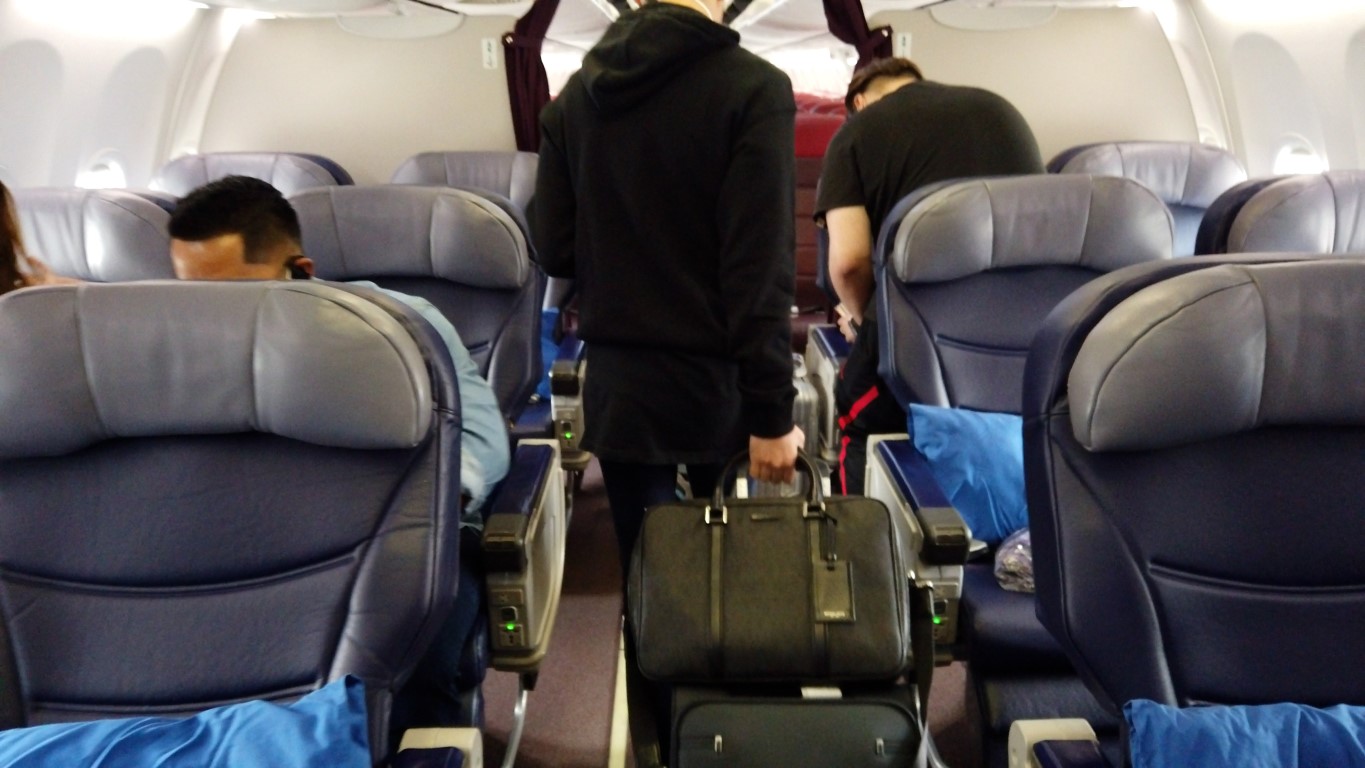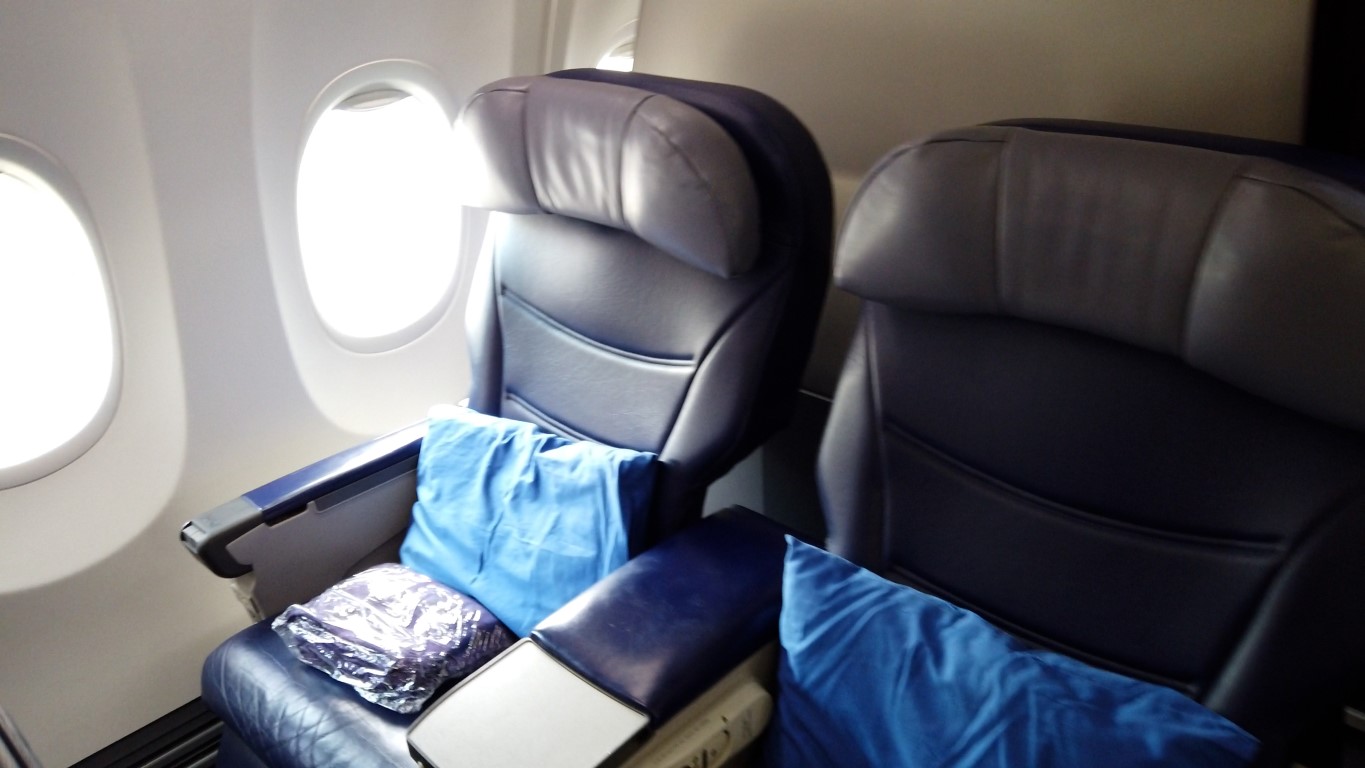 The seats have plenty of legroom to stretch your legs right out for a very comfortable ride.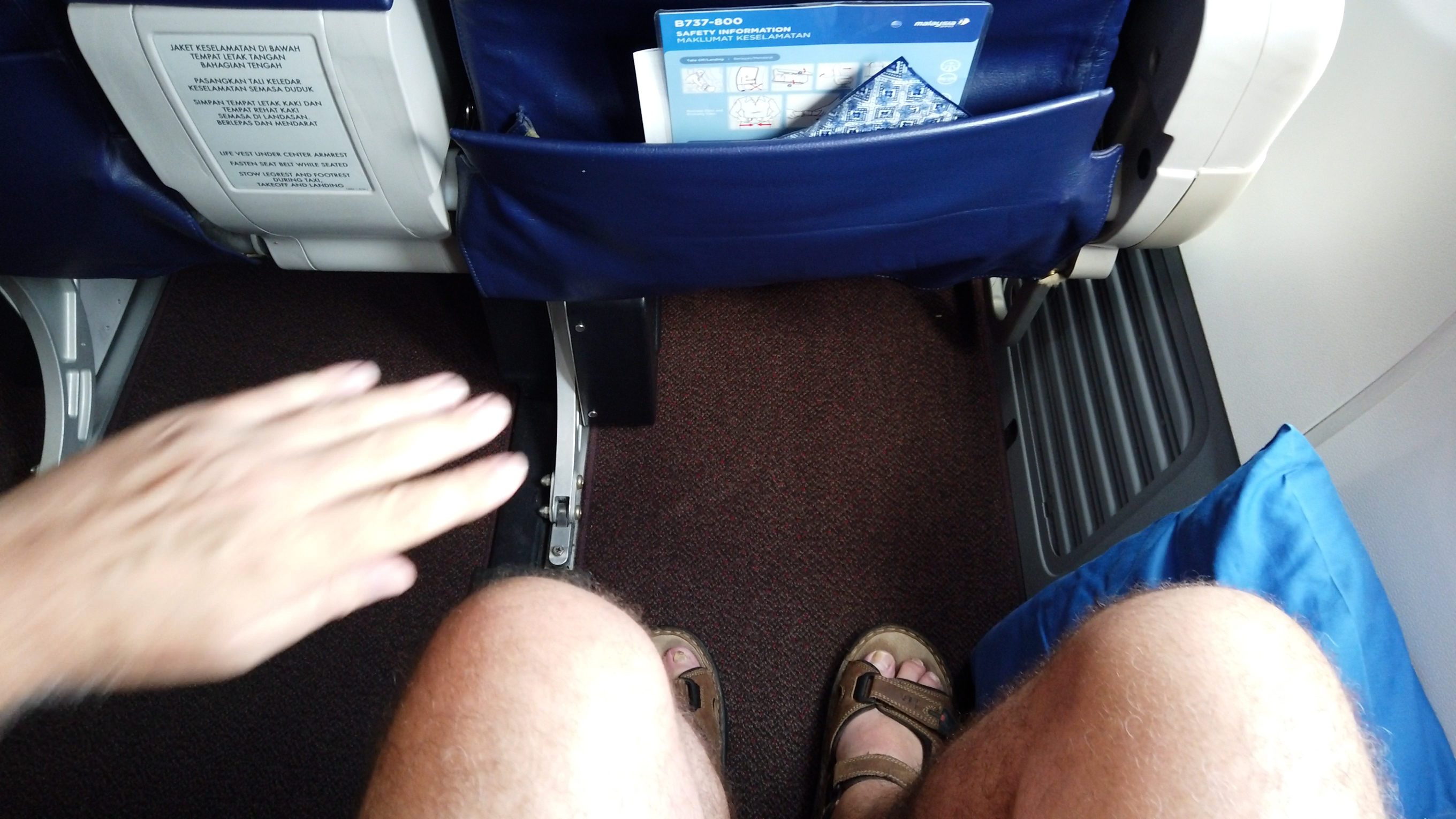 Next to the seat there is a USB port, a Universal Power Plug and a port to plug in your headset.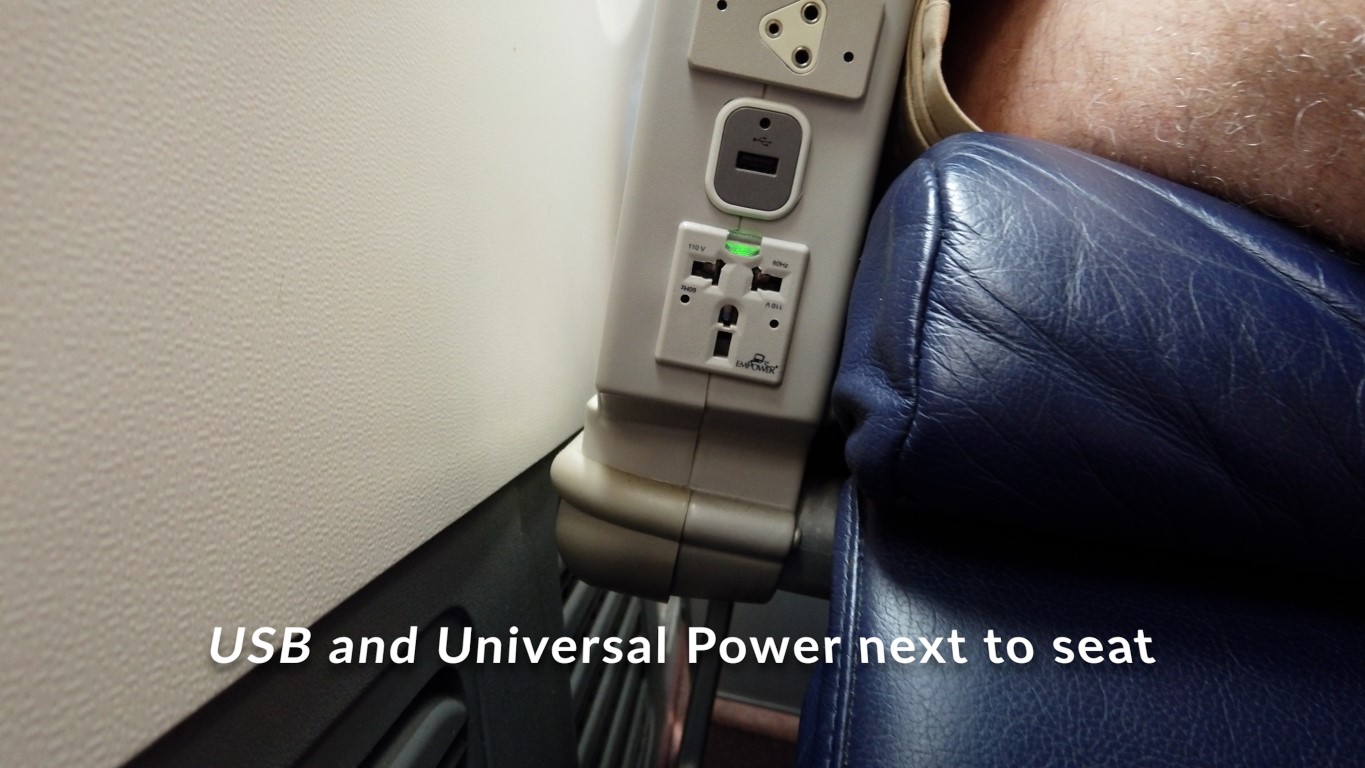 Entertainment System
On this older B737-800 they still had the small 10.6″ TV Screens with a very basic entertainment system. They do have recent release movies but not a huge selection. With just 3.5 hours in the air, there is only time to watch 1 full movie.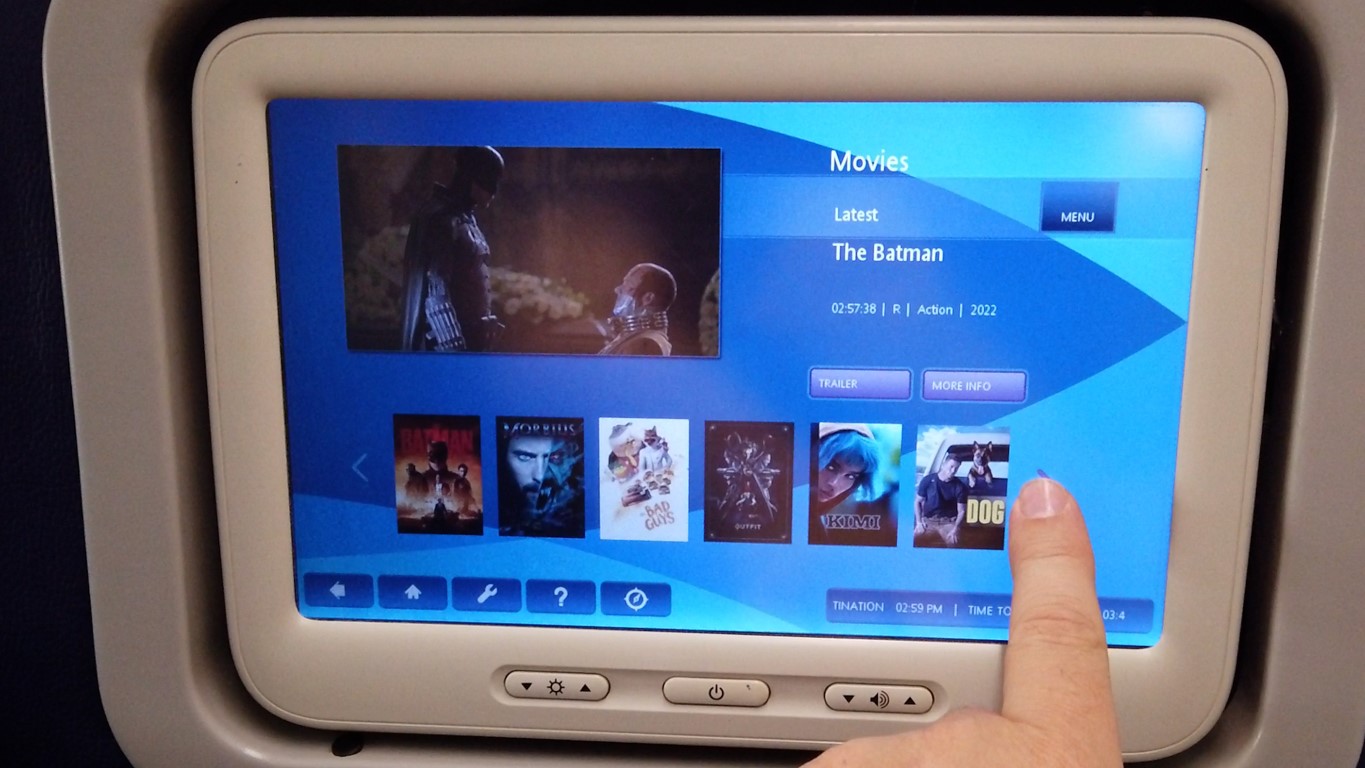 There is an older style electronic flight map but my map was not showing. The screen that showed the Altitude and time to destination was showing but when it switched to the flight map it was just a black screen. Very disappointing as I love watching the progress of the flight on the map and seeing where we are flying over.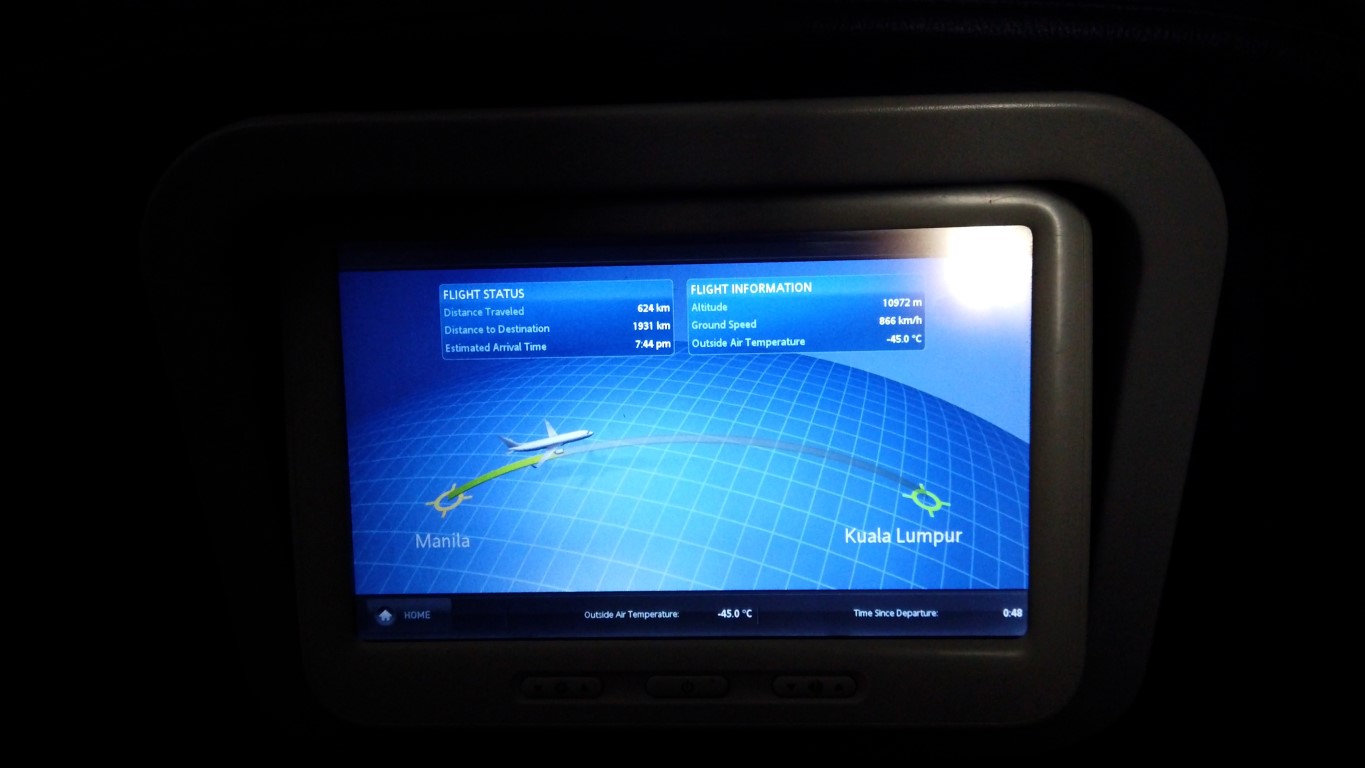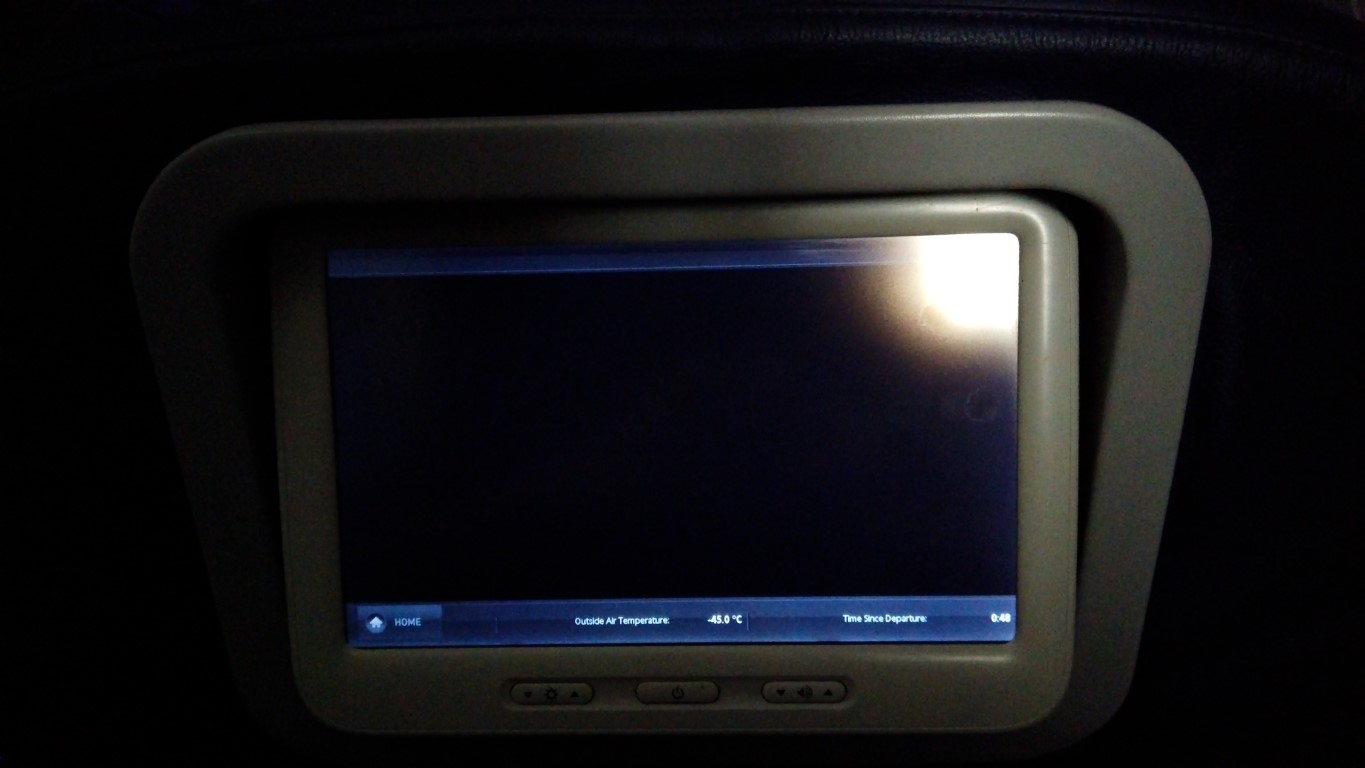 They do hand out these good quality noise cancelling headphones to use with the entertainment system. I had to get mine replaced twice as the first 2 pair were not working. The cabin crew waited for me to try the 3rd pair to ensure they were working before she walked away.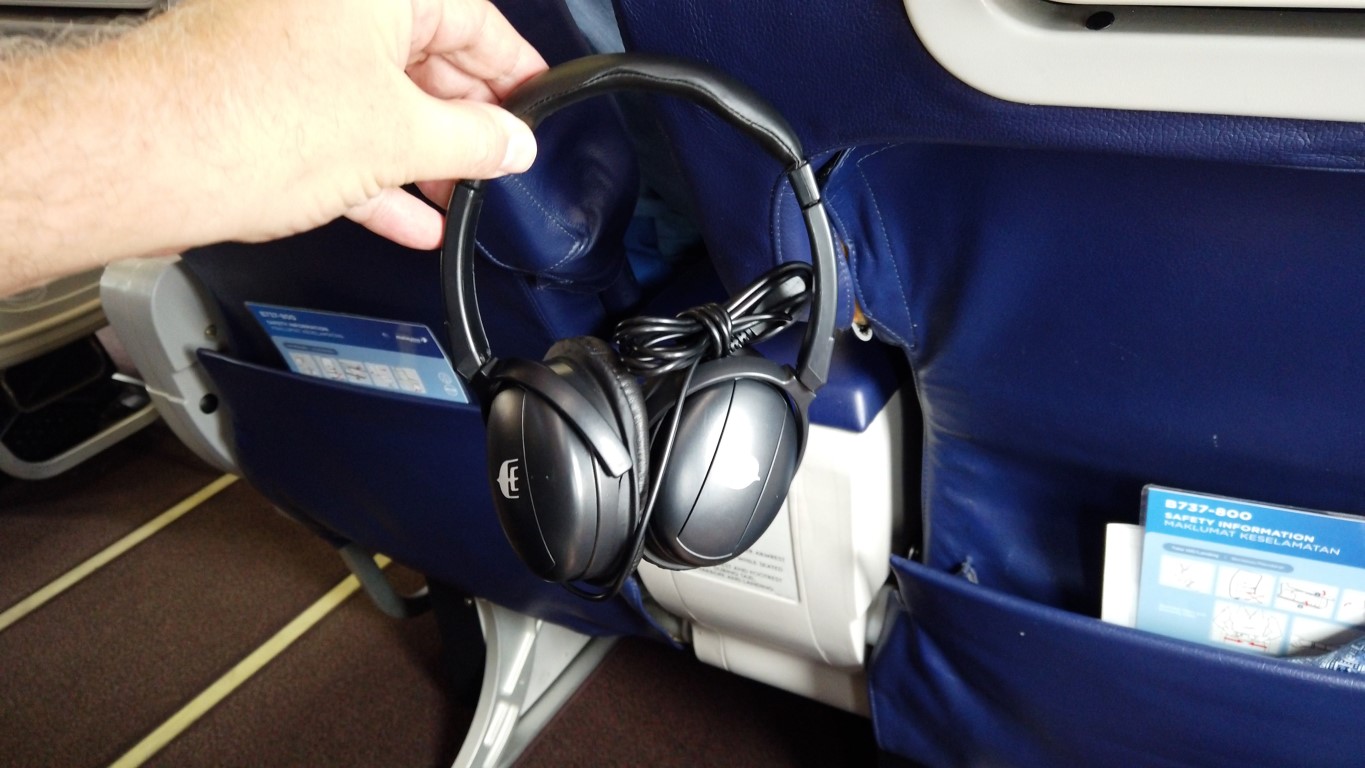 Food served onboard
No welcome drink was served before we took off! This was the second Business Class flight I have had with Malaysia Airlines in 4 months and the other flight they did not serve a welcome drink either (see the review of Malaysia Airlines Business Class from Sydney to Kuala Lumpur).
After take-off they started the meal service with a drink. They did serve alcohol on this flight (Beer or wine) but I choose just a glass of coke. As I was eating my meal the cabin crew just came and gave me another can of coke without me asking. A nice touch of service!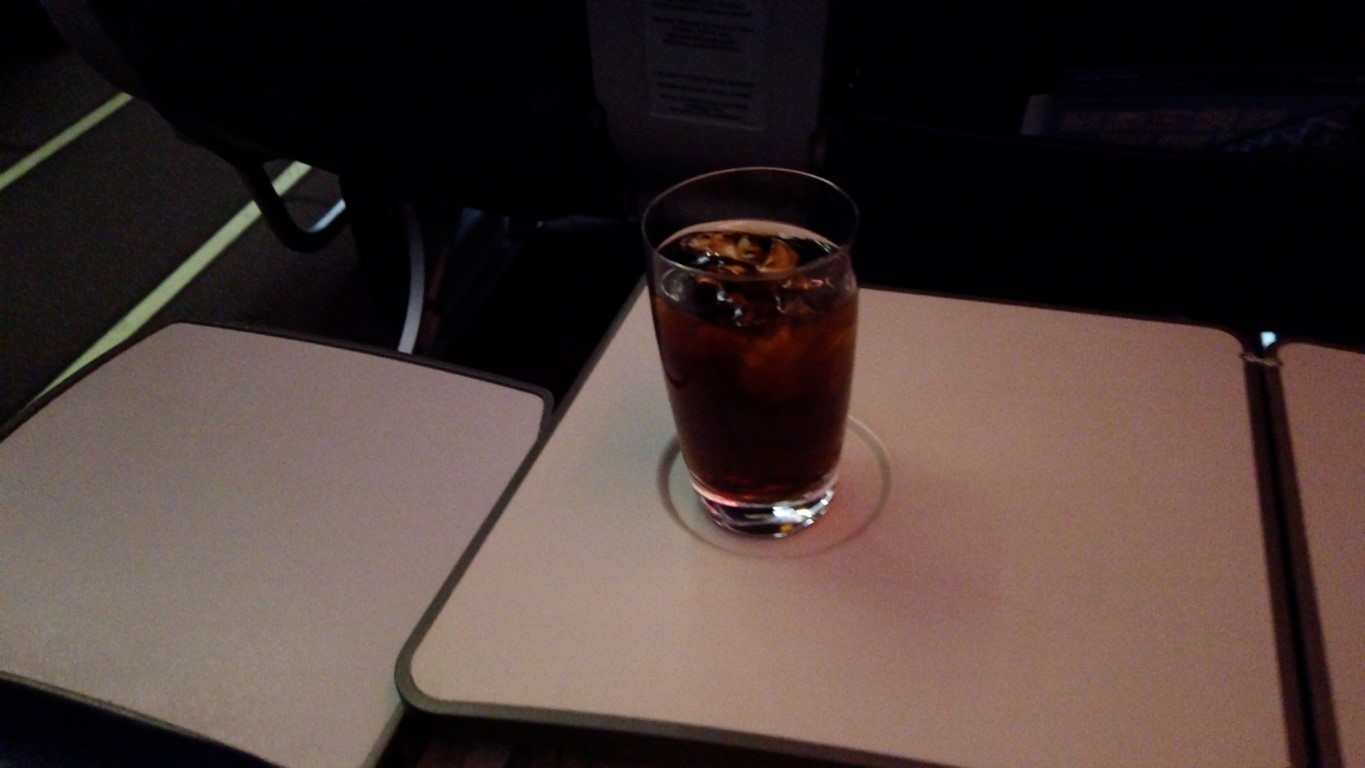 They did not have a food menu to see what options there were for the meal. The cabin crew came and told us the options. I choose the Indian Chicken Curry with rice. This was a really nice meal. The curry was a bit spicy which I do enjoy. The curry was served with a tub of mango chutney and a yoghurt raita. The crew also offered bread, I went for the garlic bread which was also delicious.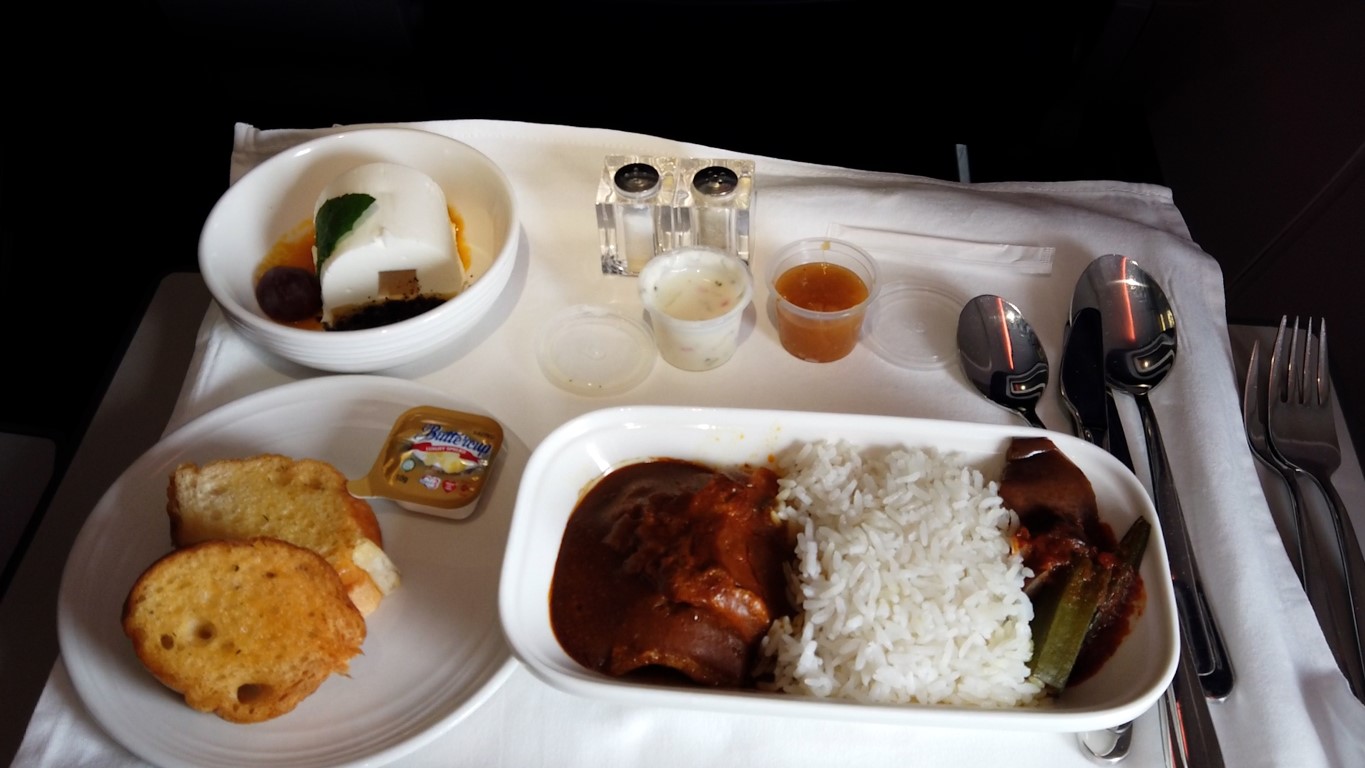 The dessert was a tasty Vanilla mouse which was quite sweet and also very tasty. Malaysia Airlines definitely serve good food onboard.
The service
The cabin crew were lovely on this flight. My second flight with Malaysia Airlines and I cannot fault the cabin crew. True lovely Malaysian service.
When I had to ask for the headphones to be replaced, the crew was lovely, especially when she waited for me to try the 3rd pair. She could have just walked away but she waited to make sure this pair worked for me and maybe not a fault with my seat entertainment system.
It was slightly annoying the flight map was not working but I still give top marks for this Malaysia Airlines flight. It was only a short 3.5 hour flight but had a lovely cabin crew, very tasty food and a comfortable seat.