Flight Review Qantas First Class QF26 Haneda Tokyo Airport to Sydney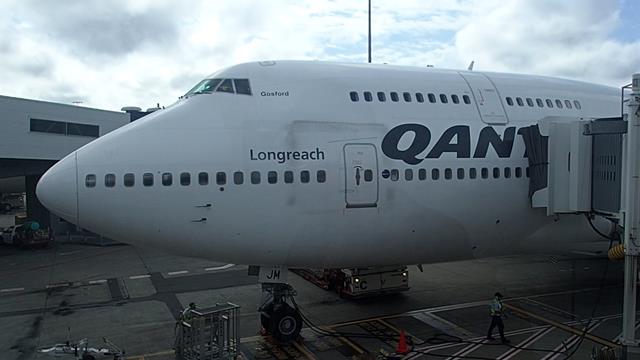 Flight no: Qantas QF26
Route: Haneda Tokyo International Airport to Sydney Australia
Aircraft type: B747-400
Flight time: 8 hours 45 minutes
Travel class: First Class (upgraded from Business Class)
Check out the video for the flight review – full video of the pre-flight and flight with take off and landing.
This was the first time I had flown out of Tokyo from Haneda airport. Qantas started flying the Sydney to Tokyo route using Haneda airport which is located within the Tokyo prefecture compared with the old Narita airport which is located in Chiba prefecture and takes over 1.5 hours by bus from the central Tokyo to get to. Sometimes this bus trip can take more than 2 hours.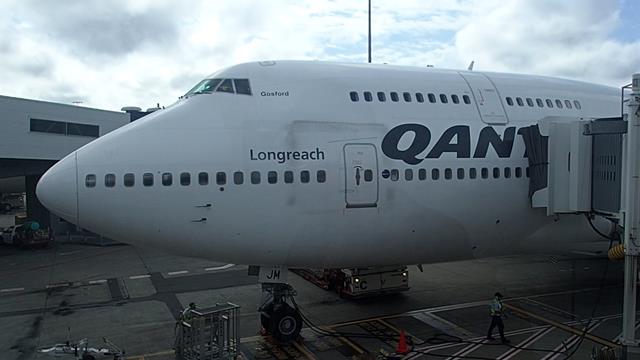 The taxi ride from central Tokyo to Haneda airport only takes 30 minutes. There are a number of taxi companies that offer a fixed price taxi ride to the airport. I had booked a taxi with the concierge in my hotel (Hyatt Regency). They said it was a fixed price of 7700 Yen. The taxi picked up on time and had the meter on. The meter ran up to over 9000 yen though when we arrived he just charged me the fixed 7700 Yen price. Check out the Haneda Airport website for details of the fixed prices from the various areas of Tokyo
I arrived at Haneda airport 3 hours before my flight as I wanted to explore the airport as this was my first time here. They have been operating domestic flights out of Haneda for several years though they have started to expand their international routes.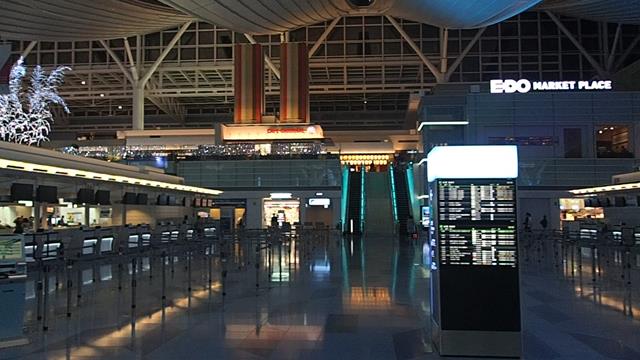 I was booked for a Business Class seat on Qantas. When I checked in the lady at the counter said that they had a First Class seat available to me as a free upgrade (I have just clocked up Platinum Frequent Flyer status so I guess this proves that loyalty does pay!). She said that I had a window seat in the upper cabin of Business Class reserved for me or if I like I can take the First Class seat but it was not a window seat. I do like a window seat but I had never flown First Class so accepted the offer of the free upgrade.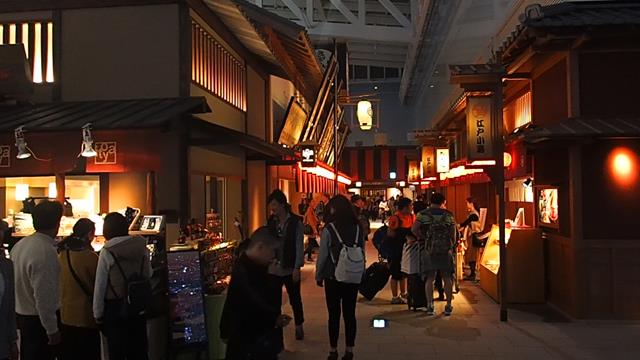 I wondered around the restaurants and checked out all the shops and restaurants. Before you go through immigration there are loads of shops and restaurants. Just go upstairs from the check in counters and there are these very cool replicas of wooden Japanese houses lined in little alleyways with all the shops and food. If you go up one more level there is a large wooden bridge which leads to an outdoor observation deck where you see the planes take off and land.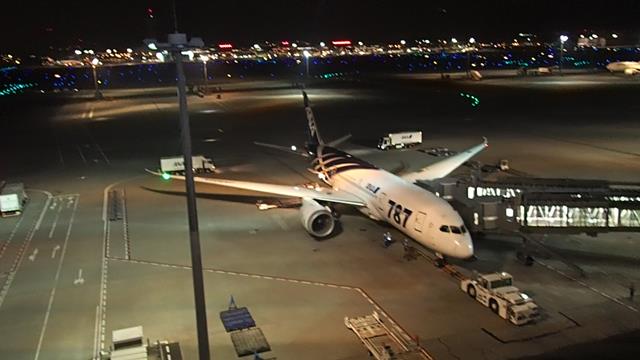 Just before you go outside to the observation deck, there are 4 flight simulators were you get to experience being a pilot of the modern jet airliners. (you have to pay to use these).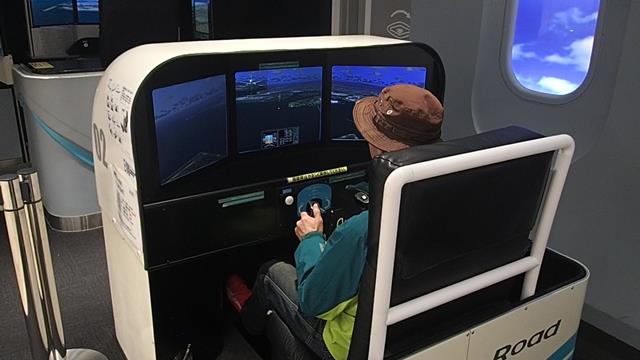 Once I had a look around I walked inside, past immigration. There are loads more shops, duty free shopping and more restaurants inside. I went straight to the JAL Lounge, there is no Qantas lounge at Haneda though Qantas Business Class passengers can use the JAL Sakura Lounge. As a Platinum Qantas Frequent Flier (Emerald OneWorld) I got to use the JAL First Class lounge.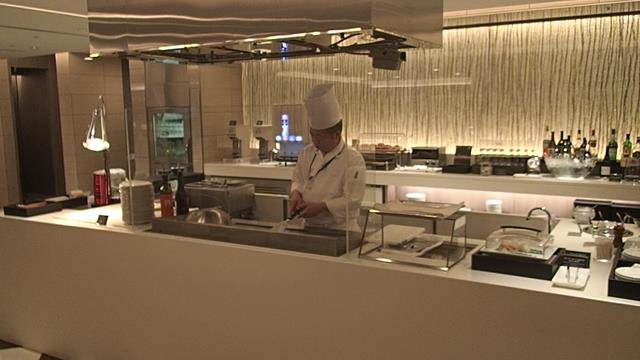 The First Class lounge is nothing special, just like many Business Lounges I have used in the past. There is a chef there cooking up fresh meals. I tried a few of the dishes available including some very tasty Japanese beef curry and some yakitori chicken.
After a few beers and something to eat I headed to the gates to get onboard the Qantas B747-400 plane and check out First Class for the first time. The First Class seat is a little bit different from the Business Class seats on the B747-400. The Business Class seats are not quite lay flat. Unfortunately your feet have to tuck in under the Business Class seat infront of you so you are laying at a bit of an angle which is annoying as you can feel yourself slipping down when you are trying to sleep. No such First World Problems in First Class! The First Class seats are true lay flat, with the seat joining up to a foot rest which allows you to stretch out for the best sleep you can get on an aircraft.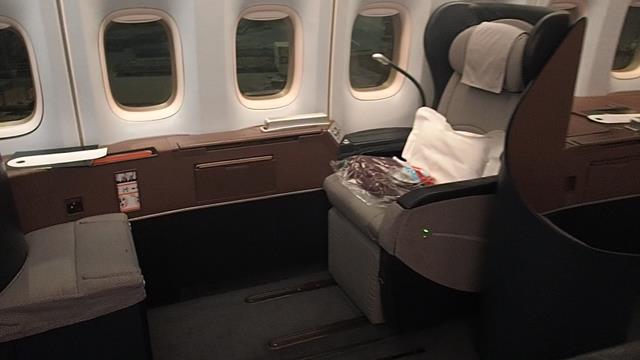 After taking my seat I got the same offer of Champagne, Orange Juice or Water as you get in Business Class. No fancy Champagne glasses, just the standard, very small Qantas glass. I had to ask for an ammenities kit and the Qantas pyjamas. I guess as I was not reserved to sit in First Class so they had no layed out these. Shame I had to ask for these. The ammenities kit turned out to be exactly same ammenities kit you get in Business Class.
When it came to food I was expecting a very fancy First Class food menu. This was exactly the same as what you get in Business Class. I went for the big bowl of ramen noodles with roast beef and nori. This was very tasty. Finally some simple, tasty food served on a Qantas flight (I have written before about some of the bad food experiences I have experienced this year on Qantas Flights!).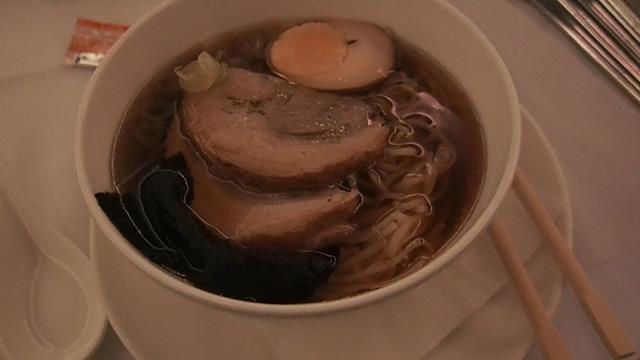 For dessert I had the Profiteroles with hot caramel sauce and a glass of dessert wine. Delicious!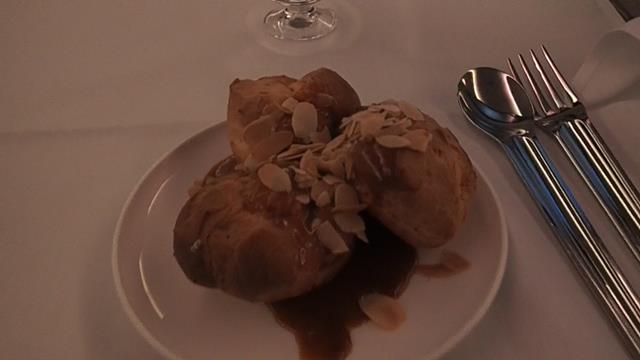 After dinner, with no entertainment system – the system was broken so no movies for this flight, I laid down on the flat bed and got a good 6 hours sleep. I was awoken for my breakfast which was some delicious banana pancakes with blueberries. I had ticked the box to also get toast with honey. The honey came with warm bread! C'mon Qantas. Don't tempt me with a menu of toast if you are going to give me warm bread! I understand you can't cook toast on an aircraft! Just don't put it on the menu if you can't deliver.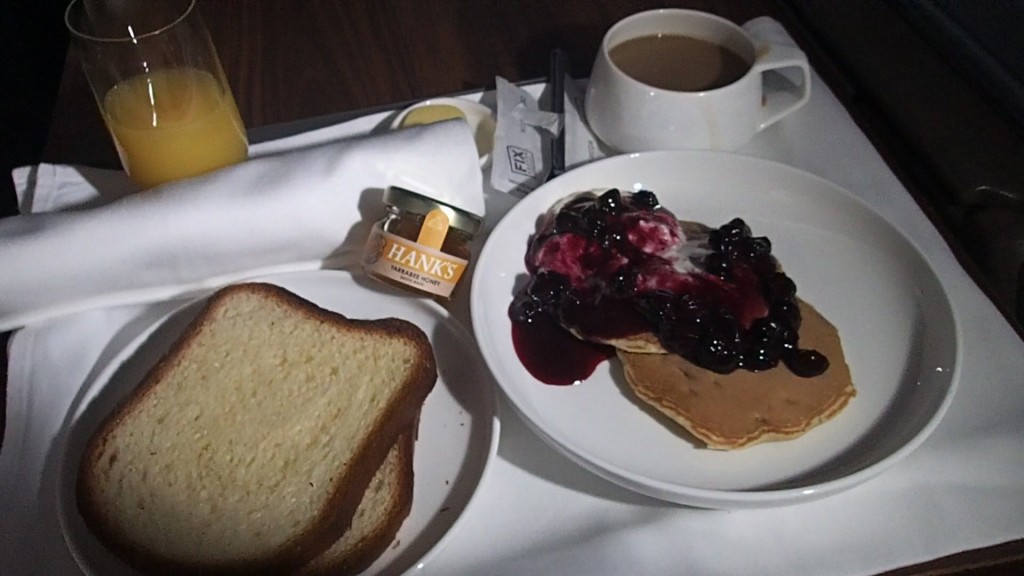 Overall my impress of Qantas First Class – well the only difference seems to be the lay flat bed. I guess they have less passengers in First Class for the cabin crew to look after so I presume when I had to ask for the ammenities kit I would have got them quicker than the other times I have had to ask for the ammenities kits in Business Class! Nothing else seem to be different in Qantas First Class! Is the lay flat bed enough to pay that extra dollars to fly First Class? I think not!
I think next time I get offered an upgrade on the B747-400 I was politely decline and keep my window seat in Business Class! If offered the upgrade on the A380 I will be taken that offer gladly. I am sure the A380 First Class experience is totally different from this, just a little bit better than Business Class experience!
Check out the most popular Flight Reviews on this site: