Great Burger at The Avenue Bar Restaurants Surfers Paradise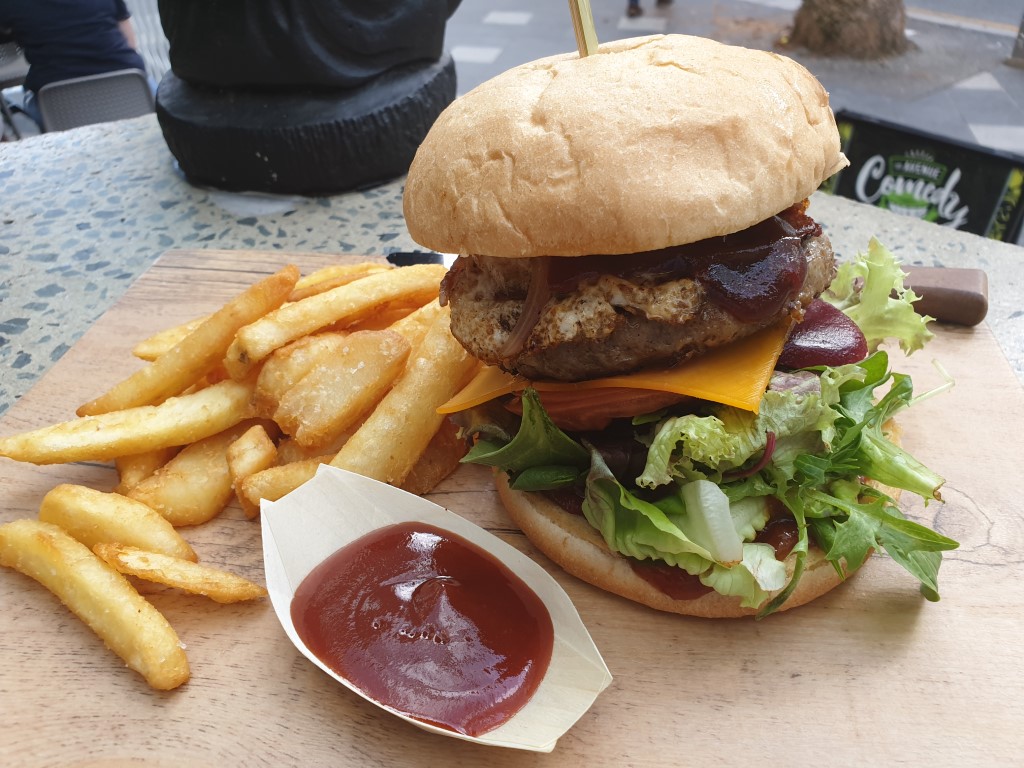 Located right in the heart of Surfers Paradise Gold Coast, is a great bar/nightclub/restaurant simply called The Avenue. As well as a popular bar/nightclub, they also serve up a great range of pub food. The prices are a bit high but you do get a great feed for the price you pay. The Avenue is located directly opposite the Hilton Hotel on Orchid Avenue, just a few minutes walk from the beach. The Avenue is a family friendly bar/restaurant and have a kids food menu.
I was staying at the Hilton Hotel and went if for lunch at The Avenue. I sat right out the front of the bar, with a nice view along Orchid Avenue for some excellent people watching.
The menu at The Avenue has all the great pub food selections like burgers, chicken schnitzel, steaks, fish and chips and pizza. They have a few different burgers on their menu, The Avenue Burger ($22), The Cheeky Chicken Burger ($22) and the huge Big Bad Boy Burger ($30). I went for The Avenue Burger which comes with a large beef pattie, bacon, egg, onion, red cheddar cheese, tomato, beetroot (classic Aussie Burger), lettuce, BBQ sauce, tomato chutney, served with some beer battered chips.
This was a great burger and although a bit pricey at $22, it definitely was a great feed.
The Avenue Nightclub Bar Restaurant
3-15 Orchid Avenue
Surfers Paradise QLD 4217
Open 7 days a week for lunch and dinner from 11am – 3am
Website: The Avenue Bar Restaurant
Check out the location of The Avenue Bar Restaurant in Surfers Paradise Gold Coast