Shinjuku Bombay Indian Restaurant Tokyo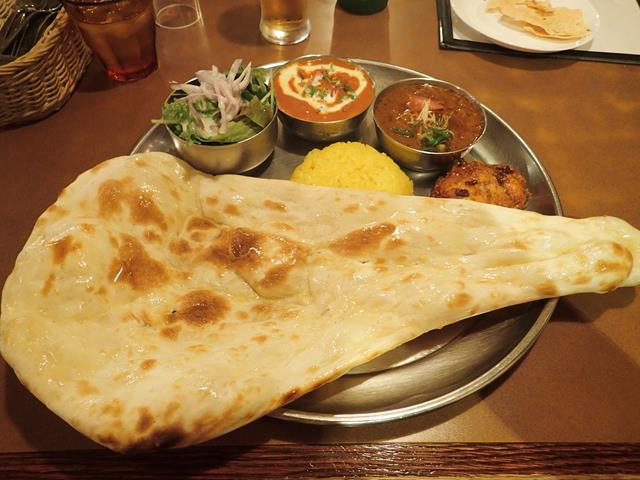 Shinjuku Bombay Indian Restaurant is located on the western side of Shinjuku Train Station in Nishi-Shinjuku Tokyo. Shinjuku Bombay Indian Restaurant serves up a range of traditional North Indian food including tasty curries with chicken, mutton or vegetarian or their specialty is Bombay thali which is a selection of a few different curries, salad, chicken tikka and a huge slabs of Indian naan bread.
I went in for dinner on a Thursday night around 7pm. The restaurant was busy though they still had plenty of tables. The restaurant is quite large so most times you do not need to make a reservation. The restaurant serves Halal food, no pork. They also respect the Hindus by not serving beef.
When I sat down there was already a Japanese menu on the table, the waitress quickly brought me over an English menu. You can see into the kitchen and right at the front is the large tandoori oven with the chef preparing all the tandoori chicken and the delicious naan bread they serve.
If you take the Southern Exit of Shinjuku Train station, directly across the road you will see a KFC Restaurant with a laneway right next to it. Just go down this small road around 50 meters and you will see Shinjuku Bombay Indian Restaurant on the street level, on the left hand side of this street.
Even though they are Halal they still serve alcohol with a good selection of Indian beer (Kingfisher) as well as some Japanese beers and beers from Thailand and Sri Lanka. They also serve an unusual Mango beer which I did not try as I am not found of sweet fruity beers.
I highly recommend this Indian restaurant in the heart of Shinjuku Tokyo. Really tasty traditional Indian food and the prices are very reasonable!
Shinjuku Bombay Indian Restaurant
1-18-13 Nishishinjuku
1st Floor (street level) Omi Bldg
Shinjuku 16 0-0023 Tokyo
Ph: +81 3-3348-3724
Website: http://www.shinsengumi.co.jp/group/bonbei (website in Japanese)
Check out Google Maps for the location of Shinjuku Bombay
Check out the most popular articles about Shinjuku Tokyo
[do_widget id=wpp-5]