Awsome Japanese Izakaya in the heart of Brisbane CBD – Hato Gyoza and Grill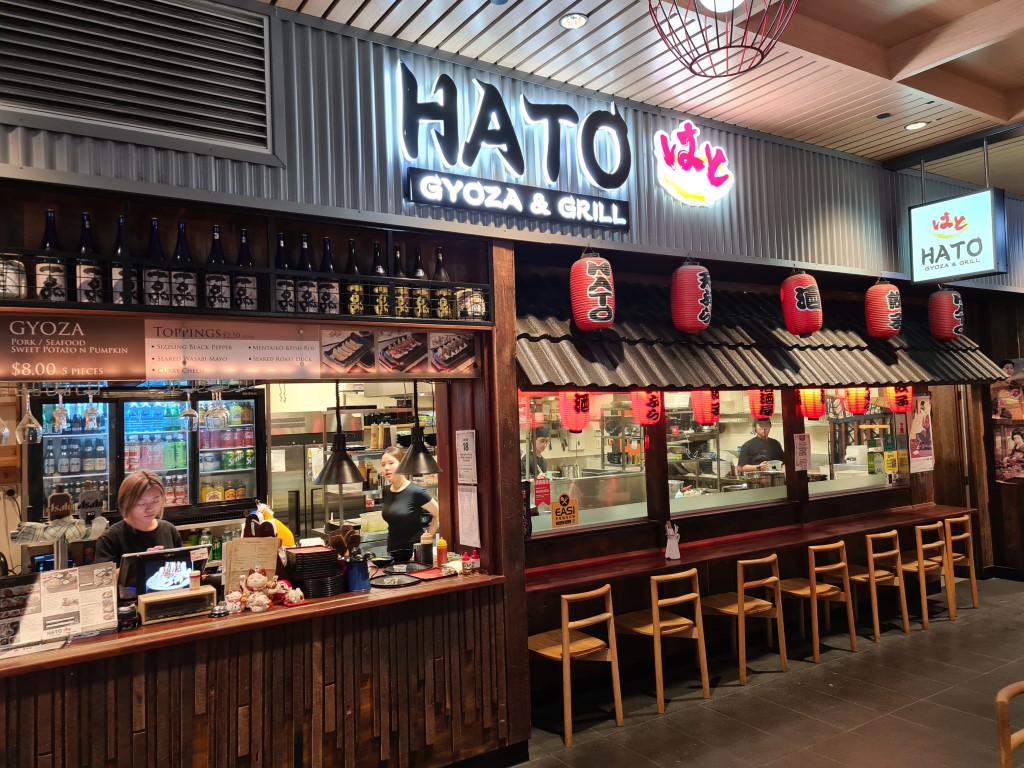 Right in the heart of the Brisbane CBD (Central Business District), on Elizabeth Street, is an awesome Japanese Izakaya style restaurant, tucked down an alley way, called Hato Gyoza and Grill. This is your classic cheap eats, hidden gem, serving up great traditional Japanese food at a reasonable price.
I was staying at the Brisbane Hilton Hotel and stumbled across this great Japanese restaurant, which is just a minutes walk down Elizabeth Street, on the opposite side from the hotel.
Hato Gyoza Grill has a mix of traditional Japanese deco (with the red lanterns out the front) and modern Japanese funky decor with some amazing artwork inside the restaurant. This place would fit right in with being on the streets of Shinjuku Tokyo or in the Nanba area of Osaka.
It was a tough job for me to order my meal as their menu had many of my favourite Japanese dishes including some delicious pork gyoza dumplings (5 pieces $8), chicken karaage rice bowl ($13), chicken katsu curry ($13), takoyaki ($7), beef sukiyaki ($13) and some soft shell crab tempura ($15).
I ended up going with one of all time favourites, a good bowl of udon noodles with a side dish of tempura for $15. Delicious!
The udon noodles were nice and thick in the tasty broth. The bowl of tempura was a generous serving of deep fried vegetables and a nice sized prawn which I quickly dunked in the soup for it to soak up the flavour of the broth.
I am really looking forward to my next trip to Brisbane so I can get back to Hato Gyoza and Grill and try more of their delicious food. If you get a chance get in and try this hidden gem. Great food, great prices.
Hato Gyoza and Grill
123 Albert S
Brisbane City
Open Monday to Thursday 11am – 9.30pm, Friday 11am – 9pm, Saturday 11.30am – 9pm, Closed on Sunday
Check out the location of Hato Gyoza and Grill Japanese Restaurant in Brisbane CBD