Mechanical Kangaroo Sculptures in Brisbane City Centre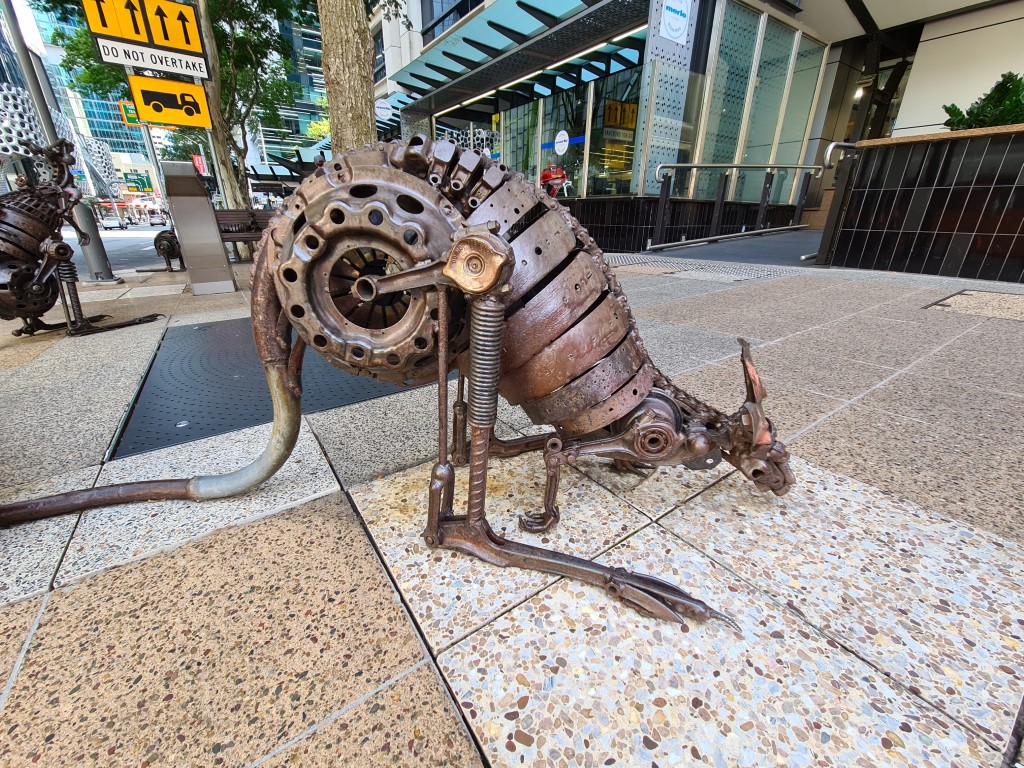 Brisbane City Council has done a great job to allow artists to display their art work on the streets all around Brisbane City Centre. One of the most famous pieces of street art in Brisbane is called 'Resting Kangaroos'. These sculptures are found on George Street, just around the corner from Burnett Lane which is a small lane-way which is filled with great street art.
The 'Resting Kangaroo Sculptures' are a collection of mechanical kangaroos some standing and 1 lazy kangaroo laying on a park bench. Did you know a group of Kangaroos is called a mob? Maybe I should have written a mob of mechanical kangaroos!
There are 4 kangaroos in this mob, with 2 grazing on the footpath, 1 looking up for the attention of passers by and of course that lazy kangaroo taking up space on the seat, leaving just enough space for a pedestrian to sit down next to them.
These cool kangaroo sculptures were done by artist Christopher Trotter and were installed on George Street in 1999 and have become a permanent fixture on the streets of Brisbane. A big thumbs up to the Brisbane City Council for allowing such brilliant work to be displayed on the public streets for everyone to enjoy!
Check out the location of the 'Resting Kangaroo Sculptures' in Brisbane City Centre