Best Bars in Sydney with Sydney Harbour views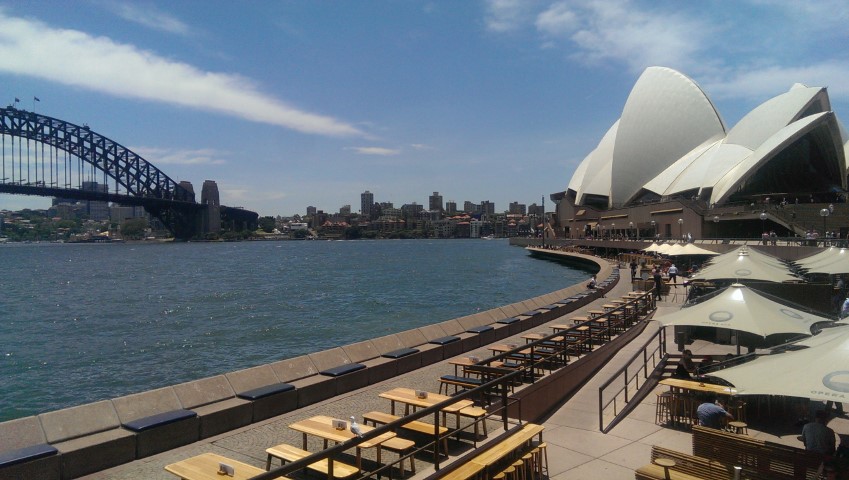 Sydney Harbour is the most beautiful harbour in the world! With such a stunning feature of the Sydney city, this awe inspiring harbour has some grant vantage points to enjoy the view.
There are some great bars spotted around the Sydney Harbour foreshore where you can sit back, enjoy a nice cold beer or cocktail, grab a bite to eat and enjoy the awesome spectacle of Sydney Harbour.
Here are the best bars in Sydney with views over Sydney Harbour:
Opera Bar
Opera Bar is set right on Sydney Harbour, next to the Sydney Opera House, with great views over Sydney Harbour across to the Harbour Bridge. This popular lunch time and evening menu has a full food menu and a great range of drinks.
You cannot get any closer to Sydney Harbour than at Opera Bar.
Read more about Opera Bar Sydney.
The Glenmore Hotel
The Glenmore Hotel is located within The Rocks Sydney, with a nice rooftop bar which has stunning view over Sydney Harbour towards the Sydney Opera House.
Read more about The Glenmore Hotel.
Blu Bar on 36
Blu Bar on 36 is one of Sydney's best cocktail bars. Located on level 36 of the Shangri-la Hotel in The Rocks, Blu Bar has one of the best views over Sydney Harbour.
Read more about Blu Bar on 36.
Zephyr Bar
Zephyr Bar is Sydney's coolest rooftop bar with a great view over Darling Harbour. Zephyr Bar is located on the 12th Floor of the Hyatt Regency Hotel on Sussex Street in the Sydney CBD.
With a great range of local and international beers and wines and an extensive cocktail menu, and a range of bar snacks. Best time to get to Zyphyr Bar is around sunset to watch the sun go down in the west.
Read more about Zyphyr Bar Sydney
Helm Bar Darling Harbour
Helm Bar is a great bar with views of Darling Harbour Sydney, with views over the wharfs to watch all the action of the boats coming and going.
With an extensive food menu with daily lunch time specials.
Read more about Helm Bar Sydney