Flight Review Cathay Pacific Hong Kong to Sydney A330-300 Premium Economy Class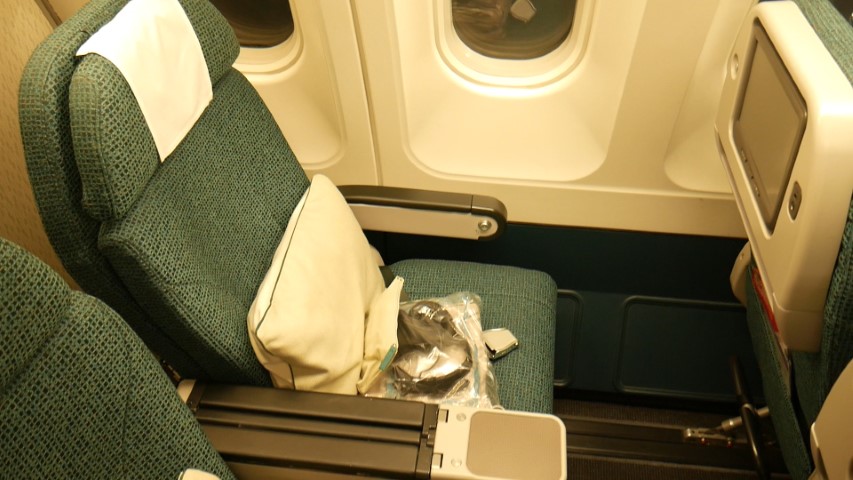 Airline: Cathay Pacific
Flight no: CX161
Route: Hong Kong International Airport (HKG) to Sydney International Airport (SYD)
Aircraft Type: Airbus A330-300
Flight time: 8 hours 30 minutes
Travel Class: Premium Economy
Seat: 30A Window Seat – the seat not to sit in!
Seat Width: 19.3 inches
Seat Pitch: 38 inches3
Check out the video for this Cathay Pacific flight from Hong Kong to Sydney in Premium Economy
Cathay Pacific have up to 5 flights per day from Hong Kong to Sydney. They leave at all times throughout the day to suit all different itineraries.
This CX161 flight leaves Hong Kong at 9.15pm and arrives in Sydney at 9.35am AEDT.
At the airport
I caught a taxi from my hotel in Wanchai on Hong Kong Island to the airport. The cost was around HK$300 and took around 30 minutes. There is a train to get to the airport but I find it much easier and quicker to get a taxi direct from my hotel.
This Qantas flight leaves from Terminal 1.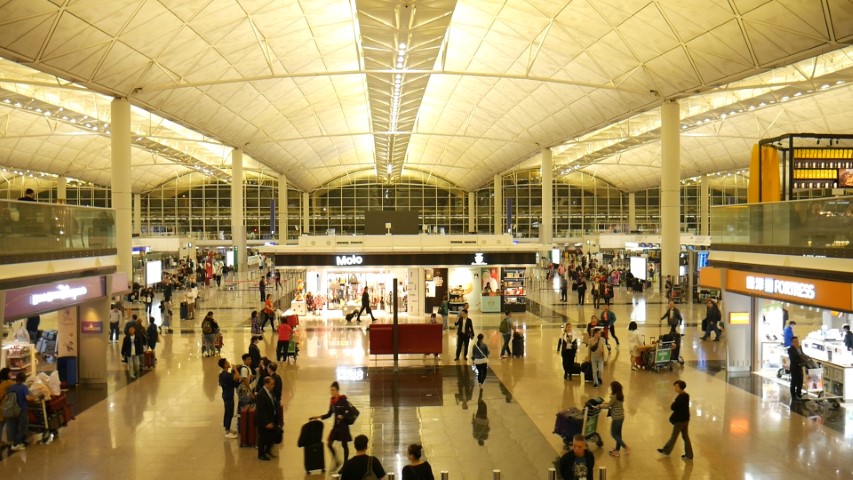 I had to queue to go through security just to get inside the airport. This is a new security precaution that the HK government has implemented to stop protesters getting into the airport and causing all sorts of disruptions. You have to show your passport and your confirmed flight which has to be within 24 hours of the time you enter. This process took less than 5 minutes so no big deal for the extra security.
Right at the entrance of Terminal 1 is a replica of the first plane that flew in Hong Kong. a 1910 Farman Bi-plane. This replica is well worth checking out for the plane enthusiasts. Read more about the replica plane.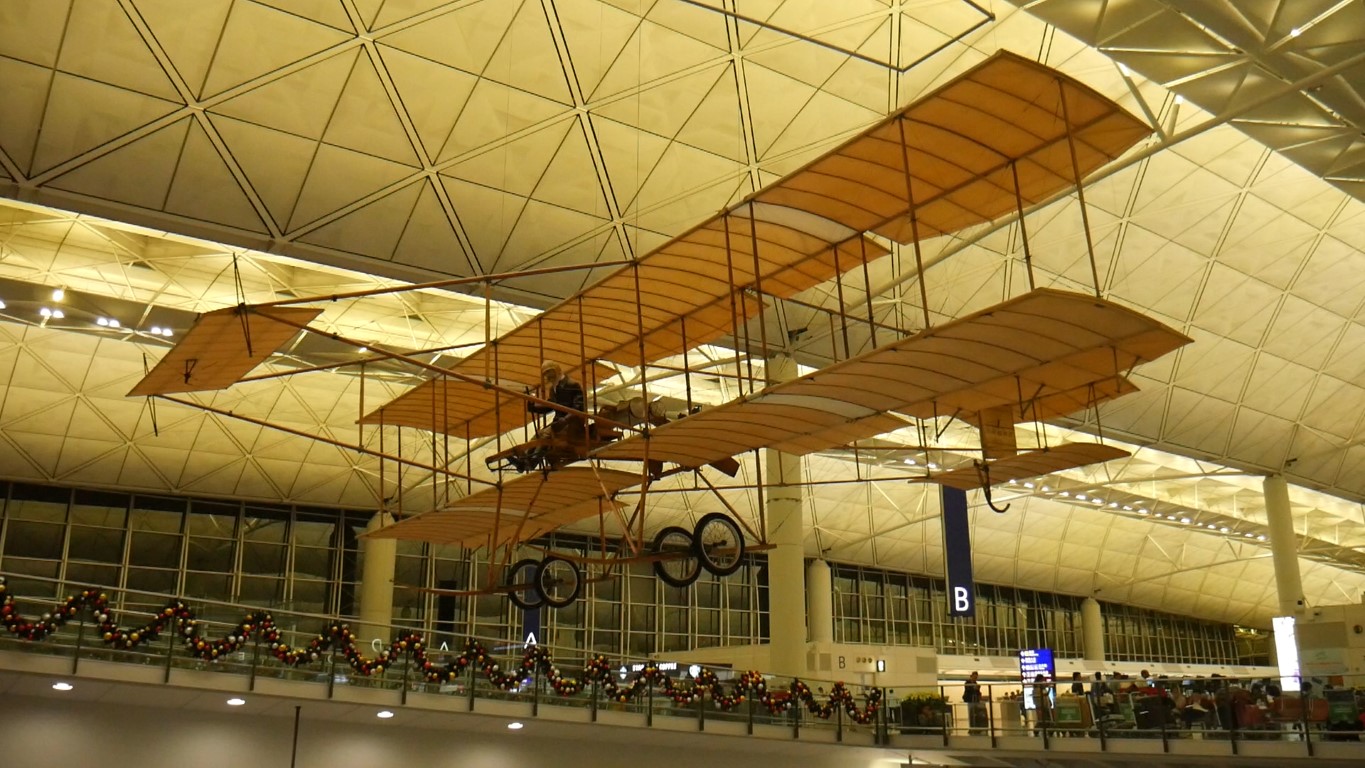 Check-in is very easy at the Cathay Pacific counters. Cathay Pacific have 4 rows of check-in counters. A row specifically for Economy, 1 for Premium Economy and 2 for Business class and First class passengers. There were no queues when I arrived around 3 hours before my flight so the check-in process was completed in a few minutes.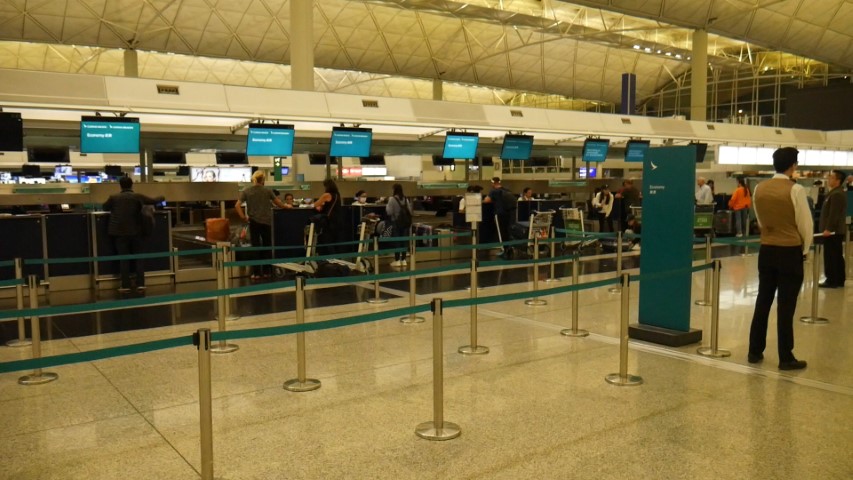 Before you go through security there are a few restaurants and plenty of shops to check out. The restaurant includes a McDonald's and some good Cantonese food.
There is automated gates to go through the immigration security. If you have a passport with an electronic chip you just have to insert your passport to get through security. You still need to pass your carry on luggage through the X-Ray machine but it only took a few minutes to get right inside the airport. Hong Kong airport is very well organised.
Once pasts security, Hong Kong airport is huge, with so many duty free shops and a huge food court with a large variety of food on sale.
On-board the plane
With a Premium Economy ticket, you get priority boarding ahead of the Economy passengers.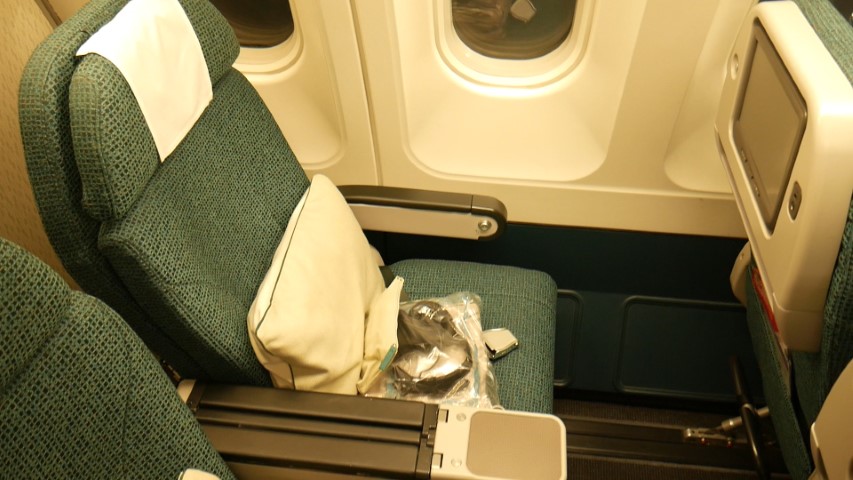 The Premium Economy seats on this Cathay Pacific A330-300 have a pitch of 38 inches (96.52cm). The pitch is the distance from the back of your seat to the seat in front. I was unlucky and got stuck in the first row of Premium Economy (row 30) which has a wall separating the Business Class cabin. While there is OK leg room with space between my knees and the wall, I was unable to stretch my legs out properly, with my feet cramped up against the wall. This made this seat particular uncomfortable especially when I was trying to sleep. Not the best experience on this flight as I had spent the extra money to get into Premium Economy so I could get some decent sleep on this night flight.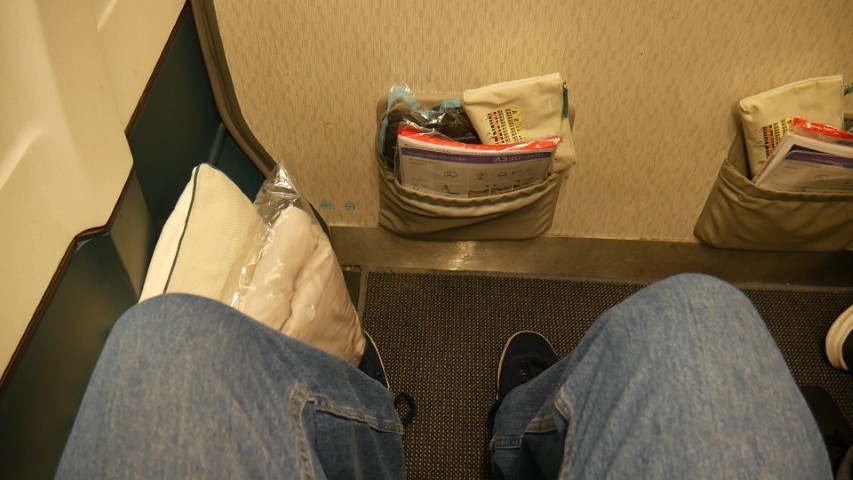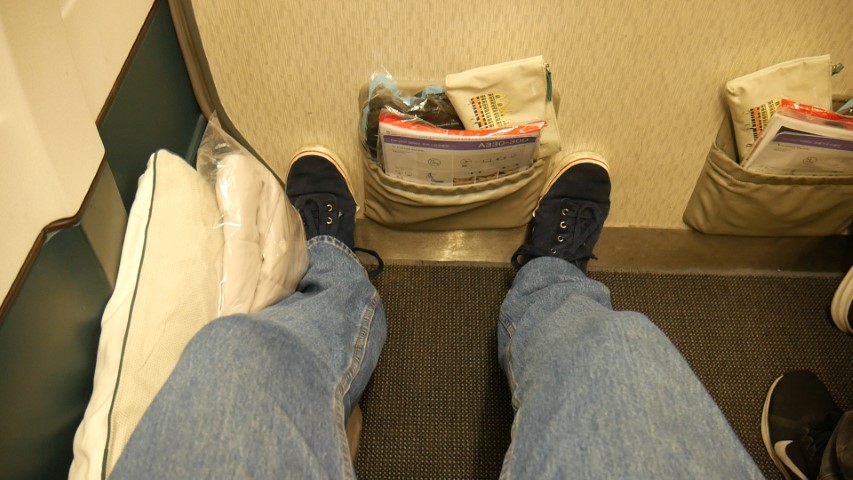 So tip to everyone, avoid this row 30 on the Cathay Pacific A330-300 in Premium Economy!
The other bad thing (not so bad but a bit annoying), is the entertainment system is on a swivel arm that comes out of the arm rest. This means you cannot have the swivel arm out during take-off and landing. In all other rows of Premium Economy there is a seat back entertainment screen so you can watch during take-off and landing.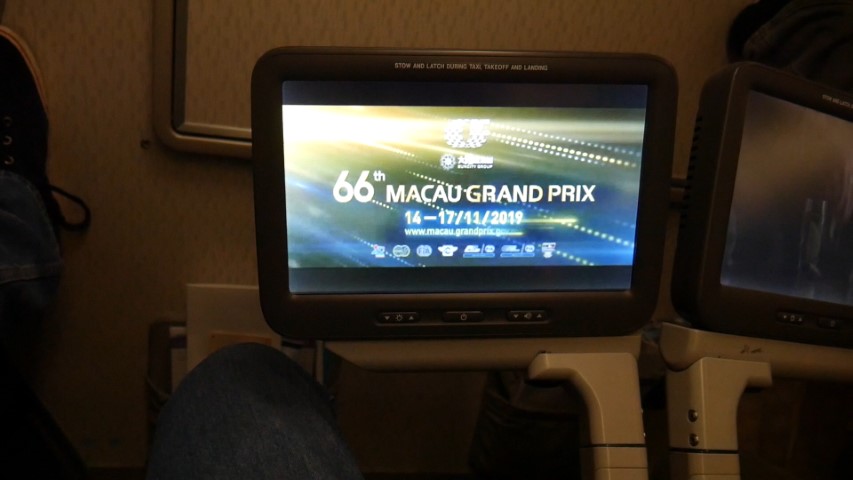 The crew come around before take-off and hand out a small Premium Economy amenities kit which contains a face mask like the n95mask, eye mask, ear plugs, a pair of socks and a tooth brush and tooth paste.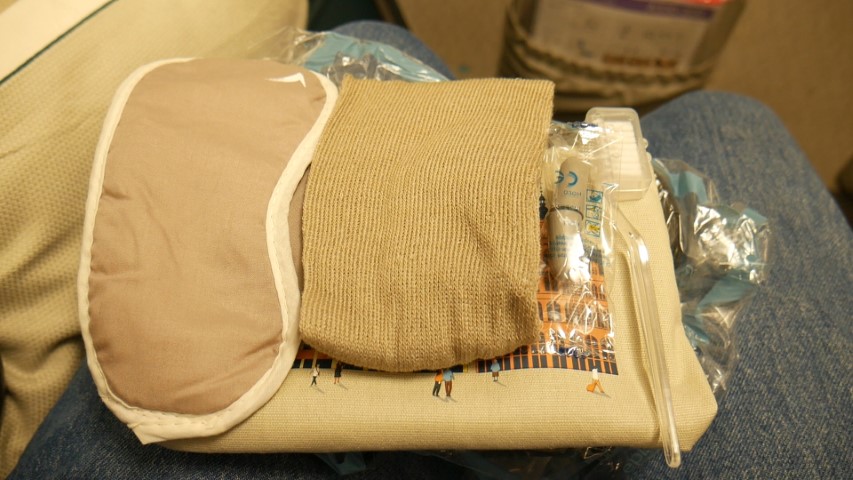 They also come around and give you a pre take-off drink. We had a selection of water or orange juice served in a plastic cup. No champagne was on offer like other airlines in Premium Economy! They also came around a 2nd time and handled out a bottle of water, then came again to hand out a cold wet towel for washing your hands and face.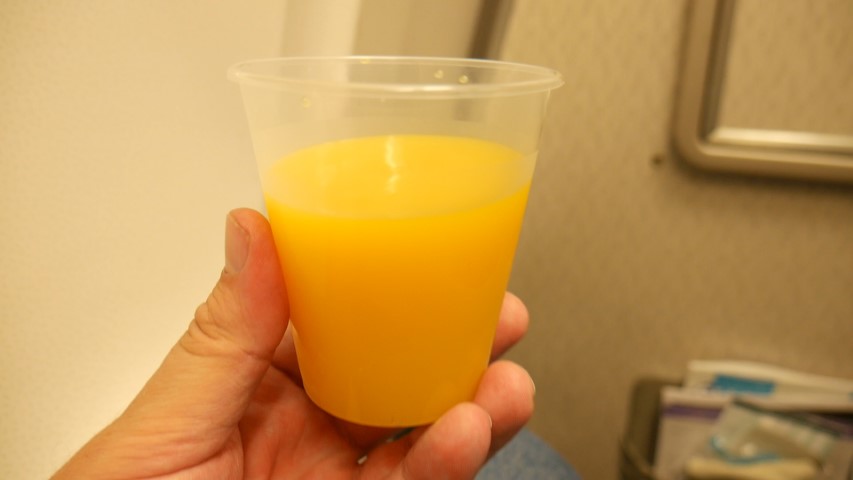 Entertainment System
The Entertainment screen is a relatively small 10″ screen. It is loaded up with heaps of movies and TV shows but as I mentioned above, in this row 30, you are unable to watch during take-off and landing. That's not so bad as there is 8.5 hours of flying time from Hong Kong to Sydney.
You get to use a pair of good quality noise canceling headphones with the entertainment system.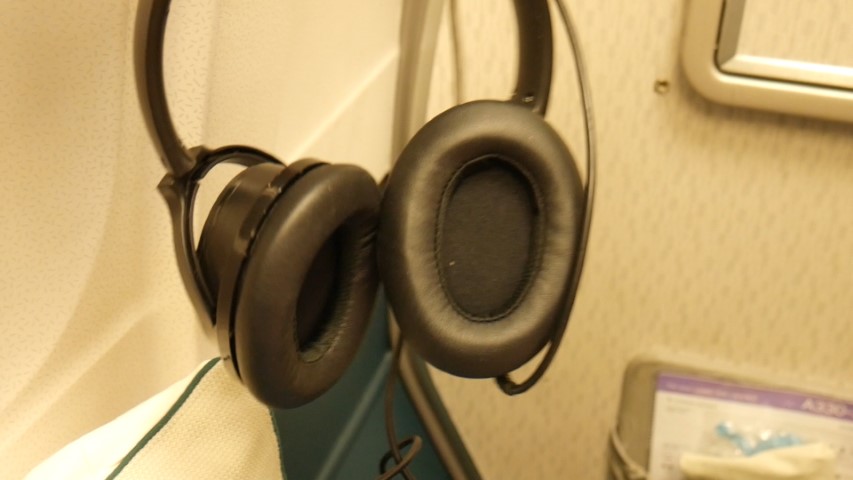 The Cathay Pacific entertainment system also has an electronic flight map to track the progress of the flight. On the particular plane for my flight this was an old system. The new Cathay Pacific planes have the new Panasonic Avionics system with moving graphics on the flight map.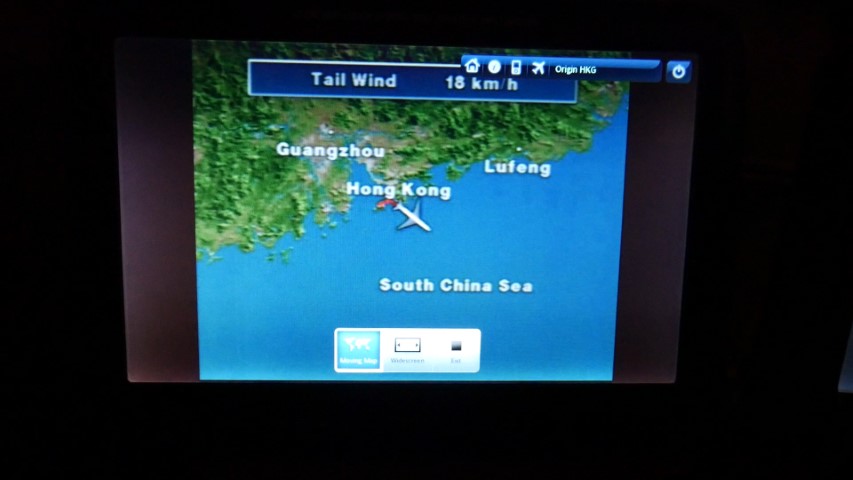 In the seat pocket attached to the wall in front was a copy of the Cathay Pacific in-flight magazine called Discovery.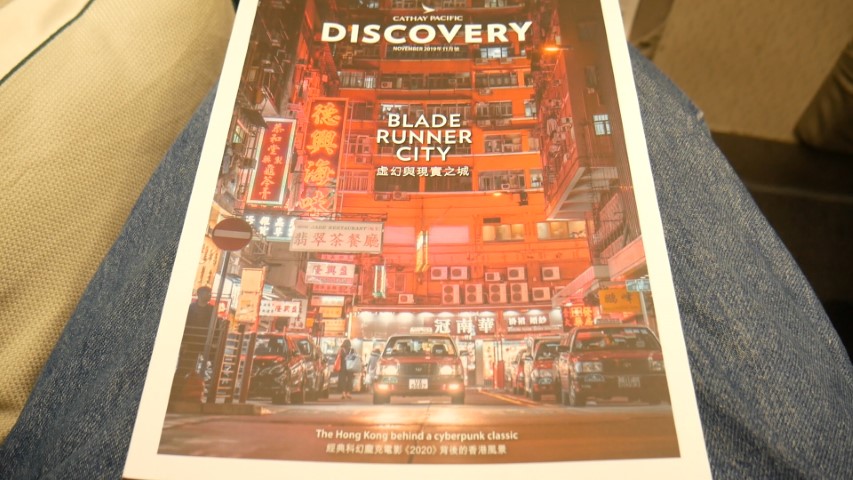 Food on this flight
There are 2 meals served on this flight from Hong Kong to Sydney. On my flight a dinner was served straight after take-off, then a breakfast is served about 1 hour before landing into Sydney.
The dinner service started with a drink and a packet of nuts.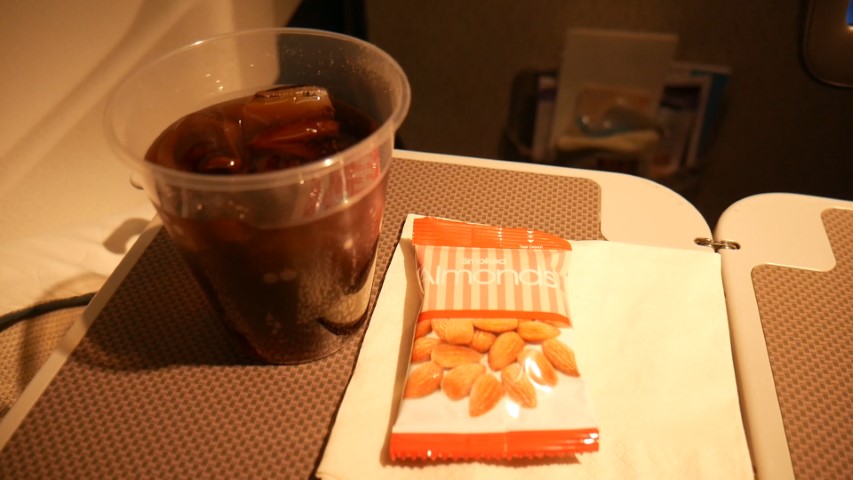 For the dinner main meal there was a choice of 3 different dishes:
Halibut fillet with tomato sauce, baby Chinese cabbage with wolfberries and steamed jasmine rice
Grilled lamb rack, shimeji mushroom, tomato, mashed potato with parsley and brown sauce
Rigatoni, spinach, tomato and roasted red pepper sauce.
I choose the Halibut fish fillet as it was listed as a Hong Kong flavoured dish. As soon as the food tray was put down in front of me I regretted my selection.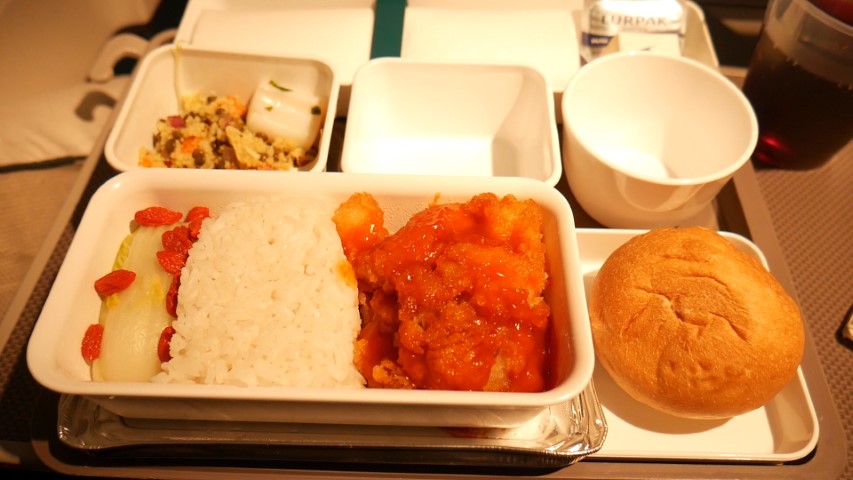 This dish had a very strong fishy smell, usually a warning sign that the fish was not fresh. I did try a piece of the deep fried fish and it did taste ok at first but after eating it there was that strong fish taste and smell in my mouth. I could not finish this dish! This is the first time on a Cathay Pacific I have not enjoyed the food. I very rarely order fish or seafood on a plane so will stay clear of these sorts of dishes in future.
The meal was served with an entree of a Middle Eastern grain salad with squid, lemon carrots and tahini dressing. Even though it was seafood, I did enjoy this dish. There was also a bread roll which helped fill me up.
The meal was saved with some tasty Movepick strawberry ice-cream for dessert.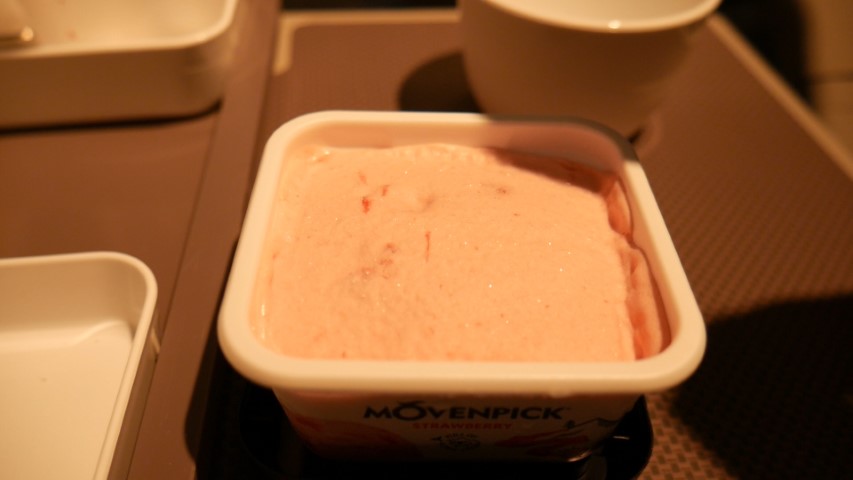 I tried to get some sleep but woke up every time I moved due to my feet being cramp against that damn wall. I probably only got 1 -2 hours sleep.
Breakfast was served and it this was back to the usually tasty food that Cathay Pacific serve.
There was a choice of 2 main meals for breakfast:
Cheese and herb frittata, pork sausages, streaky bacon, cannelini beans and button mushrooms
Dim sum selection with chicken glutinous rice, shrimp sui mai, chicken and fungus dumpling and Chiu Chow fun gor
I went for the Hong Kong style breakfast of dim sum.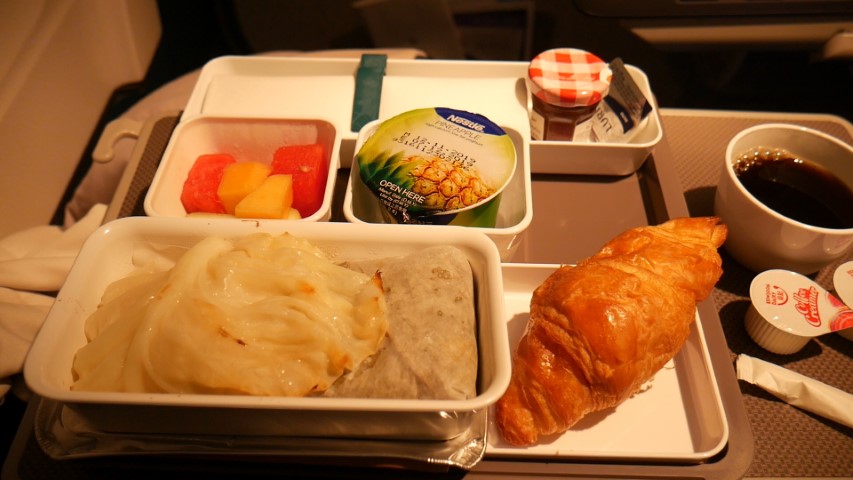 This was served with seasonal fresh fruit, fruit yogurt, a croissant, jam and butter and of course some coffee or tea.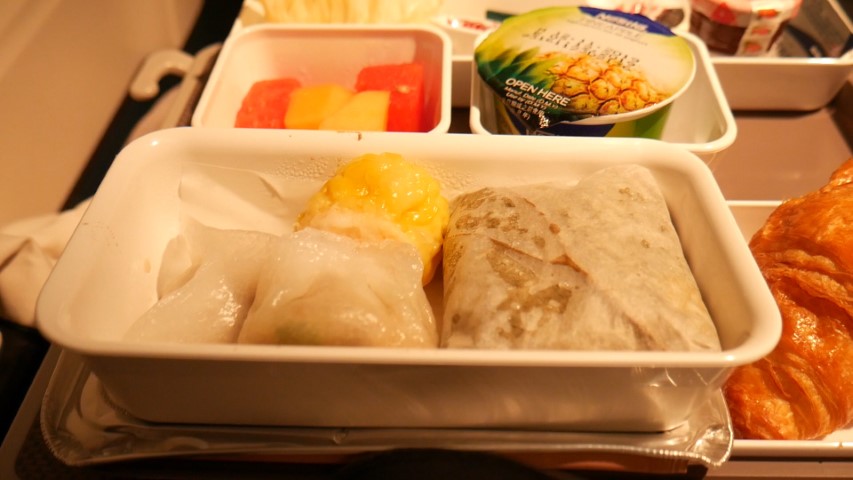 The service
This was the 4th flight with Cathay Pacific within 2 weeks. Each and every flight the service that the Cathay Pacific cabin crew provided was excellent. They were all a young and enthusiast who served with a smile.
Great service Cathay Pacific, I rank you as one of the best airlines in Asia! Well done
[do_widget id=wpp-6]