Red Lion British Pub Soi 13 Sukhumvit Bangkok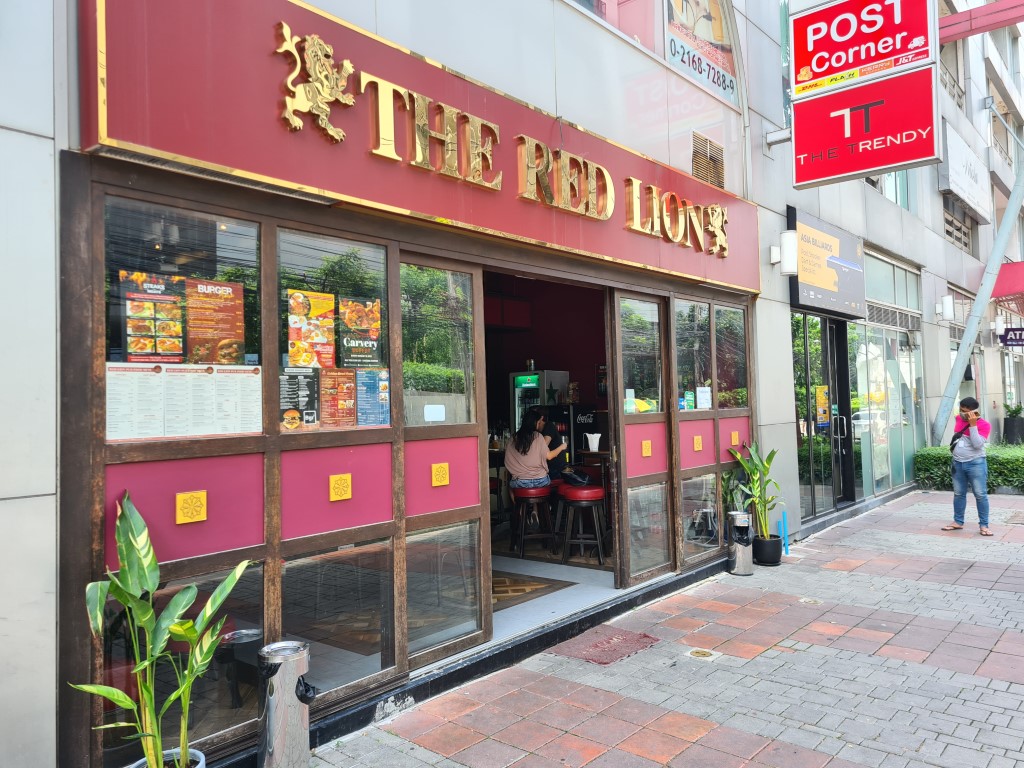 The Red Lion British Pub is your classic British Pub in the heart of Bangkok's busy Sukhumvit area, located on Soi 13, just near the exit of the Hyatt Regency Sukhumvit Hotel. This is just a few minutes walk from the Nana BTS Station.
As well as a great British Pub, they got 6 large TV screens and a large projector screen showing all the popular international sports like EPL, FA Cup, Rugby Union, Australian AFL and NRL, Formula 1, Golf, Tennis and they show all the UFC fights. They open on a Sunday morning at 9am so as long as the UFC fight is on when they are open.
They got cheap beer prices considering they in the heart of Sukhumvit. They got 9 beers on tap and a heap more Thai and International beer bottles starting from 70 Baht f0r a small bottle (330ml) of Chang Beer for 70 Baht. Other beer bars on Sukhumvit are charging 100 Baht. See they list of tap beers.
They also got a good range of pub food, with English Breakfasts or American breakfasts, their cheapest breakfast is the Bahtbuster breakfast which is only 129 Baht and comes with 2 fried eggs, bacon, pork breakfast sausage, grilled tomato, grill mushrooms, hashbrown, baked beans and a piece of toast with butter and jam, a glass of fruit juice and choice of tea or coffee.
I had their Bahtbuster breakfast and it is a good feed. They also got HP sauce, Coleman's Mustard and Branston Original Pickles.
For lunch and dinner they got all the classic British pub food like Burgers, Bangers and Mash, Chicken Curry, Chicken Parmigana, London Pepper Steaks, Pork Chops, pasta, pizza and a good selection of Thai food.
A big thumbs up for this great British Pub on Soi 13 Sukhumvit Bangkok.
Red Lion British Pub
PHR5+637, Soi Sukhumvit 13
Khlong Toei Nuea, Watthana
Bangkok
Website: Red Lion British Pub Facebook Page
Open 7.30am Monday to Friday. Open 9am Saturday and Sunday. Closes midnight every night
Check out the location of Red Lion British Pub in Sukhumvit Bangkok