What You Need to Know About Cambodia Before You Go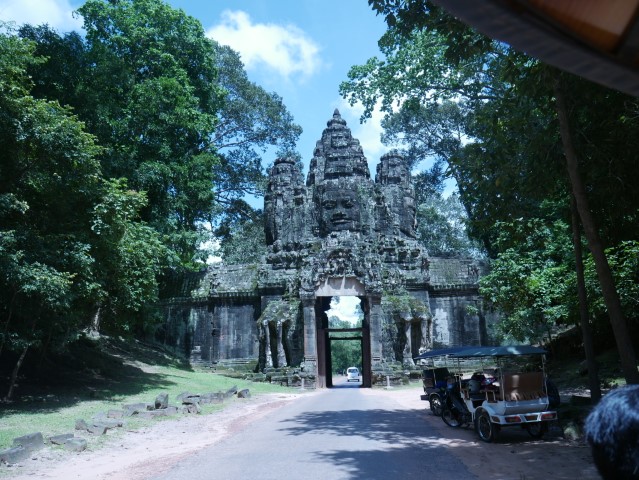 Cambodia is one of the cheapest places to travel in the world, with loads of interesting places to visit like the amazing ancient ruins of Angkor Wat. You should definitely put Cambodia on your bucket list and plan a trip to visit here.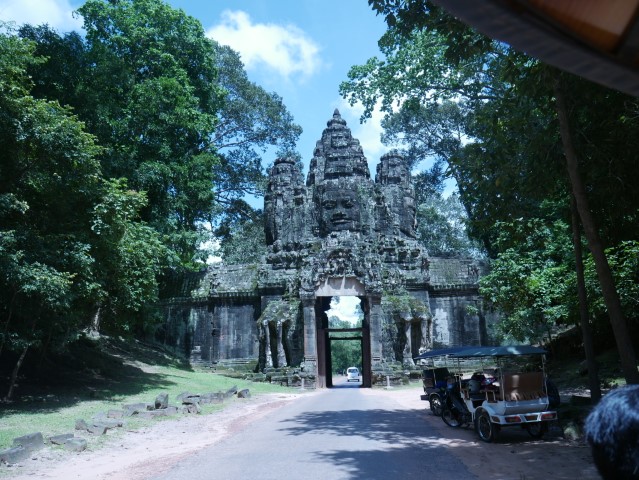 So before you go, here are some key things you should know about Cambodia before you visit:
Visa to visit Cambodia
Most nationalities can get a Visa on Arrival at the 2 international airports (Phnom Penh and Siem Reap) as well as at the many border crossings into Cambodia.
You can apply for a visa online before you travel which cuts down the waiting time at the airport when you arrive into Cambodia. If you don't apply for a visa before you arrive, then you need to take 2 passport photos to complete your application when you arrive.
Visit the official Cambodian Government Website e-Visa Kingdom of Cambodia. It will cost US$36 in total for the e-Visa. US$30 for the Visa and US$6 processing fee, payment can be made by credit card. You need to upload a scan of your passport and a standard passport photo. The website says it will be processed in up to 3 days. It only took a few hours before they sent me my e-Visa. I submitted the form on a Sunday afternoon and about 2.5 hours later they emailed me with the e-Visa. You just have to print off 2 copies of the e-Visa. 1 is to give to them on arrival, there is a separate queue for people with an e-Visa. The other copy you are supposed to give them when you leave the country but at immigration at Phnom Penh airport when I was leaving they did not ask for it.
Currency in Cambodia
When it comes to currency, Cambodia is a very unusual place to travel. While Cambodia has it's own currency, the Cambodian Riel, but the dominate currency used is the US dollar.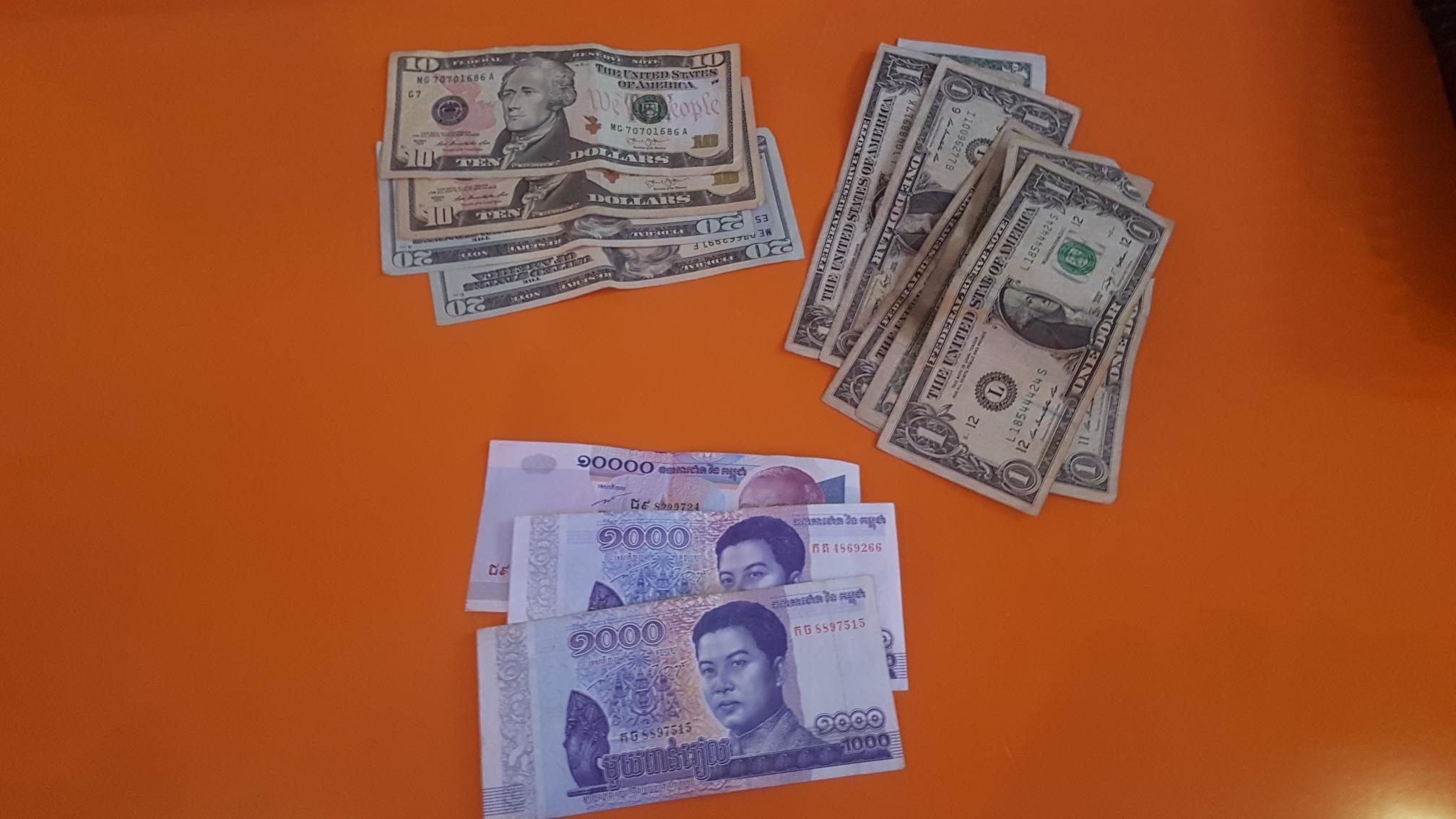 The one bit of advice you should follow, is to take as much US dollars as you can. All the shops, restaurants and hotels have prices quoted in US Dollars and Cambodia Riel.
When you pay in US dollars they will give you change in US Dollars but only notes. If they have to pay you $5.80 in change, they will give you US$5 note and then the remaining 80 cents they will give you the local Cambodian Riel small notes. So you end up collecting a range of US notes and Cambodia Riel notes.
The ATM cash machines in Cambodia dispense both US Dollars and Cambodian Riel. Some only dispense US Dollars. BUT…when you withdraw cash from an ATM Cash machine in Cambodia you will be whacked with a service fee of between US$3.50 and US$5. I used a good old ANZ cash machine (cause I'm an Aussie) and was shocked to see that ANZ whacked me a US$5 charge for withdrawing US$100. That's 5%! Outrageous.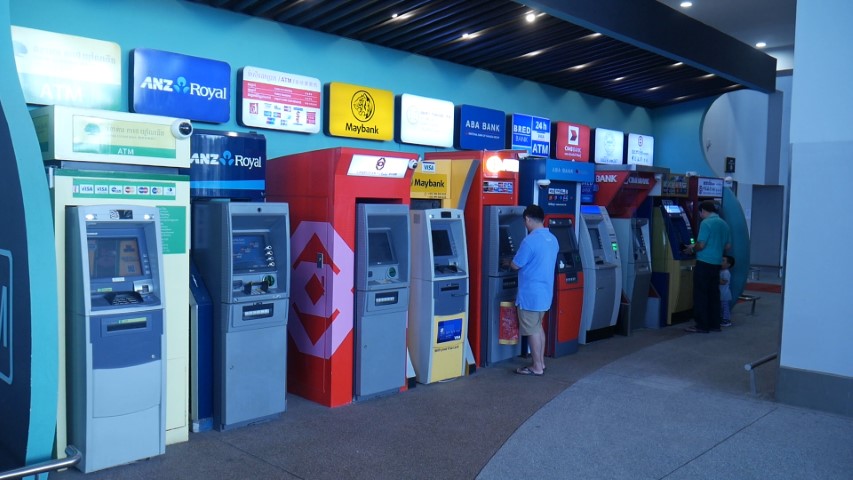 Beggars in Cambodia
Cambodia is the poorest country in South East Asia, and probably one of the poorest countries in the world. With such poverty comes the beggars. Most places you go you will encounter beggars, especially in the tourist areas.
You will see old men, old women and even very young children begging. In the nightlife area of Phnom Penh you will see young children 5, 6 or 7 years old, out at all hours of the night, walking into the bars and begging from the tourists drinking in the bars. They can be very persistent and can stand next to you for 10 minutes or more with their hands out hoping you will give them some money. Often only when you give them something will they leave. This is where the small Cambodia Riel notes come in handy. Just giving them a very small Cambodia note will get them on their way. Some of the Cambodia notes are only worth 10 cents or less.
Rainy Wet Season in Cambodia
The Rainy Wet Season in Cambodia is from May to October with about 75% of the annual rainfall. This is the low tourist season and it can be a pleasant time to travel. With less tourists,  there are less crowds at the popular tourist attractions like at Angkor Wat.
You may get days of rain but generally in the rainy season you will still get pleasant mornings and then an afternoon down pour at about 4pm, rain for an hour to 2 hours and then it will clear up in the evening.
I was in Cambodia in September and it was lovely. It did rain every day, almost by clockwork, with an afternoon shower at 4pm for about 1 hour. It rains very heavy during this afternoon downpour.
In the cities like Phnom Penh you can get some flooding during these downpours. 1 afternoon with a particular heavy downpour for just 1 hour, the streets of Phnom Penh were flooded. But I was still able to jump into a Tuk-Tuk and get down to the local pub to watch some football at 6pm. The flooding in the streets were gone within an hour or so.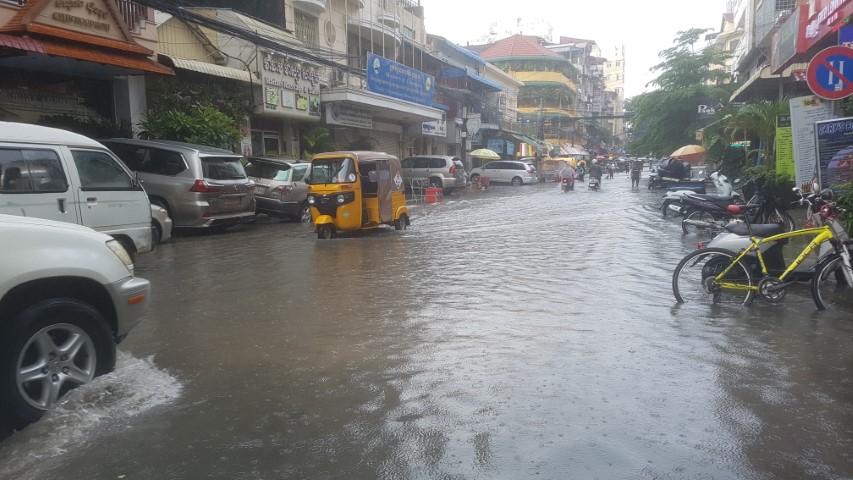 Getting around Cambodia
Cambodia is only a relatively small country but due to the basic infrastructure it is still quite slow to travel overland through Cambodia. To travel from Phnom Penh to Siem Reap by bus will take over 5 hours.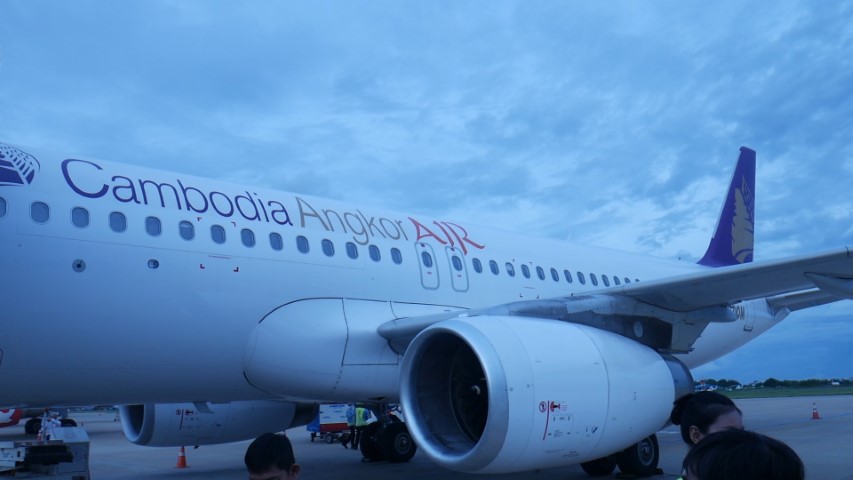 There are domestic flights available to fly between 3 of the cities of Cambodia, Phnom Penh, Siem Reap and Sihanouk. Cambodia Angkor Air is the national airline of Cambodia. They have regular flights between the 3 cities as well as some international destinations in Asia. The price of the airfares can be as low as US$10 but then you get charged taxes on top of that which can be up to US$80 in taxes. It still works out to be quite a cheap airfare and in my opinion, it is better to fly than to sit on a bumpy bus for more than 5 hours.
[do_widget id=wpp-30]