Beautiful wooden temple – The Sanctuary of Truth – Pattaya Thailand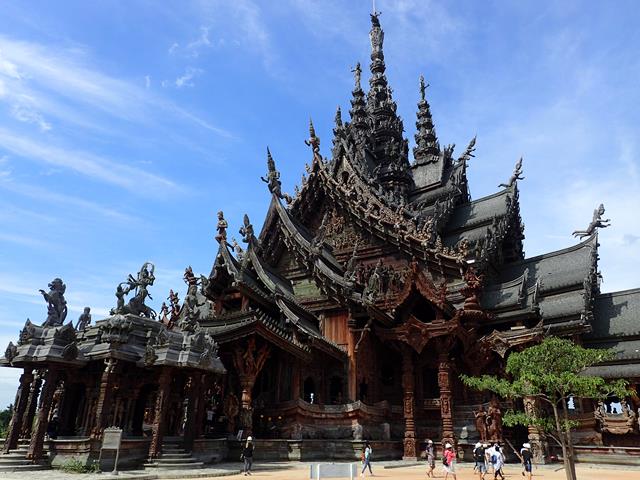 One of the most beautiful tourist attractions in Pattaya Thailand is The Sanctuary of Truth, a Buddhist temple called Prasat Sut Ja-Tum.
This Buddhist temple is located right on the waters edge, just south of Pattaya city. The entire temple is made with untreated teak wood. As the wood in untreated, each piece needs to be replaced every few years as the salt water from the sea weakens the wood. This is partly by design, for the temple to be in constant repair and rejuvenation.
The entrance fee to visit The Sanctuary of Truth costs 500 Baht. This is quite high for entrance to a temple is Thailand but this cost helps to rebuild the temple.
Within the grounds of The Sanctuary of Truth are some other attractions like a small animal zoo. There are also Elephants within the temple grounds which you can pay to ride around the grounds of the temple. The cost to ride the elephants is 400 Baht for a 25 minute ride. You can also ride a horse around the temple grounds for 300 Baht for a 15 minute ride.
There are also horse carriage rides you can take for 200 Baht for 15 minutes ride. You can also take a speedboat ride so you can view the temple from the water. The speedboat rides costs 400 Baht for a 25 minutes.
When you arrive at the temple, you walk down some steps through a nice garden wall with a waterfall with running water. As the temple is an ongoing construction site you are given a hard hat to wear for when you walk close to the temple or go inside.
The Sanctuary of Truth is open 7 days a week from 8am – 6pm.
Check out the location of The Sanctuary of Truth in Pattaya