Buffet Breakfast at Grand Hyatt Bali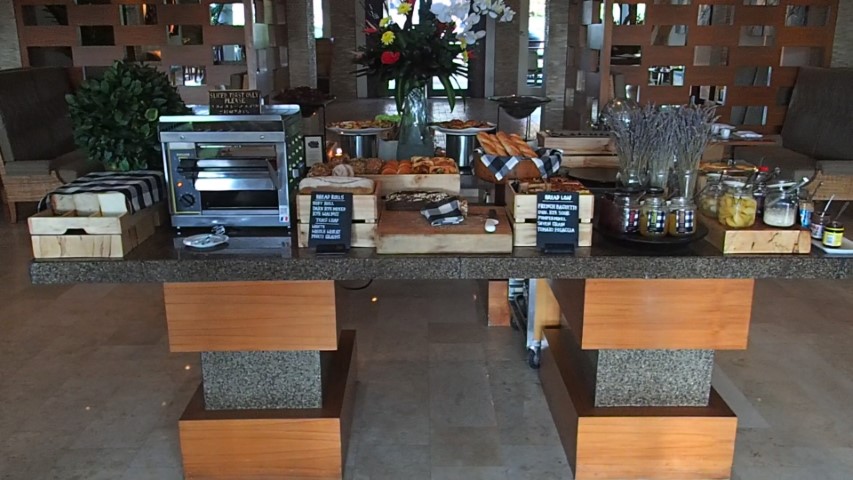 The buffet breakfast at the Grand Hyatt Hotel in Nusa Dua Bali is one of the finest breakfasts you can get in Bali. The Grand Hyatt Bali is one of the best beach resorts in Bali, with a choice of restaurants.
See the full video of the Buffet Breakfast at the Grand Hyatt Bali
When staying at the Grand Hyatt Bali, make sure you get breakfast included in your room so you can sample this delightful buffet breakfast. Breakfast is served in the Garden Cafe close to the hotel reception. If you are not staying at the Grand Hyatt you can also visit the Garden Cafe to try this excellent buffet breakfast. The buffet breakfast costs US$24++ per person.
There are 6 different food stations located in the Garden Cafe, loaded up with every type of food you could possible want for breakfast. There is a food station loaded with fresh tropical fruits, on with cold meats and cheeses, a whole table of different types of breads, cereals and pastries.
Then there is the hot food section which has a whole selection of hot dishes including traditional Indonesian dishes as well as your breakfast staple bacon, sausages, scrambled eggs.
Ofcourse there is the egg station with a chef ready to cook eggs for you any style – poached, boiled, fried or cook you up a delicious omlette.
Check out more about the Grand Hyatt Bali.
Online bookings for the Grand Hyatt Bali.