Disappointing Dining Experience at Rockpool Restaurant Melbourne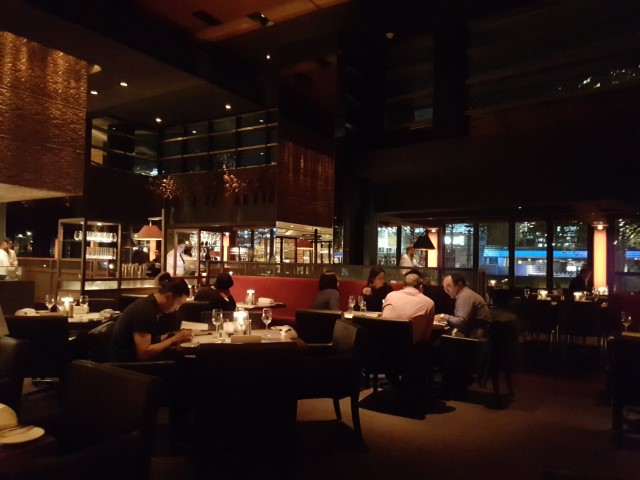 On a recent visit to Melbourne I decided to treat my self to a fancy dinner at Rockpool Bar and Grill, one of Neil Perry's famous restaurants. Rockpool is known as one of the best steak restaurants in Australia, with the Rockpool Bar and Grill at Southbank, right at the front of the Crown Entertainment Complex.
I went in for dinner ready of a great meal but I was sadly disappointed, especially forking about more than $180 for a meal on my own (the few glasses of red wine did hike the meal cost up! and the wine was the best part of this meal). I was expecting a real gastronomic experience, I just left disappointed and feeling ripped off.
Rockpool is a very fancy restaurant and I would recommend it for a romantic dinner. I will probably try it again sometime to see if I have a different experience, but here is a few notes of my disappointing meal.
First up the waiter told me the specials and one of the dishes were some Scallops from Port Phillip Bay. He raved on how good they are and how they were locally sourced. It didn't sound that appealing as I have seen Port Phillip Bay and it's not the most attractive waterways in Australia! I do like scallop so I ordered that dish.
The scallops came out and they look nice enough but this dish was so bland. The scallops seem to have been pan fried in some oil and put back in their shells. There didn't seem to be any other flavour other than the scallop and the oil. A bit of seasoning may have brought this dish to life but sadly, a very expensive $36, disappointing entree!
For main meal I ordered a T-bone steak which was dry aged. I think this was around the $60 mark but I do not see it on their current menu though there is a picture of this on their website.
Now I had not had a dry aged steak before and it tasted strange. It tasted like old meat! I didn't find the flavour of the steak appealing so I will stay away from dry aged beef in future.
What really surprised me was that the steak was delivered to my table it had already been cut up into small pieces. WTF? I have never seen this before in any other steak restaurant. There is a picture on their website which shows exactly what I mean, same as my pictures here. It seems very weird that they cut up my steak. I like a full steak delivered to my table, not small pieces of steak.
I did have a side order of mac and cheese ($12) which was the highlight of the food.
When the waiter came at the end of the meal he asked how my meal was. I did tell him that I was not impressed with the scallops and really disappointed with the steak. He just shrugged his shoulders and walked away. Hmmmm. Maybe I wont give Rockpool another go just based on the waiters attitude, well also the sub standard dining experience!
There is a Rockpool Bar and Grill in Sydney which I will try. I have been to some of Neil Perry's Restaurant like Spice Temple and really enjoyed the dining experience there.
I would love to hear your dining experience at Rockpool and if you also think dry aged beef tastes a bit funny. Post a comment below so I can hear if I just had a bad experience.
Rockpool Bar and Grill
Crown Entertainment Complex
8 Whiteman St
Southbank Melbourne
Website: http://www.rockpoolbarandgrill.com.au
Check out the location of Rockpool Bar and Grill Southbank Melbourne
[do_widget id=wpp-13]