Korea Town Tokyo – Shin-Okubo Shinjuku Tokyo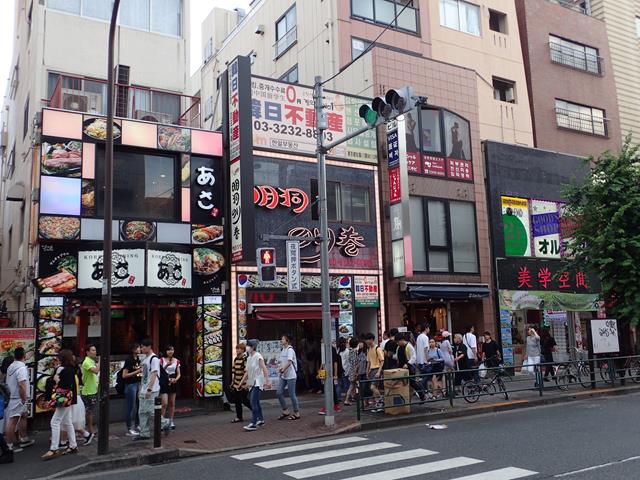 Korea Town in Tokyo is located in Shin-Okubo which is just 1 train station away from Shinjuku. Korean immigrants to Japan started residing in Shin-Okubo Tokyo in the early 1980's which started the Korea Town in Tokyo with many Korean restaurants and grocery stores opening up.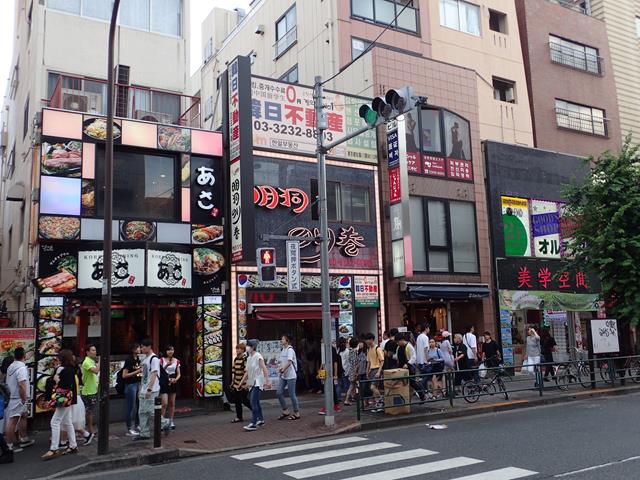 Korea Town Tokyo is the place to come for the best Korean food in Tokyo. Whether you are looking for some great Korean BBQ, Korean Fried Chicken, a nice bowl of spicy Korean soup or a bowl of Korean Bibimbap, the Shin-Okubo's Korea Town is the place to come. There are also quite a few Chinese restaurants found in Shin-Okubo as well.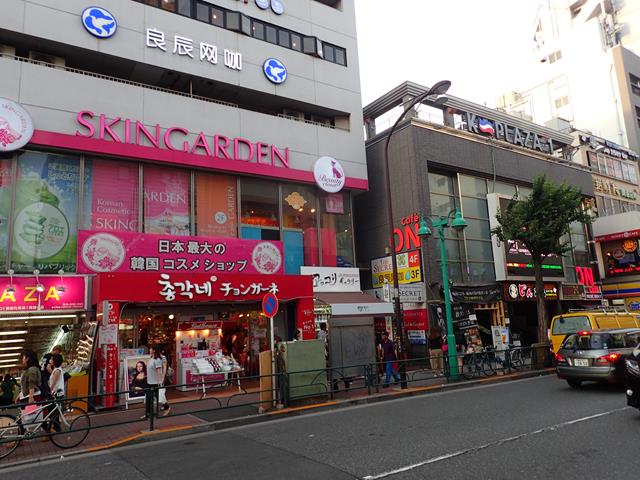 The main street of Shin-Okubo, Okubo Dori Ave, is lined with all things Korea. Korean restaurants, Korean Karaoke bars, Korean grocery stores, lots of stores selling K-Pop DVDs, CDs, posters of all the famous K-Pop stars and just like in Seoul, loads of cosmetic stores to keep the Korean ladies happy.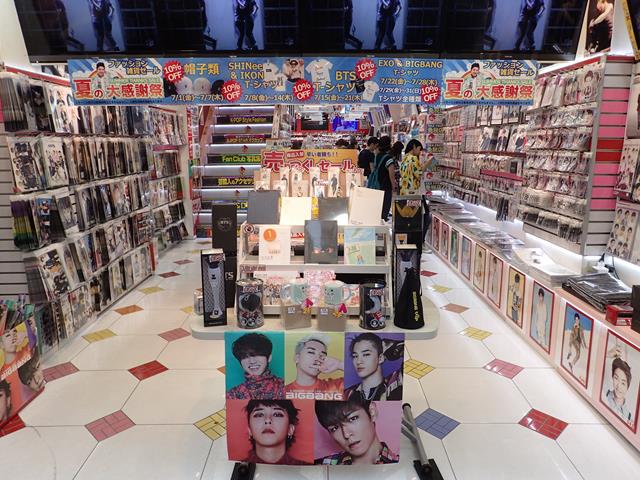 It is not hard to find a good Korean restaurant in Shin-Okubo. One of my favourite restaurants is Nandaimon Chicken which serves up some tasty Korean Fried Chicken. With a choice of different types of fried chicken, standard or spicy, this is the perfect place to come for a few beers and tasty chicken. Check out our review for Nandaimon Chicken. Just a little bit further down Okubo Dori Ave on the opposite side of the road is another good Korean Fried Chicken restaurant called Boss Chicken, located on the 1st floor. You can sit at the front window of Boss Chicken and look down onto Okubo Dori Ave.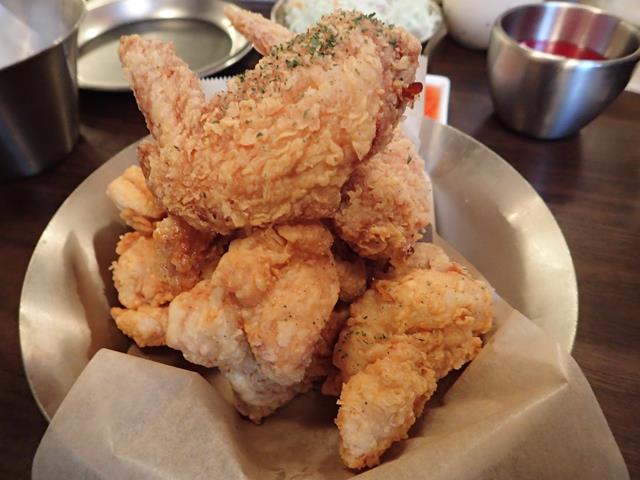 One of the surprising things about Tokyo's Korea Town is that some of the Korean and Chinese restaurants serve dog meat. Now dog meat is not eaten by Japanese people. The dog meat in these restaurants in Korea Town is imported from China specifically for the Korean and Chinese immigrants who are used to eating dog meat back from where they come from! A Chinese friend took me to Korea Town a few years ago to a Korean BBQ restaurant and he showed me on the menu the dog meat. It was listed in Chinese characters as dog (狗) rather than the Japanese characters for dog (犬). If you want to avoid these restaurants then stick to the Korean fried chicken restaurants!
Another very typical, unusual Korean delicacy you can find in Tokyo's Korea Town is the live, raw Octopus. This is where they bring a live Octopus to your table and slice up the tentacles and serve it to you while the tentacles are still moving and squirming around. In Korea this is a popular food that is eaten while drinking Shochu (Korean or Japanese hard liquor). You take a piece of the moving tentacle and wash it down with a shot of the Shochu. I don't really see the point but who am I to judge. Every year a few people die while eating this live Octopus as the tentacle suckers attach themselves inside the persons throat and they chock to death. Enjoy at your own risk!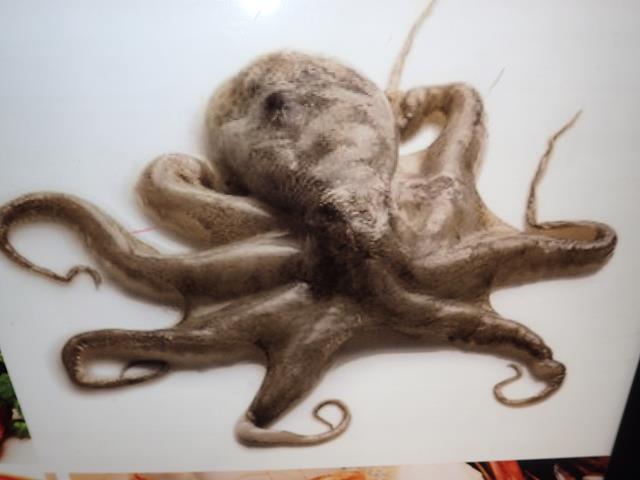 Getting to Korea Town Tokyo
It is really easy to get to Tokyo's Korea Town. From Shinjuku Station, catch a train heading north on the Yamanote Line (Platform 15) and get off at the next stop, Shin-Okubo Station.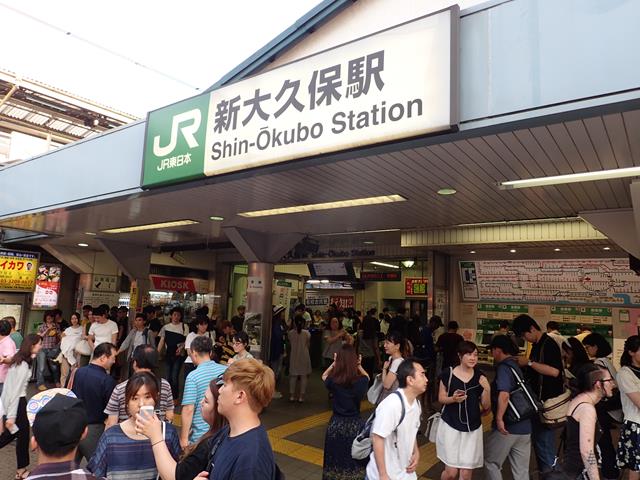 It is only 800 meters between Shinjuku Station and Shin-Okubo Station, one of the shortest train trips in Tokyo. On a nice day then it is an easy walk from Shinjuku to Shin-Okubo. From the Prince Hotel, next to Kabukicho on the eastern side of Shinjuku train station, you can walk along the side of the train tracks and you get to Okubo Dori Ave. Turn right and you are in the heart of Korea Town.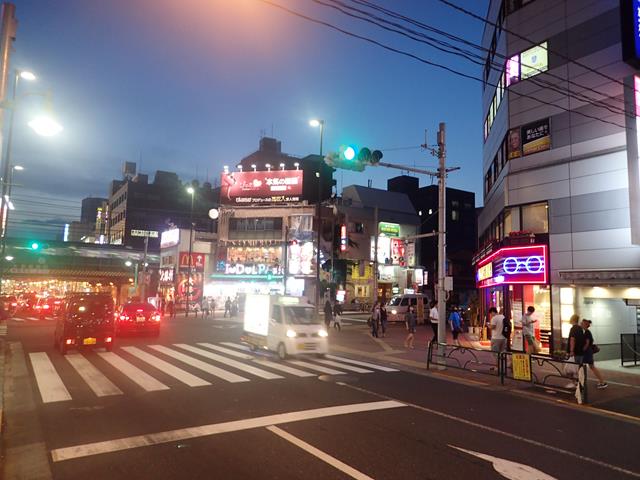 Check out the most popular articles about Shinjuku Tokyo
[do_widget id=wpp-5]